Snowmobiling Through Small Towns: Deacon, Ontario is a Must-Visit Destination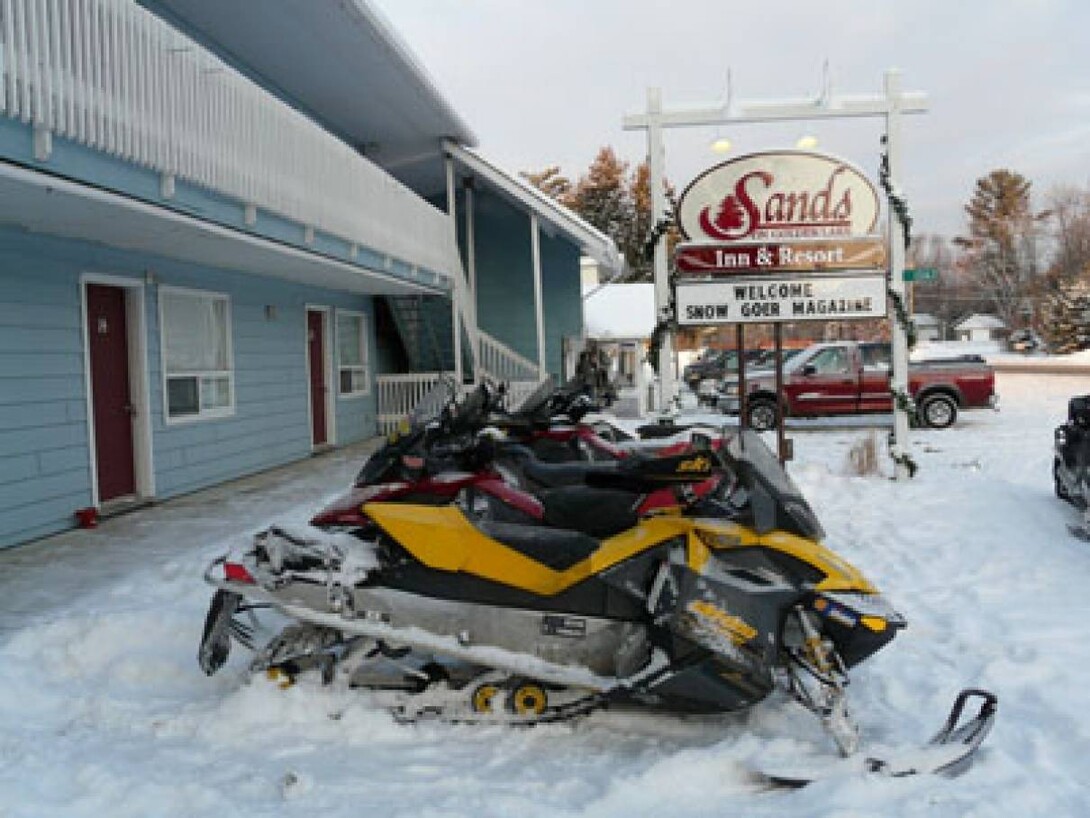 Bet you've never heard of Deacon, Ontario. Blink and you'll miss it. Deacon is a tiny village located on the north shore of Golden Lake about half way between Barry's Bay and Eganville on Highway 60 in the Ottawa Valley. 
It's a must-visit destination because Deacon is home to the outstanding Sands on Golden Lake Inn & Resort, one of the most snowmobiling-hospitable properties in OFSC District 6.
The Sands on Golden Lake Inn & Resort is a warm, personable kind of place that's great for couples, where the two Jeffs (owners) and their staff welcome snowmobilers with exceptionally flavourful, home-cooked meals, spacious rooms, an on-site fuelling station, plus ample truck & trailer parking. Best of all, the Sands on Golden Lake Resort is ideally situated in the heart of Snow Country as a staging point for your weekend getaway.
It's located on TOP Trail B101A, right where the stake line comes off the lake if you're riding north, and just south of where B101A and B102 join heading southbound. From here, you can do two great days rides.
Riding south and east from Deacon follow B101A through Eganville to TOP A, then head north for lunch at Logo's Land Resort (via Local Trail 115) or continue on to eat at the Best Western Pembroke Inn just off TOP A/B on Local Trail 121. After lunch, take TOP B west to either of TOP B101A and B102 and head south back to the Sands on Golden Lake Inn & Resort.
Next day, take Local Trail 141 southwest to Killaloe and pick up TOP B102 westbound through Barry's Bay to Local Trail 159 south and stop for lunch at Spectacle Lake Lodge. If you want a longer ride, go all the way into Whitney for one of the best burgers in Ontario at the Mad Musher Restaurant. The return trip is on TOP B east, but before heading back, be sure to gas up at either Madawaska or Aylen Lake Marina (Local Trail 158). To avoid repeating trails from the first day, try Local Trails 149 and 148 across Round Lake to get back onto B102 south to the Sands on Golden Lake Inn & Resort.
If you really want to rack on the kilometres, both of the described day trips can be extended with larger loops into the scenic Ottawa Valley. Whichever you choose, you won't be disappointed by this snow country!
Snowmobiling Tourism Contacts:
OFSC District 6
Haliburton Highlands to Ottawa Valley Region
Contributing partners for this Ontario snowmobiling site include: Intrepid Snowmobiler, Murphy Insurance, Ontario Federation of Snowmobile Clubs, Ontario Tourism, Snow Goer Media, Supertrax Media.