Winter adventures in Kenora
From a game of Crokicurl to a skating trail under the stars, here are the best winter activities for your Kenora staycation.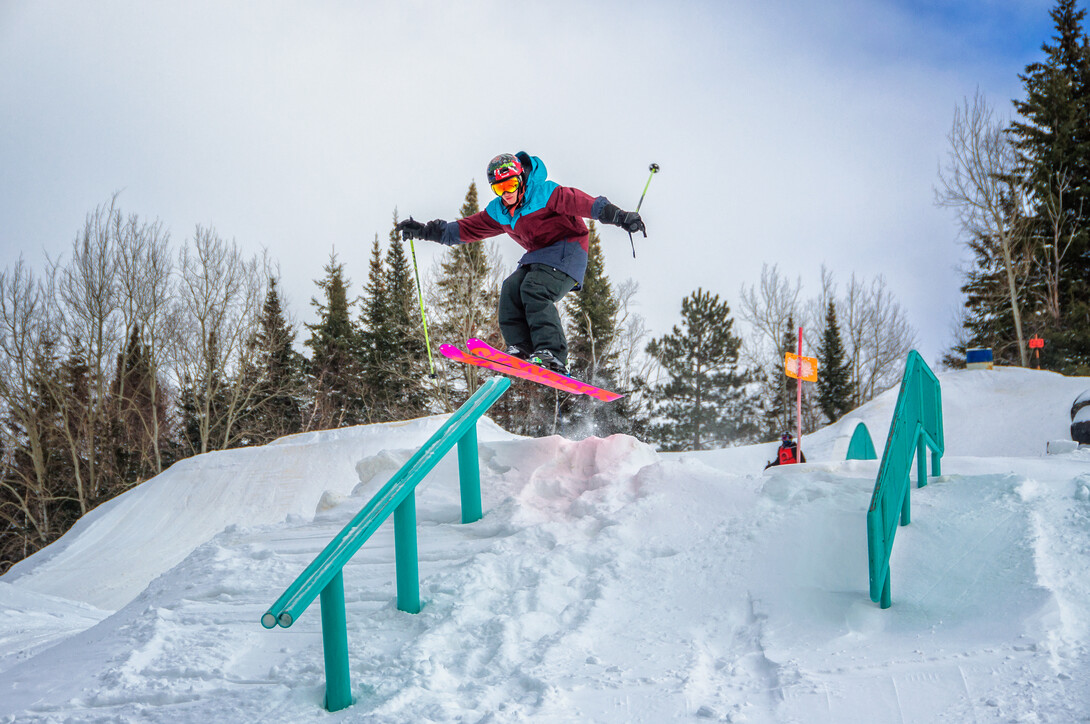 Kenora and its boreal surroundings in northwestern Ontario is a vast winter playground, with plenty of opportunities for outdoor adventures. It's a 5.5-hour drive from Thunder Bay and a 1.5-hour drive from Dryden. Take your pick from downhill and cross-country skiing, snowshoeing, tubing, fat biking, ice skating, hockey, ice fishing, and even a new winter sport called Crokicurl! Here are a few top options to consider. Be sure to check with each venue for up-to-the-minute info about hours of operation and COVID safety requirements.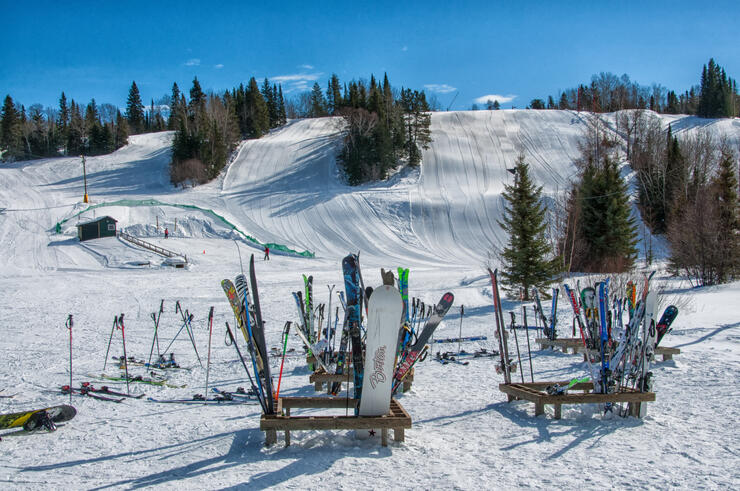 This popular spot offers a variety of fun winter sports. The ski hill is short but steep, with a 220-foot vertical. Take your pick from 11 runs for downhill skiing and snowboarding, serviced by two T-bar lifts, and equipment rentals are available. The cross-country ski area offers more than 20 km of trails for skate or classic skiing, and while most are beginner or intermediate, advanced skiers can enjoy the rolling terrain of "The Rollercoaster." There's also a terrain park to fine-tune your snowboarding skills, a tubing hill for plenty of family-friendly sliding, and a chalet to pick up snacks.
For more info visit www.skikenora.com
2. Hike, fatbike, or play Crokicurl at Anicinabe Park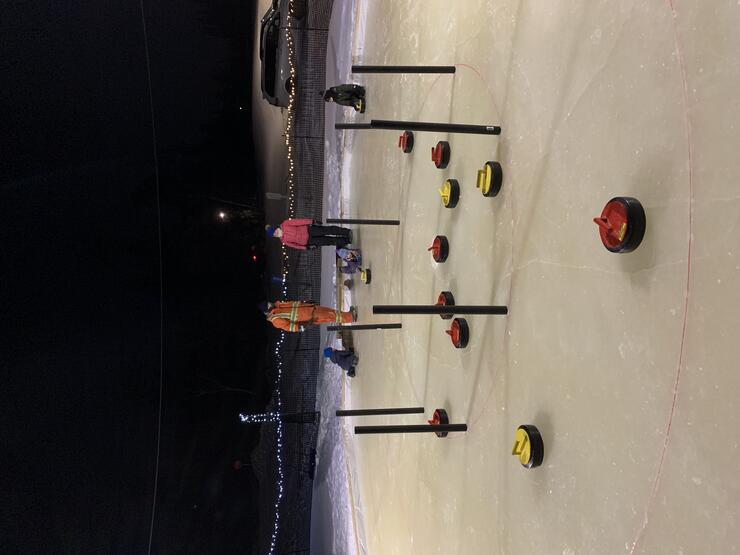 In summer this is a campground and RV park, but come winter it's a fantastic network of short trails! You can walk, run, snowshoe, ski or fat bike, all in this tranquil spot on the shores of Lake of the Woods, with views of the expanse of ice and tree-dotted islands. Dogs are welcome but must be leashed. One not-to-be-missed feature is the park's Crokicurl rink—this popular sport, invented in Winnipeg, is an oversized combination of crokinole and curling where you aim curling rocks toward the middle of the circular rink.
For more info visit www.facebook.com/Anicinabepark
Rabbit Lake is a small picturesque lake just north of Kenora, and an ideal setting for outdoor skating. Lace-up your skates and glide over the brand-new kilometer-long skating trail or play a game of pick-up pond hockey. Both are maintained by regular plowing and flooding and are free. There's just something magical about skating along with the wide sky overhead!
Another outdoor option is the Whitecap Pavilion in the Harbourfront area—just look for the big white tent, which allows you to enjoy the outdoor skating experience with some cover from the elements. For indoor rinks, look to the Kenora Recreation Centre and Keewatin Memorial Centre.
For more info visit www.facebook.com/stayinkenora 
4. Try a brand-new activity: Ice biking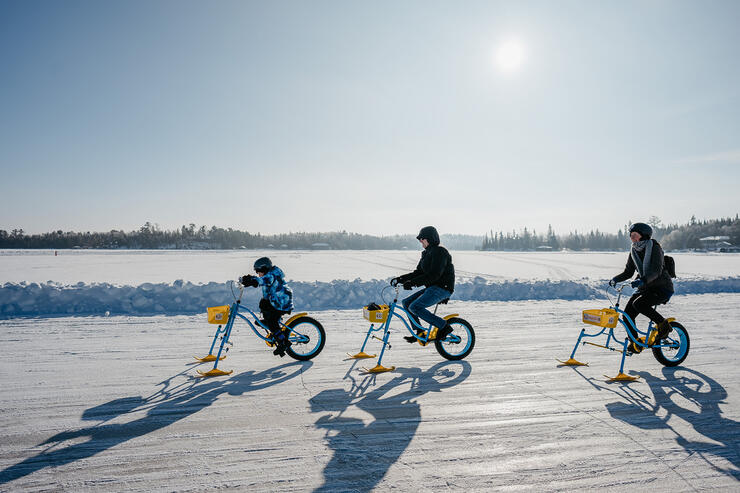 Kenora's newest eco-tourism business is Mosswood Adventures and Rentals. This pop-up takes advantage of the big beautiful frozen Lake of the Woods on the city's doorstep as well as other local lakes, and it aims to provide winter experiences that are inclusive and welcoming, without a giant learning curve. That's where the ice bike rentals come in. An ice bike has a bike tire at the back, and skates or skis at the front, so you can simultaneously pedal and slide over the ice. Go solo or pedal side-by-side with a buddy, and there are options to bring small kids or even furry friends along for the ride too.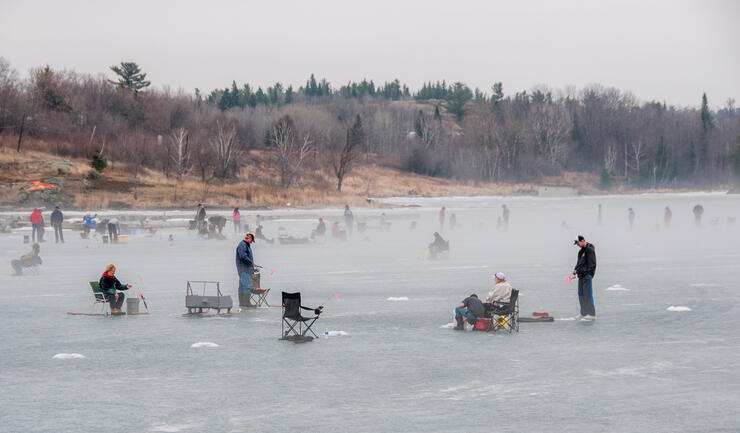 Kenora has an incredible reputation for incredible fishing, and that doesn't stop when winter begins. Give ice fishing a try on one of the area's many lakes and remember the season is long! Fish species include walleye, crappie, lake trout, pike, whitefish, and perch, and day-long outings with an expert local guide are a good way to make the most out of your day. Another popular option is to fish in comfort and style in an "ice castle." Available for daily, overnight, or multi-day rentals, this modern, heated ice fishing shack is equipped with a refrigerator, microwave, stove, stereo, television, washroom, and accommodations to sleep four. Your ice-fishing holes are even pre-drilled for you. 
For more info visit nwoutfitters.ca/ice-house-rentals/
6. Warm up with hearty local fare 
Fuel up before or after your winter adventures with some of Kenora's tasty take-out or dine-in snacks and meals. There's The Hungry Pug Café, with delicious wraps, crepes, salads, smoothies, vegan chili, and soups. Another local favourite is HoJoe Coffee & Eatery with premium coffee and specialty drinks, homemade soups, and baking and cold-pressed juices. Pizzeria Italia is a sure way to satisfy those pizza, seafood, and pasta cravings, with family-style flair. Craft brewery Lake of the Woods Brewing Company offers a refreshing assortment of local beer to discover, along with wood-fired pizza—you can even take in a brewery tour too. Another hip, welcoming eatery is 901 Westside, renowned for its beer-battered Lake of the Woods fish tacos and vegetarian curry bowl. Spirit Oak Tea is a great place to check out a new blend of tea to warm you up, and it also carries an enticing selection of locally-made goodies including maple syrup, honey and soap, and locally roasted coffee beans. 
The Matiowski Winter Market at the Lake of the Woods Discovery Centre operates on several winter dates so you can discover locally made crafts, baking, preserves and other goodies, all under one roof. 
enjoy kenora this winter!
You don't have to hibernate! Take advantage of the long winter months to have some fun in the snow and on the ice in Kenora.