Travelling Across Canada?
Between Winnipeg and Thunder Bay, you'll pass through one of Ontario's most beautiful regions. Check out our guide of what to see along the way–from giant moose statues to even bigger waterfalls, there's something for everyone here.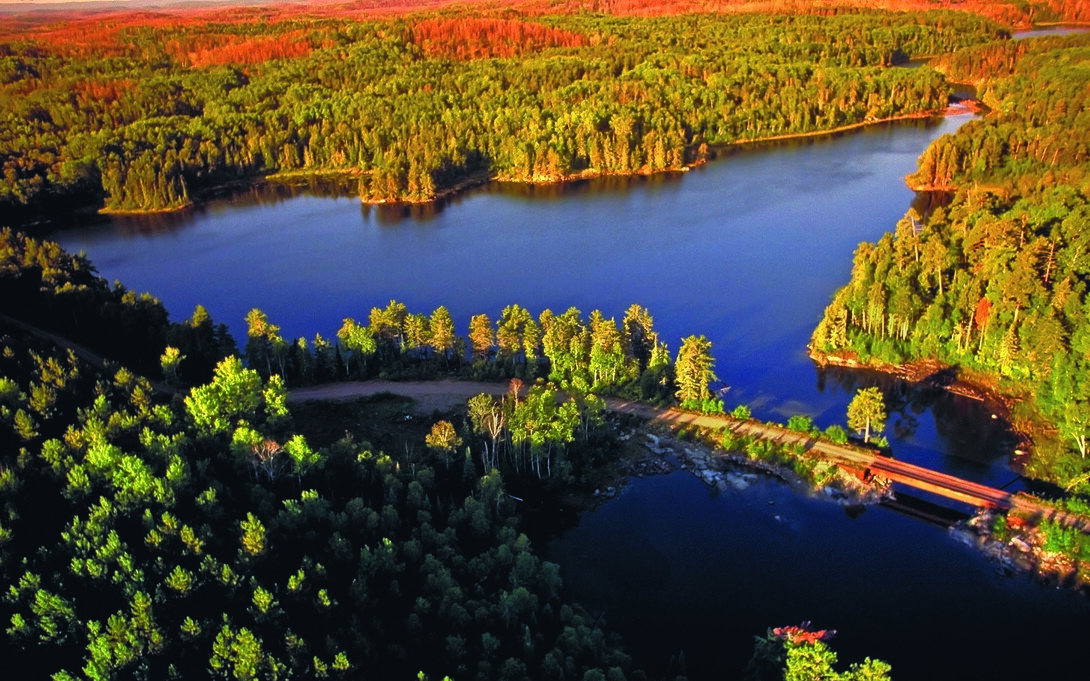 Heading across Canada? You're not alone. The past couple of summers saw many Canadians traveling across Canada. And judging by the RVs and campers I see on the highways, people are still traveling well into the autumn months. If you are heading across Ontario or Canada, the Trans-Canada Highway 17 cuts right through Ontario's Sunset Country which is just east of the center of Canada. 
From the 1600s to 1871, most travelers in the area went by canoe over the many lakes in the area. In 1871, the Dawson Trail opened up which was a combination of waterways and roads. The road portions were referred to as the Dawson Road. The Dawson Trail connected Port Arthur (now Thunder Bay) with St. Boniface (now Winnipeg). Today, the Trans-Canada Highway connects the two cities and is a much more comfortable and quicker trip than traveling by canoe! 
Driving from Manitoba into Ontario
If you are heading east to Ontario from Manitoba, you'll enter Sunset Country at the Manitoba/Ontario border. Almost immediately you'll see the difference in the landscape. Gone are the wide-open prairie fields. Instead, you are surrounded by the Boreal forest and roads that cut through the Canadian Shield. There are trees and lakes as far as the eye can see. There are also many easily accessible waterfalls along the way. 
First stop? Kenora!
About half an hour from the border, you'll come to the Kenora bypass 17B. Do not take it! Take Highway 17 into Kenora or you'll regret it. Kenora is a city on the shores of the beautiful Lake of the Woods with a population of about 15,000 people. There are many things to do in Kenora: lake tours, lots of dining choices, visit the Muse, see the Goodwill Geyser, hike one of the many trails, visit the Lake of the Woods Brewery, snap a pic with Husky the Muskie, Lake of the Woods Railroad Museum and so much more. 
Next, explore Eagle Lake
About 95 kilometers east of Kenora, you'll get to the Municipality of Machin which includes the communities of Eagle River, Minnitaki, and Vermilion Bay. They are on or near famous Eagle Lake. If you head to the government docks on Eagle Lake, you can explore Pine Tree Park and head out on the hiking trails. In the summer you can stop at Fort Vermilion, an old trading post that has a cafe, Busters BBQ food truck, an outdoor patio, covered area, washrooms, children's playground, hiking trails, and more. Blue Lake Provincial Park is just north of Vermilion Bay off Highway 647. It is known for its crystal clear water and long sandy beach. 
Heading east to Dryden, be sure to stop at Egli's Sheep Farm & Animal Park. They are one of Canada's largest wool and sheepskin specialty stores with gorgeous products made on-site! Egli's is about 20 km from Vermilion Bay and 20 km from Dryden. 
Discover Dryden
Although you can't see Wabigoon Lake from the Highway, the City of Dryden is located on its shores. There is plenty to explore in Dryden. Walk around the Laura Howe Marsh Conservation Area, hike one of the many hiking and biking trails, (both urban and wilderness trails), cross the Wabigoon River from the Roy Wilson Suspension Bridge, visit the Dryden & District Museum, or explore the many parks and beaches in the area. Get your photo taken with the town mascot, Max the Moose.
Catch a waterfall near Ignace
From Dryden, you'll head east for around an hour to the Township of Ignace. About 7 km west of Ignace, you can stop on the south side of the Highway at Raleigh Falls. It's a great place to have a picnic, stretch your legs, and see the waterfalls. In Ignace, you can explore one of two pristine swimming beaches (Agimak and West Beaches) with change rooms, picnic pavilions, and playground areas available. There are also hiking trails such as the Agimak Lake Trail, Lily Pad Trail, and the hiking trails at Sandbar Provincial Park which is just north of Ignace off Highway 599. 
Cross over into the Eastern Time Zone near Raith
From Ignace to Shabaqua where Highway 17 meets Highway 11 you'll pass through a few tiny communities such as English River and Upsala without many services. And don't forget to adjust your watch! The time changes from Central Time Zone to Eastern Time Zone in between Upsala and Raith. The areas of Ontario, west of 90° west longitude, are in the Central Time Zone and change at 2:00 am local time. There is a time zone sign at a rest area that includes a picnic area and restrooms. 
At Raith, there is a sign marking the Atlantic/Arctic Watersheds. At 504 m elevation, all streams flow south into the Atlantic Ocean and north of this area, all flowing water goes north and eventually reaches Hudson's Bay. 
See the Niagara of the North at Kakabeka Falls
It'll take you about 25 minutes to head west to Shabaqua which is the intersection of Highway 17 and Highway 11. If you were to take Highway 11, you would reach Atikokan and the amazing scenery found in Quetico Park–well worth a day's detour. To keep going towards Thunder Bay, stay on The Trans-Canada Highway 17. The drive is just over an hour from Raith to Thunder Bay. However, you'll want to stop at Kakabeka Falls, which is known as the Niagara of the North. It's conveniently located on the south side of the highway, just before you get to the community of Kakabeka Falls. 
Explore vibrant Thunder Bay
The Fort William Historical Park is another must-see attraction in the Thunder Bay area. On the shores of Lake Superior, the world's largest freshwater lake, Thunder Bay is naturally home to epic outdoor adventures. There are many parks and conservation areas for you to explore. Find mountain biking, rock climbing, kayaking, angling, and sailing opportunities within walking distance (or with transit access) from downtown. There is plenty of natural wonder and scenic views including the Sleeping Giant Provincial Park, the Terry Fox Monument, Mount McKay, and many more.
Depending on how much time you have to spend traveling through Ontario's Sunset Country, you may not be able to experience everything, but it's definitely worth stopping as you are traveling across Canada. You might even find that you can't wait to plan a whole trip here!
View some of the attractions, waterfalls, parks, info centres, and plaques along the way on the following map.
Some tips for driving through Sunset Country
The highway is a single-lane highway with a 90km/hr (55 mi/hr) speed limit
There are quite a few passing lanes
Watch out for wildlife. There can be a lot of deer ready to dart out in front of your vehicle, especially at dawn and dusk. From Ignace to Thunder Bay, there is a good chance you could see a moose. Get your camera ready!
Driving straight through from the Manitoba border to Thunder Bay is about 550 km. Although we suggest you take your time and enjoy everything Sunset Country has to offer!
For more information on the area and for accommodation ideas, please order our free Sunset Country travel guide & map.