Give Your Family the Gift of a Resort Vacation in 2023
3 family friendly wilderness resorts just across the border in Northwest Ontario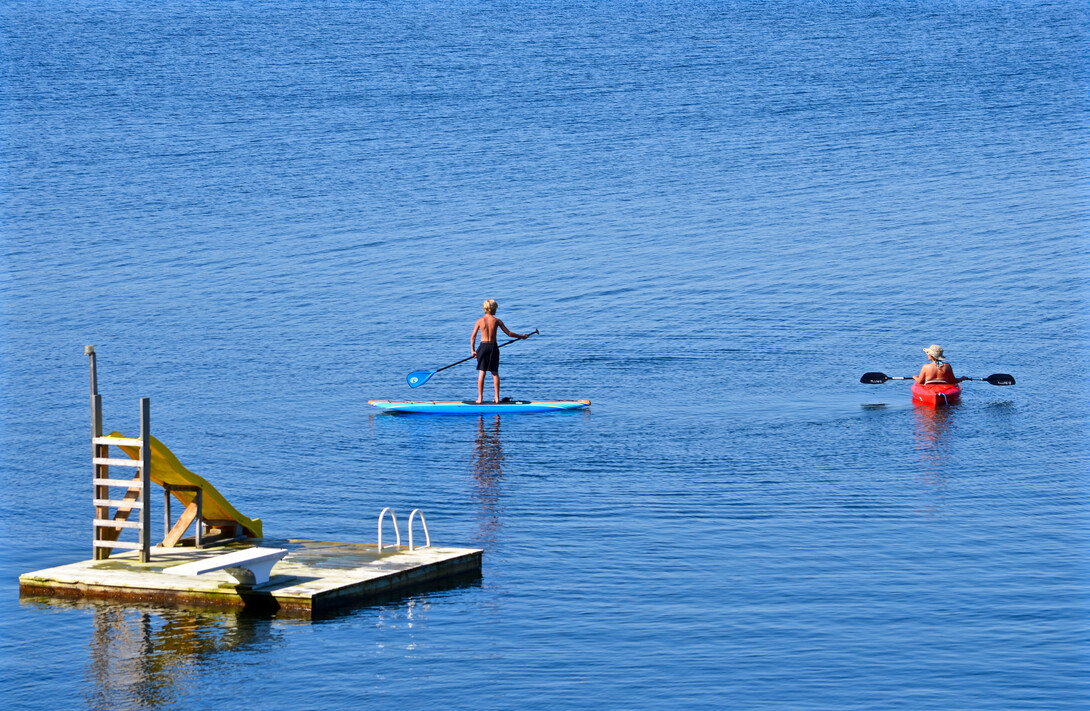 Sunset Country, Ontario is known for its scenic wilderness resorts and amazing outdoor vacation experiences. American families in the know have been visiting the lodges and resorts up here for years—many of them in search of some tasty, freshwater fish. 
So where does a family find a quiet getaway to swim and paddle, to sit on a rock, read a book, enjoy a crackling campfire, play board games, and watch the sun go down? A fishing lodge is perfectly equipped for that kind of restoring respite from everyday life. But can families go to a fishing lodge if they don't really want to fish? Yes!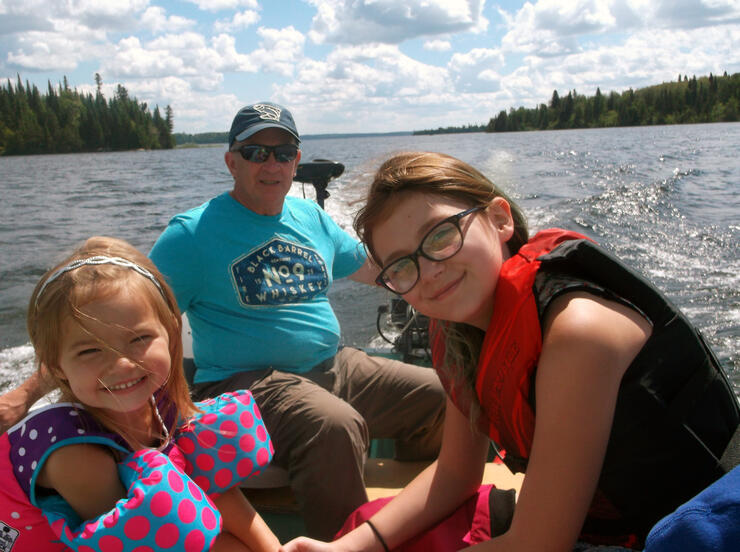 More and more lodges and resorts are broadening their scope, catering to families who don't have a cottage but really, really want to vacation in a cottage-like setting. These visitors don't want a hotel. They want the authentic Sunset Country lodge experience that until recently has been the near-exclusive domain of the fish-minded. 
What amenities are offered at a family-friendly resort in Sunset Country, Ontario?
Swimming, sandy beaches, kayaking, canoeing, hiking, game rooms, playgrounds, beaches, saunas, full kitchens, BBQs, and more! 
"Coming to a resort to relax with your family or friends, having fun on the lake and a drink on the dock sounds like heaven to a lot of people." 
If you're one of those people, here are 3 Sunset Country resorts that can provide your family with a little piece of heaven this summer. These amazing family-friendly resorts are a great option for American visitors looking for a vacation in 2023. 
Travelling to Sunset Country from the USA
Note: As of late 2022, all pandemic-related restrictions to enter Canada have been dropped. Proof of vaccination or a negative test are not required. Check out our handy border-crossing guide for more information or visit here.
Chuck and Cathy Mosbeck run True North Outpost & Cabins, a road-access resort on Burditt Lake (a.k.a. Clearwater Lake) north of Emo. "We do enjoy having families at our place," Cathy says. "Many guests say the experience is similar to when they grew up, going outside to play without the need to be on high alert. It's a safe environment, full of wonder."
Exploration is the key. As Cathy says, "We don't have structured activities or programs. That's not what we do."
True North has a sand beach with a gradual slope into the lake, beach toys, and a floating dock with a diving board and slide. The sauna by the beach has its own deck for reading and watching the kids at play. Kayaks, paddle boats, and canoes are all complimentary for guest use. "We have some great places on the lake for picnics and rock jumping," Cathy says.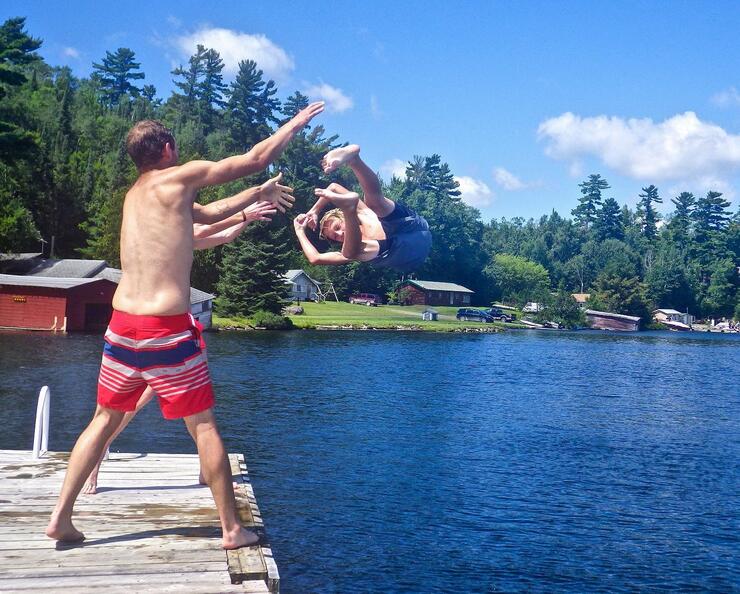 For hikers, the local recreation association maintains a bush trail with access points near True North. The lodge also has board games, books, TVs, VCRs, and Wi-Fi—"if parents want to hand out the password," Cathy says. At the day's end, guests gather for the evening bonfire.
"This place is great to free up the schedule and use your imagination, explore and enjoy simple pleasures," she adds.
True North has six cabins at the main location. The posted minimum stay is four days, but shorter stays are possible if it fits with the reservation schedule. Cabins have fully equipped kitchens and propane BBQs. Outdoor fish cookers are also available.
Kyle Jones and his parents, Patty and Wayne, run Dogtooth Lake Resort on a picturesque inlet just off Highway 71 about 20 km east of Kenora. "We are getting more and more guests coming to our resort in the summer solely as a family vacation and to relax," Kyle says. About half the July and August clientele fit that category. 
Dogtooth Resort has a beach, a small waterslide, a diving platform, and a few kayaks for guests to use for free. If families want to fish, they can drop a line off the dock or rent a little boat and explore Dogtooth Lake. The quiet lake is about 10 km north to south and east to west with lots of islands and little bays. "Fishermen who have been coming to the resort for years will often help families find good spots and provide tips on how to fish them," Kyle says. 
Guests who don't want to fish can rent boats and just go for a ride. Rushing River Provincial Park is a short boat ride or paddle away. Kilvert Lake, which connects to Dogtooth by a small creek, has a big sand beach one kilometer long.
Most cabins have two bedrooms and four double beds. Pine Hollow cabin has three bedrooms. The resort also has two group cabins, one with four bedrooms and beds for up to nine people and the other with six rooms and beds for 11 people. Each cabin has a full kitchen and bathroom, a deck, and propane BBQ. Cabins also have satellite TV and wi-fi. The resort supplies linens and towels. Guests bring their own food. The minimum stay is two nights.
Bob and Gale Extence operate Rainbow Point Lodge at Perrault Falls on Highway 105 about 60 km north of Vermilion Bay. "The lodge has been our baby for 34 years now, and we have evolved continuously throughout the years," Gale says.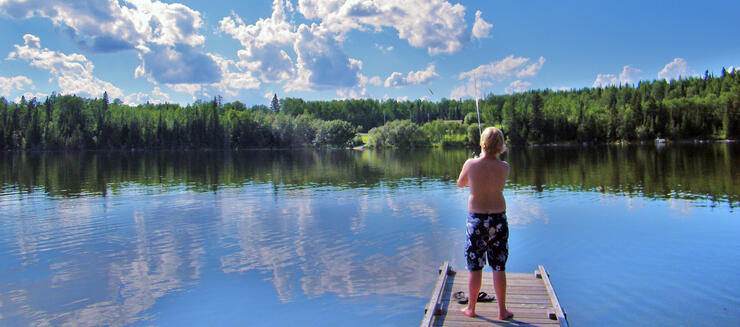 Fishing and hunting are still huge draws, but the lodge is doing more to bring in families who don't really want to do either of those things. "We knew we were onto something when we heard time and again that it was the kids who chose a return trip to our lodge over destinations like Disney or Mexico," Gale says. "The kids really enjoyed having their folks to themselves and experiencing something different that wasn't always go-go-go. Whether playing horseshoes, fishing off the dock, sliding down a muddy bank into the lake, or whatever, just kicking back is more important to the youth than we have been led to believe."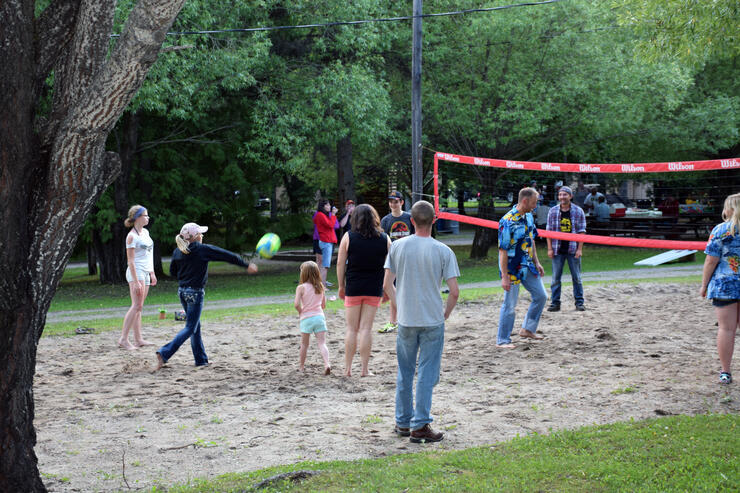 The lodge has a sand volleyball court, playset, swimming area, dock with a slide, and kayaks. The hosts encourage families to bring their bikes "as there is plenty of space to roar around camp safely," Gale says. The lodge and Perrault Falls also have lots of areas to hike and explore.
Once a week, the Extences cook fish and fries in huge pans over an open fire, and guests bring a potluck dish to share. "At this weekly fish fry, we ensure all guests introduce themselves. That way the rest of their week is more relaxed, knowing the people they see throughout their stay," Gale says. "It's amazing to see the stress disappear from people as they unwind during their stay."
All cottages have a lakefront view, charcoal BBQ, and full kitchen. In 2017, Rainbow Point Lodge built a large covered pavilion to host weddings, family reunions, and workshops, and a place for guests to hang out together during the day.
Each resort in Sunset Country has its own charms and features. For example, Browns' Clearwater West Lodge on Clearwater West Lake off Highway 622 north of Atikokan has self-contained cottages as well as campsites in a more developed resort that includes a lounge and dinner. As Browns' website says, "simply 'chilling' can be part of your itinerary." Arrowhead Resort, with cabins for up to nine people and a motel, which includes some rooms with a kitchenette, is in the village of Nestor Falls with its shops and restaurants – if that's more your style. For a list of other Sunset Country resorts geared to families, go to visitsunsetcountry.com/family-friendly-lodging.