Fabulous ice-out fishing for lake trout!
Ice-out in the North Country brings a feeling of anticipation and excitement for a new open water season.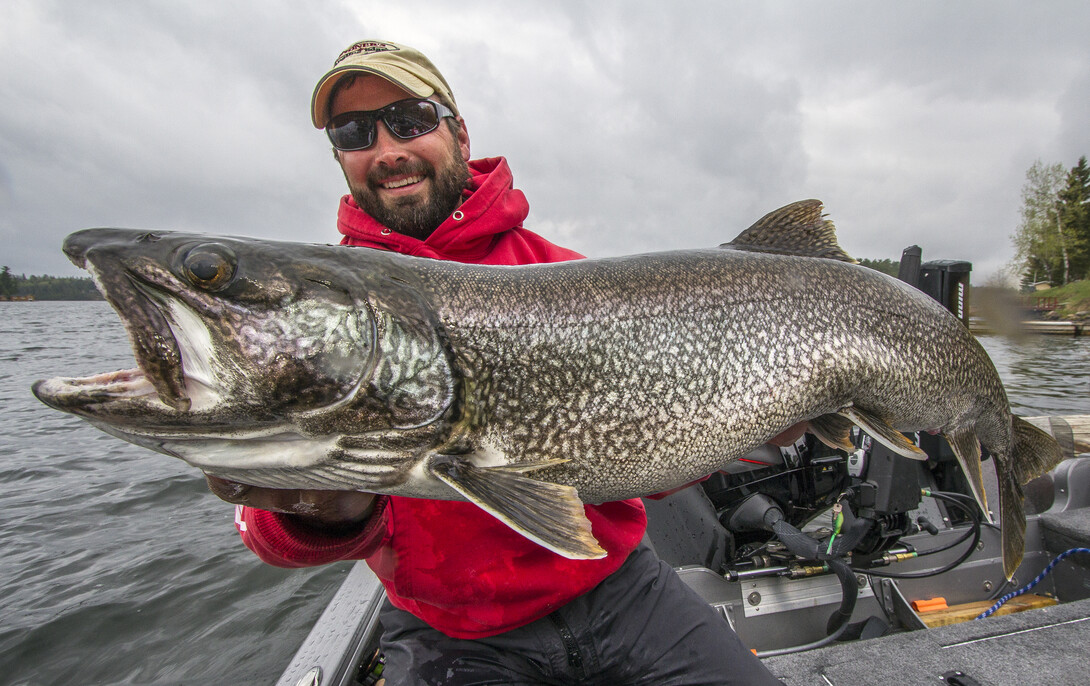 Ice-Out is an Exciting Time for Fishing
Ice-out in the North Country brings a feeling of anticipation and excitement for a new open water season. It's a time to test new lures, tie on steadies, and dream big of what the next cast might bring. All of these feelings become exaggerated when your first spring trip is on big fish water. And there's no place like Northwest Ontario and the famed Lake of the Woods. 
In my home state of Minnesota, early-season opportunities for big fish are limited. There are opportunities for catfish, carp, and sturgeon, but it's primarily limited to anchoring and bottom fishing. A shot of a big fish biting moving lures really gets a guy fired up, and makes the trip to Ontario absolutely worthwhile.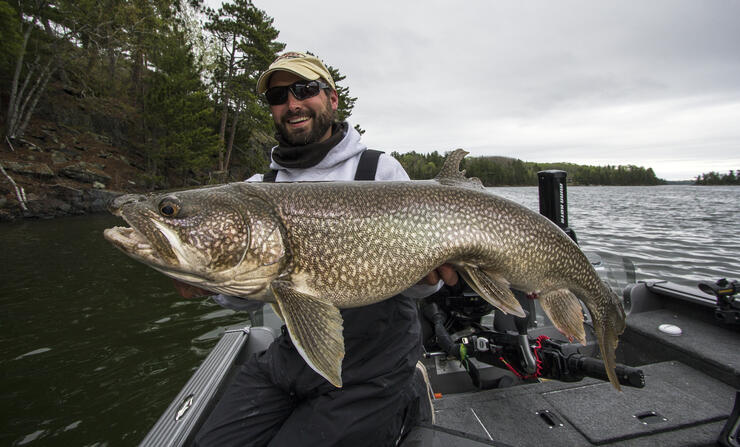 After hearing from friends for so many years how great the ice-out lake trout fishing is, we decided to do it this spring. It was my first trip to Crawford's Camp on Lake of the Woods this early, and from now on we plan to make this an annual event. 
So what makes for a good trip you want to do time and again? Of course, fish. But more than that is the scenery, lodging, food, and company. LOTW has the fish, scenery, lodging, and even food; the company is up to you. Trout on the grill with a favorite beverage in hand overlooking shield water is heaven. Lake of the Woods is only one of many lakes in the area that offer excellent laker fishing, and bass and pike seasons are open in this region as well. 
Let's get to this fishing. Targeting any fish begins with understanding their basic nature. Lake Trout are a true cold-water species. Their preferred temperature range is between 40-55 degrees. That makes timing very important; early to mid-May is traditionally the best time to plan a trip here. Lake Trout are also fall spawners, unlike pike, walleyes, bass, and panfish that all spawn in spring. They are on the prowl for food and have opportunities to exploit any abundant food sources in any depth of water at this time. That means they can be just about anywhere. However, in spring, regardless of the target species, find warmer water and food and chances are trout will be there too. 
When searching locations I'm always observing temperatures and looking for life. Many times early in the year, huge populations of baitfish and game fish are concentrated in small areas. It's worth the time and effort to put your time in searching before fishing.  
Location is always the biggest factor in catching fish, so what to look for? Neckdown areas, with shallow to mid-depth (10-30') basins nearby, are a great starting point. On this trip, our best spot was neckdown between shore and an island that was 12-18' deep, with current and the water temperature was roughly seven degrees warmer than the surrounding water. We caught fish on shorelines near the current and at the mouth of bays, but the best spot was the warmest water we found. It also had the most signs of life.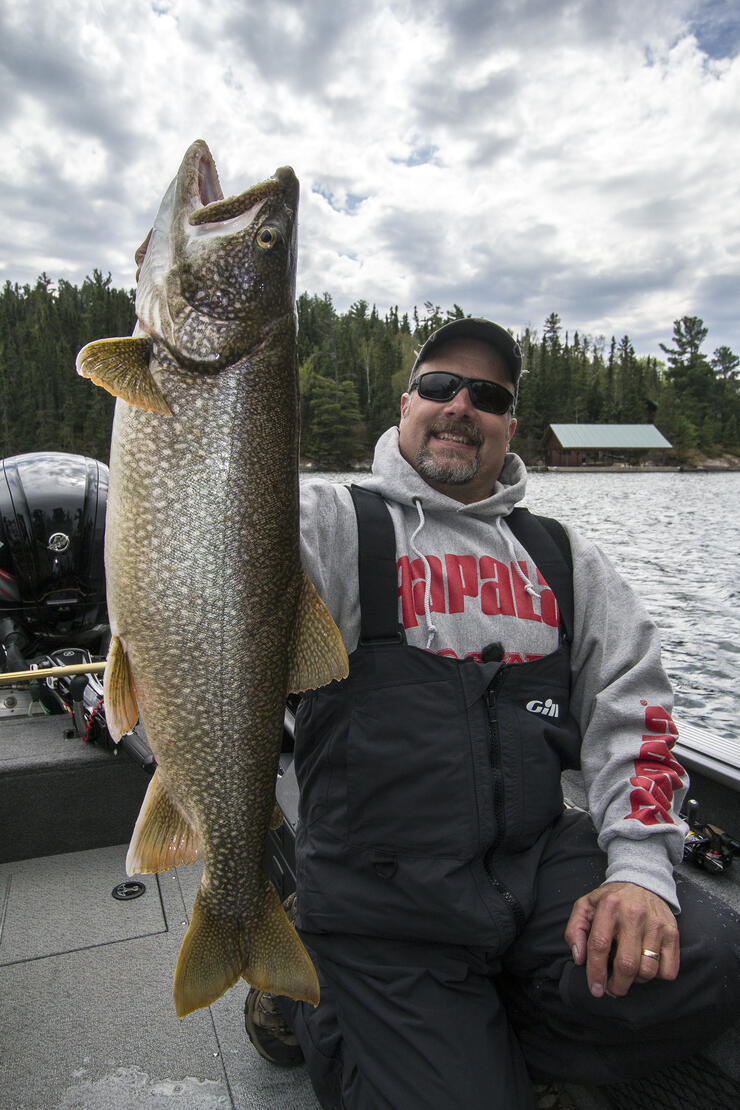 For presentation, you can cast or troll. Flatline trolling is certainly the most efficient and what I'll focus on. If you have specialized trolling gear all the better, but if you don't have trolling gear, your walleye rigging rods will work just fine. 
Here is a general guideline and the specific equipment we packed:
Rods: 7'-8'6" Medium –Medium Heavy Power Moderate Action
Spinning: 8'6" Medium Heavy Fast Action St. Croix Avid Salmon Steelhead
Casting/Trolling: 8' Medium Moderate Action St. Croix Eyecon Trolling
Reels: Reels Size 25 spinning, Line Counter or Baitcasting 
Spinning: Daiwa Revros 2500
Trolling: Daiwa Sealine 27
Line: 10-15# Braid and 12# Fluorocarbon
Spinning: 10 # Sufix 832 as your main line & 12 # Sufix Invisiline Leader (~6')
Trolling: 15 # Sufix 832 as your main line & 12 # Sufix Invisiline Leader (~6')
Lures: Minnow, Shad & Banana Crankbaits, Jigs, and Minnow Shaped Plastic
Cranks: Shad Raps, Husky Jerks, Tail Dancers Good selection of crankbaits
Our best producer was a #7 & #8 Shad Rap in Hot Steel. Other good choices include Shad Raps (7-9), Husky Jerks (11 & 13), Tail Dancers (7 & 9), and Scatter Rap Shads, Minnows, Huskies, and Tail Dancers in a variety of colors. 
Jigs: ¼-1oz jigs with a good hook. 
VMC Swimbait Jig & Spin Jig, 3/8 & ½ oz
Plastics: 4-6" Minnow Profiles and Boot Tails
Big Bite Baits 5" Suicide Shad & 5"  Triple Tail Minnow
The great thing about flat-line trolling is that it's simple. Get the crankbaits out behind the boat, put the motor in gear, and go. Spinning reels and line counter reels are best for flatline trolling. Here are a few things to consider. Line counters offer you the ability to precisely replicate where your lure is in the water when you have success. The downside is, it takes time to get the line out and lure to depth. Spinning reels offer the ability to quickly cast the bait a long distance and get fishing faster, but you can't measure precisely how many lines you have out or what depth the bait is running.
If you're on a hot bite in shallower water bumping bottom, spinning gear is far more efficient, but if you're finding fish suspended in a very specific range, line counters allow you the ability to fish precise depths. If you don't have equipment with line counters, one way to measure is to use metered line, or mark your line with a Sharpie. 
For flatline trolling a tiller works best, but you can certainly do this with a wheel boat. I like the tiller because you can more easily follow the contour than you can with a wheel boat. Turning in a tiller is instantaneous. We are typically trolling 2-3 mph, and the sweet spot for most baits is around 2-2.5 mph. It's a good idea to start with one bait running near the bottom and another running halfway down or higher in the water column. Your electronics will tell you a lot about where the fish are. 
As I mentioned, water temp is a huge deal, so always pay attention to what the water temps are where you're fishing and what they are while you're traveling. Areas with the highest temperature gradient will often concentrate the most on life. What I mean is if there is a bay or channel off the main lake – that is, say, 48 degrees and the main basin is 41 degrees – that warmer water is a likely fish-holding spot. By comparison, if the main basin is 41 and a good-looking spot is only 43, that spot likely isn't that good. 
As you're trolling, if you see bait and other fish near the bottom, focus there, but if you see a lot of life suspended, be sure to have a bait running just above the depth where you're seeing fish. Don't be afraid to make multiple passes in an area that looks good; it might take a time or two through the area to find the sweet spot.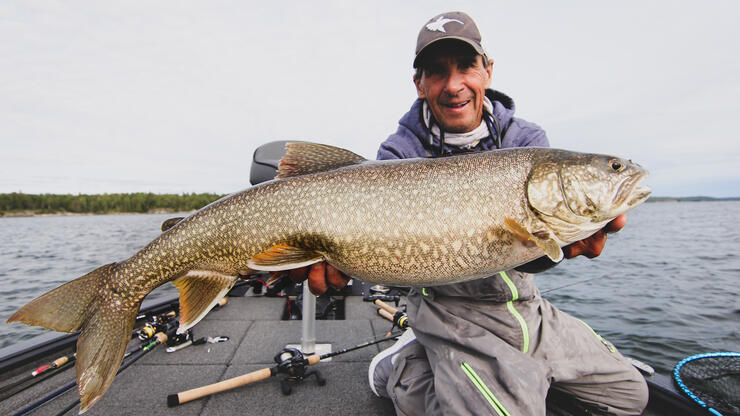 This is a big deal: when you get bit, don't set the hook. It's amazing how much better a rod holder can hook fish compared to an angler. Often the trout crush the bait and push it forward. When a trout strikes, hold the rod in the same position and let the fish and the momentum of the boatload the rod. Secondly, run a loose drag; you want the drag to pull when the fish strikes. Do this, and I promise you will land more fish than trying to slam the hooks home. 
If you like catching lots of big fish in a beautiful place with no one around, spring lakers are a must.