10 amazing things you can make with wild blueberries
It's blueberry season. These sweet, succulent wild blueberries are a must-try experience.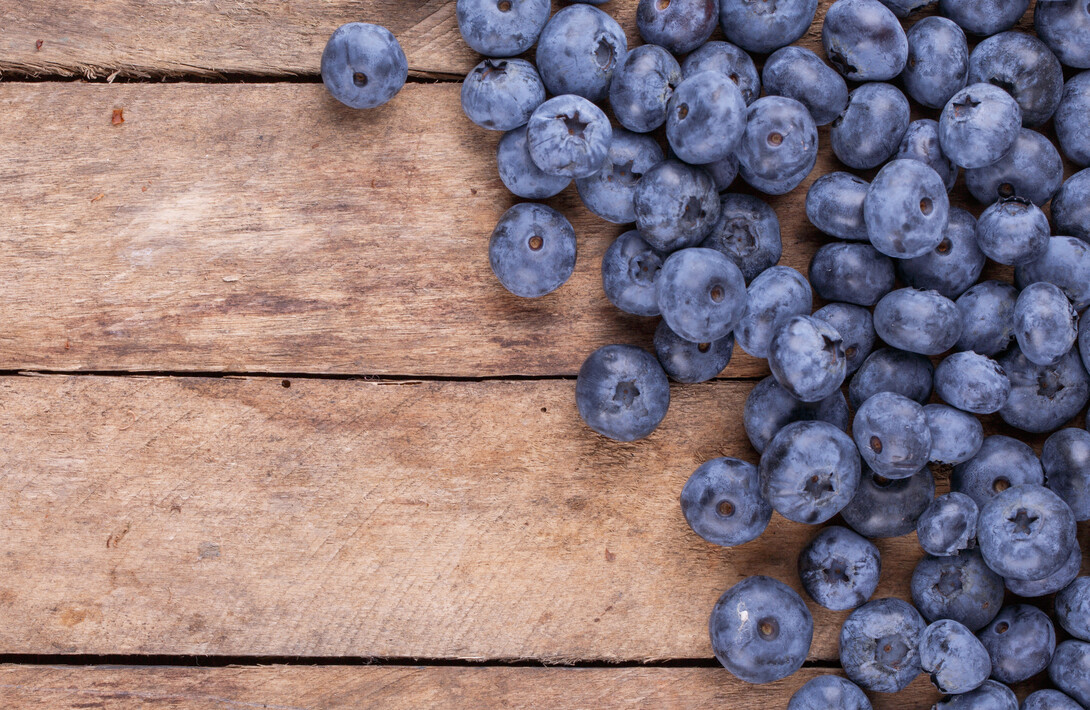 Compared to down south, the summer in Ontario's Sunset Country is relatively short. Even shorter is the blueberry season. But during those few weeks beginning in mid-to-late July and into August, you'll find the bushes around here full of these sweet berries. They are much smaller and sweeter than the blueberry variety (highbush) you find in most supermarkets. 
As I child, I remember packing up the car and heading 20 minutes north to go blueberry picking. With the amount we ate while picking, I'm surprised we brought any home! These days, I usually splurge and buy some at the farmers' market or sometimes along the side of the highway. I admit that I've spent over $100 in a few short weeks buying my favourite fruit. Blueberries freeze well so I stock up when they are ripe in the summer and use them all year long.
Tip: To freeze blueberries, freeze on a cookie sheet. Once frozen, place in a paper bag with an elastic around it. Do not put in a plastic bag. The blueberries stay frost free!
If you happen to be staying at a lodge or resort in Northwest Ontario during this time of the year you'll be excited to know you can probably just head outside not too far from your cabin to find these tasty morsels. If you're staying at an American Plan Lodge where they make your meals for you, you'll probably end up with a slice of blueberry pie or some other blueberry treat during blueberry season.
Here are 10 blueberry recipes to try out with your fresh or frozen wild blueberries.
1. Blueberry Banana Banana Muffins
This recipe is adapted from a banana loaf recipe. It is a dense, moist muffin full of flavour and is my go-to muffin recipe.
2 cups all-purpose flour
1 teaspoon baking soda
1/4 teaspoon salt
1/2 teaspoon cinnamon
1/2 cup butter
3/4 cup brown sugar
2 eggs, beaten
1 teaspoon vanilla
2 1/3 cups mashed overripe bananas (about 5 bananas)
1 cup blueberries
Directions:
Preheat oven to 350 degrees F (175 degrees C). Lightly grease your muffin tin or use liners. I like the parchment paper liners the best.
In a large bowl, combine flour, baking soda, cinnamon and salt. In a separate bowl, cream together butter and brown sugar. Stir in eggs, vanilla and mashed bananas until well blended. Stir banana mixture into flour mixture; stir just to moisten. Fold in the blueberries carefully. Scoop batter into muffin tins. I like to use an ice cream scoop.
Bake in preheated oven for 10 to 12 minutes, until a toothpick inserted into center of the muffin comes out clean. Let muffins cool in pan for a few minutes, then cool on a wire rack.
2. Shredded Coconut Blueberry Paleo Muffins
For those that want something a bit more healthy and gluten-free, try the Spunky Coconut's Shredded Coconut Blueberry Paleo Muffins. This recipe is one of the best paleo muffin recipes I have tasted. It was light and fluffy and froze well. Definitely a keeper!
 3. Clean Eating Blueberry Crumb Bars
These Blueberry Crumb Bars from ifoodreal, while they look sweet, they are not overly sweet to the taste. They would be great for breakfast or a snack instead of muffins. This version is a cleaner version of the crumb bars or cakes. You can choose either maple syrup or coconut palm sugar as the sweetener.
4. Blueberry Pie Bars 
 If you're intimidated by making pies, this Blueberry Pie Bar recipe may be just what you need.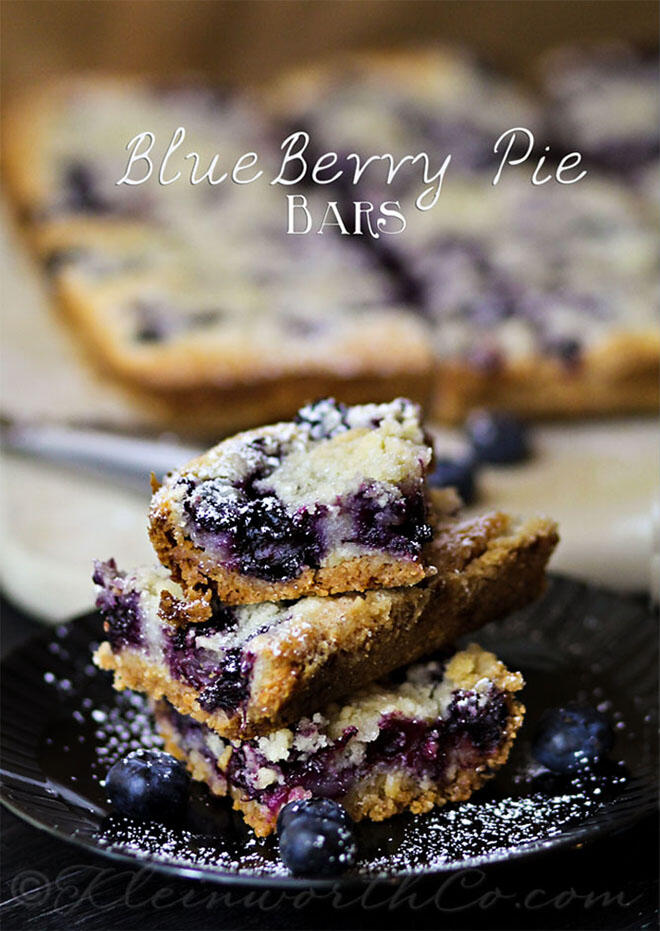 5. Blueberry Lemonade
This blueberry lemonade from Damn Delicious is both sweet and tangy. It's perfect for a hot summer day. I like to add some vodka in it for an adult drink. :)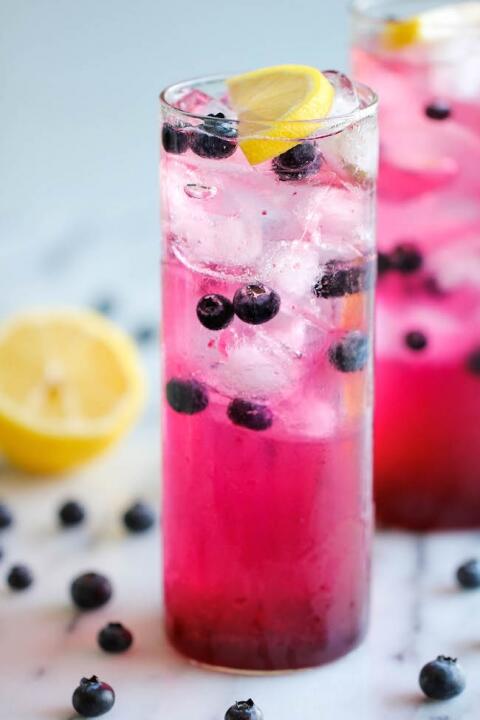 6. Blueberry Frozen Yogurt
Homemade blueberry frozen yogurt? Yes Please! This creamy delicious yogurt by Renee's Kitchen Adventures uses frozen blueberries and greek yogurt.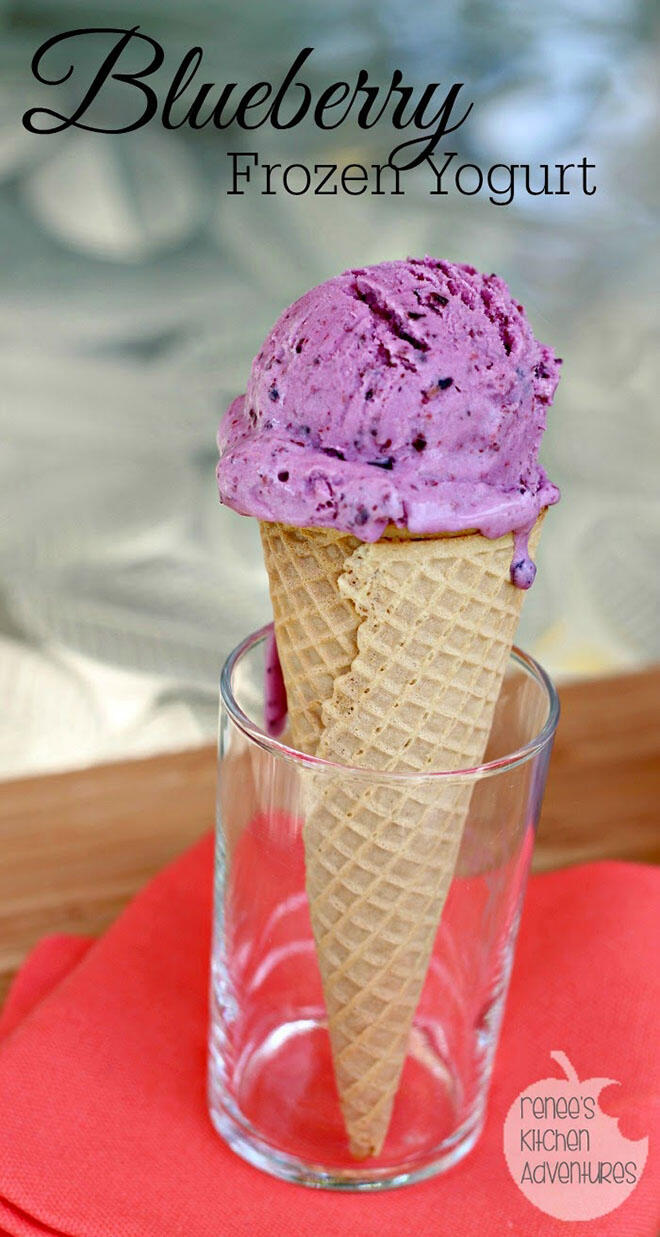 7. Blueberry Vanilla Bread With Lemon Glaze
There's something about the blending of blueberry and lemon flavours. It's like peanut butter and jam, they just go together. In this case, the addition of vanilla in this Blueberry Vanilla Bread with Lemon Glaze makes it even better. It would be easy to make this at your cabin. It would be amazing paired with a cup of coffee sitting on your deck in the morning.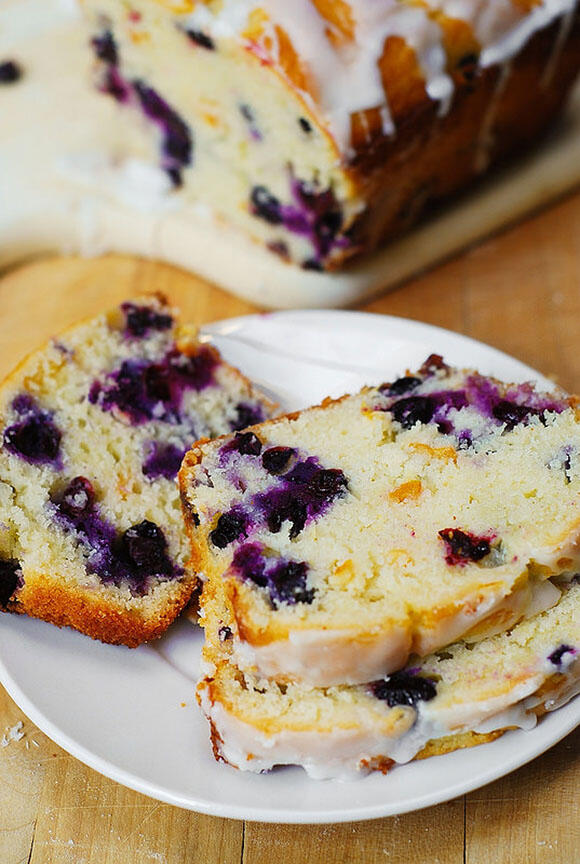 8. Blueberry Crumble Bar
This Blueberry Crumble Bar by (a)Musing Foodie is another simple recipe that you could whip up with some fresh picked blueberries.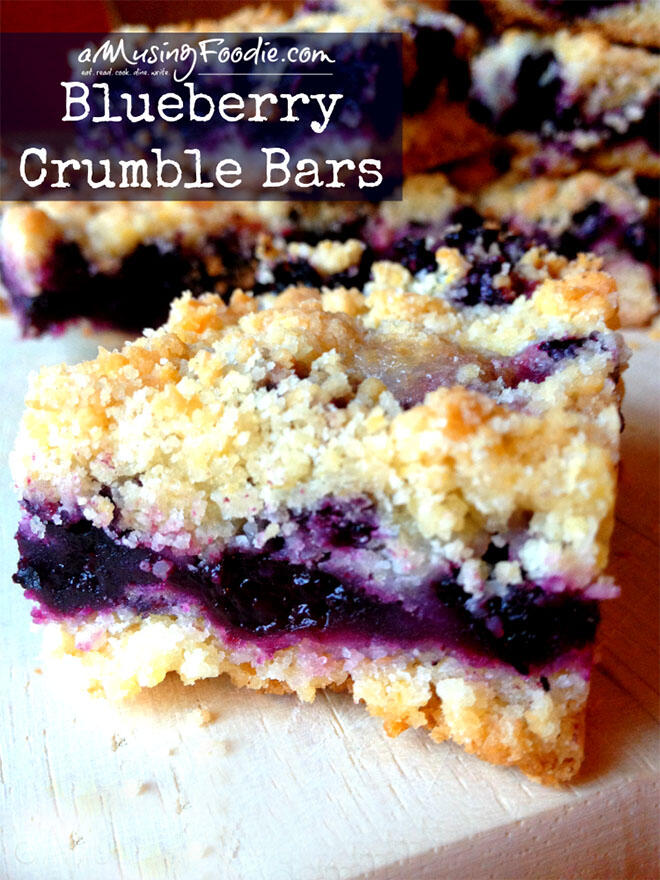 9. The Blueberry Pancakes of Your Dreams
That's the real name of the recipe! Baker by Nature aptly names this recipe the Blueberry Pancakes of Your Dreams. Just try it, you'll love it.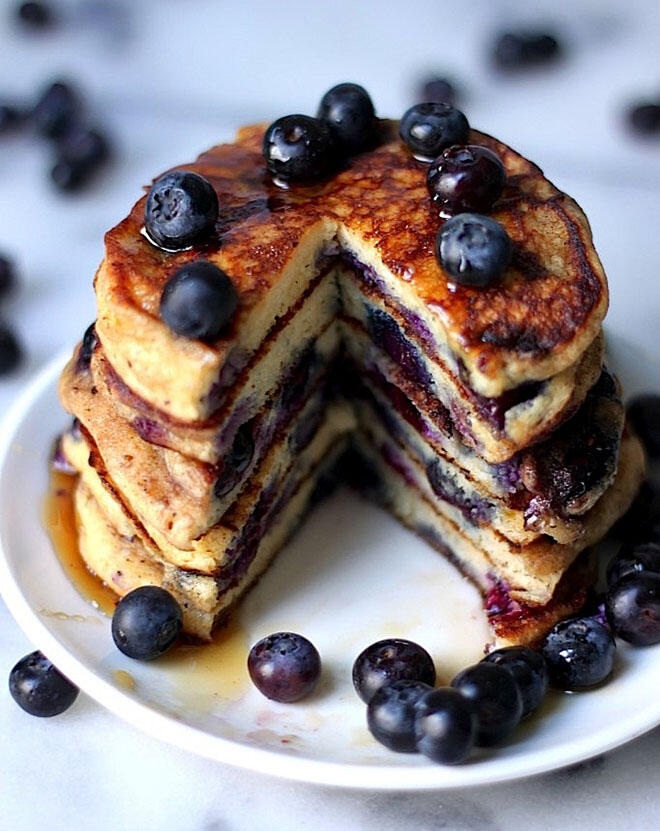 10. Spinach Salad with Blueberry-Basil Dressing
What a great summer salad, especially for those looking to use up their basil in the garden. This blueberry-basil dressing from the Garden Grazer is delicious. I use candied pecans and honey instead of Agave in the dressing.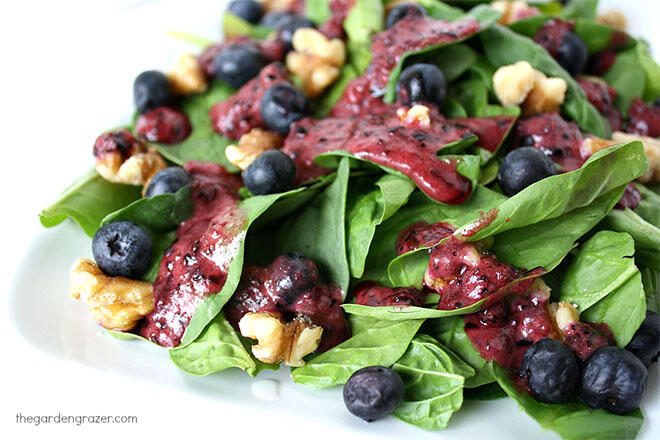 You get double the blueberries in this recipe—in the salad and in the dressing!
So there you have it! There's no excuse now not to get some blueberries and try out these delicious recipes.