6 road trips from Minneapolis to Northwestern Ontario's Sunset Country
From fishing and wildlife sightings to culture, good eats and of course sunsets, there's lots to discover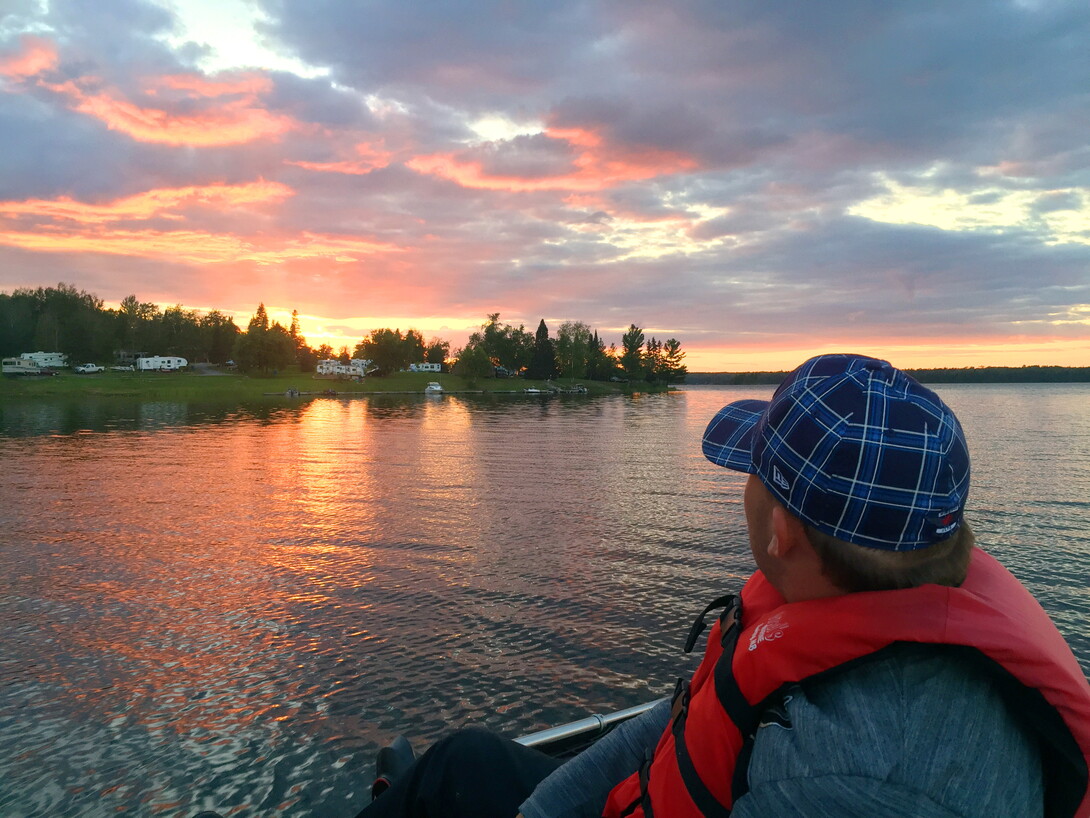 Considering a road trip from Minneapolis/St. Paul? Think northwest! Sunset Country in Northwestern Ontario is about 300 miles (480 km) away, an easy day's drive with time for stops along the way. Known for its fishing, hunting, canoeing, and camping opportunities, there are also a host of historical and cultural sights to see in the many friendly towns along the way. 
Here are six road trip ideas from Minneapolis to Ontario's Sunset Country.  
Tip: Before travelling from Minnesota into Canada, check out these handy tips to help ensure your border crossing is as smooth as possible: What not to bring, what to pack, how to get here, and frequently asked questions. 
Step back into history at Kay-Nah-Chi-Wah-Nung, also known as Manitou Mounds, near Rainy River. This sacred Indigenous site hosted by the Anishanaabeg of Rainy River First Nation is a longtime gathering place and was an important centre for early habitation and ceremonial burial. It's also a National Historic Site of Canada. Take a self-guided or guided tour around the trails on the expansive grounds (bike rentals are also available), or download the medicinal plant guide to learn more. Indoors, explore the collections space with over 16,000 artefacts dating back 8,000 years. There's also a restaurant that features traditional Anishnaabe ingredients and a gift shop that has work by local Indigenous artists. Tip: Follow them on Instagram @manitoumounds to see upcoming workshops and events as well.
Located near the renowned Quetico Provincial Park with its endless paddling opportunities, the small town of Atikokan is a great spot to begin or end your backcountry canoe trip. Other outdoor rec options include nine holes of golf at the picturesque Little Falls Golf Course, with a beautiful waterfall best viewed from the seventh tee, as well as plenty of trails for mountain biking, horseback riding or motocross at Charleson Recreation Area. There's also world-class fishing for walleye, bass, crappie, pike and more at a variety of local lakes, hosted by local outfitters or accessible on your own. Local makers and artisans include XY Company Paddles for hand-crafted wooden canoe paddles, art exhibits at the Pictograph Gallery and healthy snacks and local products at T. S. Wellness + Café. Check out more top things to do in Atikokan here.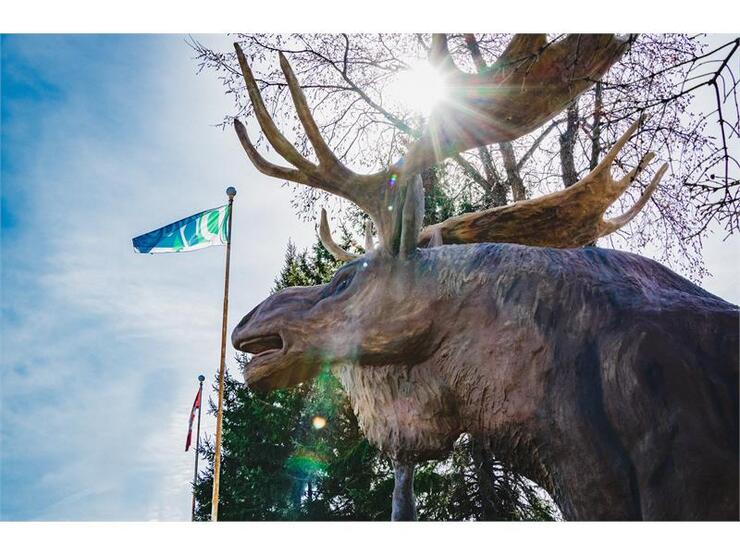 This small town on the Trans-Canada Highway offers lots of opportunities for outdoor exploring as well as a photo op with Max the Moose, one of the region's many roadside attractions! Nearby Aaron Provincial Park has camping facilities, two sandy beaches and with a bit of luck, great opportunities for viewing the northern lights. Or, check out the 22-km network of hiking and biking trails at Ghost Lake. Contact a local naturalist to set up a birding tour, visit Egli's Sheep Farm and Animal Park to find beautiful sheepskin products or try a little geocaching in and around the boreal forest. Riverview Lodge overlooking Wabigoon River is a local favourite for dining. Go fishing at one of the area's many beautiful lakes and see if you can land a bass, lake trout, muskie, pike or walleye. Want to stretch your legs after your drive? Try the Rock Around the Park challenge, where you walk, jog or bike around the trails in Pronger Park and find eight stations where you scan a QR code with your smartphone to test your musical knowledge. Kids will love to know that a new 2,800-square-foot splash park is scheduled to open in mid-August at Rotary Park, and there are smaller splash pads at Plumridge Park and Kinsmen Park as well as three public beaches. Here are the top 10 things to do in Dryden, if you're looking for more ideas!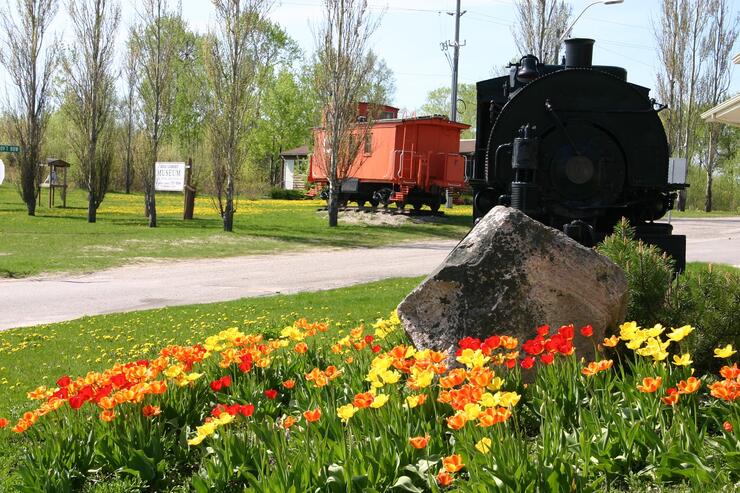 Discover this small town tucked into the northwestern Ontario wilderness. It recently did a multi-million dollar refresh of its Farlinger Park waterfront (locally known as Town Beach) that now includes a boardwalk, accessible ramps to the beach, kayak rentals, a covered pavilion area and spaces for food trucks. Hike 11 km of nature trails at nearby Ojibway Provincial Park which also has fantastic smallmouth bass fishing on Little Vermillion Lake. You can fuel your adventures with a selection of sandwiches from the popular Pelican Lake Sandwich Company Want to ride a train? Via Rail has passenger service in Sioux Lookout several times a week with destinations elsewhere in Ontario and points west. The town's annual Blueberry Festival runs late July through early August, and even if you miss the festivities, you can still pick delicious wild blueberries! For retro fun, head to the arena on Wednesday nights for roller skating (BYO skates).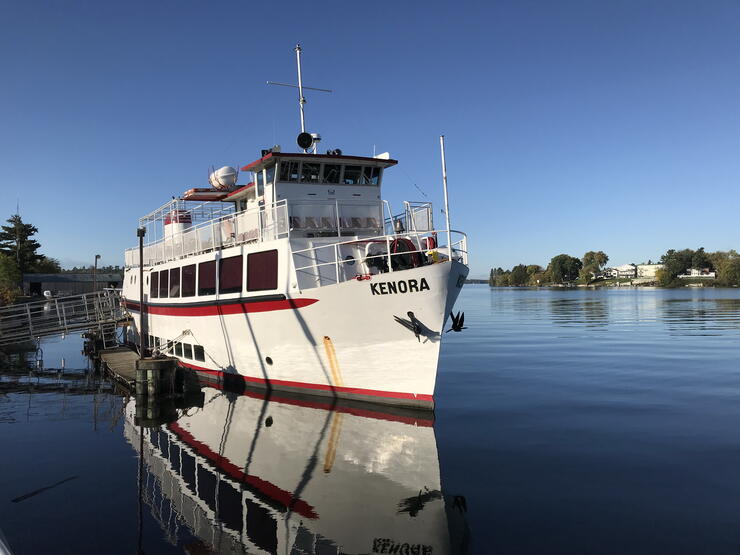 The vast and beautiful Lake of the Woods is on Kenora's doorstep, and visitors and locals alike love the lake as well as the waterfront's downtown with a variety of boutiques and independent eateries, including the Lake of the Woods Brewing Co. taproom in a refurbished turn-of-the-century fire station. A cruise aboard the MS Kenora is a wonderful way to see the lake and get a new view of the city, and it also offers lunch and dinner cruises. Check out some of the area's unique attractions: how about the Redditt Bottle House (yes, a little house made of bottles), Devil's Gap Rock (which has been painted countless times since the late 1800s), Husky the Musky in McLeod Park (another giant roadside attraction), the Rotary Goodwill Geyser that erupts hourly on the waterfront and the James McMillon tugboat. Head to the Lake of the Woods Discovery Centre (the city's tourism centre) where you can also discover two Science North interactive exhibits, the largest outboard motor collection in North America, and Discovery Forest where you can learn about Indigenous uses of the boreal forest. Arts and history buffs can stroll the The Muse (the Lake of the Woods Museum and the Douglas Family Art Centre), do a self-guided tour of 18 heritage murals through town, or visit the Lake of the Woods Railroaders Museum and Mather Walls House (which offers ghost tours as well as a tea room). There are also countless lodges, camps, and resorts in the area to choose from.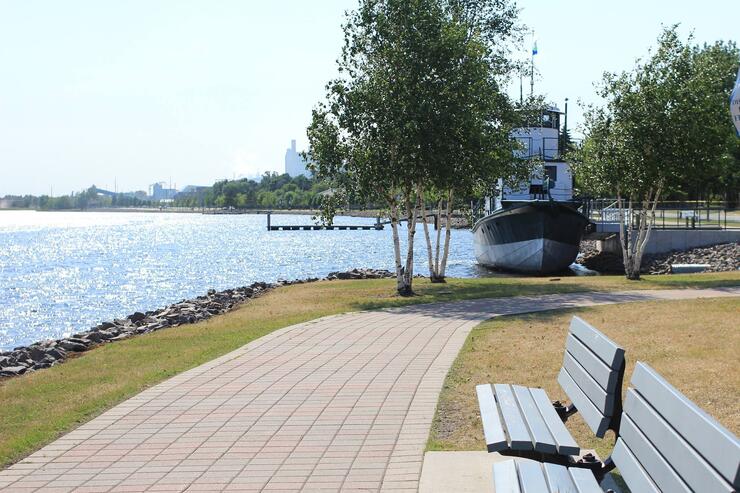 This border town (it's across the river from International Falls, Minn.) has a variety of experiences to discover. Play a round of golf at the 18-hole Heron Landing Golf Course at neighbouring Couchiching First Nation or get a sense of the area's history by visiting The Hallett, a former forestry boat. Climbing the 115 steps of the Lookout Tower gives you a great bird's eye view of the town. Downtown Scott Street has a variety of charming gifts shops and local independent restaurants. For rustic fine dining, visit Flint House for fare prepared with fresh local ingredients, including locally caught walleye. Swimming and boating on Rainy Lake are also exceptional, as is the fishing for bass, walleye or musky, with a number of fishing camps and resorts to choose from.  Come fall and winter, the Tour de Fort is an amazing concert series where visiting professional musicians (think: Matt Dusk or Amanda Rheaume) put on a quality show.
Visit Sunset Country online and request a free guide for more inspiration and help planning your next vacation to beautiful northwest Ontario.