This Story is Archived
Please note this page may no longer be up to date. For new stories about Northern Ontario visit us here.
New Ontario ATV Laws
Changes made by the Ministry of Transportation seek to make travelling on public roads with off-road vehicles safer for drivers.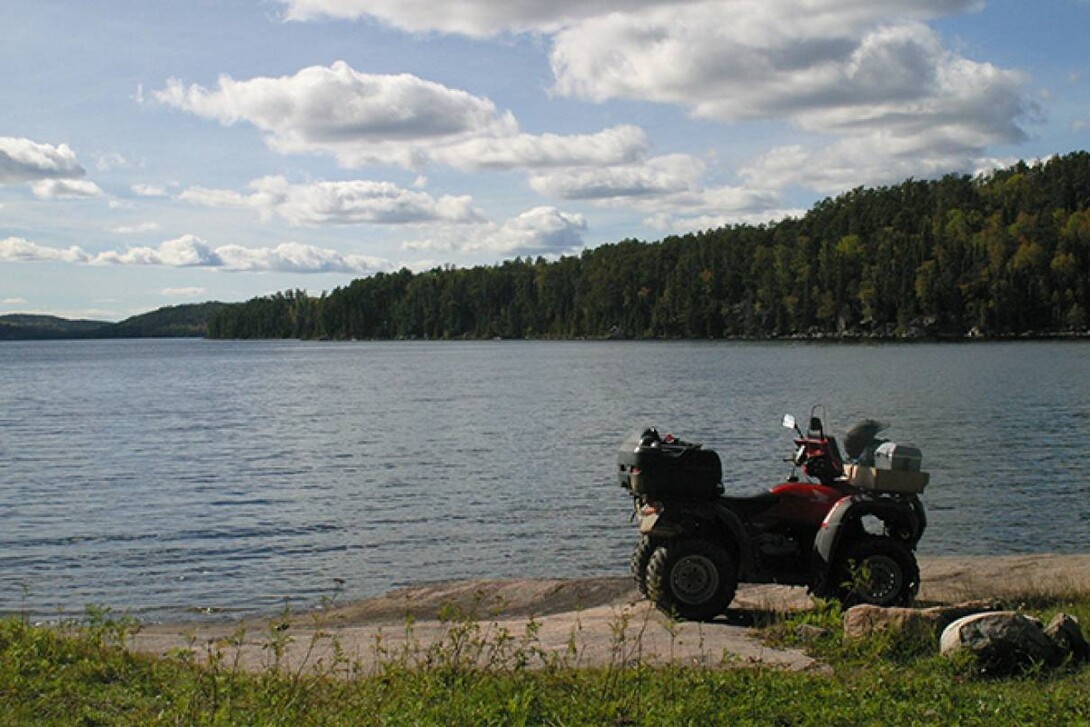 If you're familiar with Northwestern Ontario, you'll know that tucked away within the vast Canadian overgrowth, there are hundreds upon thousands of trails and backroads; many of which are only easily accessible by all-terrain vehicles or ATVs. For anyone who camps, owns a cottage, lives in a non-rural area, hunts or fishes, the ability to drive an ATV is not only a necessity but also a right of passage. ATVs have become a priceless commodity over the past decades as they make navigating the dense Ontario backwoods much easier than with conventional vehicles. Many people rely on this mode of transportation to quickly and efficiently haul equipment and errands from their respective locations without burning a tonne of fuel on small trips.
So far the ability to travel by road on ATVs has been very limited and has hindered people's ability to travel effectively from one disconnected trail to another. However, the Ministry of Transportation has recently announced that the government will be implementing new standards which will have a beneficial effect on where we're able to travel with an off-road vehicle.
Starting on July 1st, 2015, the province of Ontario will be putting new rules in effect regarding travelling by all-terrain vehicles. They have highlighted two specific areas that will allow easier access to public roads via ATVs while at the same time promoting effective safety procedures when operating these vehicles.
The new additions will become effective immediately as of the aforementioned date: 
Many more models of all-terrain vehicles will be allowed to be driven on the shoulders of public roads and highways. This includes two-ups, side-by-side, and utility terrain vehicles (UTVs)
Absolutely everyone who rides on an ATV of any kind, including drivers and passengers of all ages, will be required to wear a helmet as well as use any safety device on the vehicle when applicable (seatbelts, footrests, etc.)
During the month of June, the province will be avidly promoting vehicle safety to municipalities throughout the region while they adjust by-laws to fit the new regulations.
The province is also allowing an education period that will begin on July 1st, 2015 and last until September 1st, 2015. During this time, fines for not abiding by the rules will be less strict, so that those who aren't fully aware of the changes have a chance to educate themselves. This isn't something to be taken lightly, however, and we as well as the province encourage everyone to follow the laws and travel safely. Also during this time, police still have the ability to lay charges on violators through a summons if they see fit.

What qualifies as an all-terrain vehicle?
ATVs are listed under off-road vehicles (ORVs) which encompasses any compact vehicle designed specifically for use on rough terrain including:
Single Rider (ORVs with only one seat designated for a single person)
Two-up (ORVs with seating for two people; the passenger sits directly behind the driver)
Side-by-side (ORV with seating for two to four people; the seating is arranged similarly to a regular vehicle, with the driver on the left and the passenger on the right. Most of these vehicles are equipped with seatbelts and must be worn in accordance with the new amendments)
Utility terrain vehicles (ORV similar to a side-by-side except with only two seats and a cargo box in the back)
Who can drive an off-road vehicle?
To drive an off-road vehicle in the province of Ontario one must be at least 16 years of age and possess a minimum G2 or an M2 (motorcycle) class driver's licence.
Do I need to insure my off-road vehicle?
Yes. It is required by law that all vehicles, including ORVs, have insurance and proof of registration in order to legally drive in the province of Ontario.
Where can I drive my off-road vehicle?
Provided you have the aforementioned credentials, you can drive on any backroad in Ontario with an ORV and as of July 1st, 2015 you can drive on the shoulder highways and residential roads with any of the vehicles listed above. 
"You could spend a lifetime travelling down every dirt road in Ontario and still not conquer them all." 
The sheer amount of secluded wilderness and untamed paths hidden throughout northern Ontario's wooded haven is vast in numbers that are impossible to comprehend. It's the kind of thing that would you'd expect to come straight out of a fictional novel. Rugged, rock-covered paths are a Hallmark of this area and are the main attraction for off-road enthusiasts throughout North America.
Many resorts and outposts in Ontario also rely on ORVs, using them as a way to transport visitors to and from their destinations. Many lodges also take great pride in having miles of recreational trails for their guest to enjoy and explore. Backroad accessibility is the main feature of hundred of camps within the region. Here's a list of just a few of the lodges in Ontario that offer an off-road experience you'll need to see to believe:
Red Lake, ON 920-810-2491
Vermillion Bay, ON 807-227-5245 or 800-989-7919
Vermillion Bay, ON 807-227-2040 or 888-227-2040
Red Lake, ON 807-727-2708 or 800-810-1479
Minaki, ON 807-224-3213
Thunder Bay, ON 807-767-1809 or 800-466-0918
Ignace, ON 807-934-6980
Finlayson Lake Resort & Campground Ltd.
Atikokan, ON 807-597-1511
Perrault Falls, ON 807-529-6267 
Emo, ON 807-482-2063 or 866-597-7171
Sioux Narrow, ON 807-226-5622 or 800-465-1091
Sources: