Backyard Vacation!
Now is the perfect time to discover what we have nearby! And Muskie Bay Resort was just the staycation we needed.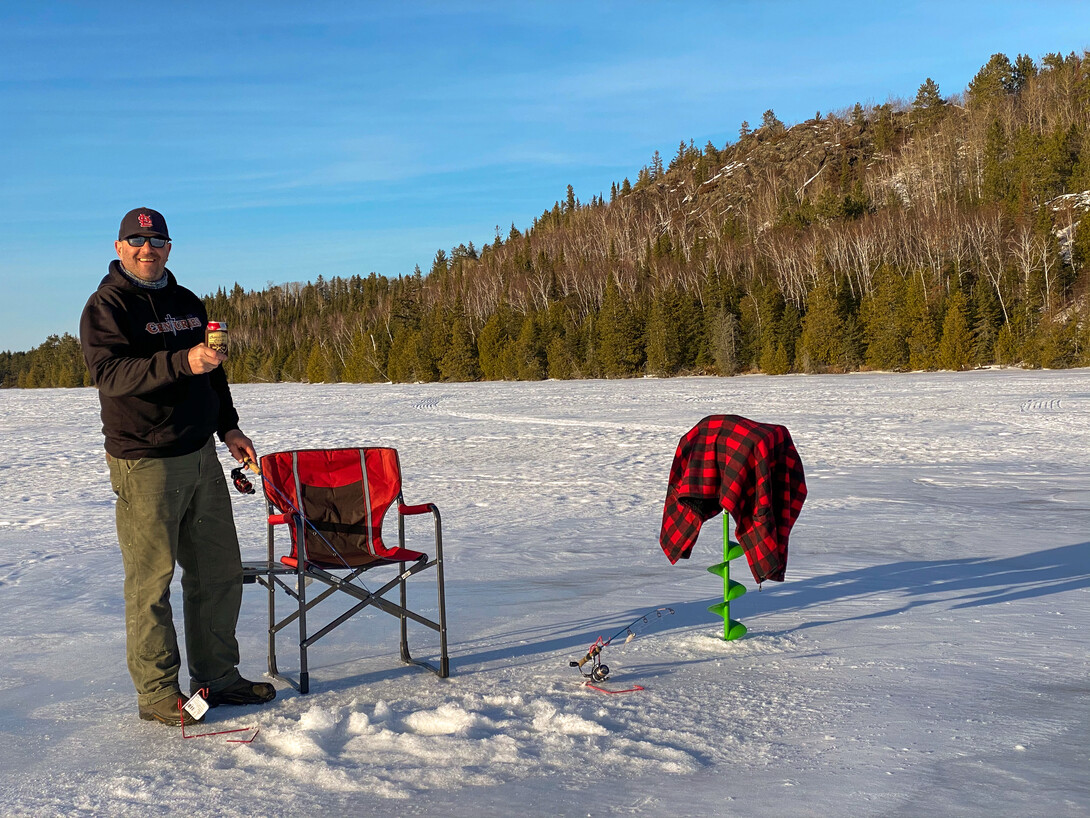 It's Winter in Sunset Country and what is there to do? I was chatting with a good friend and she mentioned that they were thinking of renting a nearby cabin for a few days. The Sunset Country travel region is located directly above Minnesota and most lodges have American clientele. This article is a gentle push to Canadians that winter can be fun - especially in Sunset Country. Better yet, it's right in your own backyard!
I was searching some of the lodges that are open in the winter in Sunset Country on Facebook to see what was suitable. I saw a post featuring Muskie Bay Resort's fire pit. I knew I had found the place. An outdoor fire is perfect for a few friends to enjoy each other's company and have a few drinks. 
Leaving our driveway, with my SUV filled to the brim with ice fishing and snowmobiling gear, food and way too many other things, my daughters were just as excited as they were going to Mexico last year. Truthfully, so was I.
Nestor Falls is about an hour and 15 minutes from Kenora. As I was driving down the highway I was trying to think of the last time I drove on the highway somewhere. I couldn't remember it has been so long.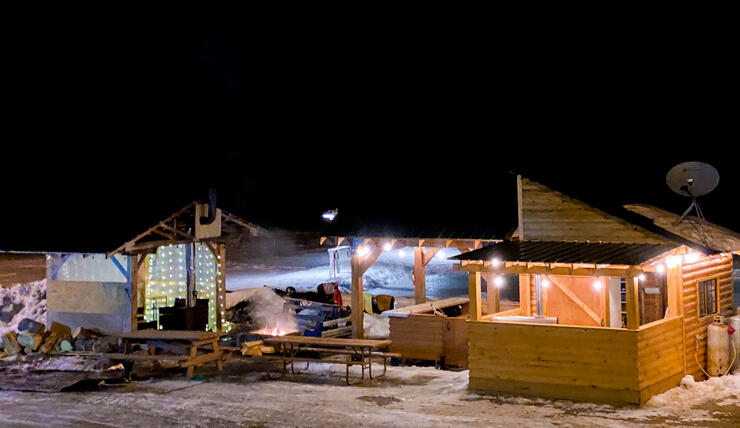 Pulling into the resort, we settled in our cabins and headed down to start a fire. As we approached the fire pit, we noticed the rink. The kids had already been down for a skate and thoroughly enjoyed the rink with its massive lights and hockey nets. 
It has been a long winter without gatherings and having a few friends gather for some fun was just what we needed. It was like a weight had been lifted off our shoulders. You know that feeling when you head down to somewhere hot for March break and have a great first night just being away from the cold? It turns out it's not really the heat that makes you happy. It is the relaxation, the food and drinks, and the company! We felt as great as we did in previous hot destinations.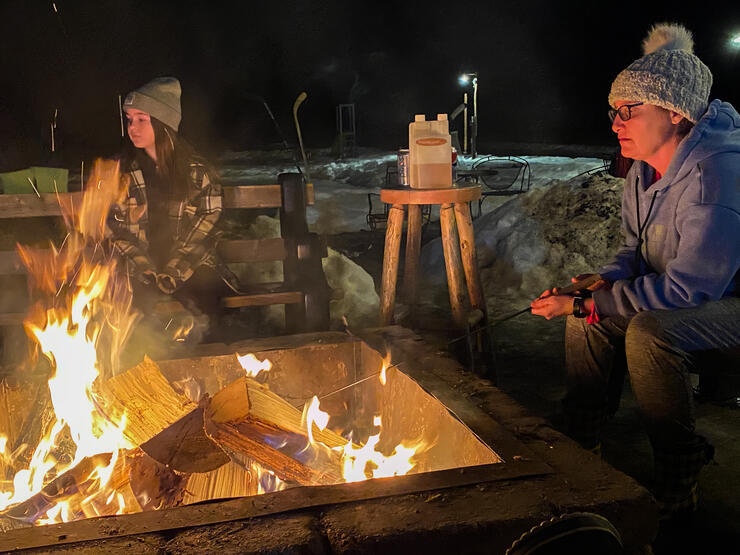 The weather was beautiful. We ice-fished on Crow Lake for lake trout, snowmobiled, relaxed ate, ate some more, drank, and the kids and even the moms skated (I "forgot" my skates! ;) ) It was on our agenda to go for the 5 o'clock crappie bite on Lake of the Woods, but we were having a blast and decided to forgo it. Next time!
Almost every time I am out of the lake, I take in the rugged beauty of northwest Ontario and think we are so lucky to live here. While we were out ice fishing next to the huge outcrops and ridges on Crow Lake, my friend Darren says "We are so lucky to live here!" Exactly! We are very lucky to live in Northwest Ontario and we should be taking advantage of what's here. Americans wait all year to come back up to Canada for their yearly vacation, and for us, it's simply opening our doors and venturing out to our own paradise. 
It's easy to social distance while on a vacation in Sunset Country! Since the school's March break has been moved to April, I wouldn't mind venturing out to another lodge for a staycation! With our warm winter and thinner than average ice, who knows, maybe we can even get in a bit of walleye fishing before it closes on April 14th for the spawn.
I highly recommend you take a vacation in our "backyard". Sunset Country is such a beautiful area to explore and has so many lodges and thousands of lakes to choose from. It will help the outfitters in the area, but more importantly, you'd be surprised as to how much you are rejuvenated after your trip. I would have loved to stay another couple of days.
A local getaway was just what we needed.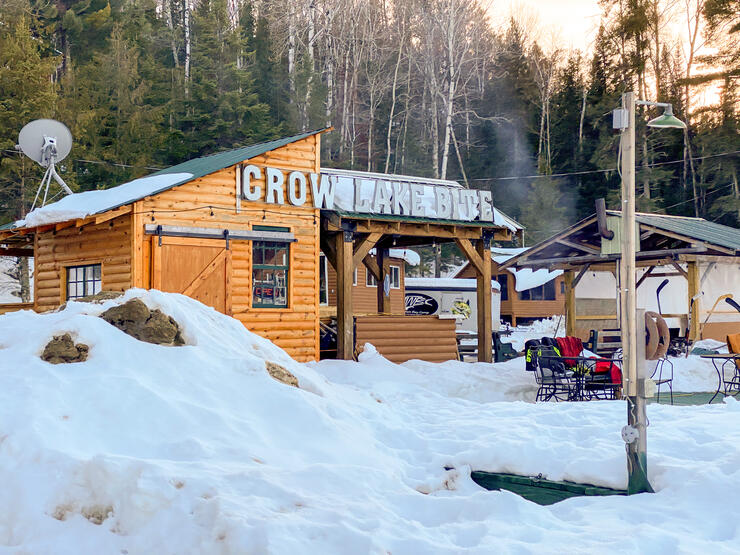 If you'd like to get more information on Muskie Bay Resort, you can contact Paul or Chris Trinkner at 807-271-3015 or 1-877-228-2076, visit muskiebayresort.com, or follow them on Facebook. Muskie Bay Resort has 1, 2, and 3 bedroom cabins available as well as a duplex that connects two 3-bedroom cabins. They also have hotel units that have full kitchen facilities. 
We brought our own snowmachines, but the resort had snowmobiles and ice shacks to rent as well. 
For a list of outfitters that are open in the winter go to visitsunsetcountry.com or plan a summer vacation in Northwest Ontario. You can use the Sunset Country Accommodation Finder to search for a lodge.