Cool Roadside Attractions
From big fish to big foot, tugboats to bushplanes, you never know what you'll spot on the roadside of Sunset Country! We've rounded up the top roadside attractions to check out while visiting.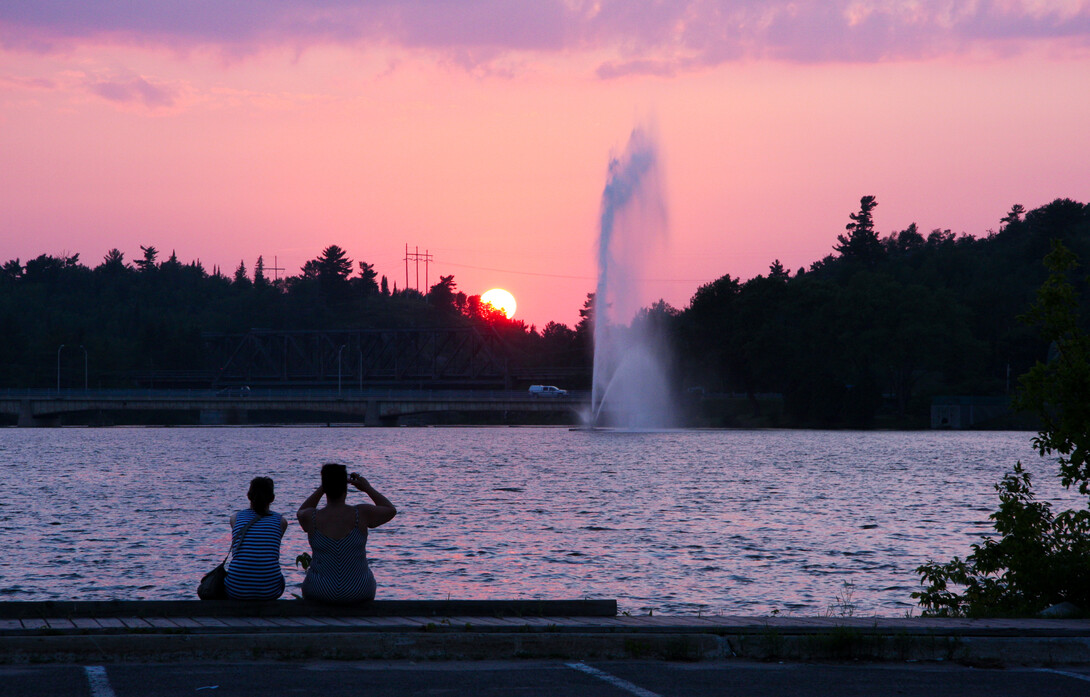 Unique Roadside Attractions in Sunset Country
Since cars were invented, enterprising communities across North America have been busy erecting roadside attractions to entice visitors to stop and snap a few pics–and maybe even stay awhile in their welcoming towns. So what exactly is our fascination with these, beautiful, quirky, and sometimes weird roadside attractions? Who knows. But I know whenever I see one, I'm definitely pulling over to check it out. 
From the Big Nickel in Sudbury, Ontario to a chicken in Chicken, Alaska to a flying saucer in Moonbeam, Ontario to an upside-down White House in Wisconsin Dells, WI, roadside attractions are found all across North America and these unexpected delights are often the best part of road tripping. 
Map of some of the Roadside Attractions in Sunset Country: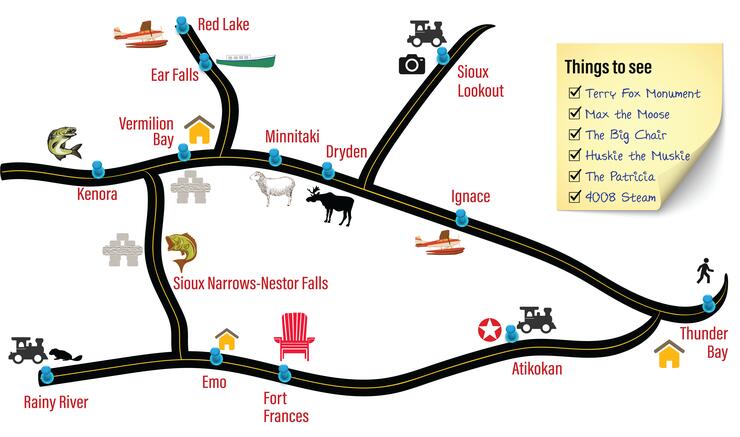 As you drive around Ontario's Sunset Country, you'll notice we are no exception, most of the towns and communities have roadside attractions of their own. From a large muskie to a moose to a giant chair. I probably have photos of my children with most of them in the area. 
How many of these have you stopped and taken a photo with? 
Fort Frances
Fort Frances is a border town that is found where the Rainy River meets Rainy Lake. On the east end of town, you'll find Point Park. Walk around and you'll find this massive red chair! It's a great place for a photo op! There are a lot of other historical landmarks in Fort Frances to check out as well. 
Atikokan
Atikokan has a long history of mining. If you take a walking tour around town, you'll see many mining exhibits throughout the town. The Iron Ore Car below is just one of the interesting historical mining exhibits. The car was used in underground mining. The Atikokan Historical Park at Legion Point also has many more mining and railroad artifacts.
Thunder Bay
Not necessarily a roadside attraction as it's huge, but for sure an attraction worth getting out of the car for. The Fort William Historical Park is one of the largest living history attractions in North America, devoted to re-creating the days of the North West Company and the Canadian fur trade.
The Terry Fox Monument is situated in a beautiful location that also offers a panoramic view of Thunder Bay and the Sleeping Giant. The monument, which is open to the public, is one of the city's most treasured historical sites. It signifies cancer research activist Terry Fox's tragic endpoint in his Marathon of Hope on 1 September 1980.
Ignace
Ignace can be found along the Trans-Canada Highway halfway between Kenora and Thunder Bay. A Beechcraft Expeditor is on display in Ignace since 1994 at the corner of Highway 17 and East Street. The aircraft was built from parts of three planes and erected here on false floats. The original plane (CN CA-222) was built in 1952 and assigned to the Royal Canadian Air Force. 
SIOUX LOOKOUT
Pelican Lake is the perfect backdrop to take your photo in this oversized photo frame located at the Tourist Information Centre in Sioux Lookout. What a great memory of your trip! You can also head over to the old museum grounds where you can see the wooden caboose CN 78642. CN 78642 was rebuilt in Moncton in 1948, and was originally built by ACF in 1912 as GTW 83287!
Dryden
Dryden's Max the Moose stands proudly at over 18' tall, just off Highway 17 next to the Tourist Information Centre. While not the largest moose, he is the oldest! He has been representing Dryden since 1962. Be sure to stop for a photo op with Max.
Minnitaki
Egli's Sheep Farm makes their store easy to find on the highway with their big sheep, a nine-foot by seven-foot replica of a sheep was constructed in 1987. Egli's makes their own high-quality wool and sheepskin products. 
Vermilion Bay
There are a few roadside attractions that stand out in Vermilion Bay. If you are coming from the west, one of the first things you'll see is the massive Inukshuk which is located at Bobby's Sport Shop. Next, you'll pass the Fort Vermilion, Bigfoot in front of Piston Ring, and finally, at Moose Creek at the corner of Highway 17 and 105, you'll see a gorgeous totem pole. Bigfoot is a sasquatch that is approximately 20' tall and weighs about 3000 lbs. He sometimes dresses up in various outfits such as mittens, Batman, and even a Carnival Queen!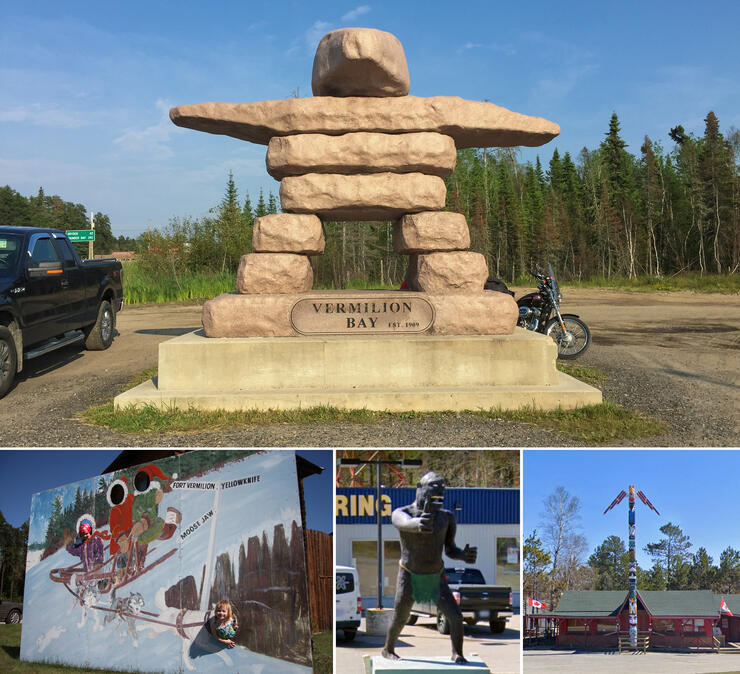 Ear Falls
The Patricia was built by Ole Gustafson and Wilfred Wright of the Triangle Transportation Company around 1931. The Howey Bay Gold Mine on Red Lake was connected by water with the railroad in Hudson. Freight came across Lac Seul, over the portage at Ear Falls, and up the Chukuni River into Red Lake. The Patricia was mainly used on the Chukuni River between Snake Falls and Sam's Portage. After Highway 105 was able to carry heavy freight, riverboats stopped operating in 1947. Many years later the abandoned boat was located and brought by road to the Ear Falls Museum. The Patricia was restored during the summer of 1975 by Scott Landis and Tony Cullen. In 1982, a shelter was built by Les Plomp, to protect the tugboat from damage from the elements.
Red Lake
The waterfront in Red Lake has a wonderful park with a Norseman plane on display which has a long history in the Red Lake area. In 2017 a hailstorm severely damaged the plane on display. Don't miss attending the Norseman Festival while visiting Red Lake. 
Kenora
If you've ever driven through Kenora, you've probably seen Husky the Muskie, a 40' tall (12 m) muskellunge towering over McLeod Park. Be sure to stop at the park where you can get a photo with the massive muskie as well as a tugboat and have a look at the Goodwill Geyser just out from Husky the Muskie. 
Sioux Narrows-Nestor Falls
The Northern Ontario Sportfishing Centre in Sioux Narrows boasts the best water fountain anywhere! Have a drink in the huge fish fountain right in front of the Sportfishing Centre. Across the road at The Narrows Gift Shop, you'll find an Inukshuk and several totem poles. 
EMO
Right along Highway 11 just west of Emo, you will find the tiny Norlund Chapel measuring just 10' x 8'. It was built using the steeple that Elmer Norlund salvaged from Emo's St. Patrick's Church, which was struck by lightning and burnt to the ground. In 1973 Elmer and Ed Sletmoen of Rainy River got started by building a scale model and in August 1973 the Norlund Chapel opened its doors (which remain open to this day).
Rainy River 
Rainy River has the historic 4008 Steam Engine on display. Also, just steps away in front of the town office, you'll find Bob the Beaver the town mascot. 
How many of these have you seen? Show us your photos in this post on Facebook or tag us on Instagram or Twitter with #SCAttraction and #sunsetcountry.