32 Incredible Remote Resorts in Northwest Ontario
Do you want to stay in a secluded setting, but aren't quite ready for total solitude at a remote outpost? These lodges are the only lodges on their lakes and they offer a few more amenities than an outpost.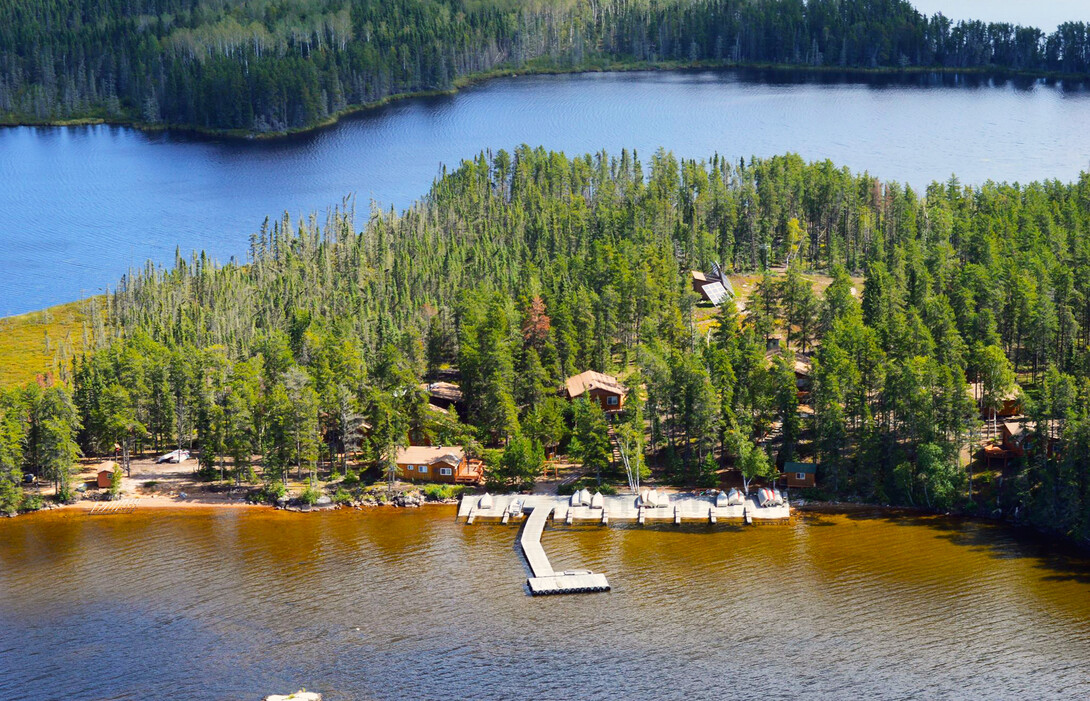 Stay at the only lodge on the lake!
So you'd like to go on a remote fishing or family vacation in Ontario's Sunset Country, but aren't quite ready for the solitude of an outpost. Why not try one of these lodges that are the only resort on the lake or section of a river system?
Staying at a lodge or campground on a lake that's not crowded means less boat traffic, less fishing pressure, and is a whole lot more peaceful. While a fly-in outpost is probably the most remote experience, it's just not for everyone. Some people want guide service, some vacationers want a more inclusive plan, and some just like to be around a few more folks to hear everyone's "fish tales."
You might think it's only the fly-in lodges that are the only commercial outfits on the lake, but there are some boat-to and even drive-in places to stay where you'll be the only lodge on the lake. 
Download a listing of these remote lodges complete with contact info, lake names, type of fish available, and everything you need to help you plan your vacation to a wilderness lake.  
Boat-in Lodges
With so many lakes in Sunset Country, it only stands to reason that we'd have a ton of islands too. You can bring your own boat if you choose to these boat-to lodges, or the outfitter will come to pick you up in their shuttle boat. 
The following are remote boat-in lodges:
Ghost River Lodges is located northeast of Sioux Lookout on Marchington Lake and has access to 14 other lakes. Getting to the two lodges is half the adventure! They pick you up in a 26' gunboat and take you 7 miles to Windigo Falls, where they portage you and your gear to the lower side of the falls. From there, it's another 20-minute boat ride to the wilderness lodge. Be sure to boat through the tunnel! 
The only camp on a 35-mile stretch of the English River System, Kettle Falls Lodge is accessible by boat or float plane. Kettle Falls is a secluded full-service lodge perfect for fishing, family vacations, or getaways, for two to 45 guests. Kettle Falls Lodge features an indoor conference/game room, satellite TV, couches, and complimentary WIFI. Head outside and enjoy a game of horseshoes, bocce ball, or badminton, or go for a stroll on the walking trails.
Peaceful, quiet, and relaxing describe Timber Point Camp. There's excellent fishing on Aerobus, a 10-mile long, 5,200-acre lake. It's mostly a fishing camp, but they also offer hunting, ATV trails, hiking trails, mountain biking trails, swimming, and a sauna, so there is something for everyone.
The 25-mile journey to the lodge by boat is beautiful and exciting. Once at the wilderness lodge, fish, relax, or nap in a hammock. The six log cabins are mostly at or near the water's edge. Anglers are required to practice catch and release fishing. This means that you can eat smaller fish during your stay, but you cannot keep any trophy-sized fish. This has resulted in an increase in trophy fish each year. 
Drive-in Lodges
You can have the same privacy and seclusion as a fly-in without the additional cost of a fly-in fishing vacation, and you get to bring your own favourite fishing boat!
The following are drive-in lodges where the outfitter is the only lodge on the lake:
Amberlite Wilderness Resort is a haven for nature lovers, outdoor enthusiasts, and all who love to fish! They are only a two-hour drive from the Pigeon River border crossing and less than a two-hour drive from the Thunder Bay airport. The resort is the only one on the 3,370-acre lake. 
Browns' is the only lodge located on Clearwater West/White Otter Lakes. This year-round lodge offers a variety of packages. Accommodations include superior studios, deluxe cottages, and modern mobile homes, secluded boat-to chalets, several portage-to & fly-to outposts, and a "One of a Kind" private, family campground. While Browns' is the only lodge on the lake, the resort itself has everything you need: gas, bait, laundry, sauna, dump station, lounge, beach, etc.
This drive-in fishing lodge is nestled in a magnificent wilderness setting on the shores of Eva Lake. With over 40 lakes within a short drive of our resort, your fishing party can try different spots for catching a wide variety of fish. There are also 105 boats on the 40 outlying lakes for you to use. Guides are available.
Easily accessible just off Highway 599, Cozy Camp is located on a portion of the English River near Ignace. There are a couple of access lakes as well as portage lakes like Cecil if you like lake trout fishing. A boat-to outpost cabin a short drive down the river enables you to fish Gulliver River as well. 
Crystal is an excellent trout, bass, and pike lake. 100 bass per day is common on Crystal. Die-hard walleye anglers use Crystal as a base and fish a different nearby lake each day. There are also 20 nearby lakes to fish in as well. For the kids, there is also a beach, canoes, paddle boats, and trails at Crystal Beach Resort.
Fireside Lodge is road accessible and is the only camp located on Little Vermilion Lake, the largest in an 11-lake system. 16 miles long, Little Vermillion is a long narrow body of water. These spring-fed waters are deep and cold with numerous bays, reefs, and deep weed beds that have created excellent fishing areas. 
Caribou Falls Landing is located 34 miles north of Minaki on Umfreville Lake. You can choose to fish close to the lodge, or be adventurous and explore the waters of the English River. They have a boat-to outpost which is about 5 miles away. Other than that, there's not much fishing pressure other than the guests at Caribou Falls. 
Designed as a private retreat for 24 guests, Hawk Lake Lodge offers not only the wilderness and solitude you seek but a quality angling experience and the finest in accommodations, personal service, and dining as well as access to some of the best, unspoiled, lakes in Canada. Hawk Lake Lodge is located on Hawk Lake, with 2,600 acres of coves, islands, rocky shores, and prime fishing habitat. Guests also have access to 19 private nearby lakes. Fish a different lake each day!
Great for the outdoorsman, Indiaonta, the only resort on 18-square-mile Calm Lake, is also great for a family vacation. Enjoy the beach, sauna, swimming, water-skiing, and boating, Calm Lake, is about 11 miles long by 4.5 miles wide. The lake is fed by the Seine river and offers a variety of fish. You can also fish nearby lakes.
Stay in a cabin, motel room, or your RV or trailer. Oz Lake Lodge is situated just off Highway 599 south of Pickle Lake. You'll never tire of fishing Oz Lake which is 20,000 acres and has endless bays and coves. Fish for walleye or northern pike.
Visit this fishing and hunting camp only one hour north of Ignace. Enjoy excellent walleye, pike, and smallmouth bass fishing on a lake that has 73 miles of shoreline and is loaded with bays, islands, and secluded sandy beaches. There are no other buildings at all on Press Lake—just miles of forest and thousands of fish. Press Lake offers endless fishing adventures for the whole family. 
Located one hour north of Red Lake, Stormer Lake Lodge is the only lodge located on Stormer and Kirkness Lakes. Upgraded boats, remote fishing, and delicious meals are the norm. Trophy walleye, northern pike, and smallmouth bass fishing.
Timber Wolf Lodge acts more like a base camp for the several surrounding lakes, all within a 20-minute drive of camp. The lodge itself is on Winkle, which has excellent smallmouth fishing. If you're more of the adventurous type, then the sky's the limit for anglers with smaller skiffs or kayaks. With at least 50 small lakes in the area, fishing opportunities are endless. With access to these lakes by portage or logging roads, you can have your own little private lake to yourself, very seldom seeing another angler.
Young Lake Lodge, 40 miles north of Ignace on Highway 599, is the only fishing and hunting camp on a chain of three good-sized lakes. This family-oriented resort is on the east side of the lake, which means beautiful sunsets every night. Debbie and Steve run a very clean and neat rustic wilderness camp. There are many miles of wilderness ATV trails starting right at your door. They are located 3 miles north of the Silver Dollar Restaurant/Motel, which sits on the corner of Highways 642 and 599.
Fly-in Access
While many of the fly-ins are outposts with one solitary cabin on the lake, there are quite a few full-service, Housekeeping, and American Plan fly-in lodges. If you like the extra company or like having someone do the cooking for you, try out one of these remote fly-in lodges.
The following are fly-in lodges that are the only lodge on the lake:
Anishinabi Lodge is a fly-in fishing lodge on the picturesque Anishinabi Lake. On the main island, there are four lakefront cottages as well as a remote outpost cabin. Fish Anishinabi for trophy lake trout, smallmouth, and northern. A short portage off of Anishinabi will put you into some of the best walleye, northern pike, and perch lakes in the area. Fly 10 minutes to the lodge from the main base on Cedar Lake, 25 miles north of Vermilion Bay.
The unique feature of Birch Bark Lodge is that there are only two cottages and the main lodge with room for 14 guests. Your hosts stay on-site to help you out by giving tips and helping you get on the lake. American Plan is available. Located 70 miles north of Pickle Lake, you're truly in the wilderness!
Roderick Lake is 48 miles northwest of Red Lake, bordering the Woodland Caribou Park. This area is home to one of the largest groups of woodland caribou south of Hudson Bay, setting the perfect backdrop for some of Ontario's best fishing. The housekeeping cabins range from a two-bedroom to four-bedroom and can sleep up to 10 each. 
This first-rate American Plan lodge is the only resort on Delaney Lake and has excellent bass, trout, big pike, and muskie. Delaney Lake holds the Ontario record for the largest pike. Anglers also fish the English River for walleye and barely see another soul out fishing. Included in their packages are accommodation, guide service, 18' Lund Alaskan or 16' Lund boats, and gourmet meals including a shore lunch. 
This fly-in lodge provides groups of two to 24 with comfortable cabins on a lake exclusively for their guests. These lakes are a part of the Sturgeon River chain, which flows south into the English River. 50 air miles north of Kenora. Housekeeping and American Plan packages are available.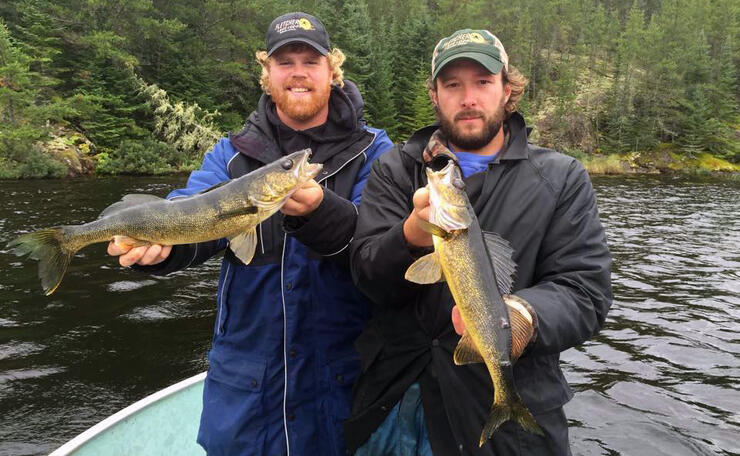 75,000 acres of exclusive lake waters. De Lesseps is 20 miles long and easy to navigate. Take a day or two and venture over to Miniss Lake where the water really opens up (20 miles across) to catch the giants. Charter flights are available out of Chicago, IL, Blaine, MN, and Sioux Lookout. Or you can fly yourself to their very own runway right at the resort! Expect five-star meals at this remote wilderness lodge. 
There are eight guest rooms in this fly-in lodge with a fun, community atmosphere. Remote yet, the lodge boasts two game rooms, satellite TV, a pool table, shuffleboard, darts, and a sauna. There is also one guest cabin set back from the lodge if you want more peace and quiet. Fish for walleye, bass, and northern pike.
Harry Lake Lodge offers the perfect mix of luxury, remote wilderness, and world-class fishing. Think of them as a luxurious full-service alternative to the old-fashioned fish camp. Enjoy delicious daily meals and shore lunches. Have a sauna or enjoy the hot tub. Their goal is to provide anglers with great fishing opportunities on a beautiful secluded lake while staying in clean modern accommodations and dining on fresh, creative food.
Bamaji Lake is located 80 miles north of Sioux Lookout and has over 80 miles of shoreline. The lake is fed by many rivers and streams. The main camp on Bamaji consists of six extra-large, private housekeeping cabins amongst a stand of birch, with a 300′ sand beach. Maximum 40 guests.
A fly-in lodge that is located 65 air miles east of Red Lake and is accessible only by float plane. Latreille Lake is connected to Margaret Lake by a smooth winding river. From Margaret Lake, where you'll find one of their outpost camps, is the Wenesaga River as well as two portage lakes, Allison and Marsh Lake (Allison is home to their other outpost camp). There are almost 300 miles of pristine shoreline to fish and explore. Latreille Lake Lodge has the only permanent facilities on the four lakes.
Makoop Lake Lodge, accessible only by float plane, is located about 230 miles NNW of Sioux Lookout, well beyond the end of the road. This relatively new remote fishing camp is the only camp on Makoop Lake, a 28,000-acre, mostly unexplored body of water. It has the perfect habitat for trophy northern pike and a huge population of hungry walleye. A relatively shallow lake with hundreds of rocky points and islands makes for a fishing paradise, easy to navigate. It is where big fish live!
Maynard Lake Lodge is the only lodge on an 8,000-acre section of the English River System. Accessible only by float plane, Maynard is found 50 air miles northeast of Kenora. This deluxe resort is the only one on the lake and provides a remote fishing and hunting experience for up to 32 guests on truly unspoiled waters. Wake up to a pot of coffee at your door, eat a hearty breakfast, then head out for some morning fishing. Your tasty shore lunch will fill you up until you return to the lodge for an all-you-can-eat supper. 
Slippery Winds Wilderness Lodge is less than 40 miles from the US/Canada border and has a maximum capacity of 18 people. A short float plane trip from Fort Frances takes you to the lodge. Slippery Winds is located on a peninsula between Yoke Lake and Straw Lake.
The camp has a central location to more than 200 miles of shoreline on two exclusive lakes, Sydney and Kilburn) with more than 120 islands and 20,000 acres of fishing area. Plus several portage lakes for the more adventurous. There are seven lakeside housekeeping cabin rentals to choose from.
So that wraps up the list of lodges that are the only ones on the lake. I hope that one of the above lodges suits your needs for your next vacation to Ontario's Sunset Country.
Be sure to download the complete list of outfitters that are the only ones on their lake.