Women's Fishing Trip
Do you want to kick up your feet and enjoy your fresh morning brew from the porch of a lakeside cabin? Do you know a friend that needs a getaway as well? Pack your bags ladies, it's time to hit the "retreat" button in your life.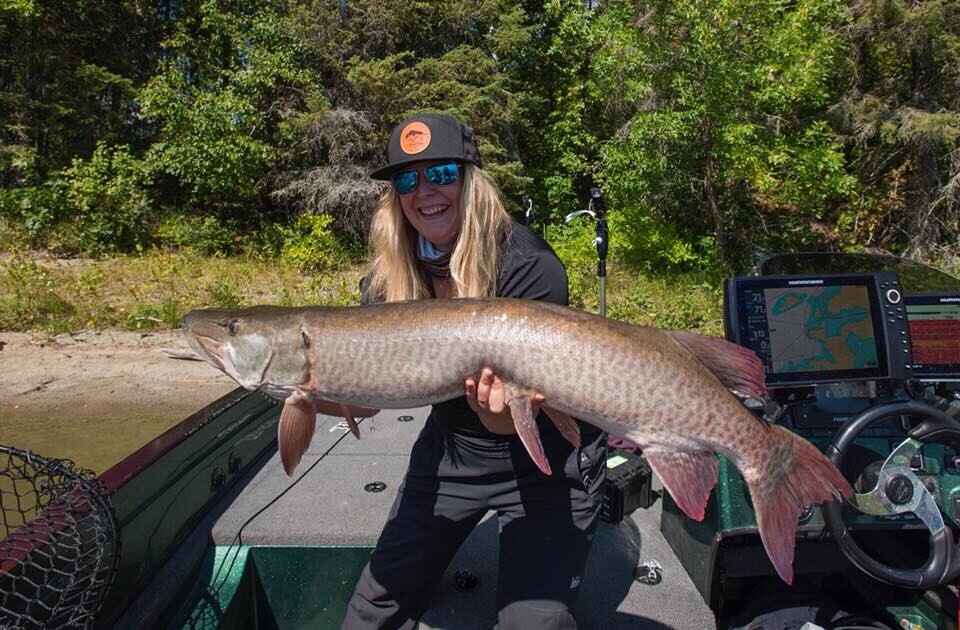 Fishing lodges in Sunset Country make the best of retreats for women who just need a break, and I can prove it to you. Do you enjoy great food? Check. How about cozy cabins in picturesque settings? Check. Do you like options such as being close to amenities or being close to the middle of nowhere? Check. Do you love to fish but also enjoy exploring, trying new things and relaxation to the max? Then welcome to lake life in Sunset Country. 
Whether you've wanted to plan a unique Mother/Daughter trip, or have been wishing you could sip your morning coffee by a glass-calm lake every morning listening to loon calls, this is the place to be—and we're going to help you find the perfect lodging.  
All you need to decide is what type of trip you'd like to have, and book your escape. 
For the love of food 
Food is rightfully the determining factor for some. Lodges have a cuisine culture unlike anything else—from savoury or sweet breakfasts that will make you want to slip back into PJs, to the shore lunch that every lodge has their own twist on, to entrees and desserts that will literally round out your day so you can roll back into bed content. 
Yes, food is an important factor, not just sustenance but for enjoyment. Here are just a handful of lodges in Sunset Country that will not disappoint you.
Variety 
Having spoken to a few other ladies, we all agreed that having multiple species isn't just a bonus, but a requirement. Variety is, after all, the spice of life. Sunset Country is fortunate enough to be very flavourful. 
Such a broad range of species is just one of the upsides to fishing here. In the same day you target muskies, you can fish for giant lake trout or crappies, swarms of smallmouths, or packs of pike. Let's not forget about walleye, whitefish, largemouth bass, perch, burbot, and more. 
It'd be impossible to wrap-up all of the lodges in Sunset Country that offer more than a few species, so I'm just going to leave this Fish Species link here for you to browse at your own pace! 
Location, Location, Location 
A common misconception may be that all women want to be in a conveniently located area with lots of amenities nearby. Think again. When I was asking around about what mattered most to ladies, the only ones that mentioned location preferences were the ones that wanted to be far out of civilization's reach. 
Even though I personally would like to forget what day it was only to be reminded by the float plane arriving, there are folks who would appreciate a certain level of convenience. Whether you're interested in a remote fly-in trip, boat-in lodge or the accessible option of a drive-in, Sunset Country has all of the above and more. Below are some lodges, listed by accessibility levels and highlighting a few of their own perks!
Fly-In: 
Crow Lake Outfitters offer short flights into quiet lakes so you can fish remotely with less travel time.
Wilderness Air Escapes operating from Vermillion Bay, Ontario offers 12 fly-in outposts with pike, walleye, smallmouth bass, lake trout, and even muskies. 
Wabakimi Fishing & Canoeing Outfitters operates out of Armstrong and offers trips throughout Wabakimi Provincial Park as well as Albany River Provincial Park. Want added adventure? Get them to outfit you for a camping trip of a lifetime. 
Ignace Outposts Aside from having 15 different outpost cabins, Ignace Outposts also offers scenic flight-seeing tours! 
Fletcher Lake Lodge, only 50 air miles from Kenora, Ontario, this fully functioning lodge offers all of the amenities of home with excellent fishing. 
Drive-in: 
Lecuyer's Canada Lodge Located just north of Nestor Falls, Lecuyer's offers access to the ever popular Lake of the Woods. 
Lac Seul's Golden Eagle Resort also has RV camping sites, so if you wanted to dream up the ultimate road and camping trip, this would be a good place to make your home base! 
Stanley's Resort on Eagle Lake offers beautiful amenities but this resort is also 100% accessible for those with mobility issues or in wheelchairs. 
Boat-In: 
Grassy Narrows Lodge is nestled in a quiet bay on the south end of the Alneau Peninsula on Lake of the Woods. It's a short 25-minute boat ride from the Marina in Morson where the owner, Wayne, will pick you up at the dock, or you can take your own boat in.
Ghost River Lodges offers a unique experience of portages on your route into the lodge, adding that much more adventure to this boat-in lodge. There are also fun tunnels you can boat through, perfect for candid photographs! 
Shoal Lake Lodge Located just West of Kenora, this picture perfect Lodge is the only lodge on the lake! This catch and release fishery offers largemouth bass, smallmouth bass, northern pike and fun crappie! There is also access to Lake of the Woods through Ash Rapids. 
There are many more lodges that are fly-in, boat-in and drive-in access in Sunset Country, try our Accommodation Finder to seek out what you want! 
Alternative Activities
Back to variety. This time, it's for extra attractions. Given the chance, I'd likely never leave the water for dry land. However, when you're with other people, it's fun to try new and exciting things, especially while on vacation.
Here are some lodges offering activities that aren't just fishing. 
Northwest Flying Inc will outfit you for three or seven days camping at a fly-in private lake, or you can just do a day trip into these pristine lakes! 
Amberlite Resort has live music every long weekend, including their AmberJam Music Fest on August 18th, 2018. 
Camp Quetico Canoes and Fishing offers fully outfitted camping trips into Quetico Provincial Park and beyond! 
Wiley Point Wilderness Lodge: Hot Tub. Need we say more?
Canadian Haven offers SUPs so you can explore the waterways with a more intimate, human-powered vessel! (You can also fish from SUPs.) 
Nestor Falls Fly-In Okay, so this is technically fishing, but it's a cool way to experience something new while fishing! Nestor Falls Fly-In offers kayak fishing with Hobie Kayaks at one of their outposts. Think of it as three birds, one float plane. 
Sioux Lookout Floating Lodges Houseboating. Enough said! 
Blueberry picking tours are offered at the following lodges; Rocky Shore Lodge, Perrault Lake Lodge, Timberwolf Lodge, Rainbow Point Lodge. 
Large Groups 
Fishing trips don't just have to be for special occasions like someone's 30th or a bachelorette party–– though I highly recommend them for such events! Of course, if you're anything like me, you'll see an excuse to fish in every one of life's milestones—whether for reunions, a generational family trip for aunts, moms, sisters, and grandmothers, or perhaps you're just lucky enough to have a large enough group of friends who would all prefer a fishing trip. 
Whatever the reason, if you have a group of eight people or more, here are some lodges to consider that will accommodate your trip needs. 
Little Turtle Lodge: This beautiful boat-in lodge has two cabins that sleep 10 or more people! 
Cedar Point Lodge, This drive-in lodge on Eagle Lake has large cabins and chalets that can hold more than 10 people, plus it's a beautiful location on Eagle Lake with a marina right nearby. 
Showalter's Fly-In Outposts have a variety of group sizes available, you can arrange for a 6-18 person outpost trip, Carrol Lake Outpost being their largest. 
Mattice Lake Outfitters in Armstrong has 14 fully equipped outpost camps, perfect for variety and privacy! 
BOOK NOW 
Do you have the Sunset Country Travel Guide and Map yet? If not, head to www.visitsunsetcountry.com to order your FREE guide and map.
Any of the lodges sound like they may be the one? Don't be shy, feel free to get ahold of them directly or give us a shout at 1-800-665-7567 with any questions you may have about your trip of a lifetime! 
I look forward to seeing you on the water this year, ladies!