What to Pack For Your Houseboat Trip
Don't forget anything with these downloadable Houseboat Trip Checklists, Shopping Lists, and Meal Planners.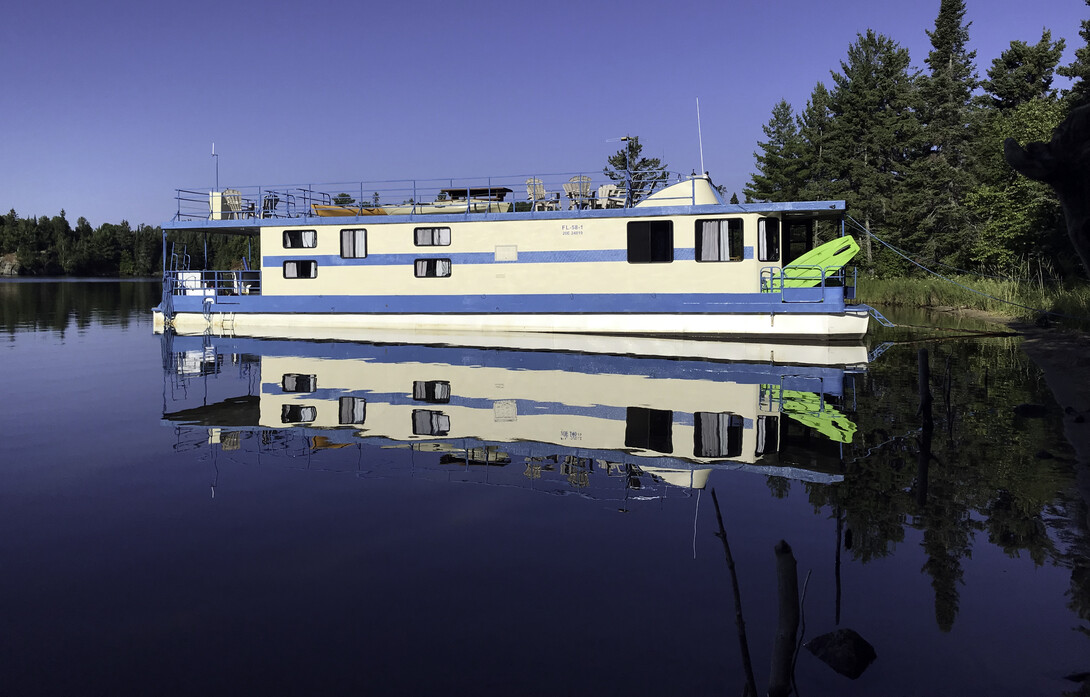 So, you've gone and booked your vacation, and now you're thinking, what do I need to pack for my houseboat trip?
Before you go and pack everything but the kitchen sink, you have to sit back and think—you'll be packing it all in your car and then hauling it onto the houseboat. Don't overpack!
Every three years my family, who are located all across Canada, gets together and takes a family vacation on a houseboat. This year we did it again in August. I may, or may not have overpacked on my houseboat trip with Floating Lodges of Sioux Narrows this year. :) This was only a small part of out stuff!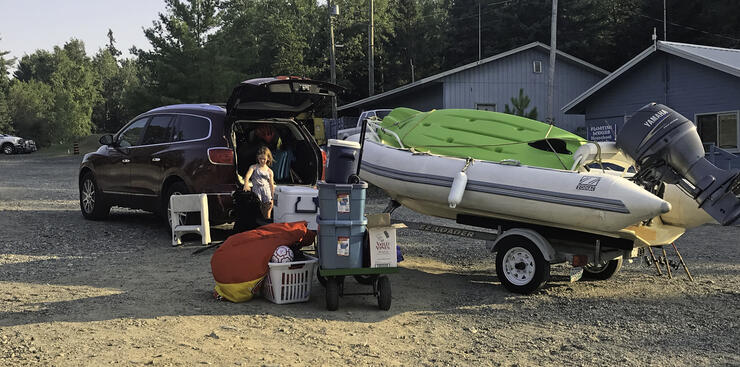 The first thing I suggest you do is: get a list from your houseboat operator of the things that are supplied on the boat. You don't want to be hauling extra stuff you don't need. And while they have carts to take your stuff to the houseboat, it still is a lot of work.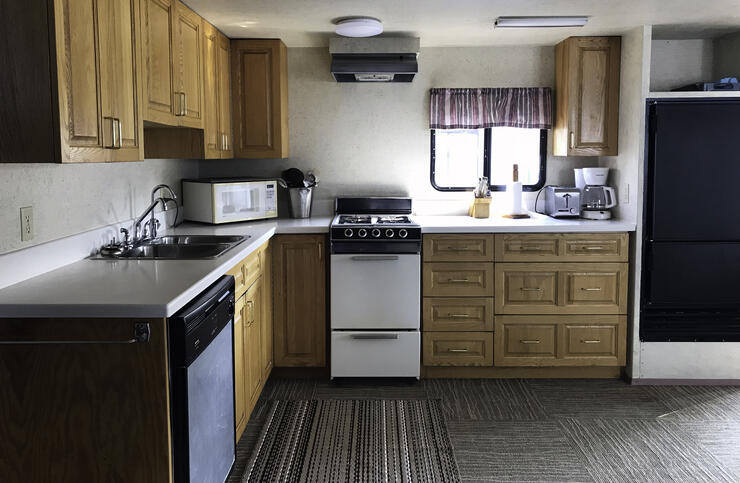 Once you've got that, get together with your group and discuss a meal plan. This can be done by email, a Facebook group or get together and have a meeting and discuss over a few drinks.
The key to a meal plan is keeping it simple. You don't want to be spending all your time cooking or cleaning on the trip, it is a vacation after all. 

Tips for keeping the meal plan simple:
Cook ahead of time. For example, spaghetti is a quick and easy meal on the boat. Make the spaghetti sauce at home and freeze it.
Use the BBQ! Hamburgers, hot dogs, steaks, you name it! It'll keep the kitchen cool, and who doesn't like a good BBQ?
Get one person to shop for all food items.
Get things that are really perishable such as ice or berries the day you send off. Usually, the captain and his first mates will meet the houseboat operators and they will discuss how to drive the boat, mooring spots etc. The others can use this time to get ice, any last minutes items and bait.
Freeze anything you can. It will keep longer and act like an ice pack.
Download the following printable Houseboat Trip Meal Planner to help you organize your meals.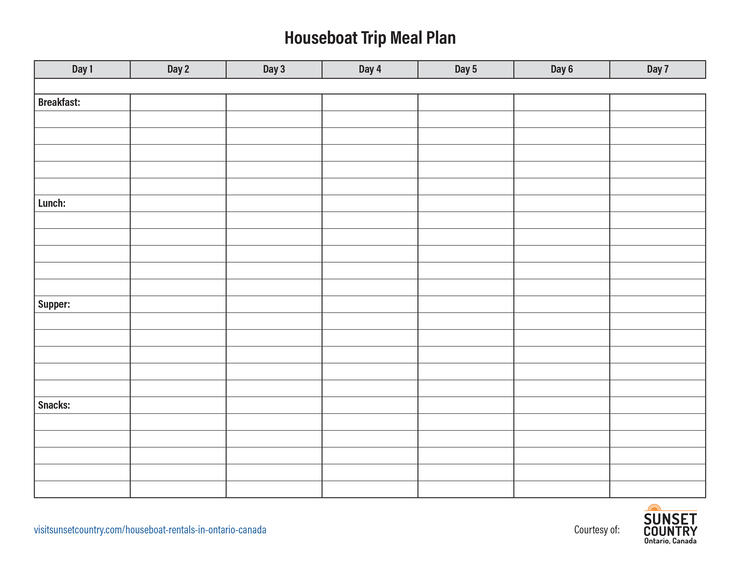 Once you've decided on a meal plan, make a shopping list with the printable Shopping List. I believe it is easiest if one person is in charge of shopping. Take the list with you shopping, and once you have a total you can divide the cost amongst everyone.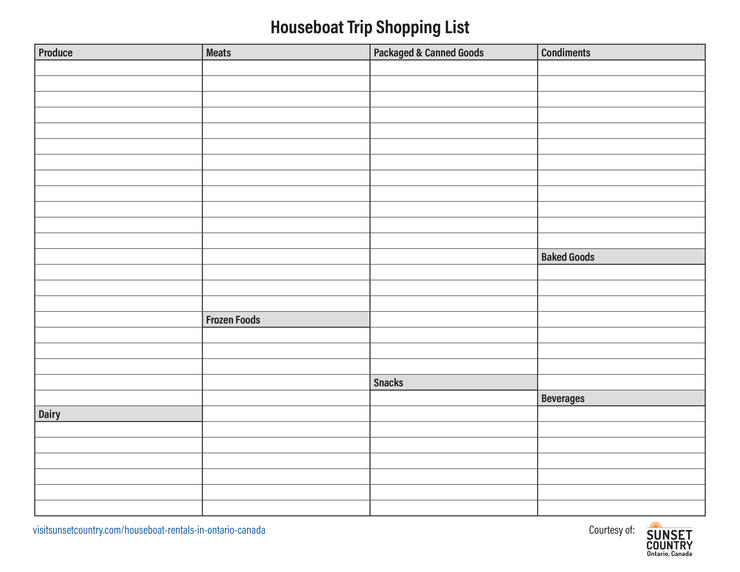 Once you've figured out what food you need to bring, you also need to decide what else you should bring on the houseboat. 
Download this printable Houseboat Trip Packing List and check off the items you need to pack. I scratched out the things I didn't need to bring and then checked the items off as I packed them. Again, make sure you know what is supplied on your houseboat, many of these things may already be supplied on your houseboat.
Tips for saving space and packing:
If you have multiple families joining you on the trip, try to consolidate personal essentials such as toothpaste, bug spray or shampoo.
Freeze big bottles of water. They can be used to keep the coolers cold and when they thaw, you have water to drink. Many houseboats have filtration systems, so you can drink the water and save space on water bottles.
Totes or cardboard boxes? There are pros and cons to both. Totes are great in case it rains but they take up space. Cardboard is light and can be burned in a fire. 
Make sure you arrive in time to get an orientation with your houseboat operator and to load the houseboat. This takes time. You can't expect to arrive at 5 pm and get out on the lake in time.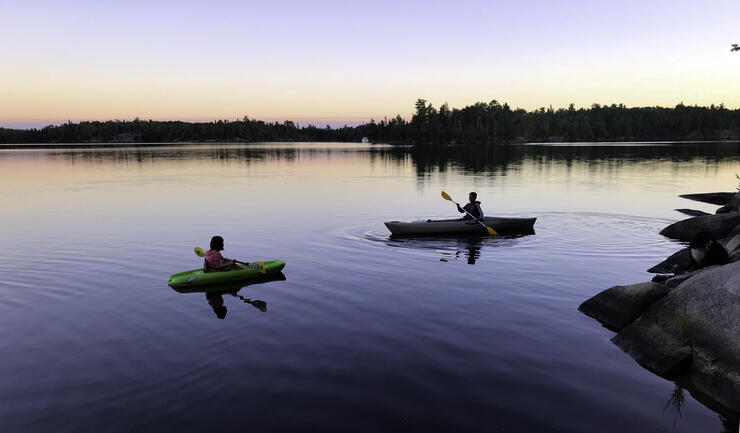 If you plan ahead, you will have a great trip. If you happen to forget something the houseboat operators in Sunset Country will make a mid-week run to your houseboat to bring anything you need like ice or something that you may have forgotten.
In Ontario's Sunset Country, there are houseboat rentals on Lake of the Woods from Morson, Nestor Falls, Sioux Narrows and Kenora, and on Lac Seul from either Hudson or Ear Falls.
Enjoy your houseboat trip. It truly is an amazing experience to moor in the middle of the wilderness, watch a beautiful sunset, listen to the loons call out, and see all the beautiful stars at night.