Gone Fishin'
From fresh-caught walleye to local craft beer—these all-inclusive vacations offer a new way to experience the best of Northern Ontario cuisine.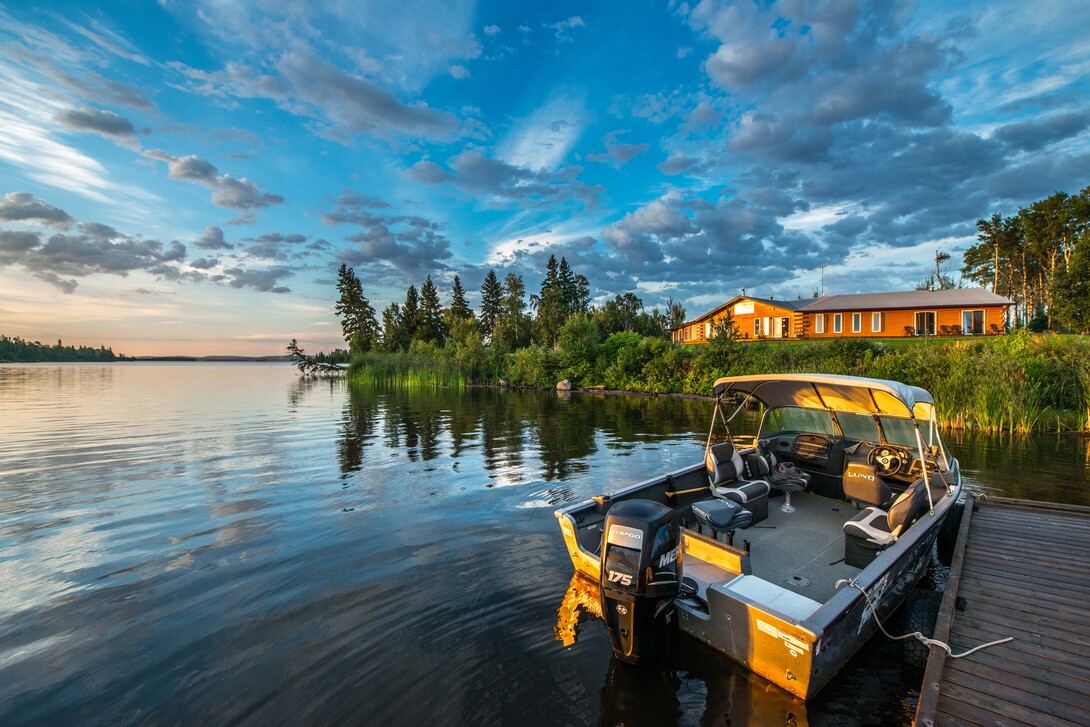 An all-inclusive vacation that combines natural beauty, peaceful beaches, fun activities and great food sounds perfect right around now, doesn't it? Fortunately, northwestern Ontario's Sunset Country has excellent options for people looking for a memorable getaway. Here's the secret: think fishing. Whether you are a longtime angler looking for a dream trip or a newbie who's up for something different—or you're somewhere in between—here are some reasons to consider booking an all-inclusive fishing lodge vacation in Sunset Country this year. 
1. your meals (and everything else) are included
All-inclusive means, well, all-inclusive and full-service (you may have also heard this called "American plan.") Leave the meal planning, prep, cooking and cleaning to someone else for a change. Different lodges offer different options, but most offer a hot breakfast and dinner along with a packed picnic lunch or shore lunch so you can enjoy your freshly caught fish. Similarly, your boat is gassed up and well-equipped, bait and tackle can be provided and you can opt for a knowledgeable guide to take you to the right fishing spot at the right time and share tips on how to land your fish.
2. It's naturally beautiful
Northwestern Ontario offers unparalleled, unspoiled landscapes. Towering white pines, tiny wildflowers, sandy beaches, smooth billion-year-old rock, pristine lakes and rivers, wildlife sightings, gloriously colourful sunsets (and sunrises), loon calls, dazzling blue skies, the occasional exciting thunderstorm, starry nights and Northern lights await. And as many of us have discovered or rediscovered this past year, being outside and in natural spaces provides a physical and mental health boost like no other.
There's a reason the northwest is known for fishing! Sunset Country is home to more than 70,000 fishable lakes (yes, 70,000). With an almost endless variety of wide-open big lakes, hidden small-lake gems, flowing rivers, deep water, reefs, rushing rapids, waterfalls and sheltered bays, you can try an array of fishing approaches. And of course, there are plenty of fish: Sunset Country is home to diverse game fish like crowd favourites walleye, lake trout, and northern pike, as well as whitefish, perch, sauger, black crappie, musky, and smallmouth and largemouth bass.
4. CoZy, comfortable accommodations
Find just the right woodsy cabin or lodge getaway for your household. All-inclusive plans offer clean, modern accommodations, and while some are off-the-grid, others include air conditioning, satellite TV and wi-fi (not that you have to use those amenities…go ahead and unplug if that's what you're craving). If you'd rather get in touch with your inner chef, some sites offer "housekeeping plans" with accommodations that include a fully equipped kitchen, barbecue, fish cooker, and more. Daily housekeeping service is also an option.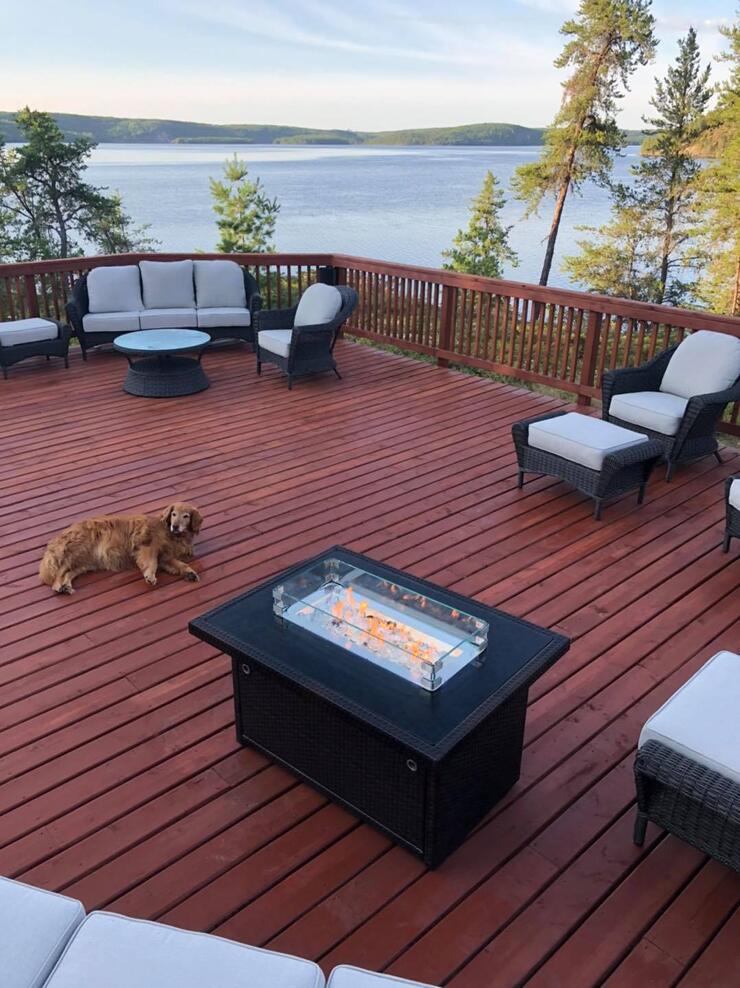 Enjoy the large deck at Hawk Lake Lodge, a 5-star all-inclusive resort! 
5. Get away from it all
Forget crowded trails, line-ups, and huge impersonal resorts. All-inclusive fishing lodges give you a chance to savour peace and quiet, a friendly conversation and a welcome break from the non-stop news cycle. It's a true-north escape that gives you a chance to reconnect and relax. Often, you will be the only angler on the lake (besides the bald eagles). 
6. Great eats
Few things say "northern delight" like freshly caught fish sizzling in a pan, and an all-inclusive fishing lodge is likely to pull out all the stops with fish meals, as well as other tasty fares. Hearty breakfasts, delicious picnic lunches and yummy desserts and snacks (did somebody say wild northern blueberries and homemade pastries?) are sure to satisfy as well. Your meal options may include everything from pasta with tomato-lentil sauce and sweet potato casserole to prime rib and turkey with all the fixings.
7. Getting there is half the fun
A remote location presents some fun transportation opportunities. Imagine climbing aboard an authentic northern floatplane, skimming over the water and soaring above the trees, where you can see the whole northern landscape spread out before you like a green and blue blanket until you land and glide to your destination's dock. Or, maybe you'll hop aboard a powerboat to whisk you across your new home-away-from-home lake to take you to a boat-in lodge, enjoying the scenic landscape along the way. And of course, you may decide on the convenience and accessibility of a drive-to location as well.
Some of the all-inclusive lodges are accessed only by floatplane! Enjoy the beautiful ride.
Different all-inclusive fishing lodges offer unique opportunities to make your stay especially memorable. For example, you may opt for an open bar that serves beer from a local craft brewery, a private island all to yourself, or a well-equipped game room with an authentic wood-burning fireplace. Other options include a launching point for a wilderness canoe trip into the world-class Quetico Provincial Park, or a chance to retrace the footsteps of professional anglers and TV hosts.
9. There's more than fishing
If members of your group would like some alternatives to fishing, there are definitely lots of other fun options. Explore the shoreline by canoe or kayak. Do a little yoga on the beach. Pull up a chair on the sand or a covered porch to dive into a good book or watch the world go by. Play bocce, badminton, cards or board games. Take a dip in the lake, or go on an adventure to jump off a 40-foot cliff into the water or check out natural rock caves. Watch a flock of white pelicans soar overhead, listen to the loons calling to each other, or spot otters or beavers at play or work. Break out your camera or sketchbook to capture the rugged beauty of the boreal forest or vibrant shades of the sky.
10. It's a world apart
Exploring our province is an exceptional way to support local businesses and communities, and see a part of the place we call home through whole new eyes.
Sunset Country in northwestern Ontario is really something special with plenty of hidden gems to help make wonderful memories.