10 Fall Lookouts near Thunder Bay
Whether you want to hike into the wilderness, take a stroll along a well-marked trail, or drive to a lookout for the perfect photograph and social media post, there is something for everyone in TBay.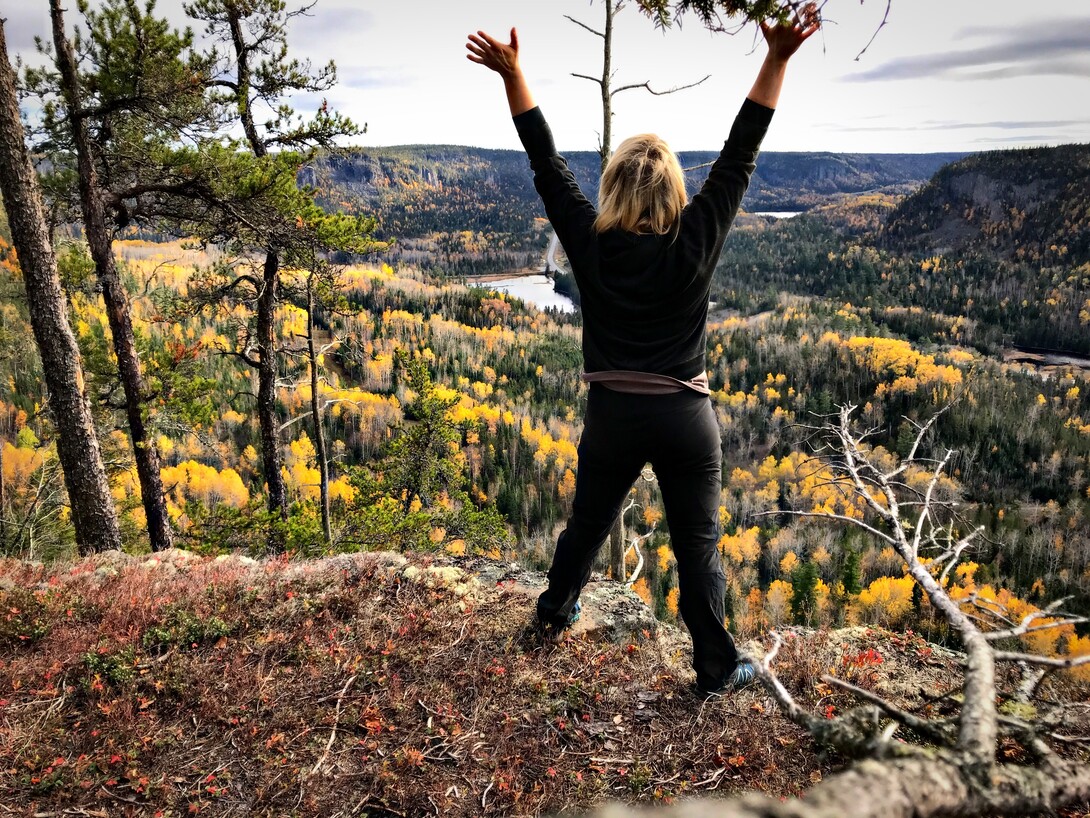 Fall in Superior Country is so incredibly spectacular. The weather is cool and perfect for exploring, the colours in the landscape are vibrant and breathtaking and the blackflies and mosquitos aren't going to drive you out of the bush!  Whether you want to hike out to a rustic location, have a small walk in the wild, or visit somewhere incredible that you can drive right to for the perfect photograph and social media post, there is something for everyone in our region.
Here are 10 incredible spots to check out fall foliage near Thunder Bay. 
1. Mazukama Falls - Nipigon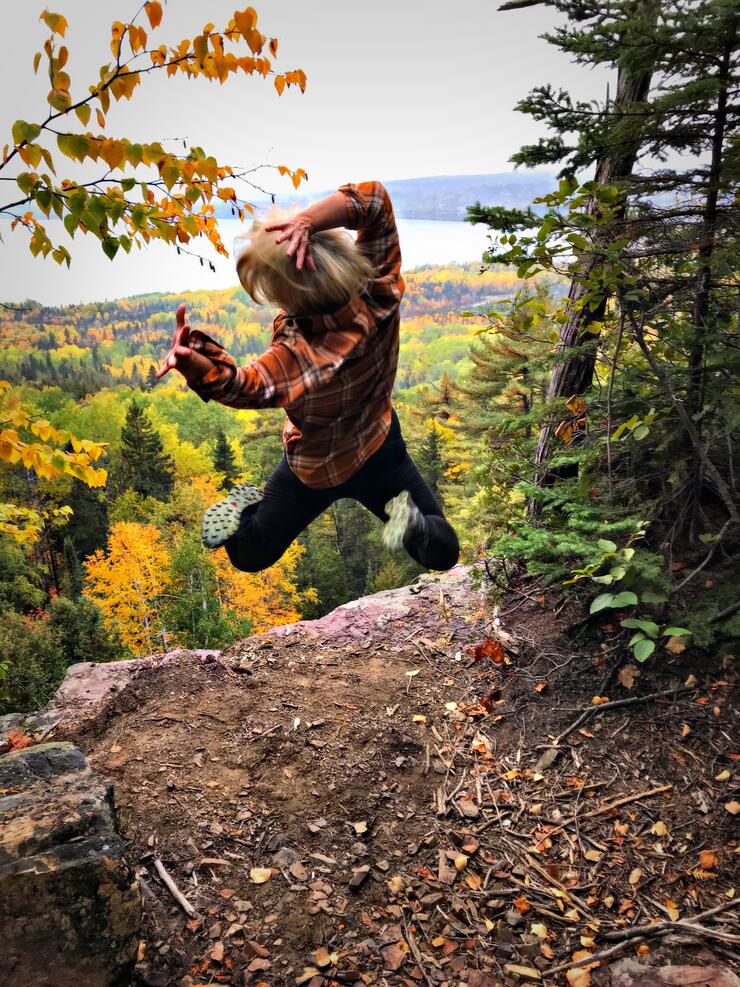 Mazukama Falls is a well-known trail just east of Nipigon, with the most incredible sights and spectacular views.  It has epic lookouts, magical forest, and amazing waterfalls. It is the perfect place to immerse yourself into a Northern fall vibe!  You get there by driving 20 km east of Nipigon along Highway 17. Turn right onto a gravel road, referred to as Camp 81 road.  The trailhead is just off the highway and you can park near the load liners.  The trail follows a steady incline up a creek where you get to see several small waterfalls and it leads to the epic Mazukama Falls.  You can continue along the trail and get access to a beautiful lookout by following the rope climb up to the left just past the falls. This is a common location for ice climbers to set up top anchors but is not advertised on the trail map.  You can also continue the mapped route and make your way to Wingtip Lookout, which offers a magnificent, picturesque view of Lake Superior.   
2. Mount McKay Fort William First Nation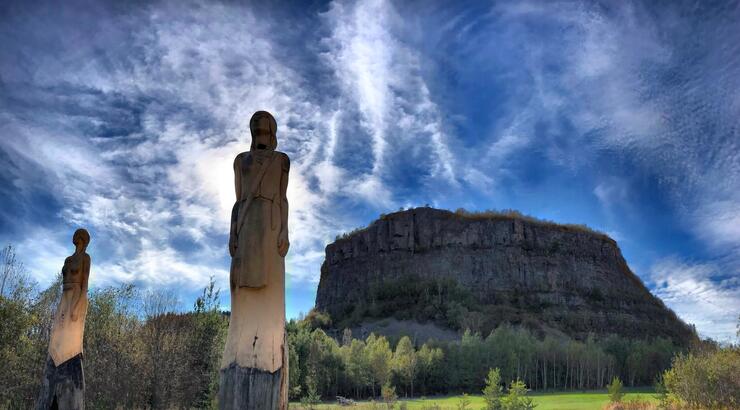 Mount McKay is an incredible point of interest located south of Thunder Bay on Fort William First Nation. To get there from Thunder Bay, drive down highway 61. After crossing the Kaministiquia River, turn left on Chippewa Road, and after 5 km turn right onto Mission Road. The access to Mount McKay is a right turn onto Mt McKay Lookout Drive. You will reach a toll gate and will have to pay a small fee. You will reach a parking area and can explore around to your heart's content. There are a few trails and a fantastic lookout just at the parking area. It has the most spectacular view of Thunder Bay, the Sleeping Giant, and my personal favourite, a beautiful statue that honors the elders of Fort William First Nation.
3. Split Rock Rapids Lookout and Trail -  Nipigon
Split Rock Rapids trail is a beautiful and short trail located north of Nipigon with an incredible view of the Nipigon River.  To get to the trailhead, turn down secondary highway 585 at the Petro Canada gas station in Nipigon. Follow this road about 36 km to the trailhead, which is clearly marked on the right-hand side. The hike takes about 30 minutes to get to the lookout and it is 2 km return trip.  It leads to a spectacular view of the Nipigon River and the huge island that splits it right down the center.
4. Pijitawabik Palisades - Greenstone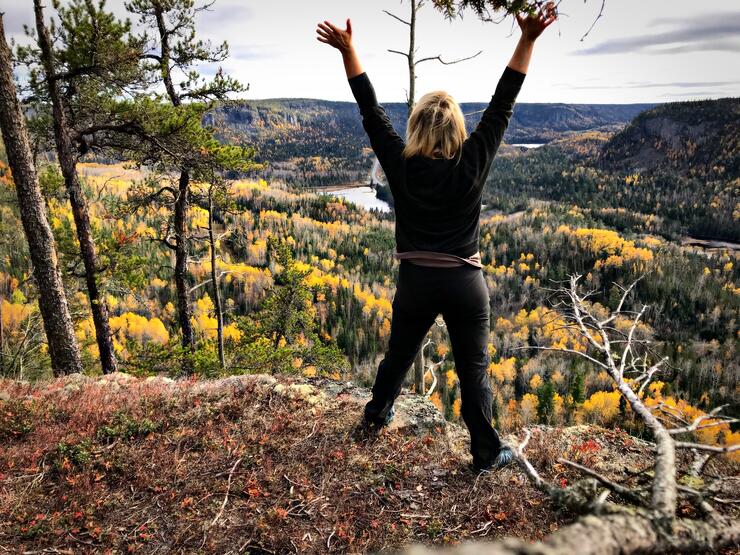 The Pijitawabik Palisades trail is an amazing and challenging trail in Greenstone.  For those who venture out on this trail, they are rewarded with an incredible view of the Orient Bay corridor. To get there, follow Highway 11 40km north of Nipigon. The trailhead sign is visible from the highway and is well marked. Turn right and follow a short dirt road to the parking area. The first mile is all elevation gain, so make sure you bring some water and that you are prepared for a bit of a workout. The first lookout is incredible, and this is usually where I stop and snap some amazing pictures of the fall foliage from up high. You can continue on and hike to the top of Cascade Falls or take the lake loop.
5. Mink Mountain - Neebing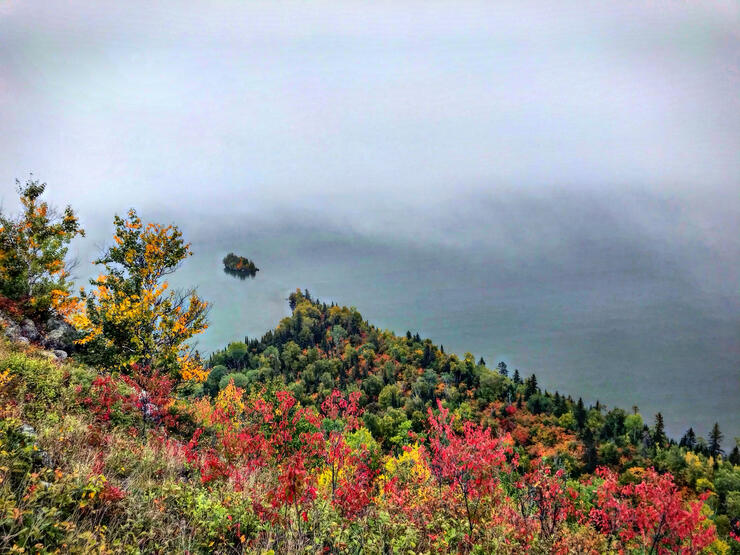 Mink Mountain is an inspiring place with lots of options for hiking trails and incredible lookouts. It is the perfect place near the city to appreciate fall colours. One of the very first lookouts gives an amazing view of Lake Superior and you can even see Isle Royale! To get there from Thunder Bay drive south on Highway 61 and make a left turn on Sturgeon Bay Road. To get to the hiking trails follow the signs for the Mink Mountain Resort.  Drive past the resort building and turn left. Park at the end of the road, you will see the trailhead on the left-hand side of the road. This is an incredible place for exploring both lakeside, in the forest, and up high to amazing lookouts! There are lots of options and you can spend a whole day here.
6. Aguasabon Falls – Terrace Bay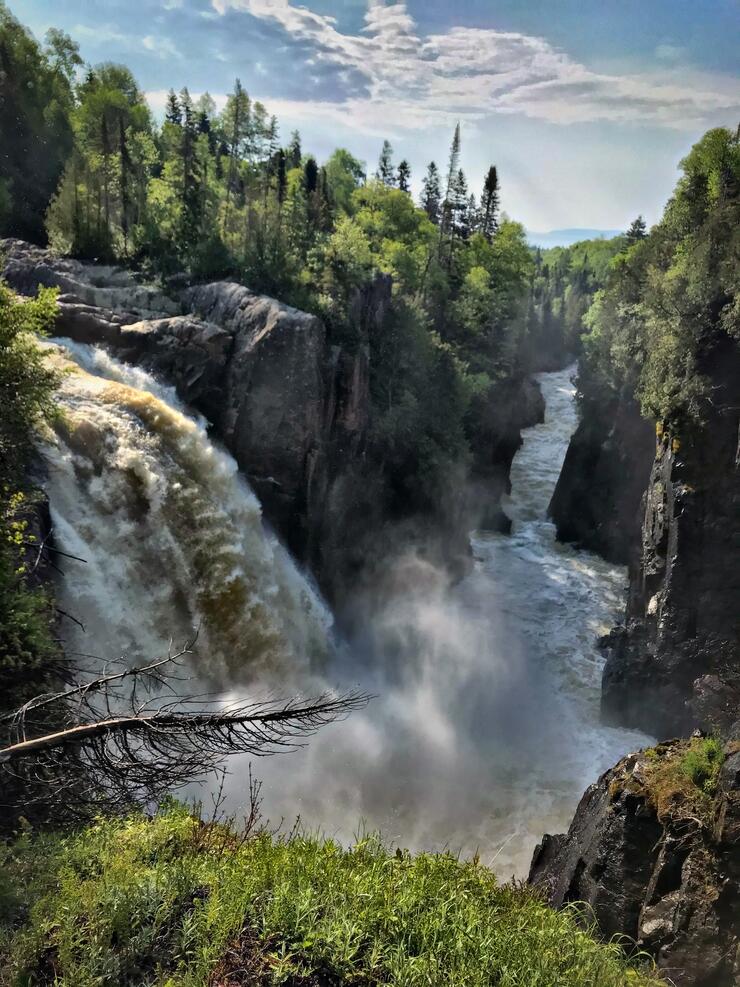 If you are looking for an incredible attraction in Superior Country that is accessible and that you can drive right to, The Aguasabon Falls & Gorge is for you! Just outside of Terrace Bay is this waterfall that plummets into a beautiful gorge leading to Lake Superior. It is an incredible place to take in fall colours. To get here, it's a few kilometers west of the town of Terrace Bay. It is a well-marked turn off. You go down a short, paved road to a parking area. From here you take the boardwalk to get to the falls. You can also head out on the Casque Isles!  A hike to Terrace Bay Beach from this parking area is a 3.25 km round trip and a hike to Danny's Cove is a 3.75 km round trip. There are so many options for fall adventures.
7. Schreiber Beach and Picnic Table Lookout - Schreiber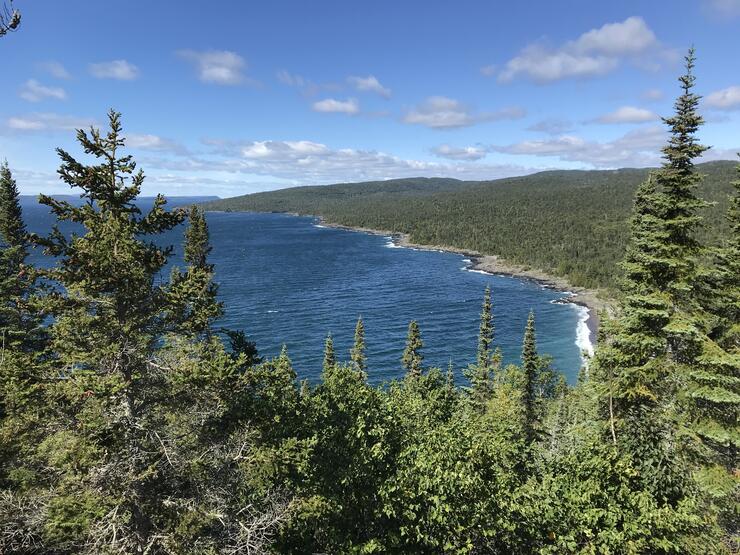 Schreiber Beach and the hike up to Picnic Table Lookout is the perfect "sea" to sky experience on the north shore of Lake Superior.  Here you can get a with a close encounter to big water and an amazing view of incredible shoreline.  To get to Schreiber Beach, turn off Highway 17 at Winnipeg Street in Schreiber. Turn right on Scotia Street and a left on Subway Street. Right after you travel under the bridge, turn right (you will see the signage) follow that road to the parking lot at Schreiber Beach. This is an amazing place to visit in high winds and autumn storms to get a front row seat to Lake Superior when she is moody! To get to Picnic Table Lookout, walk down the left shoreline of Schreiber beach and follow the signage to get to the lookout. It is a short trip up and well worth the climb, the view is incredible.
8. Lloyds Lookout - Red Rock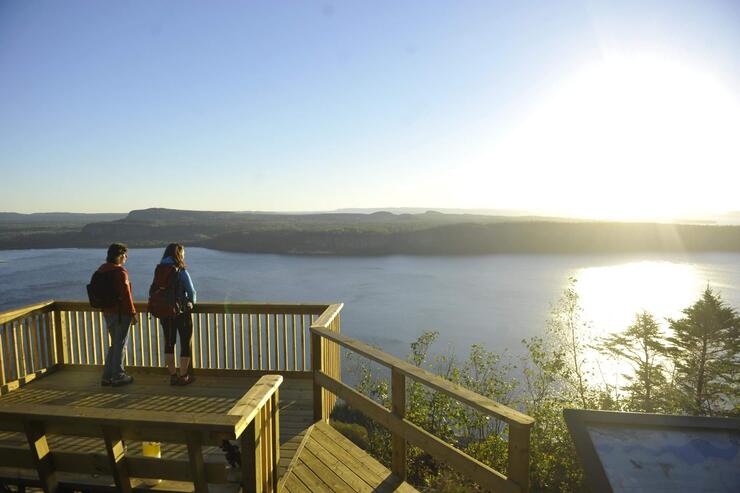 The Nipigon River Recreation Trail has a beautiful and short segment with an incredible view of Nipigon Bay and the township of Red Rock. It is a 2.6 km return trip and the hike starts at the Red Rock trailhead. To get here, from Highway 11/17 head south on Highway 628 towards Red Rock. Travel approximately 7 km and turn left onto a short gravel road, where the trailhead is located with clear signage.  This hike leads to a beautiful viewing platform and a fire pit. Make sure to bring a handful of birdseed because the chickadees are friendly, and love treats.
9. Deer Lake Mountain - John Ahl Lookout
Deer Lake Mountain Trail just outside of Nipigon is an amazing 6.6 km loop and offers multiple lookouts to view a beautiful palette of fall colours. My favourite lookout is the John Ahl lookout and can be done as an up and back for a shorter hike. To get here, from Highway 11/17, turn down Hwy 585 right by the Petro Canada gas station and drive 3.4 km. There is clear signage and a trailhead sign on the left.
10. Eagle Canyon Swing Bridge - Dorion
What better way to see the incredible colours of fall, than suspended high above gorgeous canyon country?! You can access a 600-foot suspension bridge in Dorion. But you must visit this incredible attraction in early fall, as it closes for the winter on October 15th. There is a cost to enter the attraction, but it's well worth it to see this incredible view and hike the trails in the area. To get here, on Highway 11/17, turn onto Ouimet Canyon road and turn onto Valley road for 6.9 km to get to the location! It is well signed from the highway and well worth the trip.