Seeing is Believing
There is so much to discover on a day trip from Thunder Bay to Silver Islet and on the waters of Lake Superior.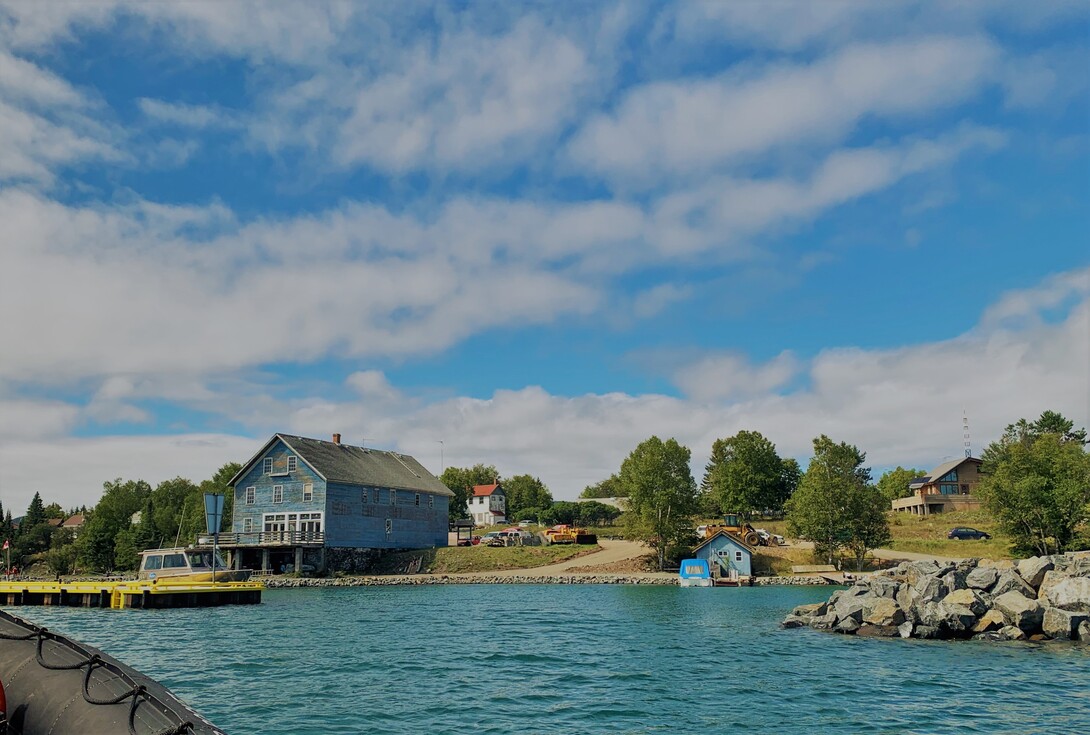 For months now my partner and I had planned a trip of a lifetime to experience Lake Superior, the land of the Sleeping Giant, and Silver Islet.
We'd seen the pictures, we'd read the posts, and now as the curtain is drawn back in our hotel room, there it is, finally, the Sleeping Giant in all its majestic beauty across Thunder Bay.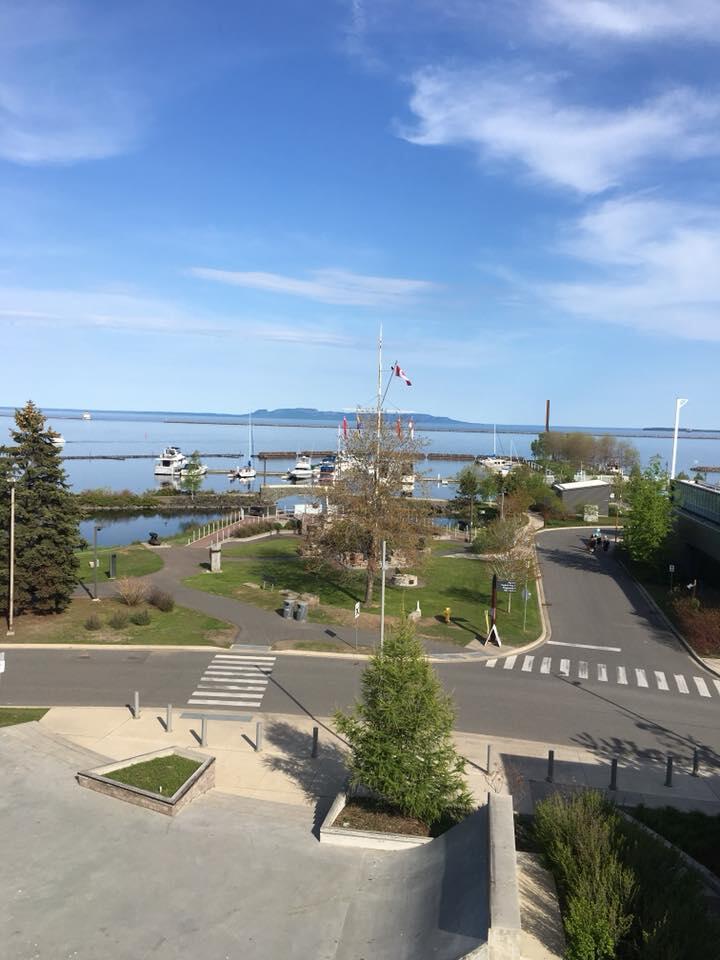 Reality kicks in. We are finally doing it as we roll out an Ontario map that the tourist information centre provided us to check final details for our trip to Silver Islet on our two-day getaway. 
We finish up our coffee and breakfast at Thunder Bay's Prince Arthur Waterfront Hotel, a grand railway hotel built to host visitors on their journey east or west. Excitement builds as we acknowledge to each other we are doing it after planning and dreaming for months. 
Preparing for any trip requires some research of course, but we always leave a little room for other experiences to occur randomly. We're as prepared as we can be to start our trip to Silver Islet beside the Sleeping Giant's feet. What insight may we learn from the locals and what interesting characters will we meet along the way?
road tripping from Tbay to Silver Islet
Setting off from the rugged outdoor City of Thunder Bay and heading north to a place of pilgrimage, my partner and I, are heading to the Terry Fox monument. The road winds up through a typical Canadian Shield rock cut, and emerges to reveal an outcrop overlooking Lake Superior, where we pull over.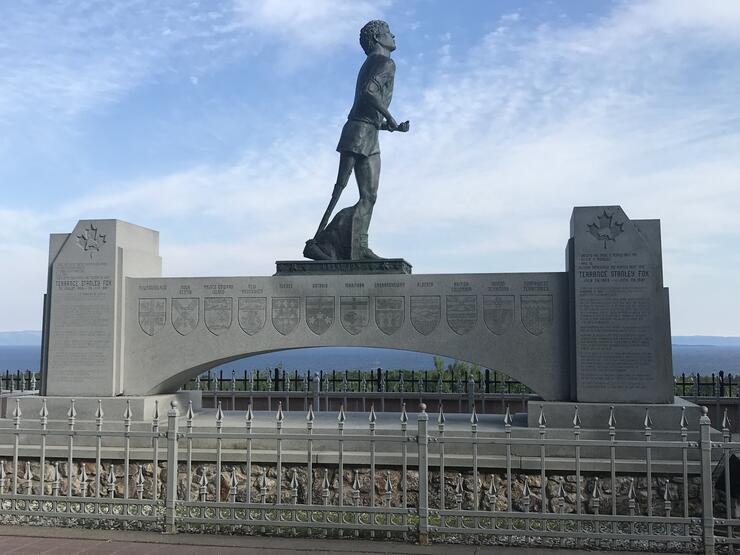 To finally see the Terry Fox Monument was a chance to celebrate the achievements of his Marathon of Hope tour he started in 1980. Unfortunately, his run ended near this monument due to the return of his cancer.
Walking along the granite path through the trees we emerge to see the monument rising high on a base of local amethyst. The sense of pride this man has brought to our country is not lost on us, nor is the silence between us as we imagine the journey he had undertaken. Turning back quietly, we continue our tour on the Terry Fox Highway of Hope north to the Pass Lake turnoff 40 km away.
The freshly paved dual highway, high over the water, transcends our thoughts as we see the Sibley Peninsula where the Giant rests to our east. On the Pass Lake road, we are immediately under the shadow of a huge train trestle bridge with its rusting girders dwarfing us as we crane our necks to see more. Moments later as we cross Portage Creek, we wonder if this route was once used by the voyageurs hundreds of years ago to open up the area with their furs and goods? Our car slows a bit as the forest envelops us and we enter Sleeping Giant Provincial Park.
visiting historic silver islet
We see a deer on the side of the road grazing and paying us no attention as we drive past and towards the tip of the peninsula and the small community of Silver Islet. Historic miner's cottages that now serve as summer homes dot the Lake Superior shoreline, and the turquoise waters transport us from the hustle and bustle of city life to a tranquil frame of mind.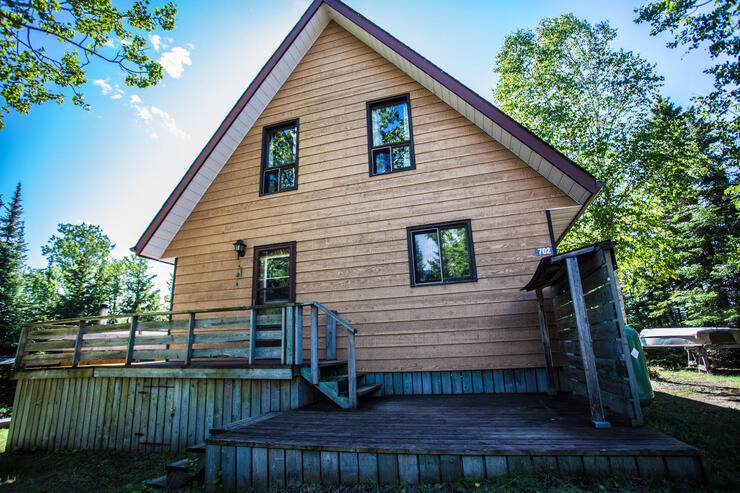 We arrive at our Stunning Silver Islet Cottage nestled and raised above the water to see views that set the scene for our weekend away. The first thing we notice as we unpack is how peaceful it is. We are now visitors to this community, and we go for a walk along the avenue to meet some of the neighbours.
There are children on bikes, people walking their dogs and it's not long before we meet a local who shares with us part of the history and points out a small island a couple of kilometers offshore. To me it's just a tuft of an island that has few trees and looks like any other island. The truth however lies just off the island shore.
a mining town like no other 
Quickly we are told that it is not any island, it's Silver Islet. Thankfully we had done some homework by reading Confessions of a Cornish Miner by James Stathbogey. This insight helped a bit to set the scene of miners and their families back in the day. We were to discover that this island had produced 3.5 million dollars of silver in the 1870s, which is equal to $60 million in today's money. In fact, it was once the world's largest silver mine. We are shocked for it is such a tiny island and what about all that water around the mine site, how do they keep it all out?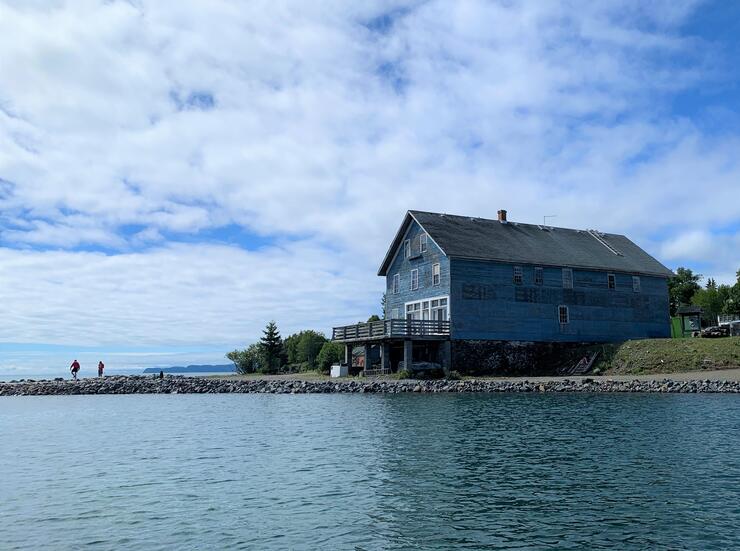 Our newfound friend directs us up the Avenue to Archie's Fishing Charters and Cruises located beside the Silver Islet General Store. We venture inside the store to inquire how to book Archie's Charter because we are interested in seeing the flooded mineshafts which drop 1,200 feet underwater. When we are in the store we learn about more opportunities in the area and discover that they have a tearoom and other delectable treats. We'll save that for tomorrow.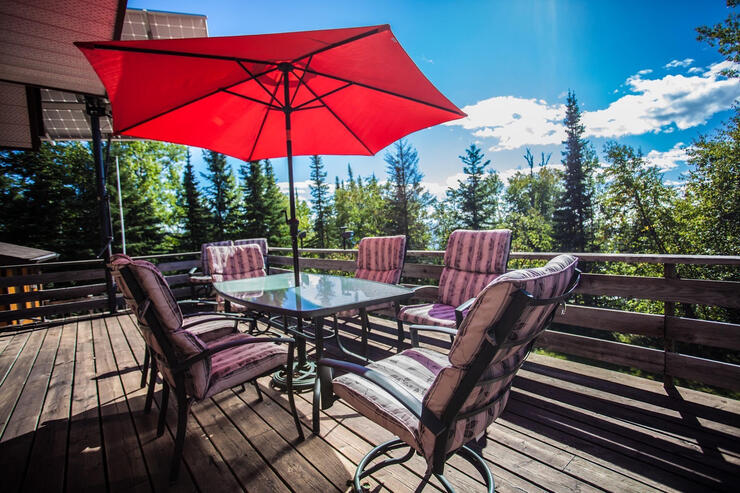 Later we settle into our lovely pine chalet on the water and have an off-the-grid moment with a BBQ loaded with vegetables we'd picked up at a local farmer's market and a steak that sizzles when it hits the grill. The birds continue to chirp and play in the trees around us as we watch the evening arrive. The spacious accommodations help us to unwind as we settle in for the night. Tomorrow will be another day to explore.
cruising the flooded mine shafts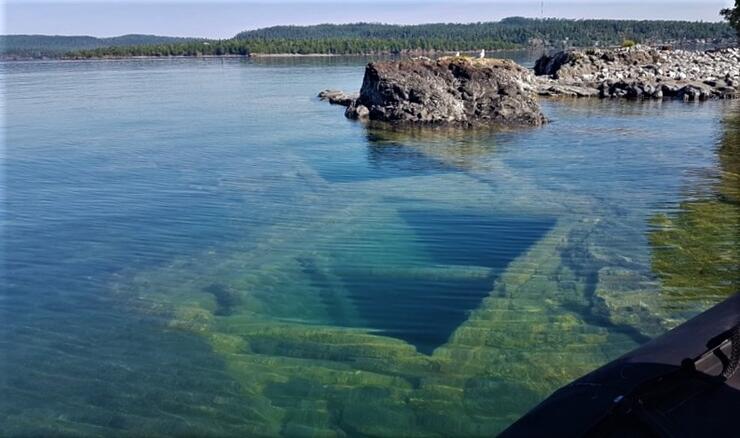 As we leave the dock for our morning tour of the mines and the nearby lighthouse on Porphyry Island, Archie tells us more about the mine and commerce on the water over the years. He's also a fisherman so he knows these waters and can tell us many stories of catching salmon—we'll have to save fishing for another day. On the way to the island, our guide takes us out to the famous mineshafts. We were lucky it was a calm day and were able to see the top portions of the shafts below the water's surface. It was amazing to think that these submerged mineshafts were in operation over 100 years ago.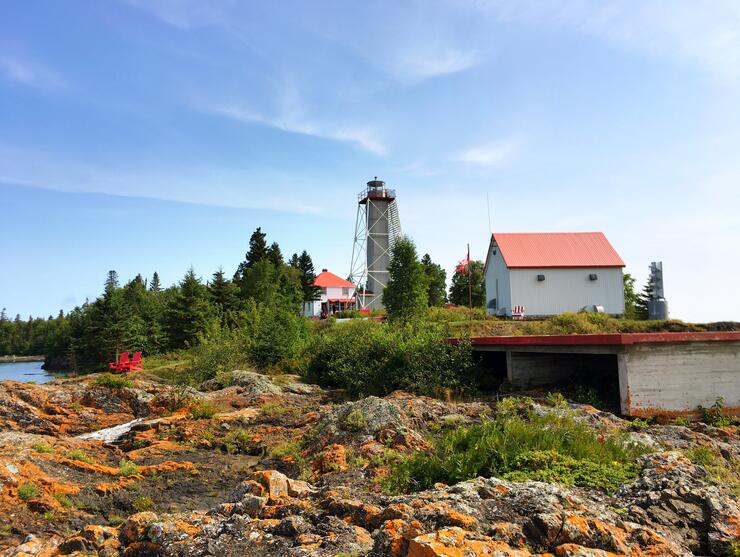 Porphyry Island Lighthouse rises up in the distance, sitting on a volcanic island with exotic wildlife and stunning views. We are greeted at the dock for the Lightkeeper's Tour, which takes us around the light and where we discover the stories of keepers who had worked this station since 1873. It's no longer a working lighthouse but houses a little museum, art gallery, and walking trails.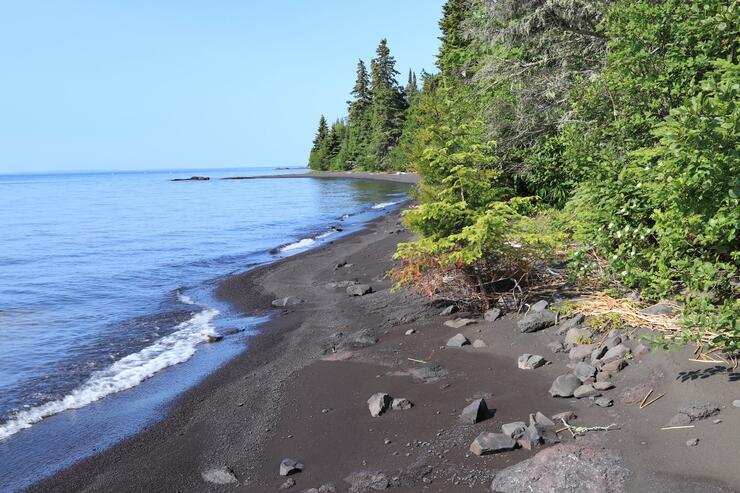 We sat at the lightkeeper's table for a simple but fulfilling lunch with the lighthouse staff and volunteers, who shared their thoughts on what it's like working on a remote island. Taking in one of their recommendations we visited the Black Sands Beach, superheated in the summer sun. Paddling around in the water and taking in the view offers us some tranquility and harmony in this wilderness setting.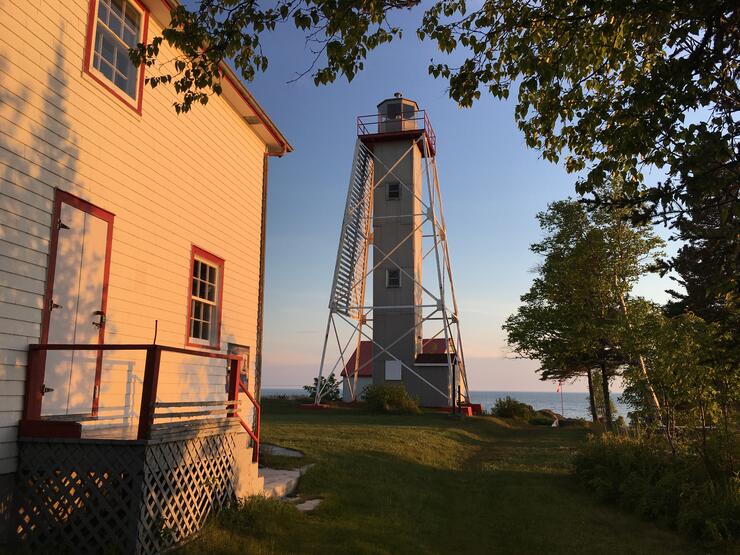 Time flashes by quickly, and we enquire about maybe next time staying overnight in the lightkeeper's house? Weekend stays here are a popular way to enjoy the island, and I can see why. As we leave the island memories are formed. Soon we arrive back at the Silver Islet Harbour. Words do no justice! We feel like we've seen something that many people don't get to experience. Life on the north shore of Lake Superior with its serenity and rugged beauty needs to be seen to be believed. Tomorrow we will visit the provincial park and take a hike, but now it's time to sleep and dream with twinkling stars high above.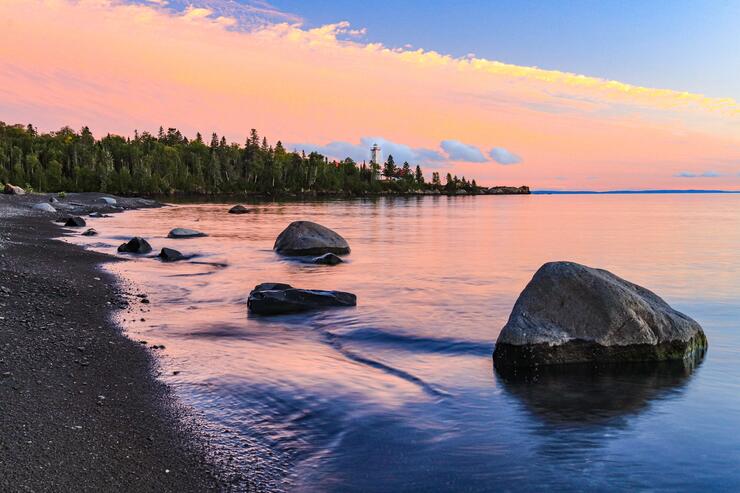 I am happy we took a step to explore this area that was once so unknown to us and can't wait to explore the area again.