Fishing in Superior Country
Fishing is what brings us to this region, but it's really much more. Superior Country is a stunning wilderness setting, wildlife is abundant, people are not. The experience here is an unforgettable adventure that brings you closer to friends and family.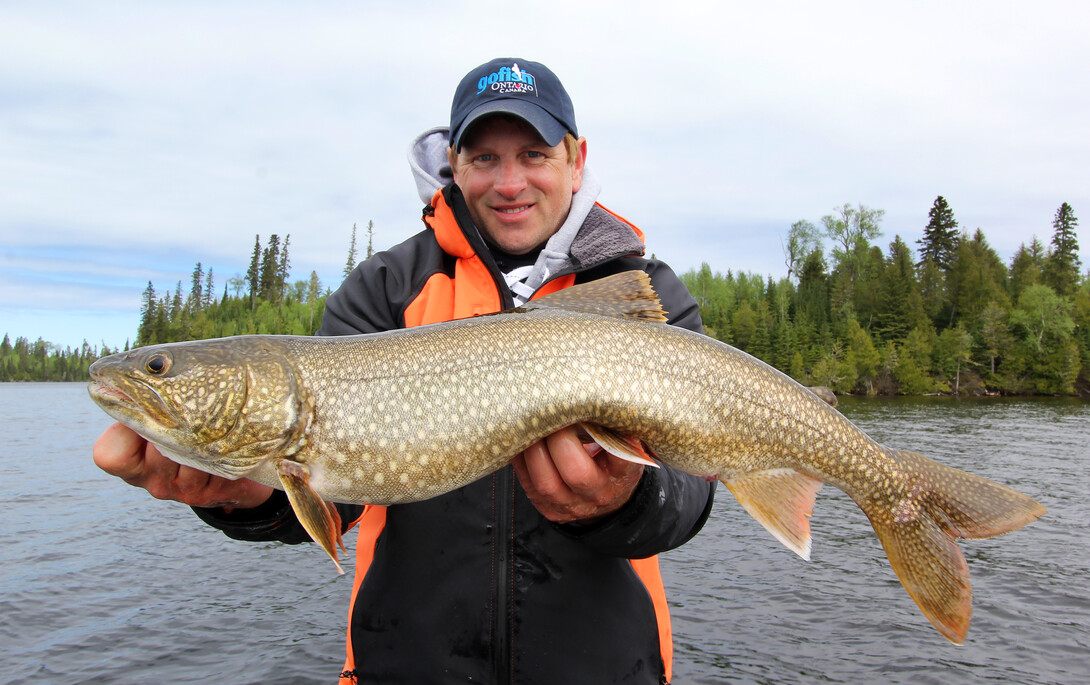 At Lindner Media fishing is a way of life, it's our passion and our livelihood. We chase everything that swims, and believe many of the greatest multi-species fisheries are north of the border. Because of the world-class fishing, our staff spends many weeks in Ontario every year. Of course, with the exception of this season. For an angler, it's the land of endless opportunity. Everyone is eager to get back and we've been planning for the next adventures.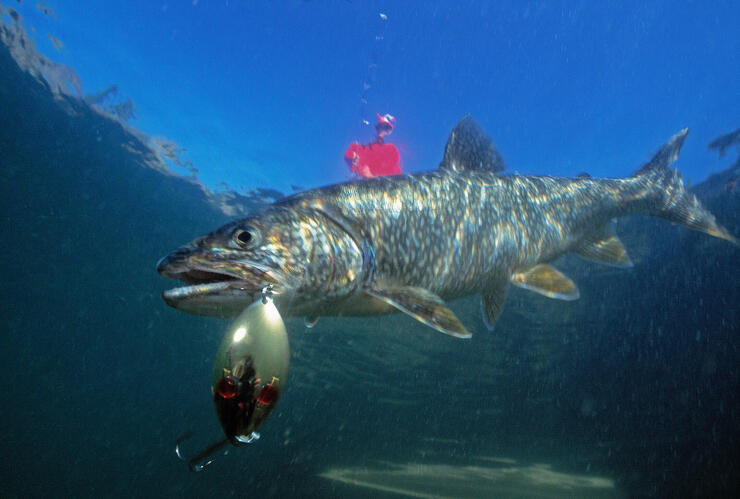 A region that can be overlooked, by many, is Superior Country. It's the region bordering the north shore of Lake Superior and extending north. It's a vast scenic area, home to wilderness lodges accessible only by float plane. There are tons of outstanding drive-to locations, where you can tow your boat, use a camp boat or fish with outfitters who are experts on these waters. Superior Country has countless inland lakes, as well as mighty Lake Superior and the sixth Great Lake, Lake Nipigon. Walleye and pike get most of the attention, but this region offers perhaps the finest brook trout fishing in the world, along with some smallmouth fisheries, lake trout and more! Here's a brief overview of some of the opportunities.
Brook Trout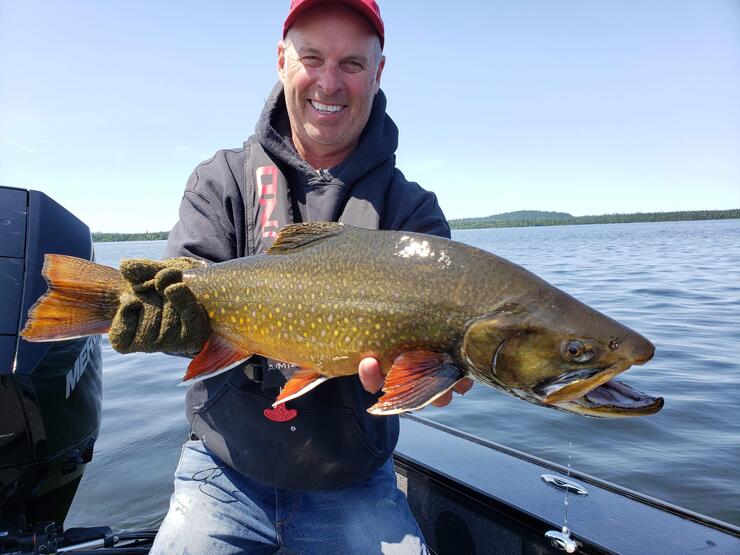 The all-tackle record brook trout was caught in the Nipigon River, an amazing 14 pounds 8 ounces. For most anglers, a brookie 20 percent of that weight constitutes a "fish of a lifetime." While that giant was caught more than 100 years ago, the good news is that trout habitat is still in excellent shape. Huge brook trout swim the waters of Superior Country, most notably Lake Nipigon, Lake Superior and their connected rivers and streams. Nipigon is the largest inland lake in Ontario, and perhaps the finest brook trout fishery on the planet. The near-shore regions are packed with "Specs", with fish from 20 to 25 inches common and there's always a shot at a giant. Water temp is the key to success and they vanish if it gets too warm. Shallow areas with round rock or broken rock that's in the high 40's to the low 50's is ideal. Our favorite way to target them is casting. It's almost identical to smallmouth fishing. Jerkbaits, hair jigs, soft plastic swimbaits, spinners and spoons are what you need.
Lake Trout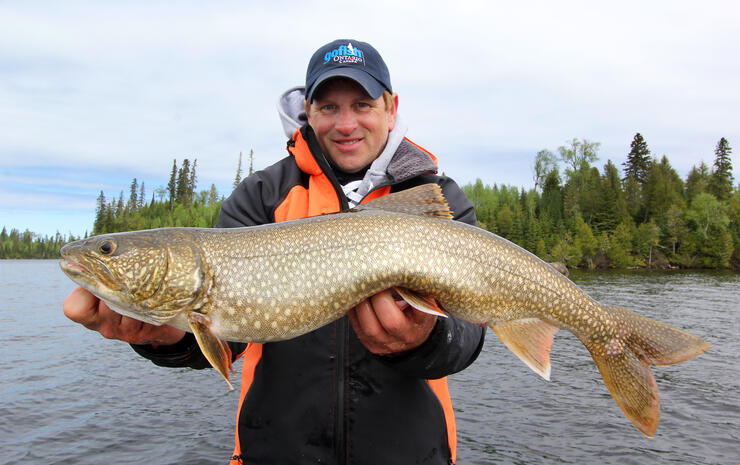 Rehabilitation of Lake Superior's lake trout population represents one of the greatest fisheries management success stories of our time. Decimated by sea lamprey predation and overfishing, they became scarce in the later decades of the 20th century. Lamprey control, stocking, and rehabilitation of spawning reefs has brought back a naturally reproducing stock that keeps growing, yielding ever bigger fish. Lake Nipigon has a population of big lakers, with average catches often running close to 20 pounds! Numbers of 30- to 40-pounders are caught and released each year, while the lake record stands at a massive 62 pounds. Many of the larger lakes of the area also offer fantastic lake trout fishing with both numbers and size. Trout season opens on Jan 1. This gives anglers an opportunity for big fish in shallow water right after ice out, while the walleye season is still closed. Flat-line trolling shorelines with Shad Raps and spoons can be deadly in the part of the world. Summer is primetime for vertical jiggin' with fish piled up over deep holes and reefs. Superior Country has Laker opportunities comparable to many locations in the far north, and it's just across the border.
Walleye
Walleye is the money fish here. Anglers who fish walleyes anywhere in the U.S. simply won't believe how good the bite is across Superior Country. You pick how you wanna catch 'em and there's a place to do it. Fly-In to a remote camp. Be the only group on the lake and catch hundreds of fish a day. Yep. Drive your boat to a fishery loaded with "eaters" and stellar numbers of big fish. Yep! Enjoy the comfort of a first-class lodge where guides will keep you on a bite all day and treat you to gourmet shore lunch and dinner. Yep! There are so many walleyes up here it's hard to explain, you have to experience it.
We've had trips to this part of the world where it's not possible to catch fish any faster! The thing is, it's not just small fish, we've caught a number of fish up here north of 30 inches. Jigging is of course the most popular way to catch them year-round, but this is where you can break into lures and techniques you've been wanting to try and become a master of them quickly.
Walleyes in this part of the world have a pretty cool look. Some of the fish have a beautiful gold color. Others have black backs and yellow bellies and some are even blue! There's a good reason why walleye is king!
Pike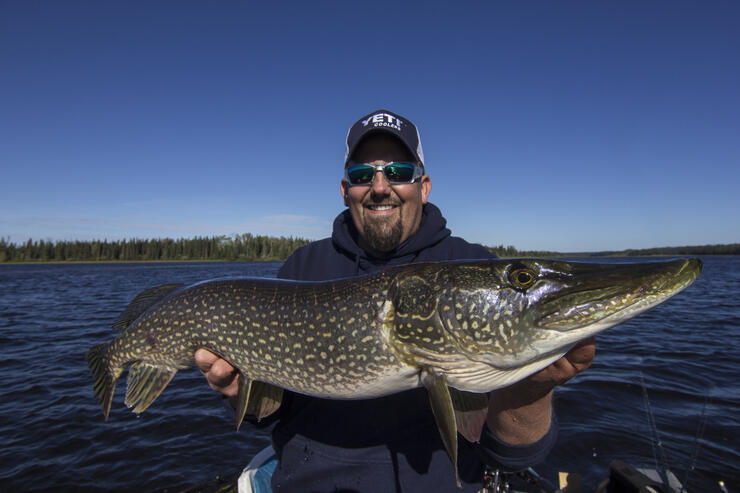 Big northern pike are a favorite for many folks in Superior Country. For good reason, they get big and they love to bite! The pike season is open year-round and early season sight fishing is a really popular way to target big "Jacks". Shallow weedy bays can load up with fish in barely enough water to cover their backs. It's some of the most visual fishing there is. As the summer progresses, big fish move deeper but there's almost always steady action in the weeds.  By mid-summer many of the big fish move to deeper "walleye humps" and deep rock points. One of the great things about pike is they'll bite just about anything, and for the most part it's about getting your bait in front of them.
Early in the season, when fish are shallow,  we like fishing unweighted soft plastic jerkbaits, spinnerbaits, #5 Vibrax and even topwater. When the fish move into the deeper weed beds, big spinnerbaits, rattle baits, jerkbaits and a 5 or 6-inch jig and plastic is tough to beat. When the fish move deep, trolling deep diving cranks for vertical jigging big tubes is a blast.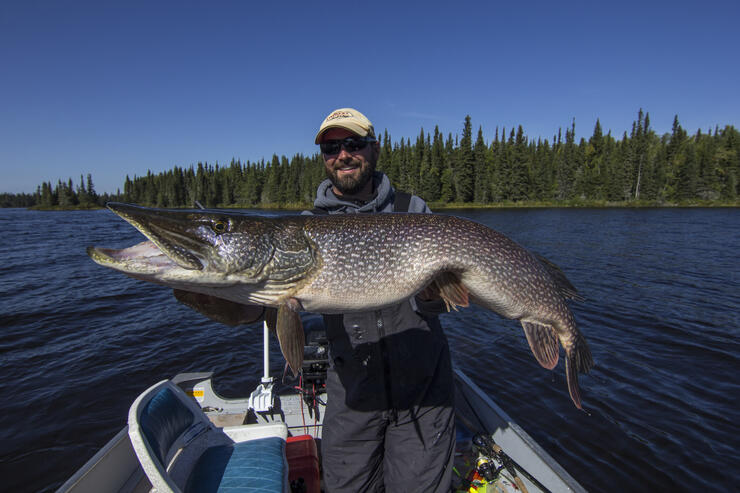 Obviously, some lakes have bigger fish than others, but almost all of these fisheries have fish over 40 inches and fish in the mid-40 inch range are not that uncommon. And every once in a while, you see or hear of a fish pushing that magic 50" mark.
Fishing is what brings us to this region, but it's really much more. Superior Country is a stunning wilderness setting, wildlife is abundant, people are not. The experience here is an unforgettable adventure that brings you closer to friends and family.
For more information on specific packages and options, contact Superior Country, where you can get details, including a Travel Guide to the region.