Fresh air, fish, and fun
Fly in, drive in, and paddle in, for your next incredible Northern Ontario adventure. This is where memories are made.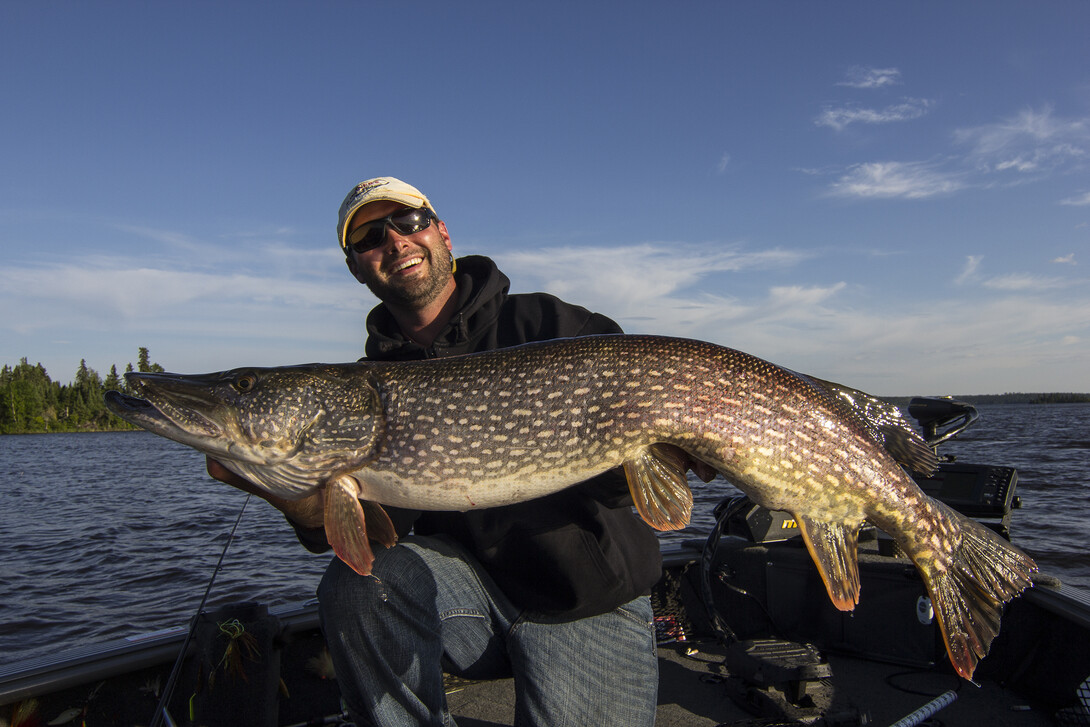 Lately, Canadians have developed a new appreciation of big skies, picturesque landscapes that seem to stretch on forever, and open spaces where you can still hear the rustling of the leaves in the breeze. To find all this and so much more, many people look to Superior Country for ample opportunities to connect with nature in a meaningful way. 
The area's wealth of world-class fishing lodges puts visitors within reach of them all. Naturally, it's fishing that is the most coveted activity they offer, but it's just the start of an itinerary that can be as action packed or as leisurely as you like. This is where building memories with friends and loved ones starts.
Superior Country, on the north shore of Lake Superior, is known as the place to be for those who seek the zen and the challenge of world-class fishing. Its famous Great Lake and an abundance of pristine rivers make this region a much-sought after getaway, especially in the fall when warm, clear bright days provide ideal conditions to be out on the water.
Diverse Angling experiences newbies and pros
You can get to your fishing spot on a float plane, via your own boat, or by booking a charter package, complete with a savvy local guide to get you to the very best places. Here you'll find the right kind of experience that suits your fishing style. Those seeking boast-worthy, championship-calibre catches will find them in abundance. If you're seeking a good fight to test your skills to the max, try to hook large, toothy northern pike waiting to do battle in vegetated bays, lakes, and creeks. Maybe you'll set your sites on lake trout or salmon (coho or pink), abundant in these parts, and quite tasty, especially when prepared by the chef at your fishing lodge. Wee perch are just the right size for young anglers who want to try dropping in a line. Local outfitters can help you create the ultimate day of fishing with all the right gear for all your travel companions, based on their in-depth, first-hand knowledge of the sport.
Seasoned fishing enthusiasts will tell you that not all fishing is created equal. Some love the poetic, rhythmic movements of fly fishing. There's no shortage of opportunities in Superior Country with its clean waters, including the coastal rivers of Lake Superior where large schools of steelhead, salmon, and brook trout swim. (Fun fact: The world's largest brook trout was caught in the Nipigon River.) Drive-in fishing isn't a problem either. This is an area made for driving trips since you can drive up to the perfect creek, river or lake accessible from the road. The key is to talk to the local experts at your lodge. They can point the way to prime spots, charters large and small, and guides who can help you down to the last detail, from type of bait to the optimal time of day to get the best catch.
While a lot of the talk around fishing lodges involves what to catch and where, it's possible to stay at one of them and not fish at all, or mix in a host of other activities. Moms can send off dad and the kids to search for trout, while she catches up on her reading or takes a hike to explore one of the stunning natural attractions in the area, like Kakabeka Falls (the second highest waterfall in Ontario), or shops at one of the many galleries and studios, featuring one-of-a-kind works from local artisans.
A lodge makes the perfect base for exploring
A fishing lodge is a great base from which visitors can explore all that Superior Country has to offer. Bonding time for families and couples can also mean learning and discovering a bit of history. The Schreiber Railway Museum pleases a wide range of interests from antique lovers to those who appreciate the engineering feat behind a locomotive. Meanwhile, Fort William Historical Park in Thunder Bay brings guests back to 1815 when fur trading helped build communities from the ground up. Spread over 250 acres and 57 heritage and modern buildings, it has been recognized as one of Canada's top 10 attractions. Authentic detail makes every part of Fort William's history come alive. Shoppers can take home a memory by visiting an Indigenous-owned and operated gallery where beautifully made moccasins, leatherwork, and unique gifts are offered.
What many visitors to Superior County remember most long after they've returned home is its natural beauty. In autumn, it's even more spectacular with the changing of the leaves. Consider heading to one of the region's scenic lookouts to take in the tapestry that Mother Nature has created. The newest spot is the Bridgeview Lookout Tower. Located on the north shore of Lake Superior, catch the panoramic views of Nipigon Bay, Lake Helen and the freshly built bridge from a height of 12 metres. To get there, you'll be climbing the stairs and getting a good workout.
Perhaps you'd like your views from a quaint point of view. Head to the top of the Terrace Bay Lighthouse for views of the bay and the beach beyond. Or look up to the peak of Anemki Wajew (Mount McKay), part of the Nor'Western Mountains, from the comfort of your car, or look down into Ouimet Canyon, three kilometres in length and 152 metres across, in the township of Dorion. As you drive to your accommodations, take a photo by some of Northern Ontario's iconic roadside stops, including Beardmore's 35-foot snowman, Wawa's giant Canadian goose and Winnie the Pooh in White River.
The ultimate staycation relaxation
You don't have to even leave Superior County's lodges to have a great time. Many of them have a tremendous array of activities available like canoe rentals, wildlife spotting (including moose, wolves, golden eagles, caribou, and otters), and marshmallow roasting over a bonfire on a crisp fall night.
This is an area that understands there is no one-size-fits-all getaway. Its lodges range from intimate lakefront cottages to family-sized complexes you can take over completely for maximum privacy. When it comes to meals, sample the best of local game and farm-fresh produce in an on-site dining room, or do your own thing in the comfort of your room. What you'll find anywhere you stay are friendly people who are proud of where they live and a sincere hope to showcase it the fullest.
The goal is always to provide guests with the ability to design a vacation that meets your unique needs. It is what makes Superior Country, well, truly superior.