Paddling Your Own Path
Inspiring kayak adventure on the wild, pristine shores of Superior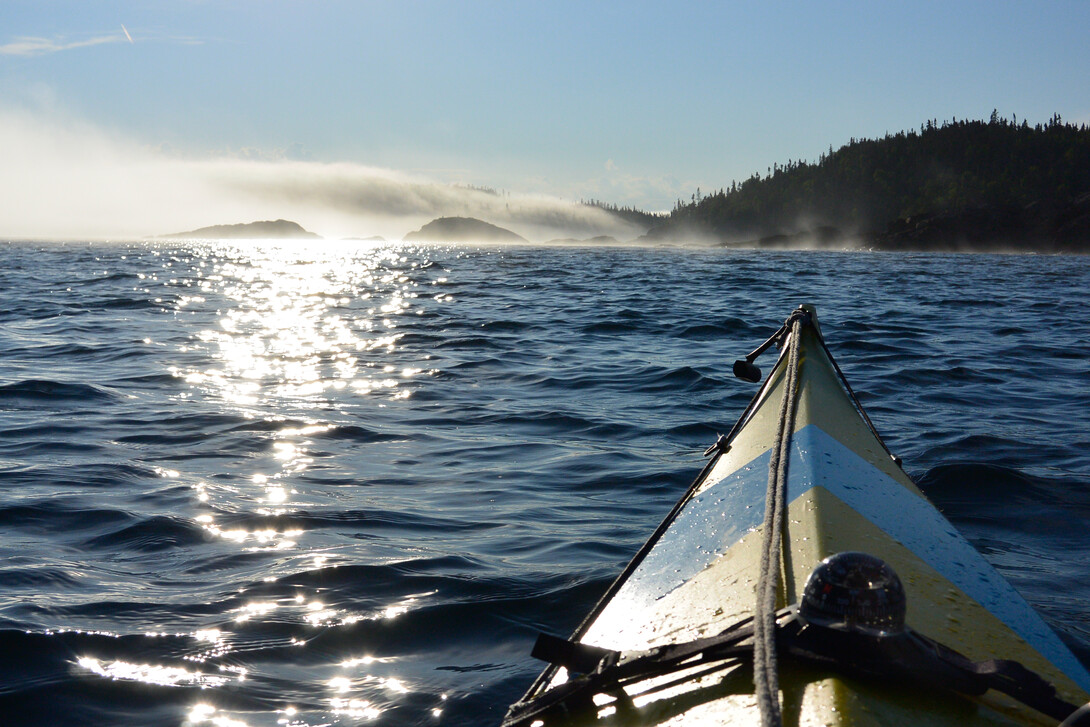 Some people say that the Marathon to Nipigon section of the Trans-Canada Highway provides some the most beautiful scenic views in all of Canada. There is an alluring mystery the beckons while traveling here, at least for me. The long chain of islands that stretch out into the abyss of Lake Superior as far as the eye can see are intriguing. It is a landscape that truly inspires the adventurous spirit in all of us.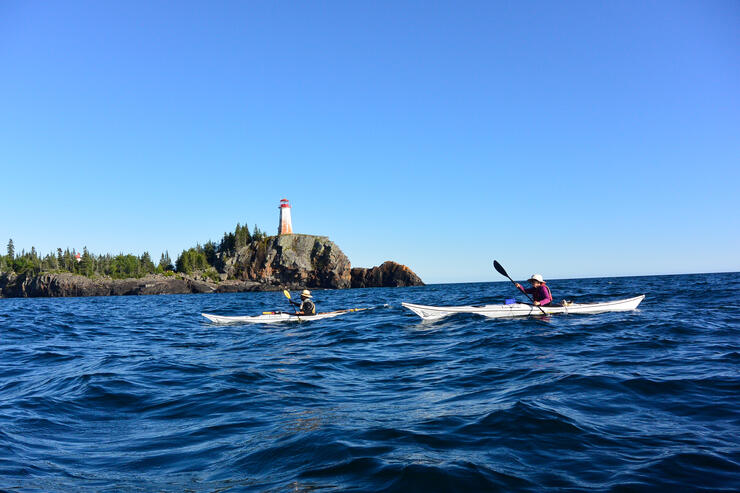 One of the best ways to explore this area is by kayak. Paddling a kayak brings you as close to the water as possible without actually being in it. The kayak is fast and sleek; it provides you a deeper perspective and connection. You can also fit a lot of gear, and once you gain the basic skills and confidence, you are ready!
While living and working as a kayak guide in the small, quaint village of Rossport, Ontario in 2006, I began to reach out and converse with the knowledgeable to learn as much about the Canadian shore as possible. In 2012, Darrell Makin and I co-authored A Paddler's Guide to the Lake Superior National Marine Conservation Area.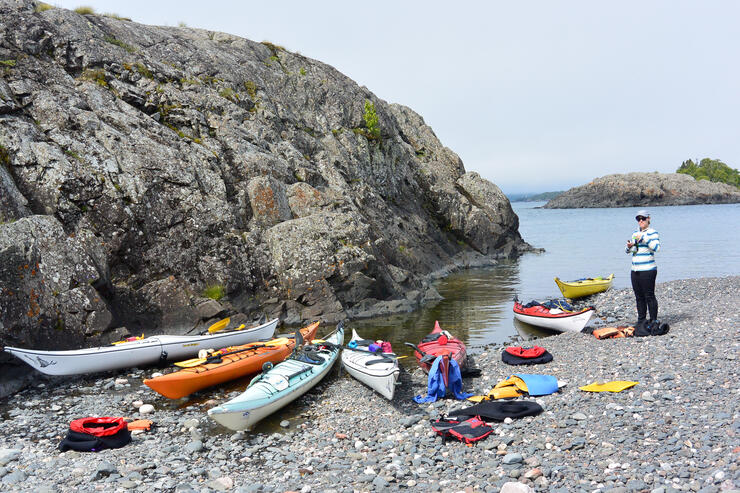 Even with the publication of this book, the Silver Islet to Rossport route that lies in the heart of the Lake Superior National Marine Conservation Area (LSMNCA) is infrequently travelled. I always find it interesting how there is so much information about the Minnesota North Shore of Lake Superior, but there is not a lot of information about the North Shore in Canada.
Most of the 480+ islands in the LSNMCA are designated as public (Crown) land with small little patches of old mining claims that are privatized. Crazy to think that around 90% of the Canadian side of Lake Superior is Crown land and only 10% privately owned. Whereas in the United States, when you average the shoreline of Minnesota, Wisconsin, and Michigan, about 90% is private and 10% is public coastline.
Yes, population density of these Midwestern states has driven more development along the northern shoreline along with ease of access. It is within a day's drive from the major cities of Minneapolis/St. Paul, Madison, Milwaukee, and even Chicago to have a get away on the coast of Lake Superior. Most of them stop when they get to the lake and don't take the extra long drive all the way up and around, leaving the Canadian side of Lake Superior full of pristine, wild beauty and wonder.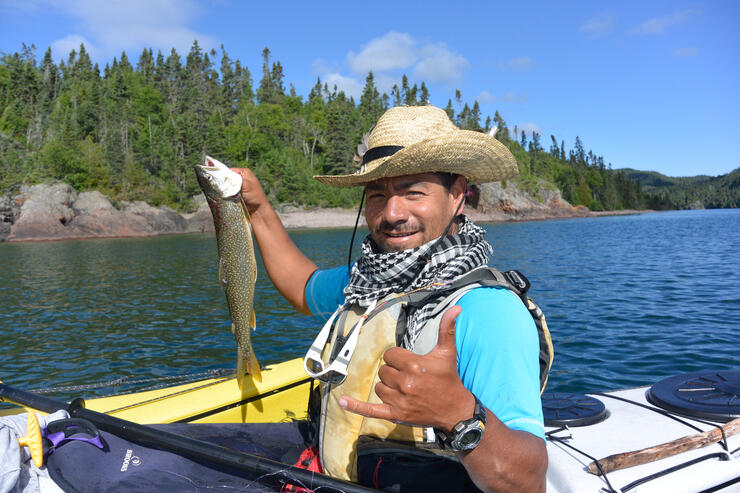 However, nowadays more people are taking the circle tour around the entire coast of Lake Superior, which is great. Unfortunately, the majority of the coast is inaccessible and wilderness adventure by watercraft is the only way to see it. Of these circle tour travellers, some may hire a kayak from Such a Nice Day Adventures in Rossport, or drive to the end of the road to Silver Islet and walk to the Sea Lion rock formation in Sleeping Giant Provincial Park. Far fewer dedicate the time to travel by watercraft along the road-less coast between these two places.
Although the Silver Islet to Rossport kayak journey is quite well known in paddler circles, it is seldom visited, and it is not uncommon to complete the spectacular journey in the middle of summer and not see anyone else at all. Several years ago, this area was covered by a variety of paddling magazines as one of the most interesting sea kayak routes. The route is ideal for those seeking a pristine wilderness experience given its natural and cultural features, relative freedom from restrictions and regulations, and relative isolation combined with a high availability of campsites.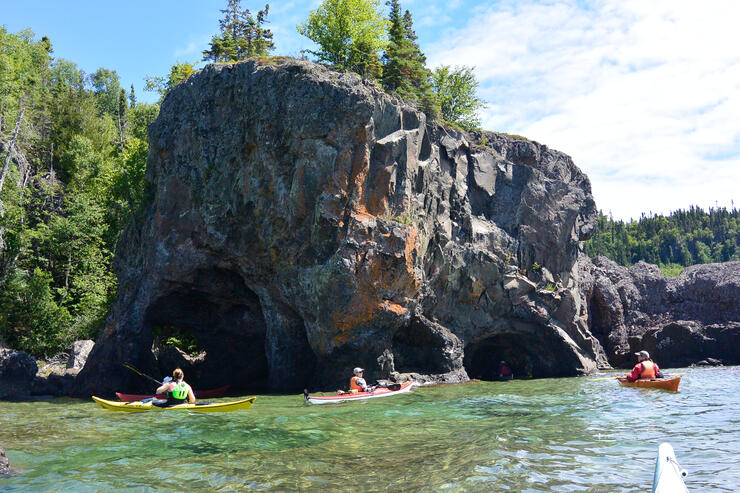 Time out there changes you, and the more exploring you do, the more you realize there is an endless world of pristine freshwater wilderness that gets under your skin. Over the years, I have connected with those that love and live for the lake. Whether by boat, by human-powered craft, or by foot, anyone you see while paddling out there you should connect with as they are your lifeline if you find yourself in trouble.
Nowadays, there are more non-profit groups and volunteers who upkeep some of the lighthouse stations and old mining claim sites that have been converted to private land. Non-commercial groups are allowed to stay and enjoy the saunas, with the intention that they replenish the wood supply and leave it better than they found it. These light station and land claim sites allow the traveling paddler or boater to enjoy a healthy balance cultural and social experiences with remote and wild beach camping.
Over the past few years Parks Canada, The Canadian Lighthouses of Lake Superior (CLLS), and other non-profit groups, private stewards, and commercial outfitters continue to work hard to develop more interpretive information on the area. The future looks bright for small scale tourism development to create more access and maximize the experience for all visitors to the area.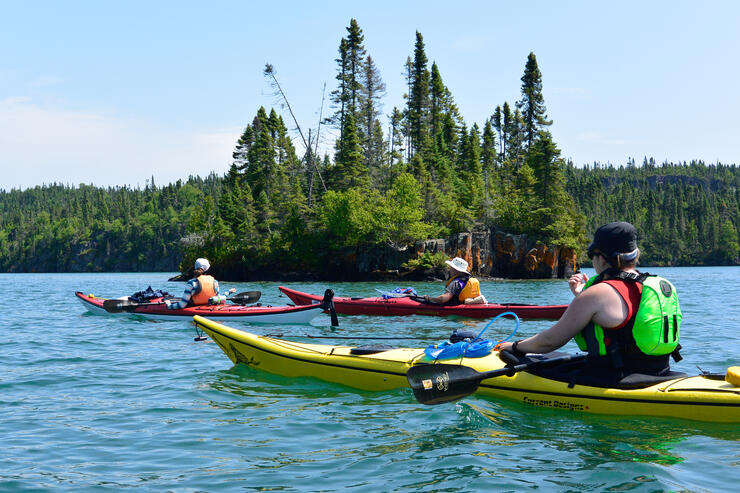 Such A Nice Day Adventures (SAND) is a new venture offering this quintessential Silver Islet to Rossport kayak journey over an eight-day sea kayak expedition (see website for more details). SAND also offers basic Paddle Canada certification-training courses to develop the sea kayak skills to travel safely and enjoyably along the coastal Lake Superior environment.