7 scenic spots to picnic along Lake Superior
Delicious, locally-sourced dishes, serene lake views, plus great company = true adventure in Northern Ontario.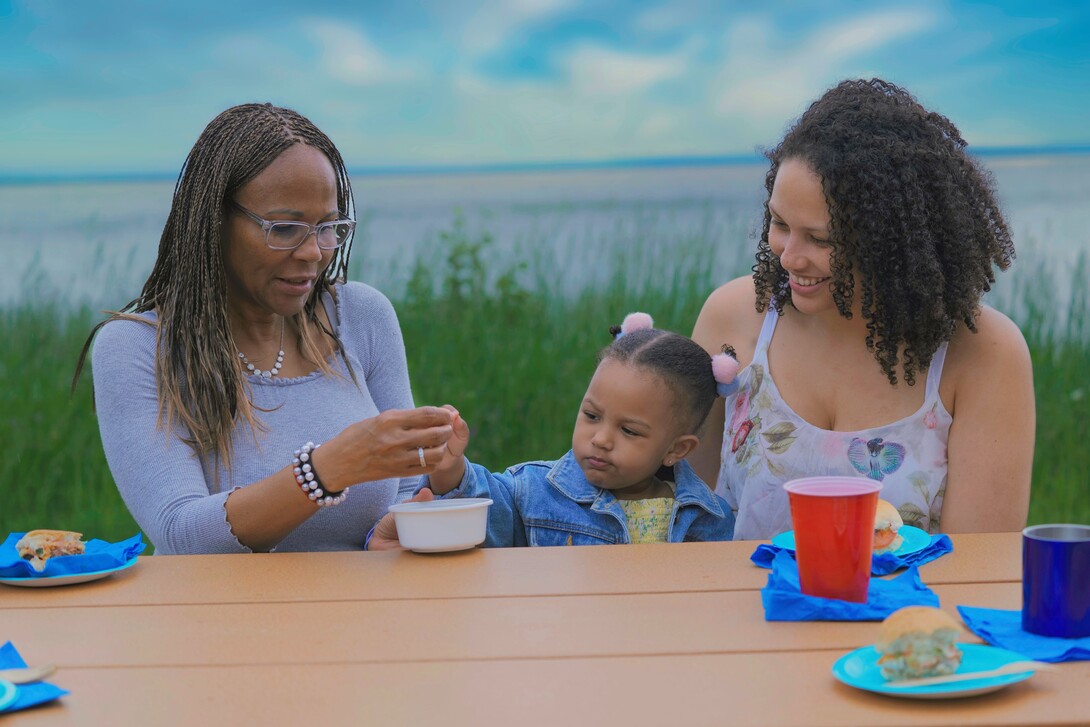 The North Shore of Lake Superior, in Northern Ontario, is known for its pristine bays, beaches, and marinas that together make up some of the world's most scenic picnic spots.
Just a short drive from either Thunder Bay or Sault Ste. Marie, and just across the border from both Minnesota and Michigan, visitors will find this scenic picnic trail—where family-sized tables nestled along Superior Country's north shore of Lake Superior are paired with local culinary delights. Travellers can enjoy sustainably-sourced beef, fresh rhubarb and blueberries, homemade sausage, and, of course, poutine while enjoying views of the world's largest freshwater lake. 
Pack up the family or call your best friend, because it's time to hit the road for a joyful journey you and your tastebuds won't soon forget.
Here are 7 scenic spots to picnic along the waterfront.
Heading east from Thunder Bay this your first opportunity to stop and enjoy a picnic. It's a hidden gem about 40 minutes east of the city. It's a short drive off the highway (follow the signs) and when the road ends, you find yourself in a little piece of heaven on the shores of Lake Superior. The accessible Superior Picnics table is near the water's edge, of course! After your picnic, check out the interpretive signage and stroll the Hurkett Cove Nature Trail.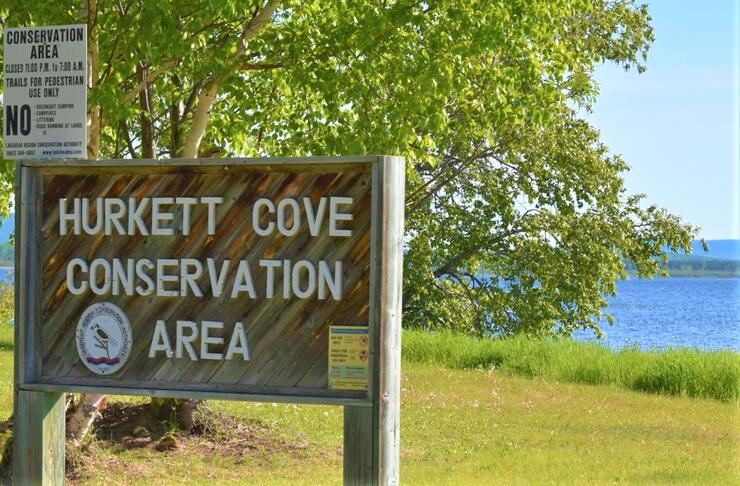 You'll be able to pick up a Superior Picnic special—a juicy burger and fresh cut fries—at the nearby Grill Shack. Sounds simple, but this is no ordinary burger. Crafted with local beef sourced from nearby Wolf River Farms, it is flavourful and fresh. The farm is about 15 minutes away, so you can't get much more farm to table than that!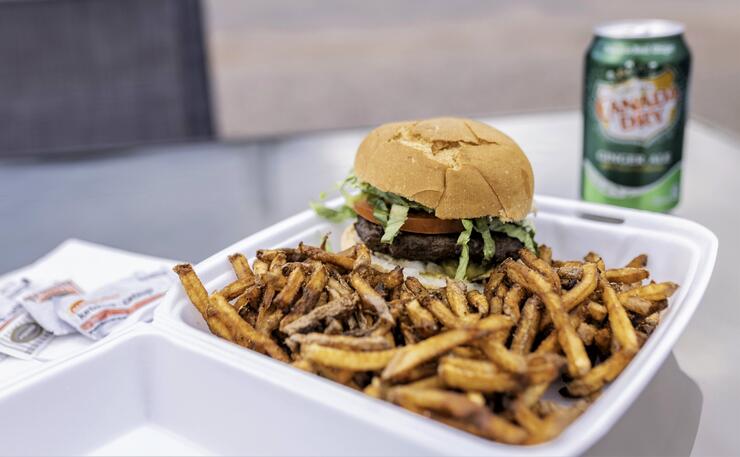 The Grill Shack is located at the Canyon Country Co-op about five minutes east of the turnoff to the conservation area.  While you wait for your meal, check out the Co-op. It's a neat little place with unique gifts and local products.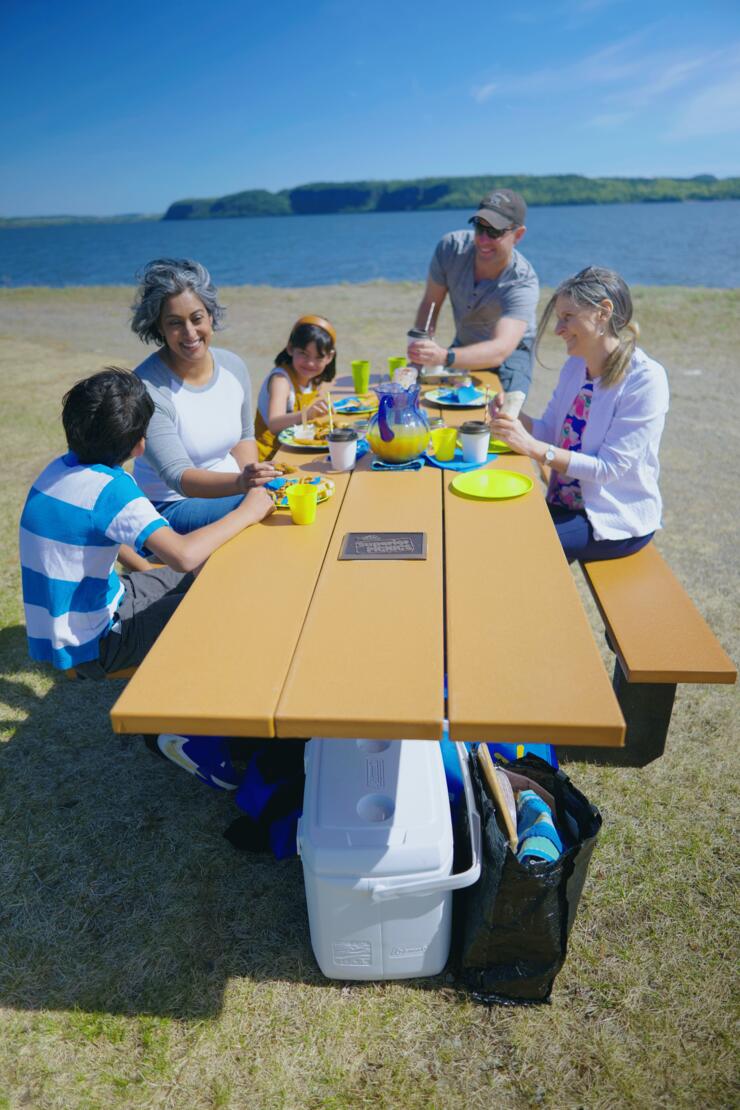 Another 20 minutes east and about ten minutes off highway 11/17 is the Red Rock Marina. A short stroll from the marina's Interpretive Centre, head to the right and follow the walking path to the corner of the break wall. This Superior Picnics table is surrounded by water and has an unobstructed view of Nipigon Bay. Sit here, and it almost feels like you're dining on a boat.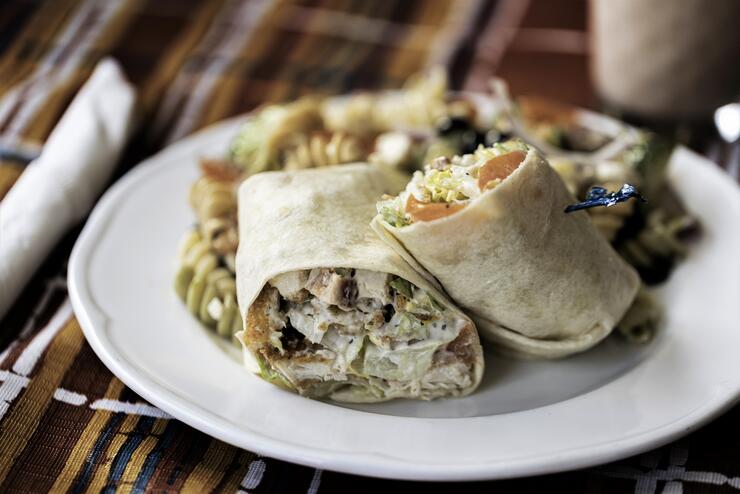 Red Pebbles Café (located in the Red Rock Arena) offers a hardy, tasty Superior Picnic special. A chicken BLT wrap with veggies sourced from Small Town Roots Market Garden just down the road! Can you say fresh and local? Top it all off with a heap of Lucie's famous pasta salad and a refreshing fruit smoothie. This has classic picnic written all over it.
3. Nipigon Marina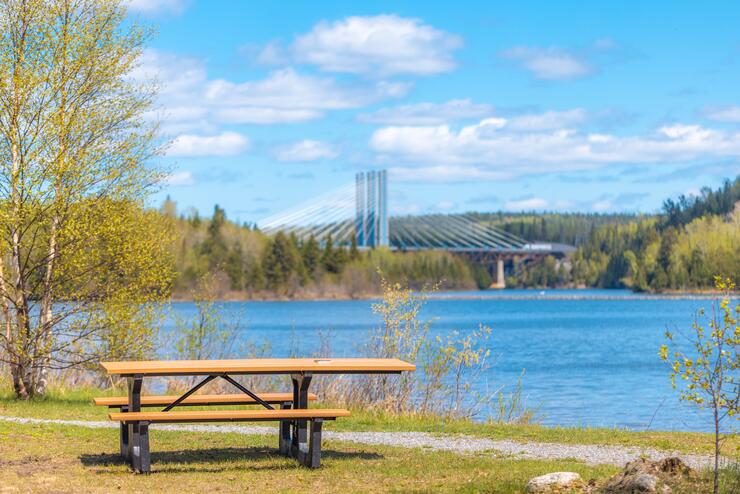 The Superior Picnics table in Nipigon is at the marina. The table is perched along the water's edge, but this time you are on the famous Nipigon River, home of the world-record brook trout. From this quiet, out-of-the-way spot, you can see the Nipigon River Bridge, and watch the pelicans swim and play across the river.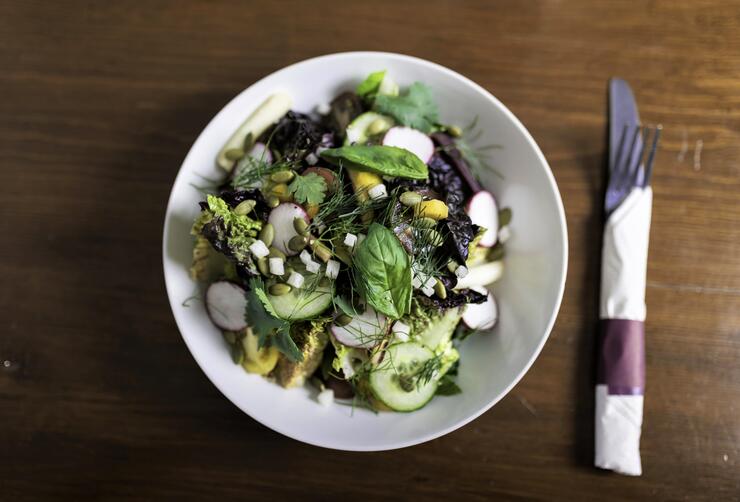 There are two options for Superior Picnic specials here. Ducky's Diner on highway 11/17 offers a Superior Salad crafted with seasonal, local veggies from Small Town Roots.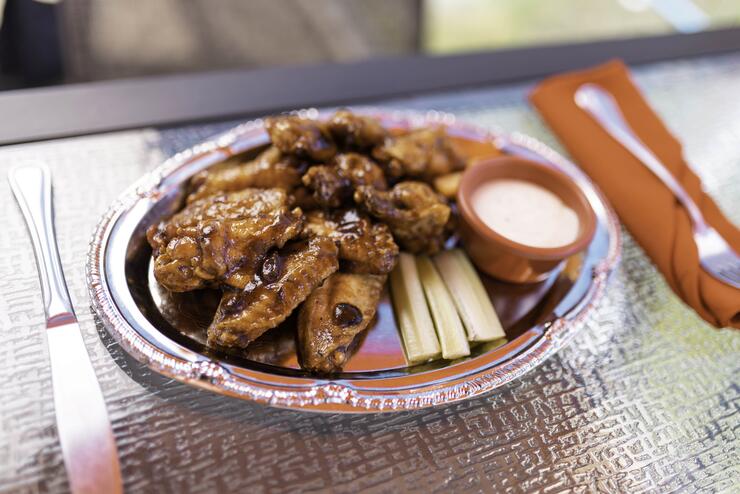 In town, just down from the Bridgeview Lookout Tower, Edgeview at Sunnyside offers juicy wings tossed with seasonal sauces inspired by ingredients sourced from Hurkett Hill Farms. Rhubarb? Blueberry? Rose Petal? Yes, please!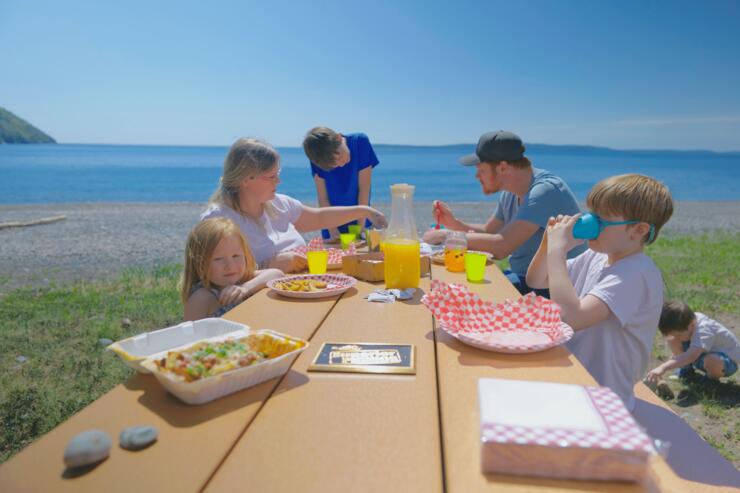 Another hidden gem along the north shore, Schreiber Beach is an unexpected oasis of beauty and tranquility. An expanse of pebbly beach surrounded by rocky shoals; this spot is not to be missed. The Superior Picnics table is to the right as you approach the beach. After your meal, take short hike to the Parks Canada Red chairs, or take off your shoes, stand in the water, and breathe in the power of the lake.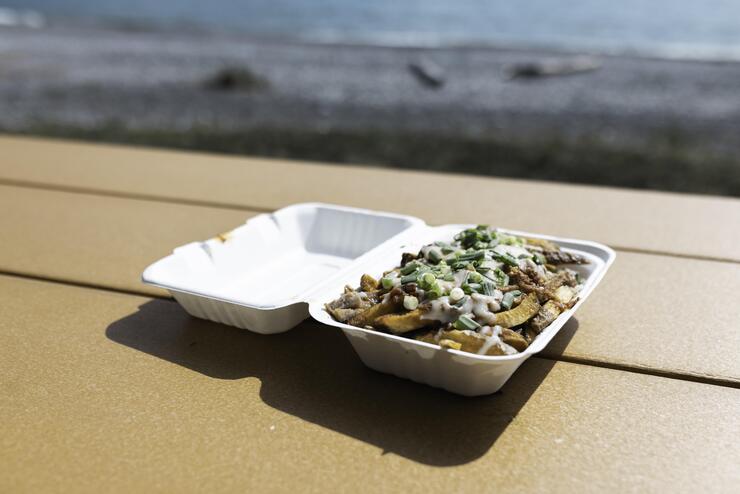 Golden Rail, a popular chip truck in town, has put together a Superior Picnic special called "The Godfather." This rich poutine is a nod to the town's Italian roots. Fresh cut fries are topped with homemade marinara, Wolf River Farms sausage, and gooey mozzarella.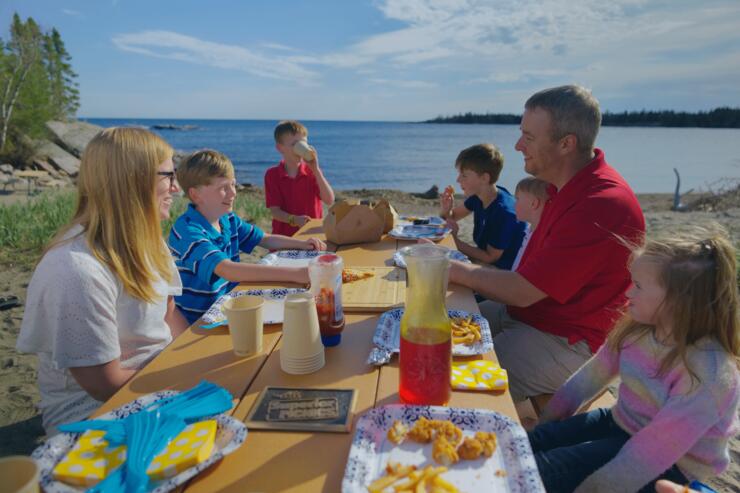 Terrace Bay's attractions are a huge draw for travellers along the north shore. The Terrace Bay Lighthouse, Aguasabon Falls, and of course the Terrace Bay Beach! This sandy beach has a new pavilion, boardwalk, Parks Canada Red Chairs, and the newest addition is the Superior Picnic table. This is an ideal location to grab some tasty takeout from a local restaurant and picnic while watching the Superior waves roll in.
6. Pebble Beach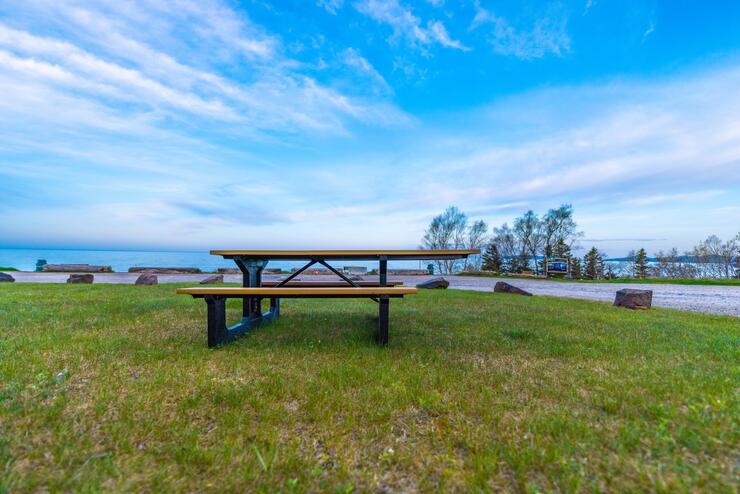 Overlooking Marathon's famed Pebble Beach you'll find this Superior Picnics table. Purchase a takeaway meal from a local restaurant to enjoy at this table before exploring the beach. The namesake stones covering the shore make this beach a unique one around Lake Superior. If you haven't had your fix of exploration just yet, also check out Marathon's Penn Lake or Pukaskwa National Park.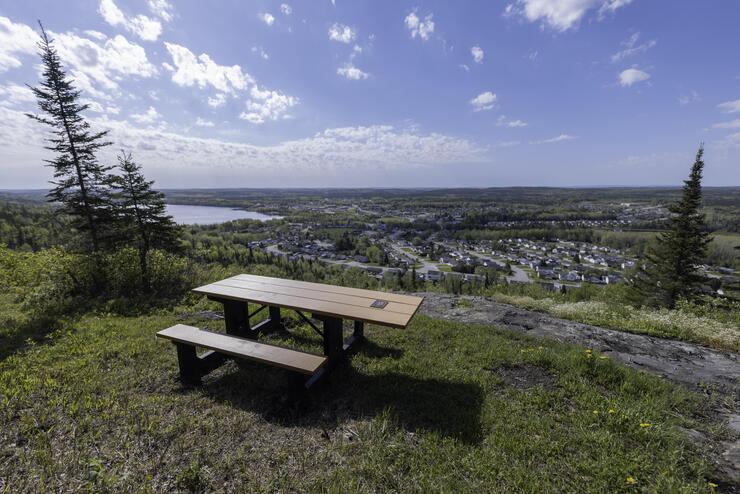 The Manitouwadge Superior Picnic table is situated at the summit of Manitouwadge Lookout Trail, offering a panoramic view over the whole town and Perry Lake. The lookout is accessible by the Kiwissa Ski Hill trail. It takes approximately 15-to-20-minutes to hike to this rewarding view. Don't forget to pack lunch from a local establishment to enjoy at this breathtaking Superior Picnic Table.
For a complete list of picnic tables and to learn more about visiting Superior Country in Northern Ontario, visit us here.