Why Ice Fishing is Good for the Soul
"Ever since I was a young girl waddling around in my snowsuit looking like the Michelin Man, I've been out on the ice in the winters. "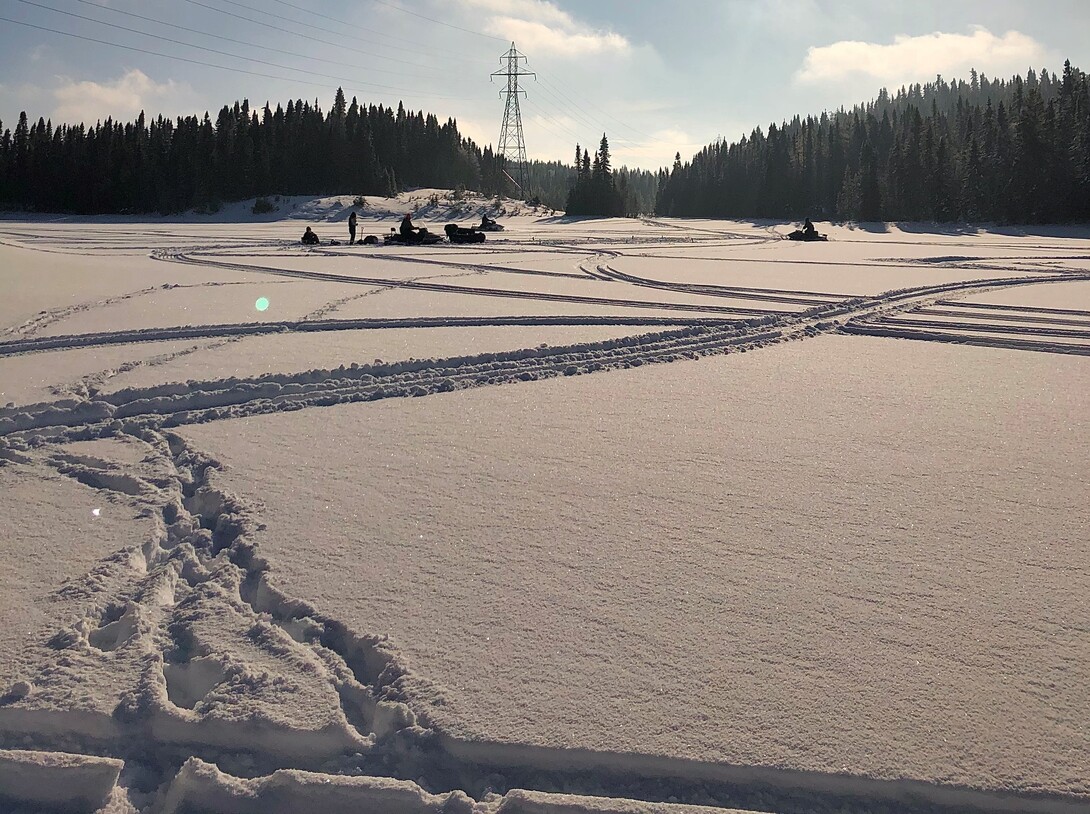 Winter in Northern Ontario…harsh yet beautiful. Growing up in Superior Country I've become well acclimated to the elements and have learned to enjoy every moment of beauty this season offers. From the soft glistening layers of snow that covers the land, to the crisp air that awakens the soul upon each breath. Winter has its own beauty, and as I've gotten older I've come to realize and appreciate it more.
Part of enjoying Northern Ontario winters is finding ways to make the most of it. Something that I look forward to every winter is ice fishing. Ever since I was a young girl waddling around in my snowsuit looking like the Michelin Man, I've been out on the ice in the winters. Now that I am older, no one has to hear me complain about having cold toes and so we go a lot more often. Making the trips fully worthwhile by spending almost the entire day out ice fishing. 
It has become a tradition for mine and my brother's friends to all get together at least once throughout the winter to take a day trip out ice fishing. We're all growing up, following our own paths and living different lives compared to when we were kids. Coming together and getting that same sense of happiness from doing something we've all done since we were young is irreplaceable. Being able to catch up and update each other on what's been going on in our lives while sitting on an open frozen lake gives a certain sense of awareness and perspective. It shows that no matter who we become, what we do in our lives (in terms of careers, goals, love lives, etc), we can all still share the same gratitude over the simplicity of sitting on a frozen lake, fishing with friends. It truly is more than just catching fish, it's the entire experience of it that is good for the soul.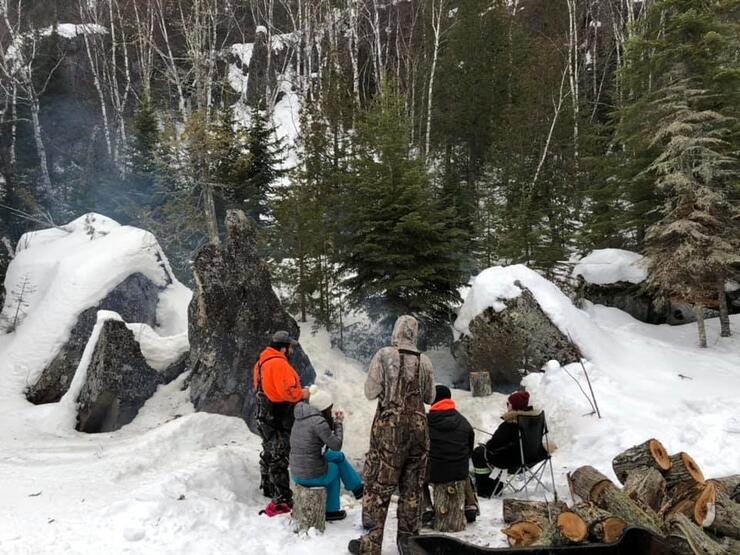 Apart from the camaraderie, what I love about ice fishing is the adventure—it gives me the sense of being a true Northerner, having that Northern Soul. We often don't go to your typical easy-to-get-to lakes for ice fishing, we make a trek out of it. Start to finish. It'll be the dead middle of winter and we are breaking through months worth of snow, guessing where a so-called "trail" is that'll supposedly lead us to a lake. We have had times where we are forced to turn off the snow machines halfway in, strap on the snowshoes and cut trails to be able to make it all the way via machine.
Pro Tip: always bring snowshoes.
More often than not, we find a hidden gem and get a workout while doing so. A struggle, no doubt, but the reward of finding a new fishing destination always makes it worthwhile.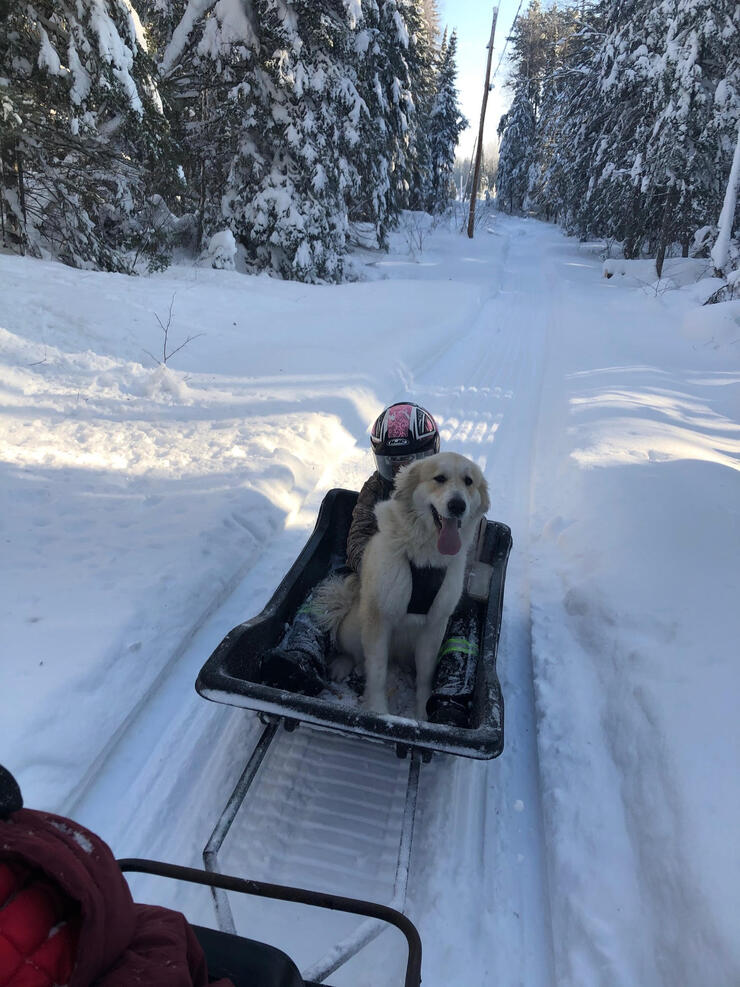 I'll be honest, we don't always catch fish—we come home empty-handed, a lot. I like to believe that a big reason for this is our choice of destinations. Are the lakes we're going to even stocked? No idea. But when we do catch fish, bragging rights are won to the one who reels it up! Fish in the winter tastes the best in my opinion. There is little to no algae on lakes, the lakes are frozen, and so the stagnant areas don't transfer that "muddy" odor onto the fish. And it's easier! You're not worrying about keeping them alive in a livewell or on a stringer, throw them to the side and let them freeze—they stay fresh!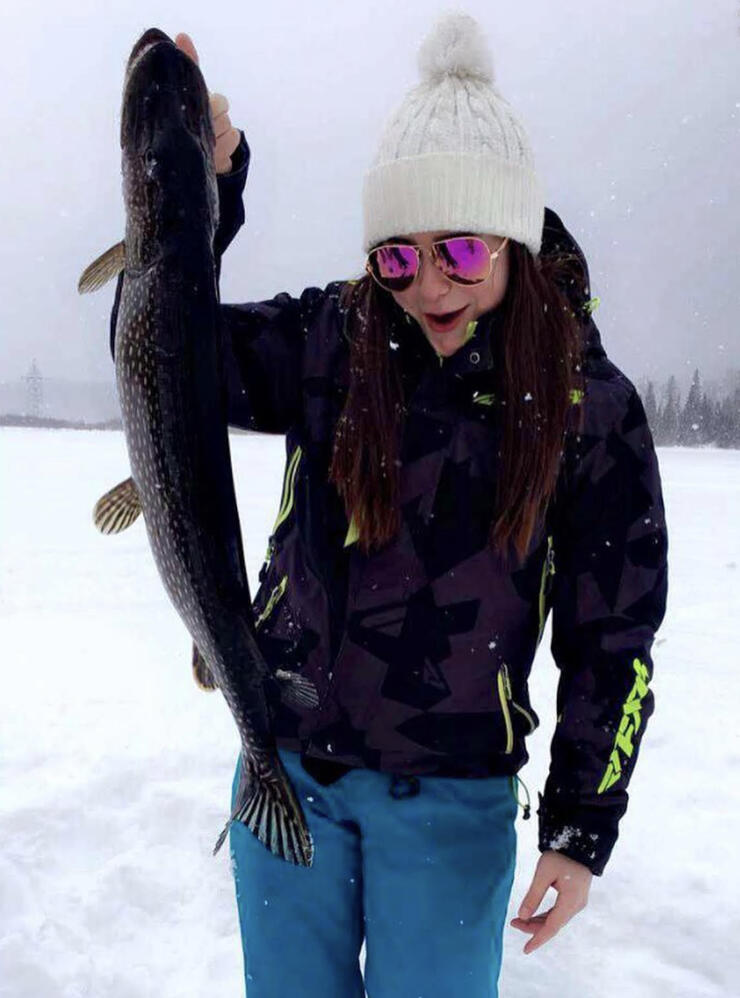 We haven't proven ourselves as the best fishermen on the ice, however, we do fill our day with fun and activities either way. We take snowshoe walks across the lakes, build fires on the shore to warm up, and enjoy the snacks we bring along. I always bring my dog, Babushka, on our excursions and so we play around with her. We take pictures and videos all day long—being on an open frozen lake offers perfect lighting and scenery, it's all about catching the memorable moments!
Whether going out in a big group, or just my brother, my dog, and I, we have a great time. I find something special about ice fishing with loved ones. Taking the adventure on the snow machines, maneuvering through the trails to get to our favorite secluded lakes. Drilling, marking, and setting the holes in the ice. Telling memories while making memories.
It's the adventure, the experience, and immersion into the Northern wilderness that is good for the soul.