4 Essential Day Trips from Thunder Bay
Whether you're looking for a waterfall hike, a gourmet lunch, or a pick-your-own-amethyst adventure, these day trips are all within a 2-hour drive of Tbay.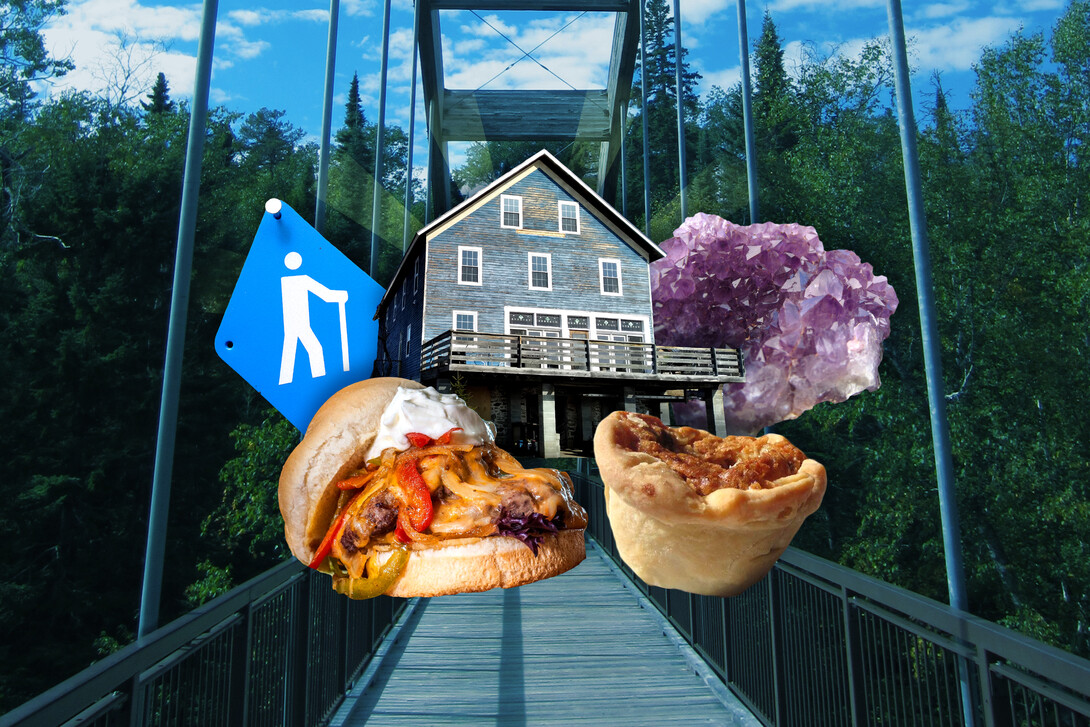 With Thunder Bay as your home base, you can explore the northwest through a number of different road trips, keeping pandemic restrictions in mind of course. Here are some of our favourite destinations. 
Here are the 4 best day trips from Thunder Bay. 
Quetico is a vast wilderness park west of Thunder Bay, home to ancient rocky islands, dozens of lakes, towering trees, and wildlife like moose, beavers, and eagles. While many camp in the campgrounds or take a backcountry canoe trip, it's a good day trip destination too. Swim at French Lake and enjoy the clean sandy beach, tour the Visitor Centre to see works by previous artists-in-residence and learn more about the Indigenous and settler history of the park, and be sure to go for a paddle in a canoe or SUP (rent if available, or bring your own). Pickerel River is a nice paddle, as it winds through picturesque wetlands en route to Pickerel Lake, or go fishing in French Lake or Pickerel Lake. Quetico is known for walleye and smallmouth bass in particular. There are 35 km of hiking trails originating from the Dawson Lake campground area—consider the 1.6-km Pickerel Point trail (a designated dog exercise area) or the steep, 2.4-km French Falls trail that leads to the pretty cascades of the French River. On your way in or out of the park, stop by Quetico North to pick up a few of their famous butter tarts. 
2. Thunder Bay to Kakabeka Falls
drive time: 30 minutes
This area just west of Thunder Bay is home to both Kakabeka Falls Provincial Park and the village of Kakabeka Falls. The community is known as a bit of an ice cream destination that includes the Ice Cream Cottage and the Shake Shoppe as well as several general store-type shops like the Kakabeka Depot that carries everything from toys to cowboy boots to locally made chocolate. The Eddy is a good spot to pick up tasty and fresh family-style fare like burgers, pasta, salads, sandwiches, or all-day breakfast for takeout or patio dining.

Kakabeka Falls Provincial Park is, of course, the site of the "Niagara of the North," the second-highest waterfall in Ontario. You can get exceptional views of the roaring falls from the easy-to-access boardwalk that runs in a semi-circle around the falls and two-million-year-old gorge, and over the Kaministiqua River that feeds into the falls. If you're in the mood for a hike, the 2.5-km Little Falls trail is a moderate but rugged hike that descends into a river valley to another waterfall, a smaller "bridal veil" variety.
3. Thunder Bay to Dorion area
drive time: 1 hour and 15 minutes

This trip has a little something for everyone. Head east of Thunder Bay to Hurkett Cove Conservation Area, a quiet gem found on Black Bay in Lake Superior. Bring your binoculars to view waterfowl, raptors and shorebirds in what's considered one of the best birding spots in the province. As you head west along the TransCanada Highway again, stop at Ouimet Canyon Provincial Park, a day-use park, to take in panoramic views of the sheer cliffs and deep gorge. Walk the 1-km boardwalk trail along the canyon rim and get a birds-eye view (or sometimes, see an eagle or even a peregrine falcon soaring at your eye level). Or, you can visit Eagle Canyon Adventures for a heart-pounding zipline adventure across Canada's longest, highest and fastest zipline more than 150 feet above the canyon floor. Eagle Canyon also has two suspension bridges, including the longest in the country at 600 feet. Continuing west along the highway, check out one of several working amethyst mines in the Pearl area, where you can see the open areas where the sparkly purple stones are extracted, cleaned, and available to buy. Amethyst, Ontario's official gemstone, is a cool souvenir and if you're the crafty type, consider making your own amethyst-studded bowl.

Sibley Peninsula is home to Sleeping Giant Provincial Park and the community of Silver Islet. While it's visible from the Prince Arthur's Landing/Marina Park waterfront area of Thunder Bay, driving there takes an hour or more, to get all the way along the curve of the Lake Superior shoreline and down to the tip of the peninsula. There are more than a hundred kilometres of hiking trails in the park. Some local favourites include the challenging Top of the Giant (22 km round trip to the top of Ontario's highest cliffs, with spectacular views), the Bogs Nature Trail (0.7 km, with interesting wetland plants like pitcher plants, and close to the drive-to Lookout) or the Sea Lion Trail (2.4 km round trip, to see the famous Sea Lion rock formation). Or, bring your mountain bike to explore five rugged trails where biking is permitted. You can also swim, boat, fish, or SUP at Marie Louise Lake. At the end of the peninsula, take a stroll through the tiny historic community of Silver Islet, once home to the world's richest silver mine, where rustic camps still remain. The Silver Islet General Store is an 1871 building that is scheduled to reopen in summer 2021 after a careful restoration. 
Bonus: Bike, paddle, and boat!
For an active day trip that doesn't require a car, consider these options when they're available: bike the rolling farmland of the Slate River Valley, paddle a sea kayak on Lake Superior on a day-long outing via Such a Nice Day Adventures, book a rock-climbing course with Outdoor Skills and Thrills, rent a SUP from SUPerior Standup Paddleboarding or set sail in a catamaran, sailboat or Zodiac for a tour of the harbour or Lake Superior's hidden coves and islands. 
Make some great summer memories on a day trip close to Thunder Bay!