Algoma Country Welcomes Snowmobilers For A New Season of Winter
Riders Can Count on Major Snow, Primo Trails & Great Hospitality!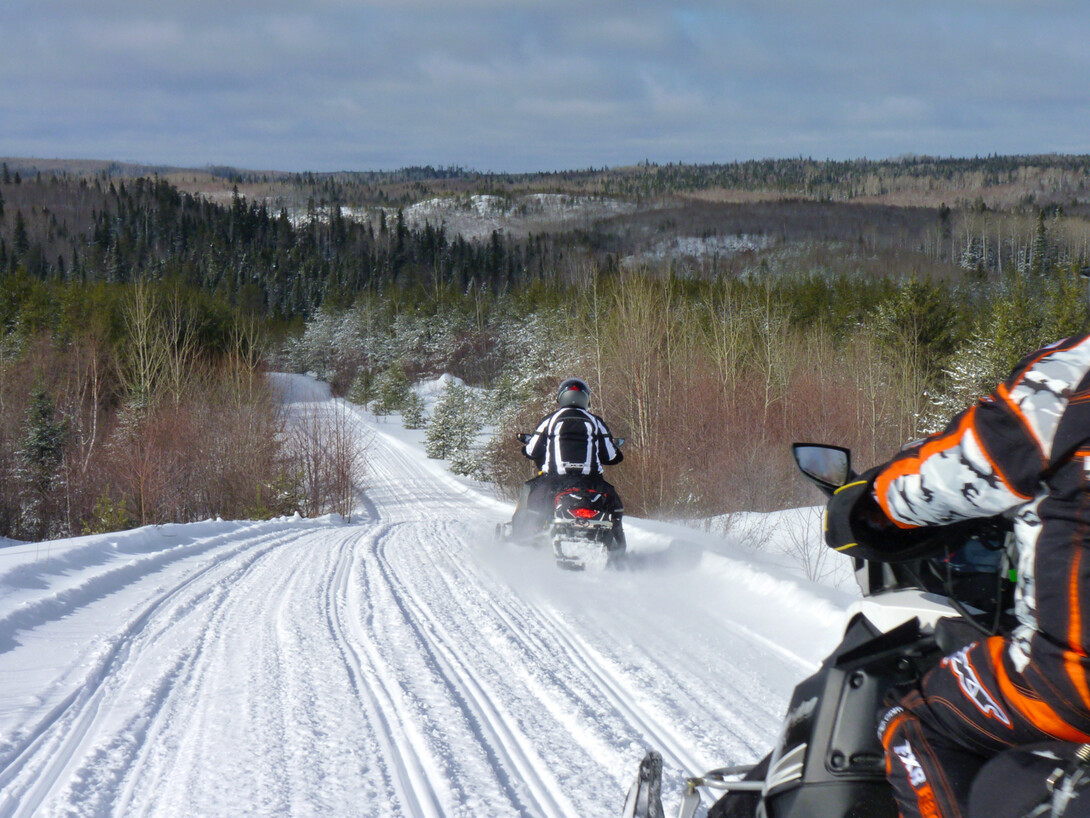 Located in Northern Ontario, Algoma Country is a vast territory of 28,000 square miles comprised of two unique snowmobiling areas, Algoma East and Algoma North. Come winter, all of Algoma Country turns snowy white and remains that way for a long season. That makes it a perfect and convenient winter destination enjoyed by thousands of riders.
Anchored by the TOP Trail D, Algoma Country's 2,000 miles of groomed snowmobile trails typically attract numerous American visitors through its international border at Sault Ste. Marie or its TOP Trail D107 border crossing on the ice bridge from Drummond Island, MI. to St. Joseph Island, ON. Many visiting snowmobilers from Southern Ontario have also discovered Algoma Country sledding and return to experience more each winter. 
Grooming Underway
With the Canada-U.S. border now open, the 2023 season won't just be for local riders, but for all to discover all the snowmobiling adventures that Algoma Country can deliver. With the cooperation of Old Man Winter, the 12 member clubs of the Algoma Sno-Plan Affiliation (OFSC District 13) can get grooming operations underway as and when weather conditions allow. Both Algoma East and Algoma North trails should be primo for Southern Ontario and U.S. riders.
Discover Algoma East
Algoma East stretches east from Spanish and Elliot Lake to Echo Bay in the west. It takes in many vibrant communities along the North Channel of Lake Huron such as Blind River, Bruce Mines, and Thessalon, and includes the popular St Joseph Island. Algoma East trails connect to Algoma North, to the Sudbury area, and to Michigan.
Topography in Algoma East is authentic Canadian Shield terrain, with rugged, scenic, and breathtaking riding through old-growth forests and overlooking Lake Huron. Day riders can try the many loop options on offer from most communities along the North Channel. Or for a turn-key snow tour, check out either the 400-km North Shore Loop or the 230-km Island Gateway Loop.
Algoma East Park 'n' Ride Locations for Day Riders
Blind River – Info Centre off Hwy 17
Bruce Mines – Arena on Hwy 638
Elliot Lake – clubhouse at TV tower hill
Iron Bridge – Arena on Hwy 17
St Joseph Island – Kent's Corner - Sportsman Storage
Thessalon - Marina
Explore Algoma North
Algoma North runs north from Sault Ste. Marie between the eastern shore of Lake Superior and Chapleau, including Searchmont, Wawa, Dubreuilville, and through Hornepayne to Hearst. Algoma North topography plateaus north of Searchmont, where trails become more wide-open, sweeping, and optimized for exciting high mileage days, especially from Wawa to Hearst. Algoma North snowmobile trails connect to Algoma East, to the Northern Corridor, and to Timmins area trails.
In Algoma North, snowmobilers can stage from Sault Ste. Marie for the new 169-km Soo Highlands Loop or the 1,300-km All The Way There Tour to Hearst. On route, they can discover Hornepayne's 90-km Bobcat Loop or spend some time doing the 165-km Missinaibi Expedition Tour out of Hearst. Or turn west from Dubreuilville for a quick jaunt through White River to Marathon and Manitouwadge.
Algoma North Park 'n' Ride Locations for Day Riders
Chapleau – Aux Trois Moulin – 154 Martel Street
Dubreuilville – 27 chemin du lac, 21 Pine Street
Marathon – Swipe, Pump & Go Gas Station
Sault Ste. Marie – Connor Rd (just past Rod & Gun Club), Strathclair Fields (corner of Second Line & Black Rd), Fairfield Inn & Suites (rear parking lot)
Wawa – Community Centre – 3 Chris Simon Drive
White River – Continental Motel
New Norm For Sledding
Regardless of what Algoma Country ride you choose, it's a sure bet that this winter won't be the same as usual. You're also going to get used to carrying more gas & oil, snacks, and personal necessities than previously. And our daily habit will become re-confirming trail availability and calling ahead to double-check on services. 
Winter 2023 Update: Halfway Haven will not be able to open this coming season. The trails linking Searchmont, Wawa and Chapleau will be open with some safety precautions in place. This section of the snowmobile trail will be a remote ride and we advise that you plan according and bring extra gas.
Join Us This Winter
With this in mind, Algoma Country invites all riders to join them by sled this winter. And when the time is right, we also look forward to welcoming back our many friends from the U.S. After all, when it comes to Northern Ontario sledding, it doesn't get any better than this – and there's plenty more Algoma Country winter to enjoy!