Winter is Coming
From ice formations to world-renowned ice fishing and snowshoe trails, winter in Algoma is an essential Canadian experience.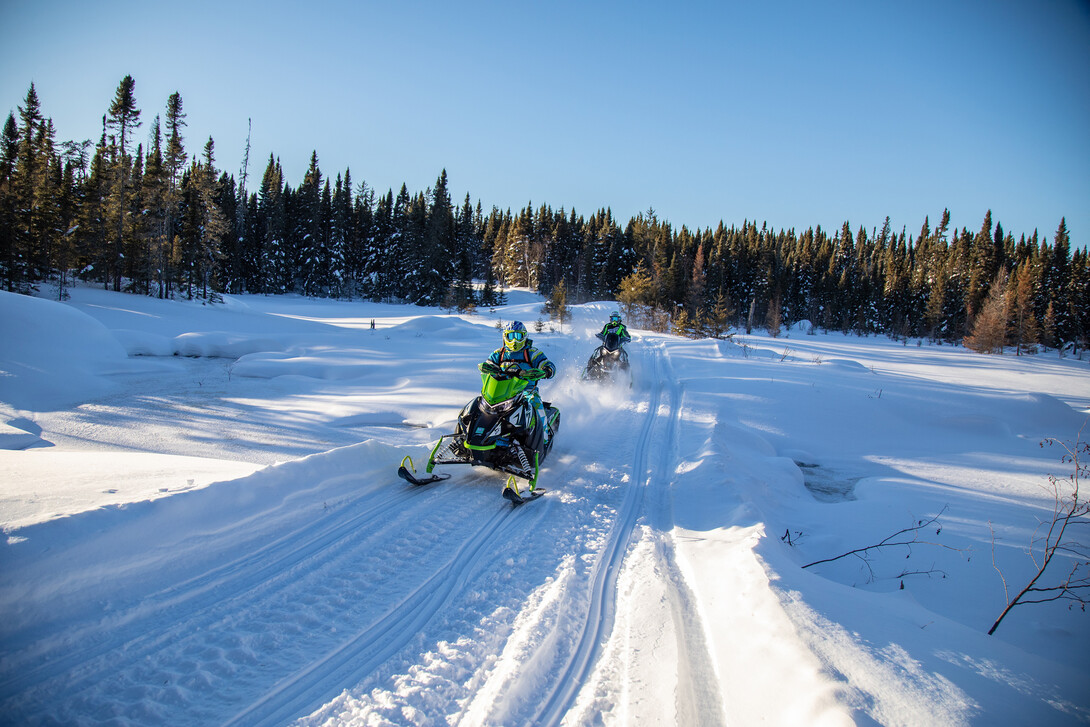 Winter in Northern Ontario's Algoma Country is here. Love it or hate it, it's hard to deny the beauty of our vast snow-covered province once winter hits. Or the joy that comes from watching slowly falling snowflakes. Or the blissful warmth and crackle of a fire after a day spent outside. Yes, winter might not be for everyone, but hopefully, our list of awesome winter activities to experience in Algoma will help you get inspired to get outdoors.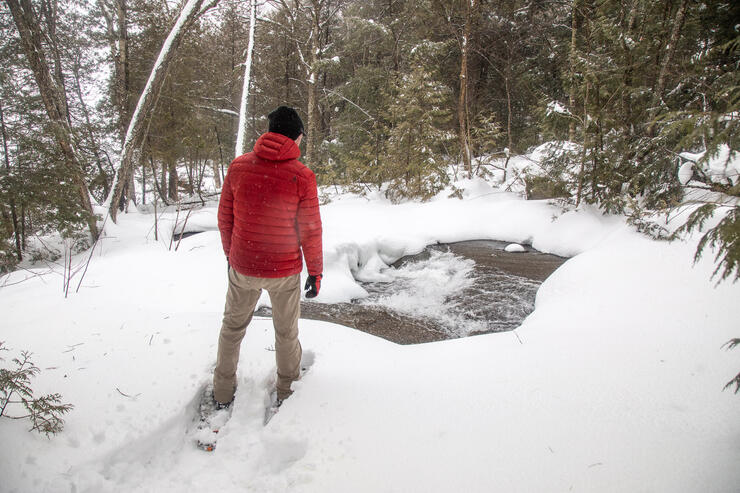 Perhaps the easiest way to jump into enjoying Algoma's winter wonderland is snowshoeing. This 4,000-year-old mode of transportation is easy to learn and easy to do anywhere—strap a set of snowshoes on your feet and walk into your next adventure. And while any piece of snow-covered land will do, some places are better than others. For beginners, check out the Sault Ste. Marie waterfront, which offers easy access to St. Mary's Island and Whitefish Island. Flat topography, river views, and chickadees eating seeds from your hand will have you coming back.
If more of a challenge is what you are after, try a marked loop at Hiawatha Highlands and search out frozen waterfalls or for the ultimate snowshoe adventure, take a day to explore one of the hiking trails in Lake Superior Provincial Park. Looking for an overnight adventure? Check out the aptly named Snowshoe Camp Resort with trail access and modern cabins. For more places to snowshoe in Algoma visit us here.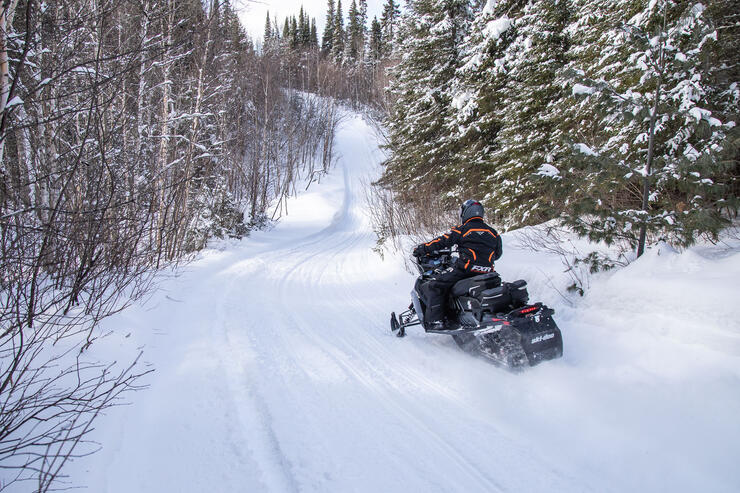 We might be biased when we say that Algoma has some of the best snowmobiling in the world. With 3,200 km (2,000 mi) of groomed trail, annual snowfall of 300+ cm and a season that often lasts from December to April, you can see how we might reach this conclusion.
Weekend warrior or long-distance explorer, our two pre-planned loops will have you grinning. Head out on the epic northern ride or spend a day or two on the North Shore Loop.
Experience an overnight stay in the Algoma backcountry and pamper your sled in the heated garage in Dubreuilville. At the end of a fantastic day on the trail, the communities of Wawa, Sault Ste. Marie, Chapleau, White River, Hornepayne and Hearst will be happy to make your stay equally memorable.
Fat Bike in the Fat Biking Capital of Ontario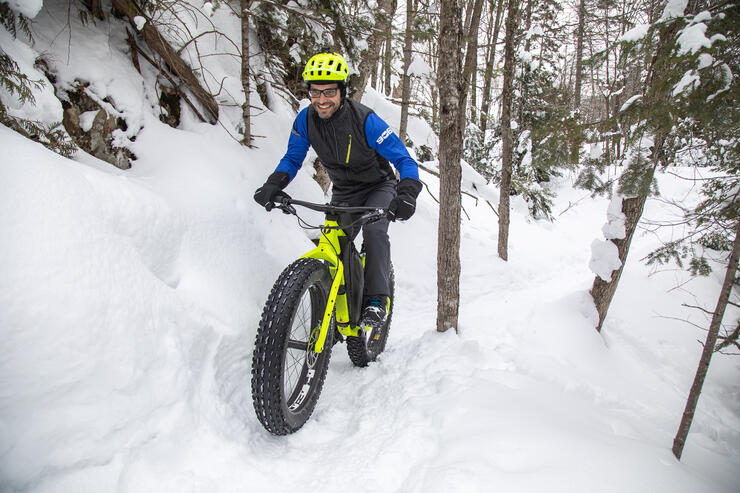 If there ever was a match made in heaven, the fat bike coupled with a snowy Algoma winter is it. The fat bike burst onto the outdoor scene a short while ago, and it's fast become a staple of Algoma winters. Sault Ste. Marie has become one of the best winter cycling destinations in Ontario, so it's the perfect place for all your fat biking adventures. This season is promising to be the best one yet, with plans to machine groom approximately 50 km of flowy snow trail at Hiawatha Highlands and Crimson Ridge. Both locations offer group rides, and well-groomed trails, plus pre-ride and post-ride amenities to satisfy your appetite and warm you up after a day spent outside. Fat bike rentals and delivery to the trailhead can be arranged with Velorution Bike & Ski.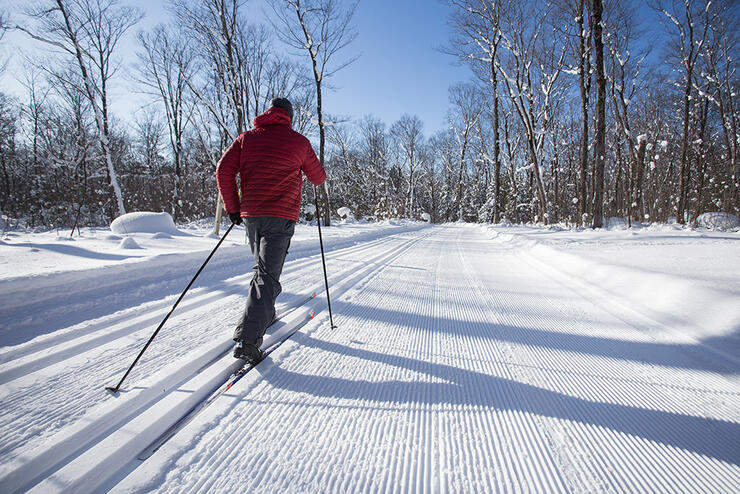 The silence of a snow-filled forest and the swoosh of a ski is winter magic—add a knapsack with lunch and a thermos full of hot chocolate, and winter doesn't get any better. So, where can you cross-country ski in Algoma? Head out on ski trails at The Boom Camp Interpretive Park in Blind River or the Spine Road Cross Country Ski Trail in Elliot Lake, where you will find five separate loops of tracked groomed trails ranging in length from 3.5 km to 15 km. In Sault Ste. Marie, the Hiawatha Highlands is a local favourite. There is something here for everybody with 50 km of perfectly groomed trail, beginner to advanced, classic or skate. All across the region, each community has local trails to explore.
Explore the Epic Ice Formations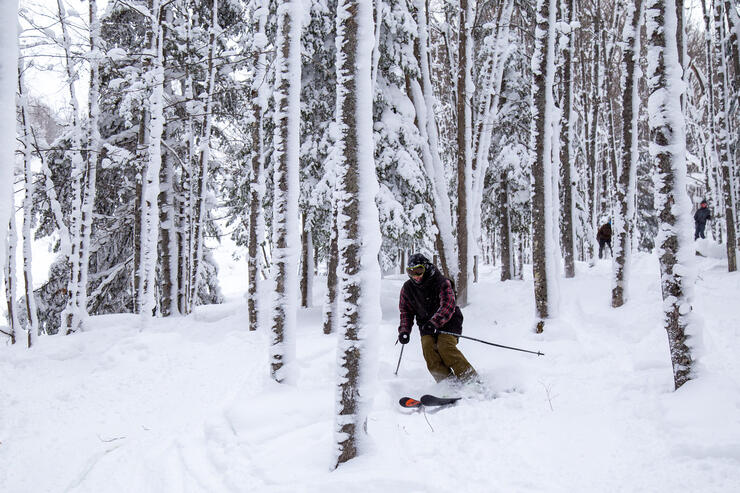 If you prefer to ride the lift up and hit the downhill slopes this winter, Mount Dufour Ski Area near Elliot Lake gives skiers and snowboarders a challenging experience with almost no lift lines.
If the backcountry is beckoning, then Bellevue Valley Lodge is a great option. Here skiers have been enjoying the snow-loaded hardwood hills of Algoma for over 25 years. Offering some of the best backcountry skiing and boarding anywhere, the adventure pairs nicely with their legendary hospitality, so be sure to stay awhile. For the experienced backcountry touring explorer, the Algoma landscape offers endless possibilities to set your own tracks.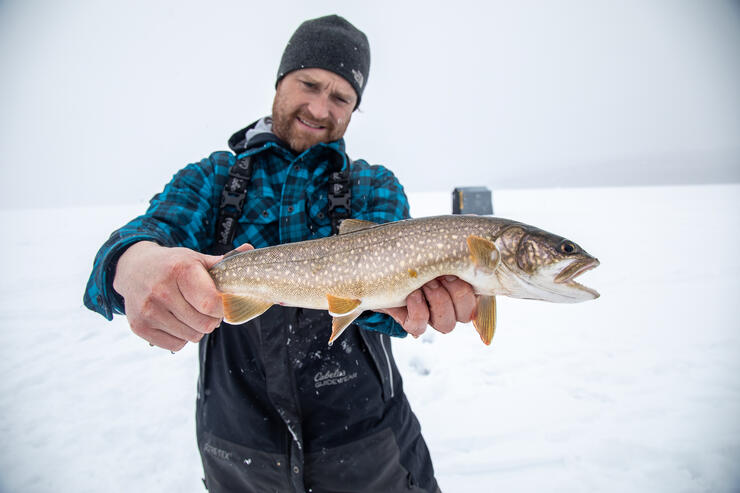 Fishing doesn't stop just because the lake freezes over, it merely requires a different approach. Algoma's lakes are filled with trout, walleye, and northern pike, and few experiences rival the excitement of pulling a catch of a lifetime through a small hole in the ice. Whether you fish with a friend, or a group or participate in annual ice fishing derbies, there is a social vibe to ice fishing that is hard to match in the confines of a boat.
With many Algoma operators open year-round, combining a cabin in the woods with a day of fishing on the ice makes for the perfect winter getaway. While the fish are plentiful, hooking into one is not always easy. Be it your first-time ice fishing or your first time on that particular lake, the local fishing guide will provide everything you need for a fantastic day on the frozen water.
Winter is coming, no doubt about it, might as well get out, enjoy, and embrace it. For more information on planning an epic winter adventure in Algoma, including places to stay, and things to do, visit us at www.algomacountry.com.