A Trophy on the Line
Day Four of Winter in Algoma: Ice Fishing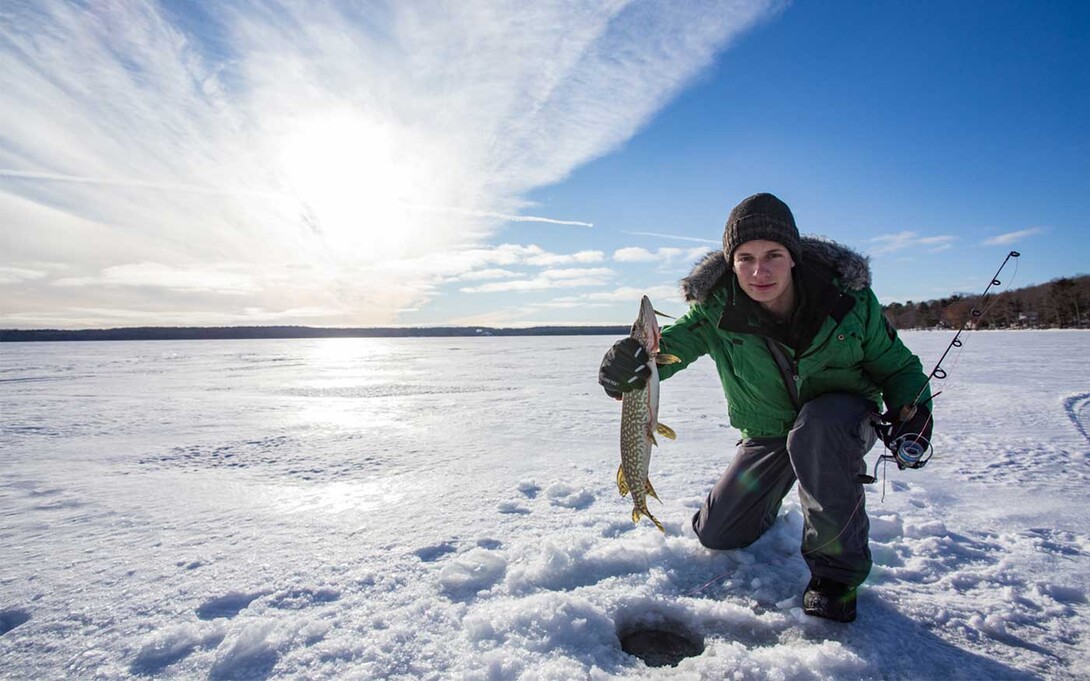 Read Day One, Day Two, Day Three
Ready set go, let the race begin. We are not talking about Olympic competition here, but there is a potential trophy on the line. Not the shiny cup type of trophy that occupies a shelf in the den, but one that might just qualify as a catch of a lifetime.
It's day four of our five days of winter in Algoma Country and ice fishing is the name of the game.
As we enjoy the warmth and comfort of the fishing hut, outside tip-ups (see photo below) sit guarding a few extra holes and rods. When a tip-up releases its flag, it's fish on and the race begins. First-person to get there claims whatever is at the end of the line.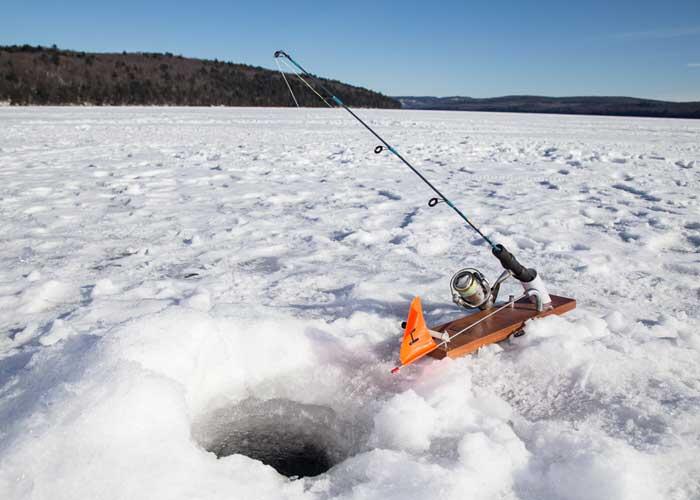 We start the day when we meet up with fishing guide Adam Vallee, of Angling Algoma. Using a local fishing guide is a good idea any time you are exploring new areas but there is no better time of year to apply that advice than winter. I tell you, once you see a frozen lake you have seen them all, and trying to figure out where to start would be a real head-scratcher. Adam brings much more to the table, or should I say the ice, than local knowledge. There are the dozen fishing rods, tackle, bait, electronics, an auger to cut through the ice, heaters for the hut, ATV, and sled to move things around and even a portable hut.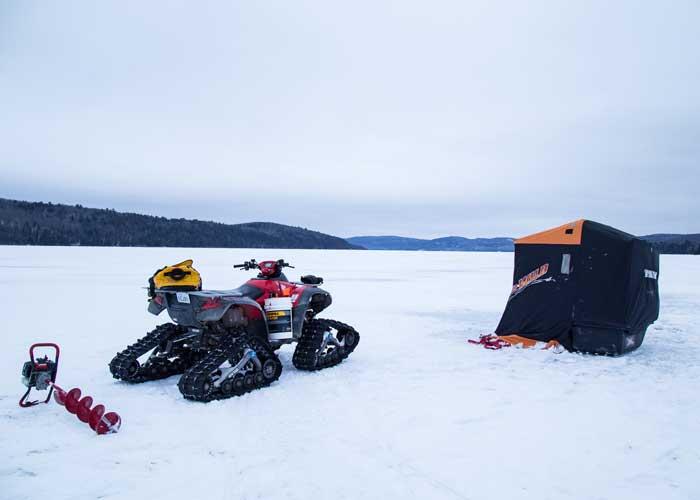 We waste no time, drop our bags at the cabin, and hit the ice. Th lake is renowned for its lake trout population, a species that neither one of us has caught before. As we play tourist snapping selfies featuring Algoma's expanse of ice, land, and sky, Adam goes about his business of drilling holes, setting up rods, and baiting hooks. We are fishing in 60 to 80 feet of water and live minnows are the bait of choice.
Before all rods are even set up a flag pops up, fish on and just like that, 30 minutes into our first ice fishing experience, we tick lake trout off the list.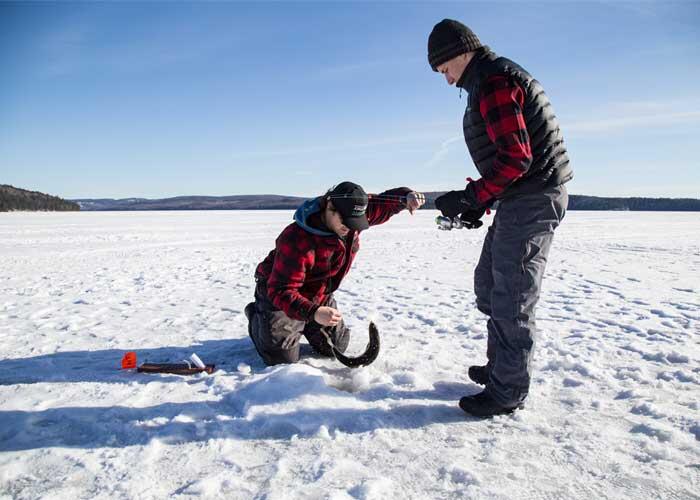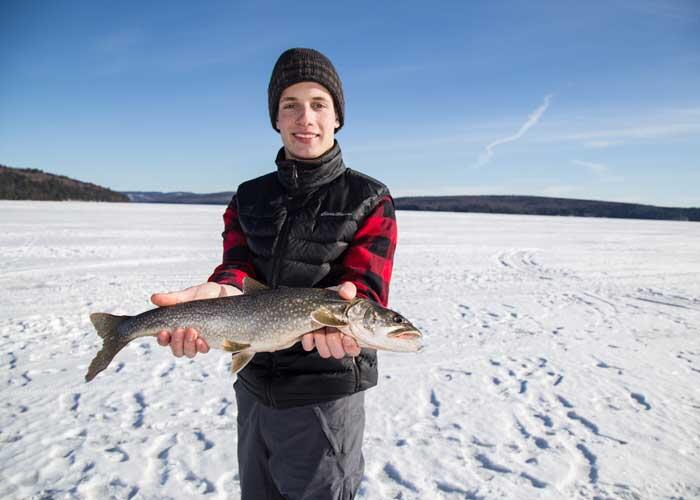 After a few more bites and after adding a ling to our species list we decided to change spots. Area lakes are home to some impressive pike as well as whitefish, perch, and bass. But with limited time, when your guide says, "I know a spot," you follow even when the spot is another lake.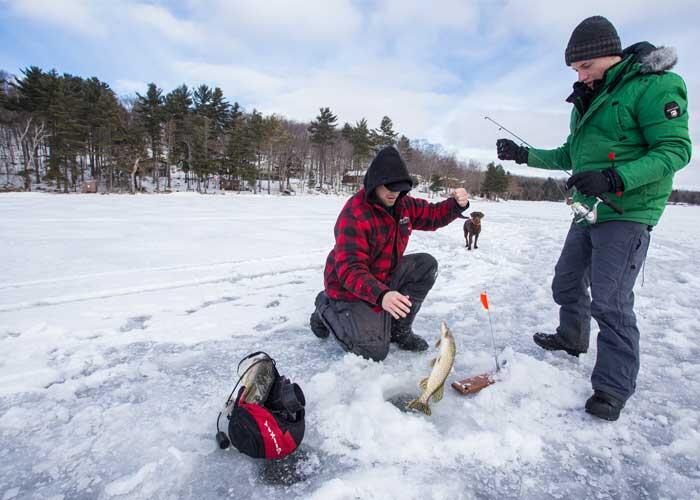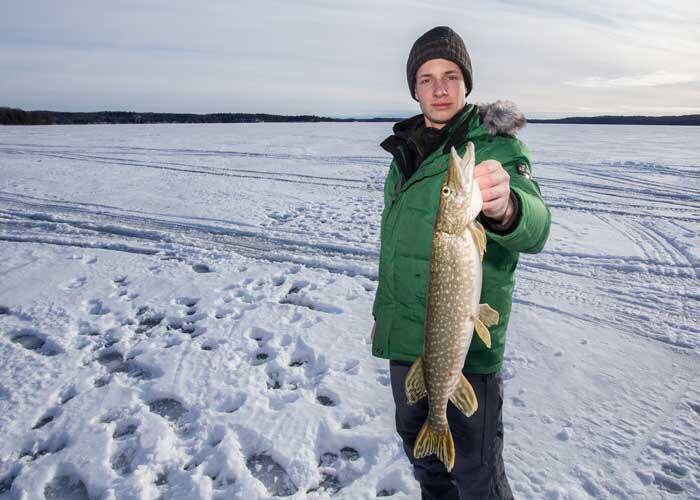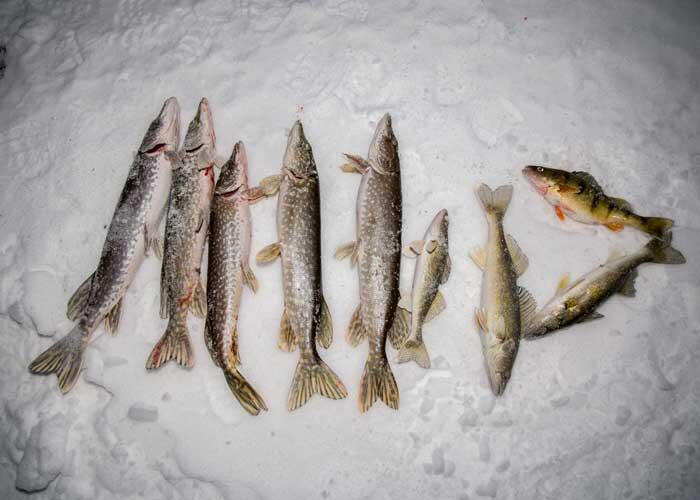 Packing up and moving to another lake is less daunting than it sounds in a land where there are as many lakes as there are people. Forty-five minutes later we are back on the ice, this time set up in about 12 -15 feet of water on the edge of a weed bed. While we do manage to catch a couple of fish jigging a spoon or plastic, the live minnow is still the star of the day. Pike, walleye, and perch all find their way to our hooks. When the good times roll it's hard to walk away, but the sun eventually sets and it's time to call it a day.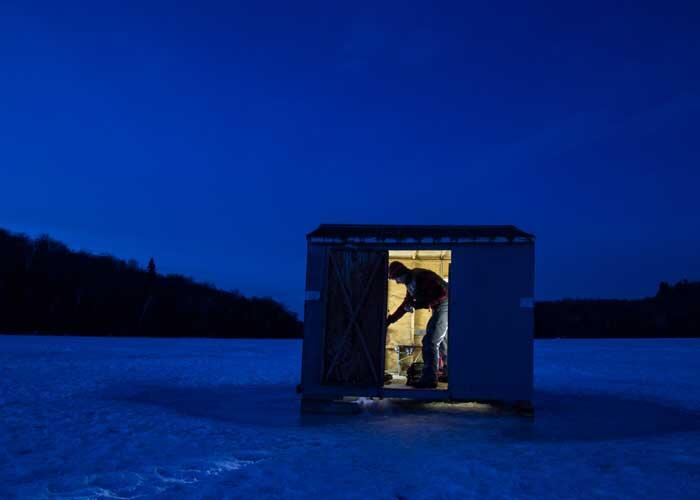 There you go, day four of our Algoma winter adventure and our first ice fishing experience; what a day! Our final count: one lake trout, a handful of pike, a few walleye, a perch, and a ling. Thank you, Adam, I am 100% sure this would not have happened without you. That said, a guide's job is never done, there's fish to clean and a feast to be had.
What's next on our Algoma winter adventure itinerary? Hint, hint: more ice but no fish... stay tuned.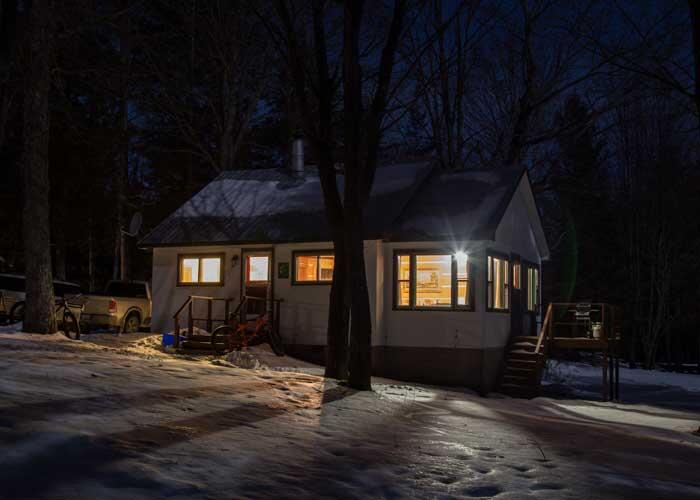 Notes From The Road
There are winter cottage resorts located in the rugged beauty of the Laurentian Highlands, north of Thessalon, Ontario just off Highway 129. This remote, but road-accessible location is surrounded by unspoiled wilderness. Lakes in this area are home to a variety of fish species including lake trout, smallmouth bass, northern pike, walleye, and whitefish.
While things were fairly quiet during our mid-week visit, the resort we chose was fully booked most weekends throughout the ice fishing season so planning ahead is well advised.
Our cozy three-bedroom cottage with its wood stove and lake view was the perfect place to hang out after a day on the lake.
Our hosts went above and beyond to make sure that our experience was the best it can be. It sure made us feel special.