Are These The Greatest ATV Trails in Ontario?
Having heard the rumours for years, Graham Adams pays a visit to Kearney and the Almaguin Highlands to find out just how good these trails are.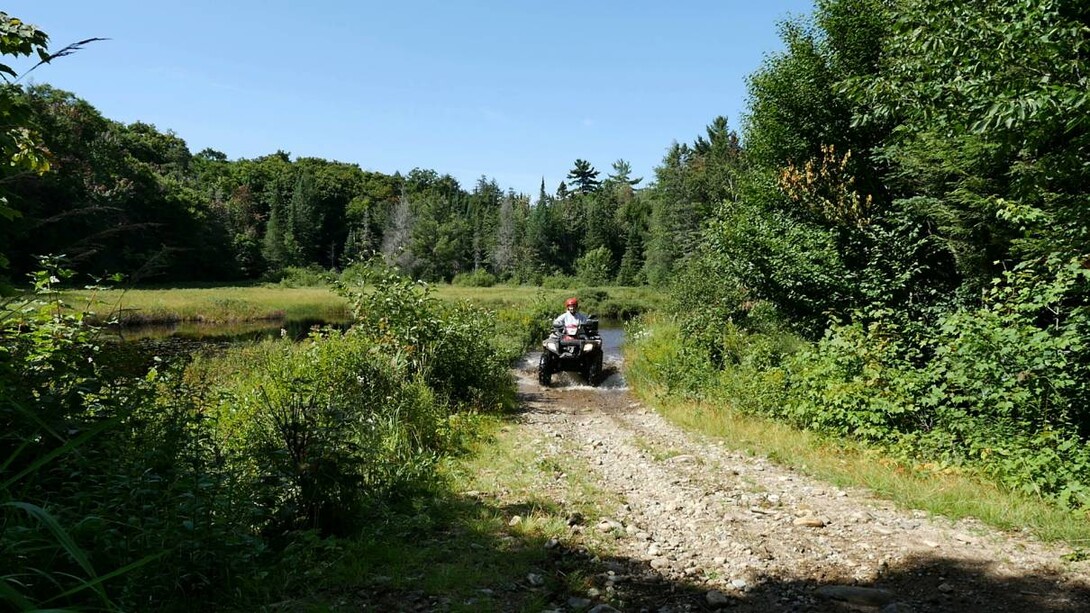 I'm an avid ATV rider with quite a few years of seat time under my belt, and experienced in riding some of the roughest trails Ontario has to offer. I gassed up my old 2002 GMC Sierra, with my 2009 Honda Rincon in my box, and headed North to Kearney to ride their Algonquin West ATV trails. I heard a lot about the trails from other riders and friends; they all told me they were some of the best ATV trails they have ever rode, but I had to find out first hand if that was the case. 
I got up at 5am on a Monday and travelled two hours north on Highway 11 until I came to exit 244 (Emsdale/ Kearney). I realized I'd made really good time and was a bit early, so I stopped at the Almaguin Highlands information center, which was a wonderful facility with restrooms, wireless access and a cool gift shop, where you could get some info on the trails in the area or other cool activities you could to do.
After that I set out down to Kearney and ended up at a very nice resort called the Edgewater Park Lodge on Sand Lake. Where I met Adam and Gudrun Columbus, both Directors and respecitvely the webmaster for the Algonquin ATV club and my guide today on the Algonquin West ATV trails. We unloaded our bikes and set on down the trails. First we had to take the main road for about 1 km. Once we started to get off the blacktop, I realized these trails were going to be fun. A lot of rock, cool bridge crossing and some puddles to splash in, and that was only our first 2 km of trail; we had plenty more to go.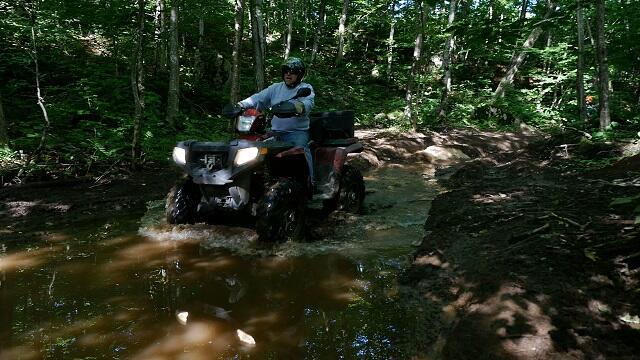 We went about another 5 km, then things started to get really fun. I realized this was going to get a little bit more challenging, especially with my little stock Rincon. We started into the trail with a steep rocky hill, which is my favorite kind of riding; once we got over the hill we hit some nasty mud, but nothing that got us stuck. Then after that section the trail started to get very soupy. Adam found some nasty stuff and got stuck and needed to be winched out. Me and my Honda were doing good until I pushed my luck, and I got hung up on a root in a nice deep hole, where Adam helped winch me out. After a good hour of awesome challenging trails, where picking your lines to run in made the difference if you were getting winched out or not, was something I missed very much. After climbing rocks, pushing through deep waterholes and soupy mud, we decided to take an easier scenic route.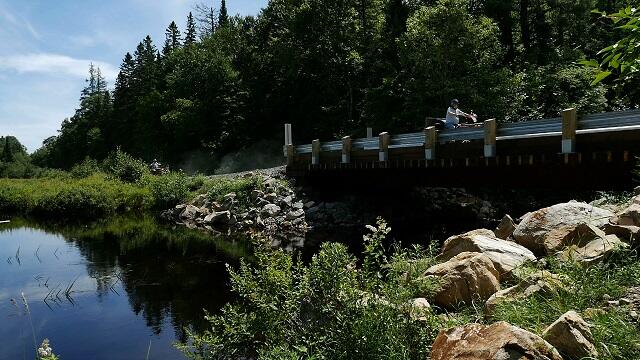 As we headed down the nice wide trail, riding beside cool swamps and beautiful lakes I realized the scenery here is awesome. It was endless lakes, rivers and creeks all through the area. It was an ATVer's paradise, with 350 km of trails of which we only rode a small sliver. I already thought I seen it all, but it was just the start. With a majority of the trails on Crown land and being so close to Algonquin Park, the terrain is some of the best Ontario has to offer, and the best way to see it is on ATV. The diversity of the trails has everything for every rider, and you have so many options for places to stay in the area, including resorts from which you can leave directly on your ATV. This is an awesome experience in itself, where you don't have to get in your car for the whole time you're there; you can just ride your ATV wherever you want to go.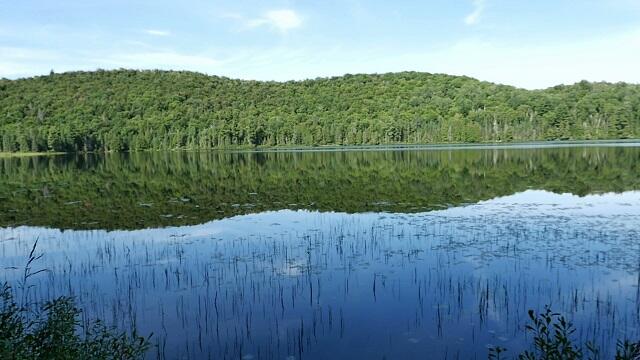 There are many resorts and accommodations to choose from in the area that cater to ATVers. These include the Algonquin Hemlock Point, Almaguin Cottage Rentals, Bennett's Beehive cottages, Echo Ridge B & B, Edgewater Park Lodge, Granite Ridge Campground, Sand Lake Cottages and INN, Silversands Family Resort, Somerville Place B & B and Northern Retreats. With so much area to ride and with such beautiful unique scenery to check out, the Algonquin West trails should defiantly be on your ATV bucket list.