NHL Veteran, ATV Rookie
Erik Marsh and his father, former Ottawa Senators defenceman Brad Marsh, went on an unforgettable ATV trip together. Here's Erik's story, as told to Mark Hamerton.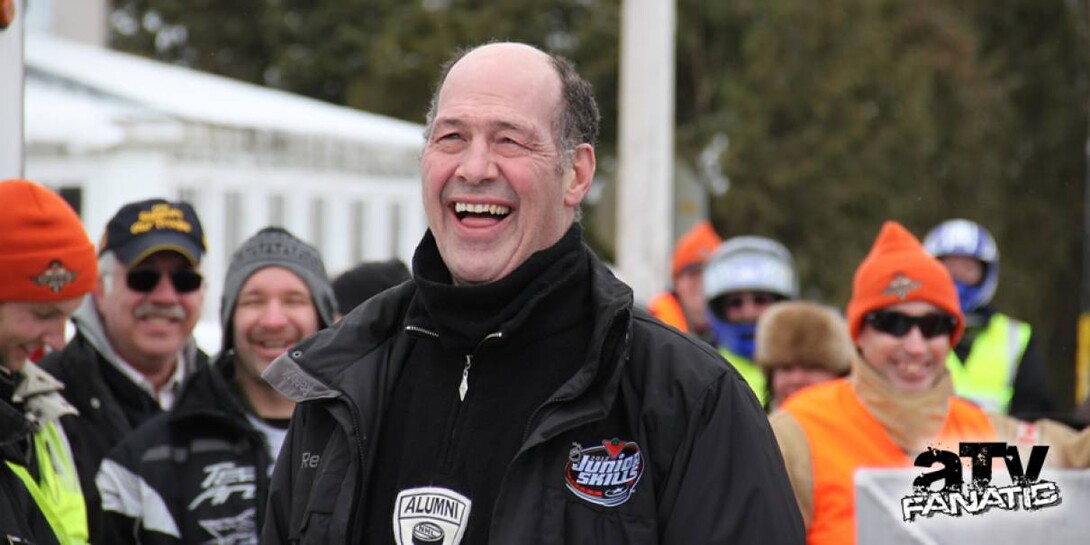 A few weeks ago when my dad asked what I was up to Saturday during the day, I certainly didn't expect him to ask me if I wanted to ride 100 km on an ATV in Nation Valley. We've been on plenty of long journeys together, whether I was a kid en route to a hockey tournament, or most recently riding our bikes across Canada; however, we had never done anything like this. For many Canadians living in the rural parts of our country, ripping around on a four-wheeler may be a common experience, but this was something either of us had never done. Without hesitation, I said I'd be happy to take part in the Nation Valley ATV Club Ride for Dad.
As we milled around amongst the ATV enthusiasts, excited to get on the trail, I'm sure we stuck out like a sore thumb. Everyone else looked as if they'd be warm and toasty if the next ice age came that afternoon, whereas Dad and I did our best to piece together our warmest clothes, which were made more for a skate on the canal, not speeding across snowy terrain at 60 km/h. If our rookie status wasn't already apparent, we were exposed for certain when the ride captain introduced us.
"Alright we've got 15-year NHL Veteran Brad Marsh and his son, Erik, joining us on our ride today. They're rookies at this so take it easy on them, they'll be leading us at the front of the ride." Shortly after a quick tutorial on how to operate our Artic Cat ATV's provided by Allan Johnston Sales we led the charge of over 250 ATV riders across the roads, trails and fields of Nation Valley. The first section was a lot of open road, which was great for getting a feel for our machines. It was a new experience but there were some familiar aspects. One of my first thoughts as I took to the road behind my dad was, "Oh good, another 100 km with a view of my dad's ass straight ahead of me…didn't I endure enough of that on our bike ride across the country?"
By the first rest stop at a bonfire, we were starting to get the hang of it. By lunch, we started to trust ourselves on the machines, taking corners with some speed and less hesitation. The second half of the ride featured a lot of off road trails, which was where it got really fun. Weaving through the trees and tackling the unpredictable changes of the trail was a perfect mix of adrenaline and being one with nature unlike much else I've experienced, especially in winter. In the areas where the tree-lined trail gave way to open snow-swept fields, it was great to feel the sheer power and speed the machine was capable of. For first-timers like Dad and I, it quickly became apparent why people love this sport so much. It was pretty impressive to hear some of the others talk about some of the big rides they'd been on, travelling all around Ontario over a weekend or so.
Rolling across the finish, where we had a great dinner and the warmth of the community center waiting for us, the purpose of our ride came back into perspective. Ride for Dad is a truly impressive charity that spans across all different demographics to unite in support of prostate cancer research. I remembered that morning when we were told that one in seven men would develop prostate cancer in their lifetime. Looking over the crowd of over 250 people that morning, it meant that statistically, roughly 40 men would be diagnosed with the disease and thousands more would be affected.
The Nation Valley ride managed to raise over $50,000 in support of prostate cancer research that day. Congratulations to everybody involved in making that chilly day a huge success and a big thanks to all the people that helped Dad and I make it through our first ATV experience in one piece. It was a sincere honor to be a part of, and even more special that I could participate in the ATV Ride for Dad riding right behind my father, even if I had to look up and see his big ass in front of me all day.