A luxury break on the ATV trail
Perfect B&B near Ottawa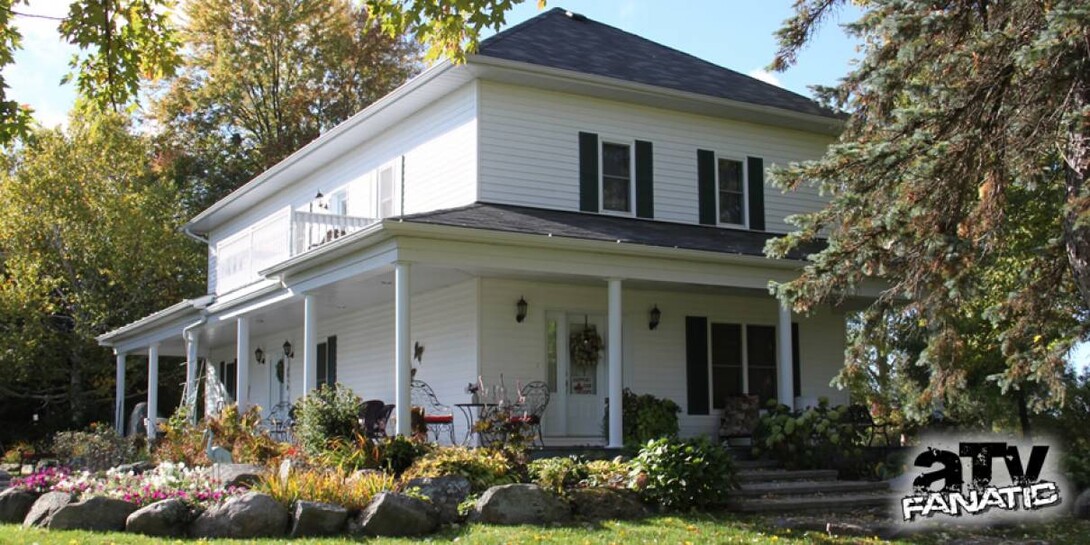 As Technical Editor for Go Riding Magazine & TV, I was recently sent to cover a story on an ATV rally just south of Ottawa, Ontario. From the online trail maps, it seemed evident that this was farm country, and I was wondering how far away I would have to travel to find accommodations.
Nation Valley ATV Club, who were hosting the event, referred me to Terrace Green, a bed & breakfast almost right on the club trail. Upon arriving in Winchester, a small farming community, I easily found Terrace Green as it sits just off County Road 43, one of the main artery roads.
With all the farms in the area this property immediately stood out with its landscaping and well-kept grounds. Given my arrival in the fall season, I was surprised to see full gardens and manicured lawns. The main building stood out with its clean lines and green shutters, but at the same time was just what you would expect to see: a century-old farm house complete with a grain silo just behind the tree line.
Pulling a large trailer with three ATVs, I parked in the main area and approached the grand main entrance. My host, Annette Angus, made me feel immediately welcome and at home, and quickly showed me where I could park my truck and trailer. As I brought my suitcase in, Annette showed me to my room. Passing through the huge farm kitchen, images of long ago stirred in my mind. Settlers to the area must have sat around the family table and enjoyed many meals and stories here.
My room was breathtaking: not what I was used to on my ATV trips. A large room on the ground floor with an antique wardrobe, roll up desk and couch surrounding what turned out to be one of the softest beds I have slept on in a while. I might have felt out of place were it not for Annette's assurances that as long as I left the mud outside, there was nothing that wouldn't clean up in a jiffy. After setting my breakfast timing, I headed for a wonderful night's sleep.
Early the next morning, the day of the ride, I was treated to a breakfast that I will not soon forget, and a chance to meet Jim, Annette's husband and business partner. Both Jim and Annette really did make me feel like I was part of the family, and soon were telling tales of the history of the property.
I was completely shocked when I learned that this beautiful century homestead was but six years old. The original building had been destroyed by fire, and had been completely rebuilt so close to the original design that I had no idea. Jim pointed out that the design was the same, but everything else was current and efficient technology. I suddenly realized why my sleep had been so sound; the building did not make so much as a creak.
Following breakfast I headed for the Fall Rally, although the trail was right across the road, the event was based at the South Mountain Fairgrounds, a few minutes away. 
The next night and morning were as delightful as the first: I was able to spend more time with Annette and Jim, we did an interview and a brief tour of the grounds just before I left. Terrace Green is well suited to host weddings, offering huge picturesque greens, forest archways for processions, and of course the main suite upstairs including its own ensuite bathroom complete with antique claw foot tub.
I hope one day to return to the area; the trails were plentiful and challenging, the club members are a hoot, and one day I would love to treat my wife to a night at the Terrace Green.