8 of the Best Bike Parks in Ontario
Pump tracks, foam pits, rails—these features are just some of the features available. Beginner or advanced, it's easy to find the right two-wheeled adventure for you.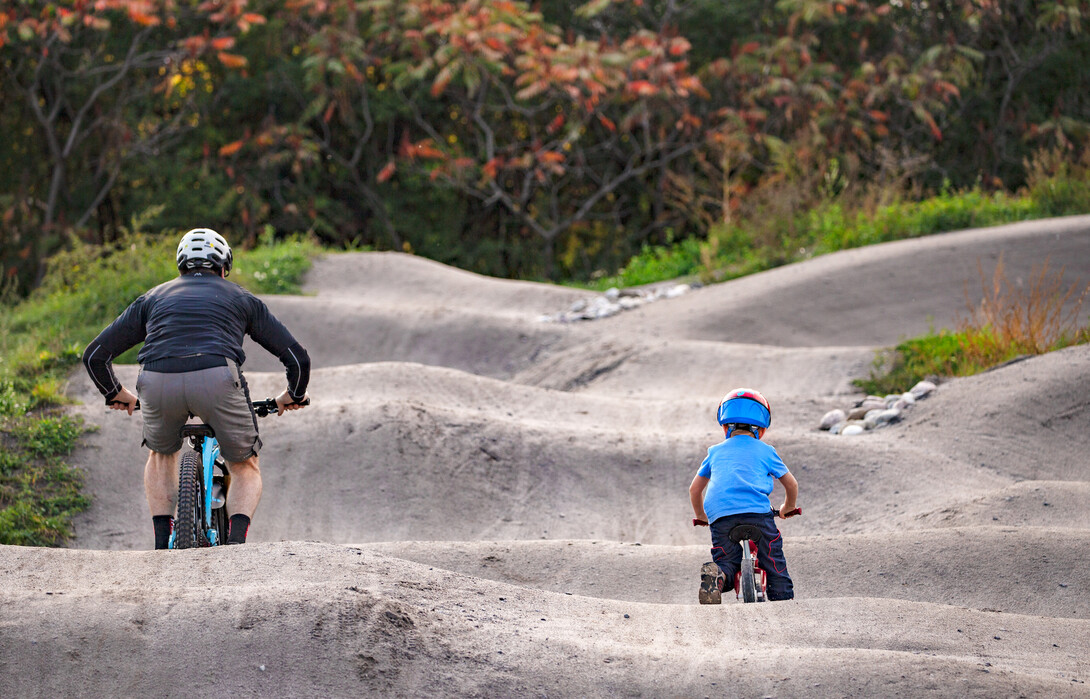 As much as we'd love to see you in Northern Ontario, the health and well-being of all travellers is our priority. Please call or check ahead online with each business, festival or event and attractions to ensure you have the most up-to-date information available. For the latest updates from the Ontario government, please visit ontario.ca/coronavirus.
What is a bike park? They're typically grouped into three main types: pump tracks, indoor or outdoor skateboard and bike parks, and downhill mountain bike parks. 
Pump tracks are the most beginner-friendly option, and—good news!—are being built in more and more cities across Ontario. A pump track is a circuit of asphalt or dirt that features forgiving rollers and banked turns to help you gain speed. The ultimate goal is to ride the course without pedalling, using your body's motion of pumping up and down on the pedals to keep your momentum. 
Jumps and ramps more your thing? Indoor and outdoor bike parks offer built jumps, curved pipes, obstacles and, in some cases, soft foam landings to help you practice and progress. Rails and concrete steps ("street" features) along with more advanced options, such as bowls where riders drop in, are standard fare at outdoor parks.
The third type of bike park saves your legs the grind up the hill—ski lifts drop you at the top of the mountain so you can enjoy a wide, flowy beginner run down or an expert trail littered with wooden jumps and steep drops. 
Read on to discover some of the best Ontario bike parks from each of the three categories.
Best pump tracks in Ontario 
Kivi Park 
Escape the crowds! Try the new pump track at Kivi Park in Sudbury. This outdoor recreation mecca, with over 55 km of trails, is home to a new intermediate dirt pump track that offers banked turns, rollers and technical lines. Shovels broke ground this fall to build a wider beginner track.
Cost 
Children 10 and under: Free
Day pass (not required if paying for rentals): $9
Family day pass: $25 
Rentals 
Adventure365, located near the entrance of Kivi Park, rents mountain and hybrid bikes. Prices are $25 for two hours or $65 for a full day. Helmets are included.
Nearby amenities and activities 
Farther back in the park, rest your tired quads with a quiet afternoon paddle around Crowley Lake. 
A visit to Sudbury must include the Big Nickel—the world's largest coin. This 9-m (almost 30-ft) replica of a 1951 nickel weighs nearly as much as a school bus. 
If you plan to stay near downtown Sudbury and prefer to prepare a tasty meal in your room, Parker House Suites is the perfect place to base your stay.
Need tires or a jersey? Check out Sessions Ride Company. They sell BMX, mountain, road and park bikes. 
Carlington Bike Park 
Love a stunning view? This pump track perched on a 114-metre-high (374-ft) old ski hill in Ottawa delivers gentle drops and banked turns geared to the novice, and more advanced lines with obstacles for the experienced rider. The three granite surface circuits are accessible by public transit and bicycle paths. 
Rentals 
RentAbike, Ottawa's largest rental fleet, is located downtown and stocks almost every type of two wheels imaginable.
Cyco's, near the Rideau Canal, rents every type of bicycle, including kid-friendly options, for an hour, day, week or month.  
Nearby amenities and activities 
If you're looking for a place to stay, try Charing House Gardens B&B, located on the bike paths connecting to the Carlington Bike Park. It's a quiet option without the bustle of downtown. 
Make it a two-day vacation and explore over 980 km of bicycle paths in Ottawa. Escape Tours and Rentals leads daily jaunts around town and rents road bikes, e-bikes and mountain bikes. 
Looking for a BMX bike or scooter? Check out the urban world of Joe Mamma Cycles bike store.
Esposito Park Pump Track 
Did you know Sault Ste. Marie ("the Soo") built one of the first asphalt pump tracks in Ontario? The Esposito Park Pump Track introduces beginners to well-spaced rollers and a few banked turns, while an advanced option provides a "butterfly" route and pursuit racing options.
The bike park also connects to over 30 km of mountain bike trails. Travis Anderson, the Director of Tourism & Community Development at the City of Sault Ste. Marie, shared that the Soo's goal is "to become the mountain bike capital of Ontario and [they] are investing heavily in [their] system." Shovels will break new ground next spring, adding 20 km of trails and street style features. 
Rentals 
For $50 a day, rent a mountain bike, fat bike or e-bike from Velorution Bike and Ski to ride the Soo.
Nearby amenities and activities 
A quaint old school style diner, Ernie's Coffee Shop, is a short block away and home to delicious coconut cream pie. 
Want to visit a hands-on museum? The Canadian Bushplane Heritage Centre engages your senses, allowing you to touch the vintage bushplanes, simulate a flight, and fight fire in 3D.
Taste one of the oldest beer recipes in Canada at Northern Superior Brewing Co. 
Best indoor and outdoor bike parks in Ontario 
Indoor Bike Parks
The Yard 
Long, harsh winter? This yard isn't sprouting green grass, but its 11,500 sq ft of indoor terrain beckons with a pump track, bowl and a section for more advanced jumps guaranteeing air. Anthony Bereznai of The Yard shared that the Ottawa bike park, which opened a year ago, was "designed with sections for everyone." And don't be intimidated—a 65-year-old signed up for lessons. Open every evening during the week and during the day on weekends. 
Rentals 
Located just inside the front door, Airborne Action Sports sells bikes, scooters and accessories. Rent the complete kit—bicycle, helmet and pads—for $25. 
Nearby amenities and activities 
A stop across the street at Beyond The Pale Brewing Company will quench your thirst. It serves fall-off-the bone delights from their smoker, including jerk chicken, North Carolina style pulled pork and smoked tofu.
Need a pick-me-up? Around the corner, you'll find Bridgehead Coffee. Order a Logdriver's espresso—it's just one of the 6,000 pounds of fair-trade organic coffee roasted each week.  
Joyride 150 
Is the biggest the best? In Markham, you'll find Canada's largest indoor bike park with just over 100,000 sq ft of riding. Minutes from Hwy 407, Joyride 150 entices riders with pump tracks, beginner, intermediate and expert jumps landing in soft foam pits, an 800-m cross-country track with log features and a vertical park, among countless other options guaranteed to test your flying skills.
Have time to chill? There's a lounge, TV screens, bike parts counter and repair services onsite. Order a pizza from nearby Pizzaville and it will arrive while you ride. 
Rentals 
Rent BMX, cross-country mountain bikes, dirt jumpers and options for kids onsite. Helmet, bike and padding cost $28.30. 
Nearby amenities and activities 
The Boiler Room is your one-stop-shop for everything bike park-related, conveniently located in the same building. 
Rest your weary bones after riding all day at the bicycle-friendly Markham Comfort Inn, located close to major highways and the bike park. 
Need a break from two wheels? The Museum of Illusions amazes with holograms, optical illusions and the up-side-down room, where you can walk on the walls. 
Best Outdoor Bike Parks 
Marina Skateboard and BMX Park 
The Sleeping Giant isn't the only landmark in Thunder Bay. It's also home to the largest outdoor bike park in Ontario at 25,000 sq ft. Located downtown along the waterfront, Prince Arthur's Landing at Marina Skateboard and BMX Park boasts a bowl, stairs, quarter pipes and a rideable "sleeping giant" to keep your adrenaline pumping. It's open 6 a.m. to 11 p.m. daily. Visit all seven skateboarding parks in Thunder Bay.
Rentals 
Petrie's Cycle and Sports offer rentals. 
Amenities 
3RIDE Bicycle Co. is your go-to while in town for BMX and bike park gear.
St Paul Roastery, two blocks from the marina, serves coffee and snacks—the perfect fuel for your morning. 
Love tacos? El Tres, a hot-spot for fine Mexican food in Thunder Bay, satisfies your taste buds with a mouth-watering brisket burrito and tacos. 
Sunnyside Bike Park
Constructed in 2014, this epic bike park in the west end of Toronto is only 150 m from Lake Ontario. The materials used to build Sunnyside Bike Park are recycled, including dirt from nearby condo developments and trees damaged during an ice storm. Designed with something for everyone, it offers pump tracks, a skills trail, a large drop, a boardwalk and a ride wall. The breeze blowing off the lake cools your nerves on a steamy summer day.
Rentals 
Sweet Pete's rents mountain and children's bikes at several locations around the city.
Nearby amenities and activities 
It's all about BMX and bike park riding. Check out Sam's BMX Shop.
A historic spot nearby, Sunnyside Pavilion Café offers a patio on the beach to chill at post-ride.
Best downhill mountain bike parks in Ontario 
Blue Mountain 
Do you love the feeling of wind screaming in your ears? Blue Mountain in Collingwood takes care of transporting you to the top of the mountain, saving your legs for the 720-ft vertical descent. Billed as Ontario's largest lift-accessed bike park, Blue lets you pick your trail, ranging from meandering and relaxed to intense and challenging. Start with the easy green trails that wander more than descend and then progress to the black diamonds littered with white-knuckling jumps. 
Rentals 
Rent kids bikes, cross-country or full suspension downhill bikes at the base of the mountain.   
Nearby amenities and activities 
Need a break from pedalling? The Ridge Runner Mountain Coaster (think: roller coaster) twists along the contours of the mountain descending over 1,085 m (3,500 ft). 
Interested in pecan butter tarts or a hand-crafted sweet blueberry or apple pie? Of course you are. Blackbird Pie Company is worth the 8-km drive to nearby Heathcote. 
VISIT A BIKE PARK NEAR YOU
From pump tracks, to outdoor and indoor bike parks with built jumps and obstacles, to downhill mountain bike areas—bike parks in Ontario pack in the fun.