9 Après Bike Hotspots You Need to Try
Rest your quads with an aprés ride quaff at a bike-friendly winery, cidery or microbrewery.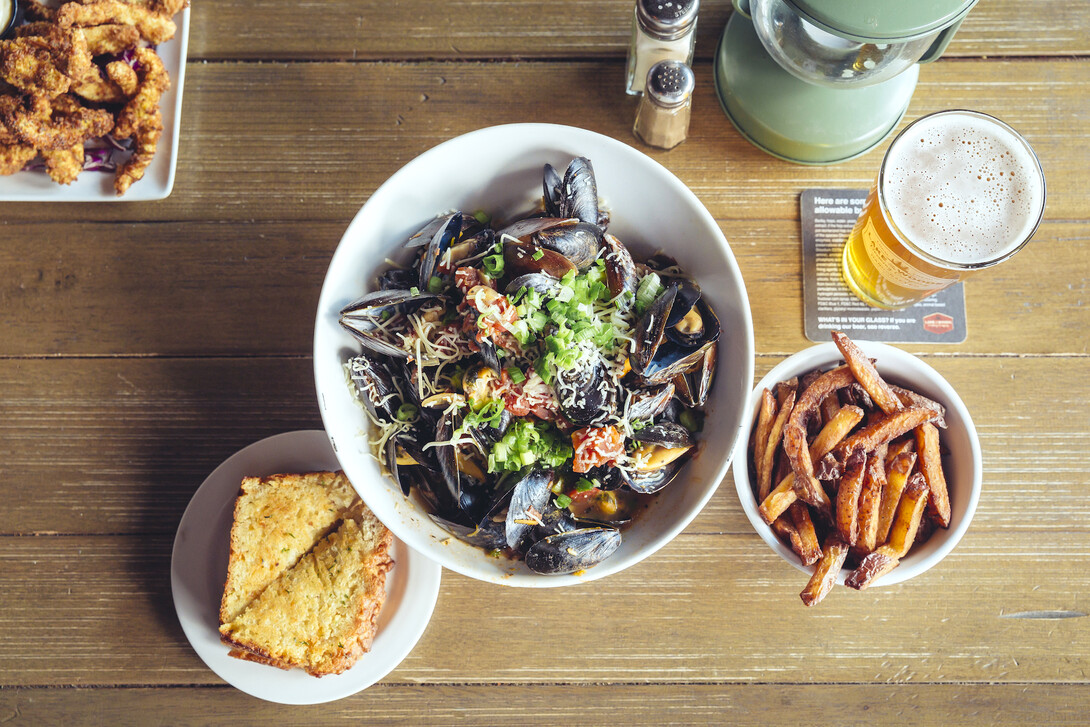 Ever since the first Tour de France in 1903, bicycling and post-ride beverages have been perfect companions. Back at the turn of the century, competitors reportedly drank everything from wine to beer to champagne to fortify themselves. These days, there are opportunities the world over—many of them right here in Ontario—to combine the passion for pedal-power with the love of a good libation.
1. Slow Down and Taste the Hops – Manitoulin Island
Without a doubt, Manitoulin Island was created with cycling in mind—the slow pace of the island itself; the gentle, rolling terrain; and the gorgeous landscapes allow you to truly relax and forget about the world at large. And when the Split Rail Brewing Company opened in Gore Bay in 2015, the island became that much better for riding. Split Rail's lakeside patio is situated 76 km from South Baymouth—a reasonable day-ride for the keen cyclist, or overnight somewhere along the way. There's also a tasting room with food available in the summer months.
2. Enjoy Local Landmarks – Manitoulin Island
In the lovely, lakeside town of Little Current is the recently established Manitoulin Brewing Company. With beers named after some of the island's local landmarks—like Bridal Veil Pale Ale, Cup and Saucer English Ale and Swing Bridge Blonde Ale—these guys obviously love Manitoulin. And after you've spent some time here, you will too. Sixty-four km from South Baymouth, this is a great destination for a day's ride along quaint, laidback Highway 6, or book a room and spend the night. Better yet, create your own brewery tour by heading to Split Rail Brewing Company (below) on day two. Manitoulin's ardent cycle tourism organization, MICA, has maps, route suggestions and info on where to sleep, eat, and sightsee.
3. Lakes, Woods and Brews on Tap – Kenora
Kenora is a beautiful place for a ride. The landscape of the Canadian Shield melds with lakes and bays for an incredible new view around every bend. The city has signed six recreational routes that loop throughout town, starting and finishing at the Lake of the Woods Discovery Centre and varying in length from 15 to 36 km. They can also offer suggestions for longer loop rides on neighbouring country roads. Finish off your ride at the Lake of the Woods Brewery taproom, a hip brewpub with a mouthwatering menu and an ever-changing selection of cold beers on tap.
4. Fascinating Heritage and Hops – North Bay Area
Discover the interesting heritage of North Bay, Callander and Corbeil on one of the many looped itineraries that are part of the new Voyageur Cycling Route. Learn about the Dionne Quints, the world's first quintuplets known to survive their infancy, with a stop at the Callander Bay Heritage Museum. From there, cycle to Corbeil, where the girls were born and eventually returned to live in "The Big House," now a retirement home. End your tour back in North Bay at the vegan brew pub, Gateway City Brewery, where every beer name honours the town. Post-ride, part owner Sully Sullivan loves a light, but hoppy, 626 Pilsner.  
5. Waves, Bays and Wild Blueberries – Algoma Highlands
Just 3 km from downtown Wawa is the Algoma Highlands Wild Blueberry Farm and Winery. While the winery wasn't open at time of writing (they hope to welcome visitors July 1, 2019), the farm is well worth a visit. Spanning 640 acres on both sides of Highway 17, the farm is adjacent to Scenic Magpie High Falls, a popular attraction in itself. Explore the berry fields, stock up on wild blueberry jams, juices, sauces, and syrups, and gorge on fresh berries in season (mid-July through August). Combine your visit with a picnic and ride along Highway 17 through Lake Superior Provincial Park—without a doubt, one of the most spectacular pedals in the province—and you've got the perfect combination of cycling and sightseeing. 
6. Boreal Berries and Backroads – Sudbury District
Fifty-five km east of Sudbury on the Trans-Canada Highway is the hamlet of Warren and an unexpected attraction: the cyclist-friendly Boreal Berry Farm and Winery.
Plan a scenic ride on the Voyageur Cycling Route and/or the backroads off secondary highway 535 between Warren and St. Charles, taking in the tight meanders of the Nepewassi River and the verdant farmland edged by boreal forest. Finish with an interactive tour and tutored wine tasting at the berry farm. This is Canada's coldest climate winery, and the largest certified organic boreal and arctic berry orchard in North America. They specialize in haskap, Saskatoon, cherries, lavender, aronia, goji, lingonberry, bilberry, and sea buckthorn—along with wild blueberry, wild strawberry, heritage raspberry, marion blackberry and peaches. And they make wines with most of these berries. The farm is open weekends from 1–4 p.m., with tours available Saturday and Sunday at 11 a.m. from May to October.
7. Trailside Brews and Views – Sault Ste. Marie
For a great day in the "Soo," take a ride on the John Roswell Hub Trail. This 25-km multi-use, non-motorized trail system connects many of the Sault Ste. Marie's scenic sites, including the St. Mary's River waterfront walkway, Bellevue Park, Algoma University, Sault College and Fort Creek Conservation Area. Conveniently, the Northern Superior Brewing Company is located right on the trail. Park your bike outside the taproom to sample one (or more) of their delicious pints. You've earned it!
8. Great Vine Rides – Niagara-on-the-Lake
One of Ontario's best known areas for cycling winery tours is undoubtedly the Niagara region skirting the south shore of Lake Ontario. There are plenty of resources for a self-guided wine tour around here, but if you simply park your car or book a room in Niagara-on-the-Lake's historic Old Town, there are six wineries within a 5-km radius. If you're ready to ride a little further afield into the lakeside vineyards and rolling hills at the foot of the Niagara Escarpment, you can explore more than 80 wineries from your saddle. Check out Ontario By Bike's winery map for some guidance. 
9.Bikes and Brews in the Blue Mountains – Collingwood
The challenging terrain of the Blue Mountains, the massive climbs and descents of the Beaver Valley, and a terrific network of rural roads all make the Collingwood area a cycling hotspot.
Add to that a recently discovered micro-climate that's perfect for growing grapes and a bike-friendly vibe, and you've got all the ingredients for a great weekend of cycling and sipping. Check out Cycle Simcoe for maps and route suggestions, then plan your ride to include some of these local favourites: