Come North, Bring Your Bike
Discover this northern cycling route that's a favourite with locals. Getting fresh air while practicing social distancing has never been easier!
We all have different paths that have brought us to cycling. Whether it's for health, the environment, easy transportation, or simply for the pure joy of riding, cycling offers a freedom of movement like no other. Northeastern Ontario offers a reason to cycle that best fits into the pure joy category--especially after months spent cooped up indoors. 
The tranquility of riding quiet country roads, surrounded by nature, alongside hundreds of fresh water lakes and rivers, is a welcome escape from life's stresses. You can feel the healing power of the fresh morning air laden with the sweet song of the chickadee as you ride alongside lush forest and past striking rock outcroppings. The golden glow of sunset over Lake Nipissing is the perfect nightcap after a day of exploring the great outdoors on two wheels.
Spirit of the North Ride
Start: North Bay waterfront at Memorial Drive
Distance: 50km, 74km, or 120km loop
Terrain: Mostly well-maintained bike paths and paved roads. Some gravel stretches on the 120km loop. 
A local favourite that captures the spirit of the North and gives riders a real sense of accomplishment is a 50 to 74km ride from Lake Nipissing's "north bay" to its rugged south shore.
North Bay's waterfront is a great starting point to warm up along the easy grade, paved trail that honours local athlete of Olympian fame Kate Pace. The Kate Pace Way redefines urban trail as it meanders through the heart of the city's natural spaces to taking riders to the quaint and bicycle-friendly village of Callander following the Voyageur Cycling Route for a short distance.
Callander has a number of delightful, locally-owned restaurants with patios and curbside chip stands ready to welcome hungry riders. Or grab a picnic lunch in North Bay, bagged and ready to savour on the shores of Lake Nipissing. Leaving the village is the one steep climb along this route however a short side trip to the lookout on Callander Bay Drive is a just reward. The view over Lake Nipissing's Callander Bay is spectacular.
Riders can head back to North Bay from here or continue on to the rugged south shore of Lake Nipissing for the 74km loop. 
Riding on, the route wraps around the south shore of Lake Nipissing along a quiet secondary highway (Hwy 654) that has wide paved shoulders and some gentle ups and downs.
Venturing north off the highway is highly recommended. This will get riders closer to the lake's rocky shoreline with its wind-swept pines and occasional beaches where a dip in the cool northern waters soothes the soul.
Lake Nipissing's South Shore has long been a magnet for avid anglers chasing the "one-that-got-away" so riders will notice plenty of lodges and cottage rentals dotting the shoreline. But as more and more people discover (and rediscover cycling), these small family-owned businesses are evolving and welcoming cyclists to their small piece of Northern Ontario's splendour.
Riders can head back to North Bay from here or continue on for the 120km loop around Nipissing Village and Powassan.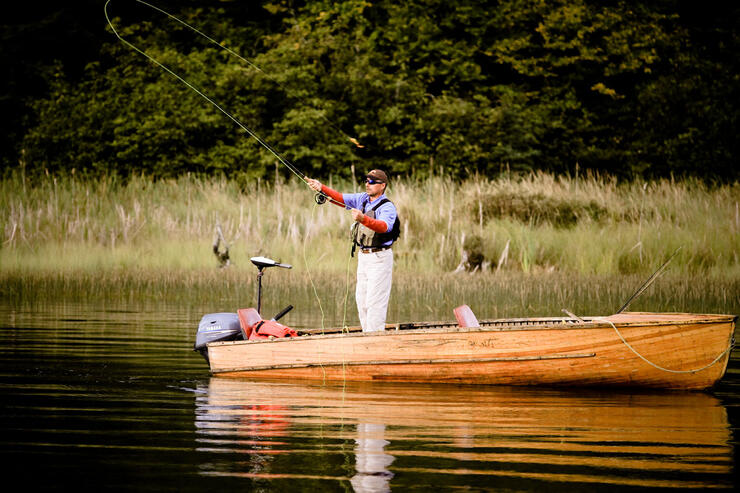 Going the distance into the AlmaGuin Highlands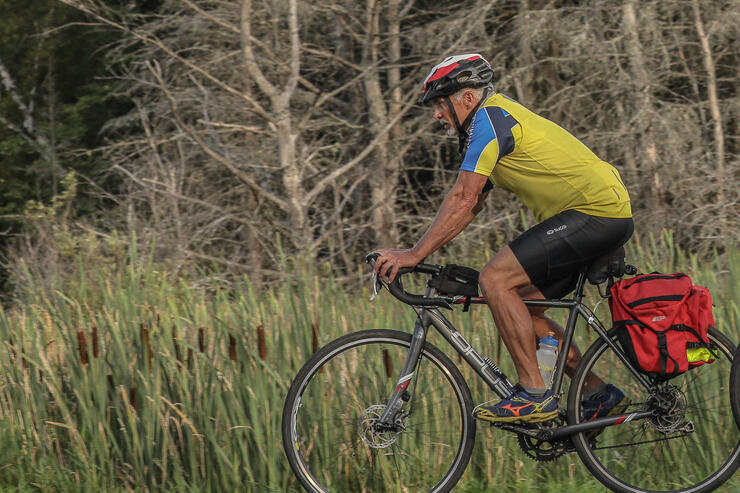 For cyclists that like to go the distance, the adventure can be extended into the Almaguin Highlands through the communities of Nipissing Village and Powassan creating a 120km loop. With fewer services as the route veers away from Lake Nipissing, the ride is best suited to self-supporting experienced cyclists. The landscape changes to denser forest and wildlife encounters are almost surely guaranteed!
Be aware though, you're still in rugged Northern Ontario so route connectivity can be a challenge and the occasional section of gravel should be expected especially on the country roads north of Powassan.
So many trails, so many adventures
Another popular ride amongst local cyclists is a 45km lakes loop that connects three northern gems: Lake Nipissing, Lake Nosbonsing and Trout Lake. The ride follows the Voyageur Cycling Route through Callander and Astorville before looping back to North Bay through the community of Corbeil.
Whether it's quick ride to get the juices flowing or a slow-roll with time to linger lake-side and reconnect, the possibilities while cycling around North Bay's amazing landscapes are endless.