Iron Rooster Rotisserie and Grill: This Motorcycle Friendly Grill Doubles as a Bike Museum
This roadside grill just off Highway 7 not only offers some incredible dining options but a chance to check out some "old iron" in the form of vintage bikes.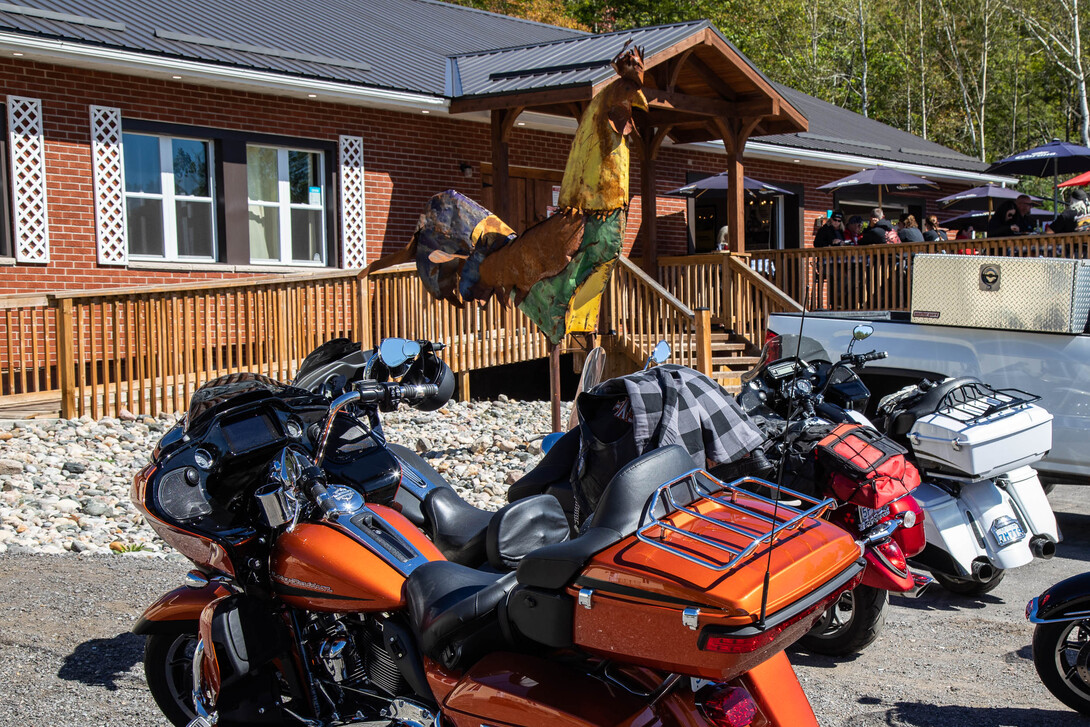 Let's do lunch. Not necessarily words you expect to hear when planning a moto excursion. As a motorcyclist, we are motivated by promises of empty twisty roads and long days in the saddle aboard your favourite ride that happens to live in your garage. So lunch, hmmm. But if you think about it, hunger is no fun, and like our bikes, we need refuelling too—so a tasty lunch stop can make the day.
Just off Highway 7: a friendly spot with classic eats
Welcome to the Iron Rooster Rotisserie and Grill. Maybe the iron in the name refers to the giant metal rooster that greats you as you enter, or perhaps it has to do with the cooking method used to prepare the tasty food served, I don't know. I like to think that it has everything to do with the rumble of the engines that roll into the parking lot en mass or the surprise that awaits inside.
The fully licensed chicken joint is located on Highway 7 between Madoc and Marmora. A perfect location for day rides anywhere from southeastern Ontario and beyond. Toronto, Kingston, Ottawa, and Montreal are all destination lunch-worthy starting points. On the menu, chicken, of course, and what is said to be the best wings around these parts. If chicken is not your thing, no problem, you can choose from beef, salads, and classic appetizers like jalapeno poppers and loaded rooster fries. 
Harley, Vincent, Yamaha, Indian: a mini-museum of classic iron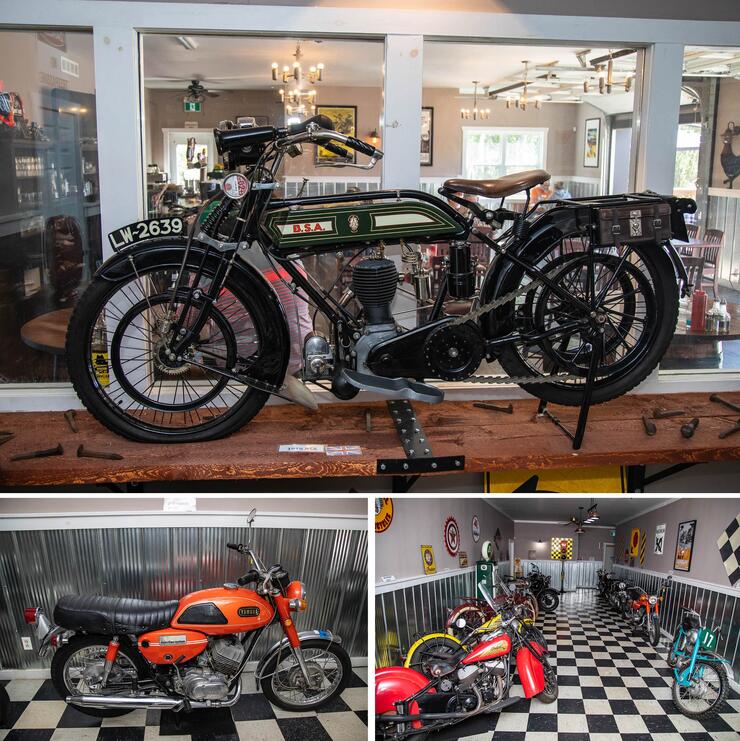 While food is the main reason for a stop at the Iron Rooster, as mentioned above, you are in for a surprise. Step in through the doorway, and to the right is what you would expect; tables and chairs fill a bright, light-filled room, obviously where you want to go. But if you fancy yourself a motorcyclist of any merit, then you are bound to proceed straight ahead. You are drawn in by an unmistakably old motorcycle perched up on a table, a 1918 B.S.A!  Hmmm. Turn the corner, and there are more, classic old iron, Harley, Vincent, Yamaha, Indian, all from well before even my time. The mini moto museum is guaranteed to put a smile on your face.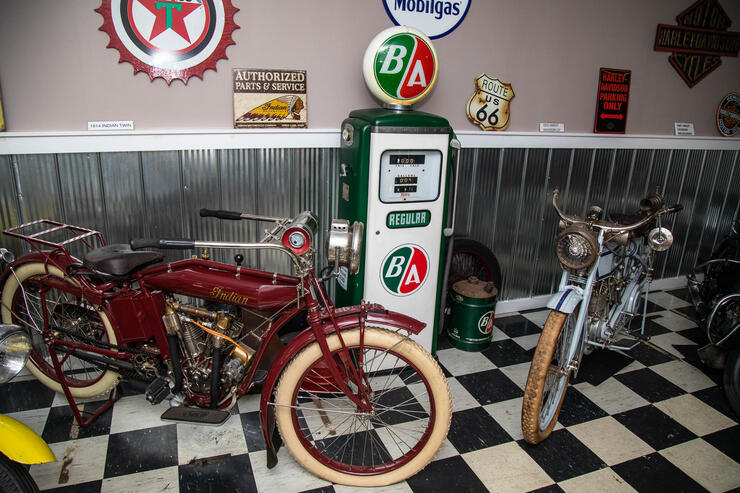 A large patio perfect for groups—and bike spotting
On this sunny summer day, the patio is reserved for a group of a few dozen riders, so I partake in my rotisserie chicken sandwich and onion rings inside. Very tasty, I must say. The sounds of rumbling engines enhance the experience as the group arrives, and the patio fills with chatter and laughter.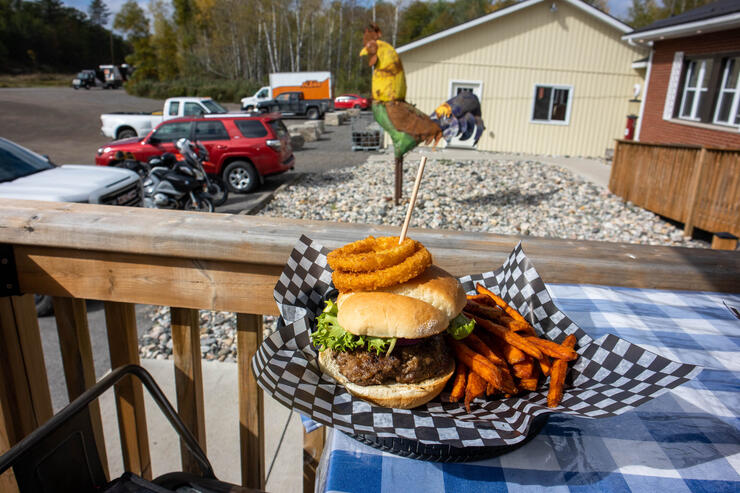 on the southern edge of one of Ontario's best moto playgrounds
Suppose the food, the bikes, and the company of fellow riders are not enough to get you planning. The Iron Rooster happens to be located on the southern edge of one of Ontario's best moto playgrounds, Ride The Highlands and the Ottawa Valley. Once the body is refuelled, point the front wheel north and get your fill of twist and turn.
It's not often that a lunch spot can qualify as a ride destination all on its own, but with good food, some old iron for your browsing pleasure, and fantastic ride options coming and going, the Iron Rooster is just that. I will definitely be back; see you on the patio.