Top 5 Reasons Why Your Annual Road Trip Should Be In Ontario
Sick of being indoors? Us too. Here are all the reasons to hit the road on bike your this summer.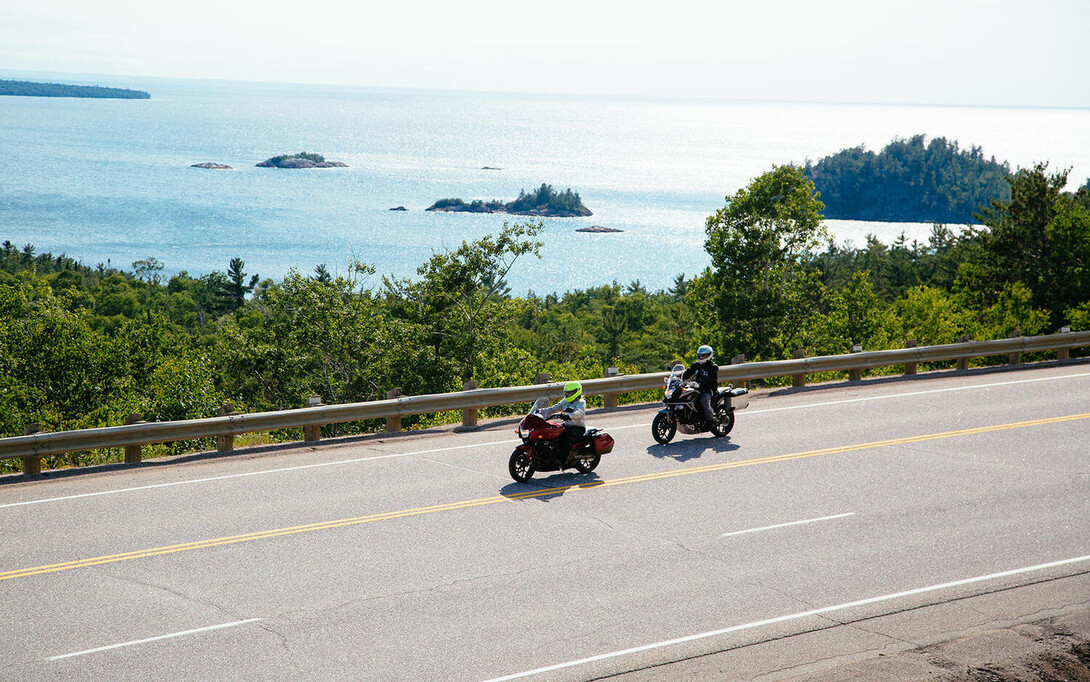 Many of us die-hard Ontario bikers have annual road trips that would've taken us south of the border to places like Pennsylvania, Deal's Gap, the Virginias and beyond. I personally had an annual "May Two-Four" long weekend road trip to the Blue Ridge Parkway, a great way to ring in the riding season. But with the U.S. land border closed indefinitely for the second year in a row, do not despair—this is good news! There's plenty of great riding in Ontario that you've probably been missing out on and now is the time to plan road trips in our own backyard.  
The first time I rode "across" Canada from Toronto to Vancouver was a wonderful eye-opening experience to see how vast this country is in size, landscapes, and people. You'll notice accents change from Toronto, to Northern Ontario, to Winnipeg, and beyond. It should be a rite of passage for every Canadian to do a cross-country trip at least once in their life to appreciate their diverse nation. Likewise, I've found most Ontarians, especially those in Southern Ontario, haven't gone farther than Sudbury, let alone Thunder Bay or Kenora. And I'll admit, the wheels of my motorcycle have never touched the tarmac of Highway 11 north of Cochrane.   
Here are the top 5 reasons why your road trip should be in Ontario this year.
1. Ontario is big. Really big.
Did you know that riding from Toronto to Thunder Bay is about the same distance from Toronto to the Deal's Gap Motorcycle Resort in Robbinsville, NC? And about half the distance from Toronto to Vancouver is in Ontario? With over 1 million square kilometers of land mass and 120,000 km of paved roads, I guarantee there are many roads and places you've never even heard of (this is not a guarantee).

2. There are so many great roads and places you've never been to
We've already compiled a list of the top motorcycle touring routes for 2021 . We've also got you covered if you want to plan your own route with maps, online trip planners, and other resources. And should you prefer to plan your route piecemeal, check out the Top 30 Motorcycle Roads in Ontario.
3. it's a chance to Support Local
We all work hard for our money so wouldn't we rather see it stay local than go south of the border? Supporting local also ensures vibrant local economies with diverse businesses that are usually owned and operated by people who live and participate in the community. And with the financial devastation with the pandemic, local businesses need all the help they can get. 
4. Ontario is Beautiful
Ontario is home to some of the world's most beautiful and diverse landscapes. From its lakes to forests to Canadian Shield, you will appreciate the natural sights and scenery that surround you, especially in the more remote regions of Northern Ontario. As always, these things are best enjoyed on your iron horse! All this starts within a couple hours of Toronto.  
5. enjoy Amazing Accommodations
The orange glow of a crackling fire with the smell of roasting marshmallows; cracking open a cold one; a sky full of stars -- these are what dreams are made of. You'll find unique and comfortable accommodations that will suit your budget or penchant for luxury, whether you prefer camping, glamping, cabins, or hotels. 
Bonus Reason
No hassles about crossing an international border, and your money isn't worth less here. At the time of writing, this is a moot point but is still worth remembering post-pandemic.
ride ontario this summer 
These are just a few compelling reasons why you should plan your annual road trip in Ontario. Not mentioned are the myriad of outdoor activities off the bike such as hiking, fishing, boating, canoeing and kayaking, scuba diving, sightseeing from the sky (flight-seeing), places of historical and/or cultural significance, and more that you could pursue while parking your bike 
Whether you're looking to recharge or looking for adventure, you will find what you're looking for by spending your road trip in Ontario.