Ontario Motorcycle Dealers and Repair Shops
Here's a complete list of all motorcycle dealerships and repair shops in Ontario. If you're looking to buy a new or used bike, get the upgrade you've always dreamed of or find a reputable repair shop, this is the place for you.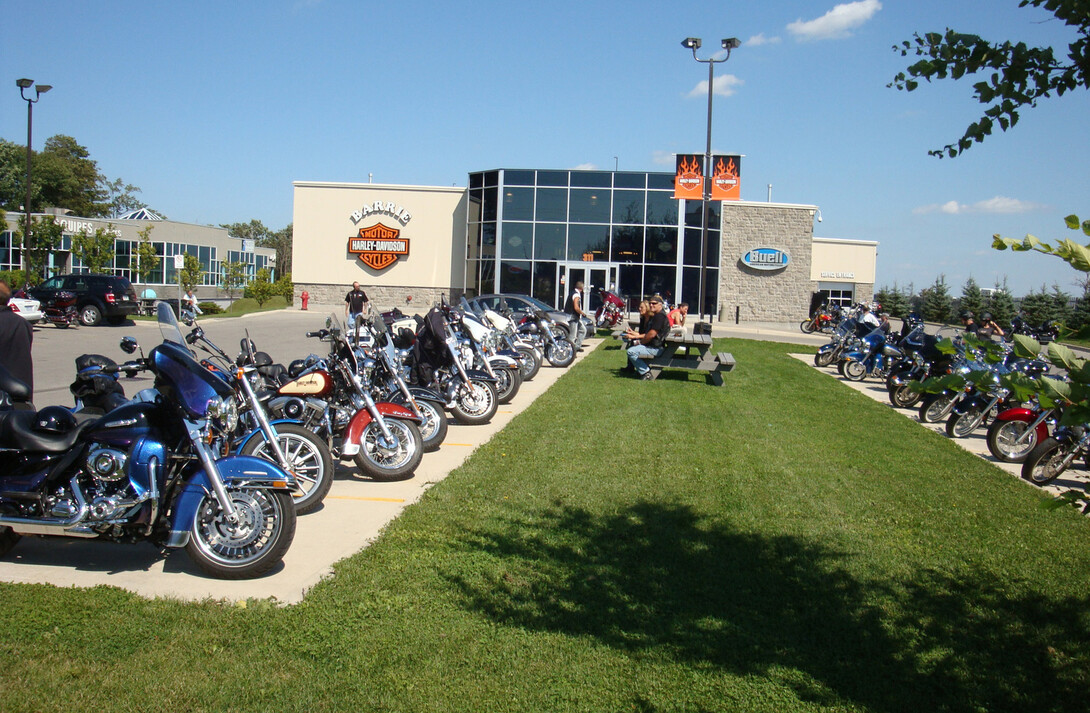 Click on any of the headings below to be brought to the section you're looking for. If you want to add your favourite shop, e-mail ian@thenewbusiness.ca. 
Southwest Ontario Region
Ailsa Craig - Belmont - Chatham  - Courtland - Delhi - Dorchester - Dunnville -Essex - Jarvis - Lambeth - Leamington - London - Lucan - Parkhill - Port Dover -Port Franks - Port Stanley - Sarnia Area -Tilbury -Tillsonburg -Windsor -Woodstock
Niagara Region
Hamilton, Halton and Brant Region
Brantford - Burlington - Hamilton - Milton- Oakville
Huron, Perth, Waterloo and Wellington Region
Cambridge - Clinton - Erin - Guelph - Hensall - Kitchener - Stratford - Waterloo
Greater Toronto Area Region
Brampton - Etobicoke - Mississauga - North York - Scarborough - Toronto
York, Durham and Hills of Headwaters Region
Durham Region - Keswick - Markham - Newmarket - Orangeville - Oshawa - Richmond Hill - Thornhill - Uxbridge - Woodbridge
Bruce Peninsula, Southern Georgian Bay and Lake Simcoe Region
Angus - Barrie - Collingwood - Midland - Orillia - Owen Sound - Port Elgin - Shallow Lake - Tiverton - Wasaga Beach
Kawartha and Northumberland Region
Bridgenorth - Cobourg - Douro - Fenelon Falls - Havelock - Kawartha Lakes - Lindsay - Omemee - Peterborough - Port Hope
South Eastern Ontario Region
Alexandria - Belleville - Brockville - Cornwall Area - Kingston - Trenton
Ottawa and Countryside Region
Casselman - Hawkesbury - Ottawa - Vars
Haliburton Highlands to the Ottawa Valley Region
Bancroft - Carnavon - Haliburton - Minden - Pembroke -Perth - Petawawa - Smiths Falls
Muskoka, Parry Sound and Algonquin Park Region
North Eastern Ontario Region
Elk Lake - Espanola - Kapuskasing - North Bay - Sudbury - Timmins
Algoma Country Region
Elliot Lake - Sault Ste. Marie - Hearst
North West Ontario Region
2240 Long Lake Road, Sudbury, ON
705-566-8111
3085 Kingsway, Sudbury, ON, P3B 2G5
705-560-3300
85 National Street, Greater Sudbury, ON, P3L 1M5
705-675-5555
314 Harrison Dr. Sudbury, ON P3E 5C9
705-523-2020
2204 Algonquin Rd, Sudbury, ON P3E 4Z6
705-674-2262
1123 Lorne St. Sudbury, ON P3C 4S8
705-866-1957
84 Burr Oak Drive, Whitefish, ON P0M 3E0
1.866.622.0001
1164 Roland Street, Thunder Bay, ON P7B 5M4
807-623-5042
939 Tungsten St, Thunder Bay, ON P7B 5Z3
807-939-2631
Fire #21 Twin City, Crossroads, Thunder Bay, ON P7E 6P2
807-623-8008
550 Syndicate Ave S, Thunder Bay, ON P7E 1E7
24 Nashville Avenue, Toronto, M6M 1J1
416-658-7878
416-752-1560
1255 Kennedy Road, Toronto, ON, M1P 2L4
416-623-2780
11 Sunlight Park Rd, Toronto, ON, M4M 1B5
416-652-3392
1137B Lawrence Ave W, Toronto, ON M6A 1E1
416-292-3913
850 Tapscott Road, Unit 27, Toronto, ON M1X 1N4
416-588-8377
1875 Dundas Street West, Toronto, ON M6R 1W3
416-248-2292
81 Ingram Drive, Toronto, ON M6M 2L7
416-259-7991
3773 Lake Shore Boulevard West, Etobicoke, ON M8W 1R1
416-856-8011
132 Ossington Ave, Toronto, ON M6J 2Z6
905-828-1107
4087 Eglinton Ave W, Mississauga, ON L5M 0R6
905-273-3717
2533 Wharton Glen Ave, Mississauga, ON L4X 2A8
905-847-0838
2412 South Service Road West, Oakville, ON L6L 5M9
905-469-2360
2416 Wyecroft Rd Unit 6, Oakville, ON L6L 6M6
905-847-0880
1423 Wallace Rd. Oakville, ON L6L 2Y3
905-842-2123
427 Speers Rd. Oakville, ON L6K 3S8
905-827-8827
2334 Wyecroft Rd, Unit 15, Oakville, ON L6L 6M7
905-845-3577
2454 South Service Road, Oakville, ON L6L 5M9
Kreater Custom Motorcycle
416-231-5055
863 Kipling, Etobicoke, ON M8Z 5H1
gtchor@kreater.com

Pro 6 Cycle
416-231-8829
871 Kipling, Etobicoke, ON M8Z 5H1
info@pro6cycle.com
705-328-2453
66 McLarens Rd, R.R.#2, Hwy 35 North, Cameron, ON K0M 1G0
705-324-5672
340 Verlume Rd, Hwy 36 & Queen Street, Lindsay, ON K9V 4R3
705-652-1328
County Road 18, Lakefield, ON K0L 2H0
705-953-2066
1183 Hwy 7, Oakwood, ON, K0M 2M0 
705-750-1998
320 Water St, Peterborough, ON K9H 7N9
705-750-4644
382B Parkhill Road East, Peterborough, ON K9L 1C3
613.544.4600
295 Dalton Avenue, Kingston, ON, K7K 6Z1
613-372-1280
3768 Highway 38, Harrowsmith, ON K0H 1V0
538 Guy, Ottawa, ON K1K 1B9
613-828-9151
2015 Robertson Road, Ottawa, ON, K2H 5Y7
613-821-0507
2310 Manotick Station Rd, Ottawa, ON K0A 2W0
613-591-3311
Unit 800, 2500 Palladium Drive, Kanata, ON K2V 1E2
613-841-9400
1390 Youville Drive, Orleans, ON, K1C 2X8
866-571-2975
2836 Chamberland Street, Rockland, ON K4K 1L5
613-432-1459
34 Argyle Street South, Renfrew, ON K7V 1T3
613-839-1750
2243 Donald B Munro Road, Kinburn, ON K0A 2H0
613-761-9670
35 Laurel St, Ottawa, ON K1Y 4M4
866-749-3231
5459 Canotek Rd., Unit 6, Ottawa, ON K1J 9M3
905-428-8983
1100 Champlain Court, Whitby, ON, L1N 6K9
416-848-0673
813 Brock Road, Unit #5, Pickering, ON, L1W 3L8
905-620-1171
3260 Highway 7, Pickering, ON, L1Y 1C8
1-800-668-5828
880 Champlain Ave, Oshawa, ON, L1J 7A6
905-436-6487
1898 Baseline Rd, Bowmanville, ON, L1C 3K3
905-665-7400
1501 Hopkins St. Whitby, ON, L1N 2C2
905-665-7888
701 Brock St. N, Whitby, ON, L1N 8R3
905-263-4184
2376 Taunton Rd, Hampton, ON, L0B 1J0
905-986-4437
3580 Byers Road, Blackstock, ON, L0B 1B0
905-619-8000
900 Champlain Court, Whitby, ON, L1N 6K9
905-450-6360
701 Brock St N, Whitby, ON, L1N 8R3
905-434-7073
1348 Taunton Road East, Oshawa, ON L1H 8L7
905-426-6295
845 Westney S, Ajax, ON L1S 3M4
905-432-2691
842 Farewell Street, Oshawa, ON L1H 6N6
905-382-2425
3928 Netherby, Stevensville, ON L0S 1S0
905-356-2008
6724 Morrison, Niagara Falls On
905-892-2664
#799 Highway 20 R.R. #4, Fenwick, ON, L0S 1C0
905-374-0517
4287 Fourth Ave, Niagara Falls, ON, L2E 4N1
905-353-8222
4728 Valleyway, Niagara Falls, ON L2E 1W1
905-685-8551
36 Wright Street, Unit 14, St Catharines, ON L2P 3J4
905-732-8319
112 Thorold Road, Welland, ON L3C 3V2
905-732-1540
23 Hagar Street, Welland, ON L3B 4J7
905-468-0076
7 Walker Road, P.O. Box 459, Virgil
905-892-9595
1874 Regional 20 Rd, Fonthill, ON L0S 1E6
705-431-9364
1954 Commerce Park Dr. Innisfil, ON, L9S 4A3
(705)797-2006
74 Mapleview Drive West, Barrie, ON L4N 9H6
705-431-6003
2263 Taylorwoods Blvd., Innisfil, ON L9S 2E6
705-792-4003
28 Currie Street, Barrie, ON L4M 5N4
705-431-7025
R.R.#2, Stroud, ON L0L 2M0
905-385-5977
1042 Upper Wellington Street, Hamilton, ON L9A 3S6
905-945-5372
7616 Mud Street, Grassie, ON L0R 1M0
905-526-9756
170 King Street W, Hamilton, ON L9P 1A5
905-544-3184
401 Parkdale Avenue N, Hamilton, ON L8H 5Y4
905-547-1936
33 Parkdale Avenue South, Hamilton, ON L8H 1B1
519-659-7833
2690 Dundas Street East, London, ON N5V 3C9
905-478-8800
19132 Leslie Street, Sharon, ON L0G 1V0
519-652-6200
4192 Perkins Rd #2, London, ON N6L 1C2
519-686-3754
940 Wharncliffie Rd. S., London, ON N6L 1K3
289-252-1572
1024 Division Street, Cobourg, ON K9J 5J5
905-349-2894
1322 County Rd 22, Grafton, ON K0K 2G0
613-443-3260
877 Notre-Dame Street, Embrun, ON K0A 1W0
613-538-2887
2116 Hwy 138, Moose Creek, ON K0C 1W0
519-948-3000
3880 Tecumseh Rd E Windsor, ON
519-969-8139
5950 North Service Road East, Windsor, ON N8T 3P3
519-822-6903
925 Woodlawn Rd. W, Guelph, ON, N1K 1B7
519-846-0040
7457 Speers Road, Elora, ON N0B 1S0
519-893-0493
310 Holiday Inn Drive, Kitchener, ON N3C 1Z4
519-746-7900
465 Conestoga Road, Waterloo, ON N2L 4C9
866-781-2826
1495 Victoria St. N., Kitchener, ON N2B 2E4
888-702-4150
25 Northfield Drive, Waterloo, ON N2L 4E6
519-888-7450
633 Colby Drive, Unit 1, Waterloo, ON
519-578-7752
963 Guelph Street, Kitchener, ON N2H 5Z2
519-662-1875
329 Waterloo St. New Hamburg, ON N3A 1S6
519-576-6420
26 Elm Street, Kitchener, ON N2G 2G4
716-304-9745
44 Saltsman Dr Ste 8, Cambridge Business Park, Cambridge, ON N3H 4R7
519-884-6410
351 Weber Street North, Waterloo, ON N2J 3H8
519-658-5819
2630 Beaverdale Road, Cambridge, ON N3H 4R7
519-632-8810
1148-2 Northumberland Street, P.O. Box 1192, Ayr, ON N0B 1E0
519-658-5819
2630 Beaverdale Road, Cambridge, ON N3H 4R7
519-620-0007
100 Sheldon Drive, Cambridge, ON N1R 7S7
519-585-2111
1408 Victoria Street North, Kitchener, ON N2B 2E2
888-524-7921
1166 Queen Street, P.O. Box 338, New Dundee, ON N0B 2E0
519-584-4094
947276 Township Rd. 14, Plattsville, ON
519-624-2518
2532 Dundas Street South, Cambridge, ON N1R 5S2
519-740-1993
450 Franklin Blvd, Cambridge, ON N1R 8G6
519-621-7805
635 Main Street East, Cambridge, ON N1R 5S7
519-368-7669
3713 Highway 21, Underwood, RR#3 Tiverton, ON, N0G 2T0
519-227-4923
33988 Denfield Rd. RR2 Lucan, ON N0M 2J0
519-348-0490
4131 Perth Road 164, R.R.#5, Mitchell, ON N0K 1N0
519-262-3634
94 London Road, Box 309, Hensall, ON N0M 1X0
519-227-1331
164 Main St Lucan, ON N0M 2J0
519-337-5601
1375 Confederation Street, Sarnia, ON N7S 5P1
519-402-2453
433 Palmerston Street South, Sarnia, ON N7T 3P4
705-594-2373
10402 Hwy 17, Verner, ON P0H 2M0
888-661-1965
11 Couchie Industrial Rd, Hwy 17 West, North Bay, ON P1B 8G5
613-933-4600
423 Tollgate Road West, Cornwall, ON K6H 5R6
519-227-1331
164 Main St, Lucan, ON
519-233-9110
76876 Airport Line, Bluewater, Near Clinton, Ontario, N0M 1L0
705-261-2603
6 Bennett Drive, Elliot Lake, Ontario, P5A 2T4
519-354-6377
615 St. Clair St, Chatham, ON, N7L 3L3
519-354-0650
5 Classic Car Drive, Blenheim, Ontario, N0P 1A0
519-682-2430
3900 Richardson Side Road, RR#3, Tilbury, ON, N0P 2L0
519-738-6888
515 Erie Rd, RR#1, Harrow, ON, N0R 1G0
519-825-4222
2469 Talbot Trail E, Wheatley, ON, N0P 2P0
905-852-3932
8160 Lakeridge Road, RR3, Uxbridge, ON, L9P 1R3
888-629-3411
125B Harry Walker Pkwy, Newmarket, ON, L3Y 8W2
888-905-0573
80 Harry Walker Pkwy, Newmarket, ON, L3Y 8W2
905-853-2333
1228 Gorham Street, Newmarket, ON, L3Y 8Z1
905-727-4057
70 Mary Street, Building B, Aurora, ON, L4G 6C8
905-775-1717
19890 Hwy 11, Bradford, ON L3Z 2B6 
705-437-2291
29945 Highway 48, Pefferlaw, ON L0E 1N0
905-476-4479
24522 Warden Avenue, Keswick, ON L4P 3E9
905-473-6161
22044 Highway 48, Mount Albert, ON L0G 1M0
905-294-2355
9441 Hwy 48, Unit 13, Markham, ON, L6E 1B1
905-471-3021
310 Main Street North, Markham, ON, L3P 1Z1
905-475-2552
187 Steelcase Road West, Unit 19, Markham, ON, L3R 2R9
416-364-8889
4545 Sheppard Ave East, Toronto, ON M1S 1V3
416-752-1560
1255 Kennedy Road, Toronto, ON, M1P 2L4
416-849-3335
1080 Tapscott Rd, Unit 2, Scarborough, ON, M1X 1E7
905-774-8881
1355 Hwy #3 East, Dunnville, ON, N1A 2W7
613-687-4276
3133 Petawawa Blvd, Petawawa, ON, K8H 1X9
613-735-3711
2107 Petawawa Blvd., Pembroke, ON, K8A 7G8
613-968-4559
128 Church St., Belleville, ON, K8N 3B8
613-771-9253
216 North Front, Belleville, ON, K8P 3C2
613-967-2283
227 Salmon River Rd, Belleville, ON, K0K 3A0
613-965-6626
114 McCauley Rd, Trenton, ON, K8V 5P6
613-966-2202
Hwy 404 & Wallbridge Rd, Belleville, ON, K8N 5A5
613-962-5021
896 Bell Blvd. West, RR#5, Belleville, ON K8N 4Z5
705-645-4008
31 E.P. Lee Drive, Bracebridge, ON, P1L 0A1
888-904-0146
1689 Winhara Road, Gravenhurst, ON, P1P 1R1
705-645-1937
1165 Lone Pine Drive, Bracebridge, ON P1L 1X4
705-526-2248
347 Cranston Crescent, Midland, ON, L4R 4K6
705-526-7500
1221 Sundowner Rd, Midland, ON, L4R 4K4
705-445-7707
293 Pretty River Parkway, Collingwood, ON L9Y 4J3
705-429-3663
8801 26 Highway, Wasaga Beach, ON, L0L 2P0
705-443-8751
100 Mountain Road, Unit 201, Collingwood, ON L9Y 3Z8
705-429-3822
8166 R.R.#2 Hwy #26, Stayner, ON L0M 1S0
705-424-1515
215 Mill Street, Angus, ON, L0M 1B2
877-295-5708
181 Canam Crescent, Brampton, ON, L7A 1G1
905-495-5174
15-A Fisherman Drive, Brampton, ON, L7A 1B7
905-702-2546
305 Armstrong Ave, Georgetown, ON L7G 4X6
905-458-6000
22A Strathearn Avenue, Brampton, ON L6T 4S9
519-753-2453
643 Colborne Street West, P.O. Box 670, Brantford, ON, N3T 5L5
519-759-8140
1264 Colborne Street East, Brantford, ON, N3T 5L4
877-461-8920
32 King St. North, Oakland, ON, N0E 1R0
519-757-1200
884 Colborne Street West, Brantford, ON, N3T 5L7
519-756-6218
900 Colborne St, Brantford, ON, N3S 3T1 
888-369-0425
1880 Hwy 2 East, Brockville, ON, K6V 5W1
613-342-1550
3515 Coon's Rd, Unit #1, Brockville, ON, K6T 1A7
613-283-4466
327-A Hwy 15 South, Smiths Falls, ON, K7A 5B8
613-283-1880
12438 Hwy #15 North, Smiths Falls, ON, K7A 4S9
613-272-3456
2612 Myers Road, Portland, ON K0G 1V0
613-267-6861
R.R.#7 Stn Main, Perth, ON K7H 3C9
905-637-6987
2201 Plains Road East, Burlington, ON, L7R 3R3
905-681-7270
4325 Harvester Rd., Unit 12, Burlington, ON L7L 5M4
905-333-0776
2483 Industrial St, Burlington, ON L7P 1A6
27 Dundas East, Waterdown, ON, L0R 2H2
905-690-3966
519-421-3333
127 Ingersoll Road, Woodstock, ON N4S 8P5
519-533-1300
68 Ingersoll Road, Woodstock, ON N4S 2P9
519-468-6312
773022 Hwy 59 South, Norwich, ON N0J 1P0
519-533-5177
125-1 Main Street, Woodstock, ON N4S 1T1
519-475-9055
Union Street, Embro, ON N0J 1J0
705-678-2254
Hwy 65 and Pine St. box 87, Elk Lake, ON P0J 1G0
519-371-6666
123003 Story Book Park Road R.R. #4, Owen Sound, ON, N4K 5W9
888-865-5782
202297 Hwy 6 & 21 R.R.#5, Owen Sound, ON N4K 5N7
519-371-8361
246 1/2 13th Street East, Owen Sound, ON N4K 1W3
705-335-8080
252 Government Rd, Kapuskasing, ON P5N 2X2
613-632-2114
1125 Tupper Street, Hawkesbury, ON K6A 3T5
613-632-3462
189 John Street, Hawkesbury, ON K6A 1Y1
613-632-1145
1502 Main Street East, Hawkesbury, ON K6A 2C7
613-679-4675
R.R.#1 Alfred, ON K0B 1A0
705-949-7222
494 Great Northern Road, Sault Ste. Marie, ON P6B 4Z9
705-942-2505
860 Queen St E, Sault Ste. Marie, ON P6A 2B2
705-267-1417
360 Algonquin Blvd, Timmins, ON P4N 1B6
877-446-4539
1301 Airport Rd, Timmins, ON P4N 7C3
888-474-1145
2 Main Street, P.O. Box 39, Jarvis, ON N0A 1J0
905-768-9635
78 First Line, Hagersville, ON N0A 1H0
519-842-5977
14493 Bayham Drive, R.R.#3, Tillsonburg, ON N4G 4G8
519-688-3278
14 Regional Road 13, Courtland, ON N0J 1E0
519-688-9299
90 Norfolk County Road 13, Courtland, ON N0J 1E0
519-582-3100
950 James Street, Delhi, ON N4B 2E3
519-941-1517
286270 Dufferin County Road 10, Orangeville, ON L9W 2Z1
519-343-2502
291 Main Street West, Palmerston, ON N0G 2P0
519-942-2082
204359 County Road 109 West, R.R.#2, Orangeville, ON L9W 2Y9
519-927-0162
3023 Charleston Side Road, Caledon Village, ON L7K 0V4
800-962-8372
19659 Airport Road, Caledon East, ON L7K 2K5
807-543-2167
Box 109, #1 Akres West, Hwy 17 West Keewatin, ON P0X 1C0
807-548-6300
Hwy 17 E, R.R. 1, Stn Main, Kenora, ON P9N 3W7
519-271-8911
20 Dover Street, Stratford, ON N5A 7L4
905-864-8588
170 Steeles Avenue East, Milton, ON L9T 2Y5
905-878-9726
781 Main Street East, Unit 6, Milton, ON L9T 5A9
705-869-0170
50 McCulloch Drive, Espanola, ON P5E 1J1
905-885-0895
71 Toronto Road, Port Hope, ON L1A 3S2
905-885-7006
6423 Dale Road, Port Hope, L1A 3V5
905-885-7278
6423 Dale Road, Port Hope, ON, L1A 3V5
705-789-2343
11 Howland Drive, Huntsville, ON P1H 1M3
705-789-7473
325 Old Ferguson Rd, Huntsville, ON P1H 2J2
705-787-1999
19 Kinton Ave Ste 3, Huntsville, ON P1H 1M3
705-527-7700
720 Balm Beach Road, Midland, ON L4R 4K4
705-286-3211
4 Bobcaygeon Rd, Minden, ON K0M 2K0
705-689-9267
3363 Buena Vista Drive, Cumberland Beach, ON L0K 1G0
705-325-6311
111 Commerce Road, Orillia, ON L3V 6H3
705-330-3511
49 Colborne St E, Orillia, ON L3V 1T5
705-329-0940
3765 Campbell Rd, Orillia, ON L3V 6H3
705-323-9600
3831 Soules Rd, Orillia, ON L3V 6H3
705-325-1671
8401 Hwy 11 N, Orillia, ON L3V 6H3
705-325-0005
8420 Hwy. 11, Orillia, ON L3V 6H3
705-323-9600
3831 Soules Road, Orillia, ON L3V 4W3
800-768-2922
104-155 Main St. East, Suite 137, Grimsby, ON L3M 1P2
Fenelon Falls Motorcycle Shops
705-878-3067
502 Ledge Hill Road, Burnt River, ON K0M 1C0
905-856-4870
5875 Hwy 7, Unit 5, Woodbridge, ON L4L 1T9
905-264-7735
181 Woodstream Blvd #6, Woodbridge, ON, L4L 8G9
905-738-0062
201 Spinnaker Way, Vaughan, ON L4K 4C2
905-669-4944
40 North Rivermade Road, Concord, ON L4K 2H3
519-825-4222
2469 Talbot Trail E, Wheatley, ON N0P 2P0