Riding the Dirt Trails of Ganaraska Forest
Just an hour outside of the city lies a haven for dirt bikes. With 11,000 acres of Ganaraska forest to ride and experienced guides to look out for you, it's time to get dirty at Trail Tours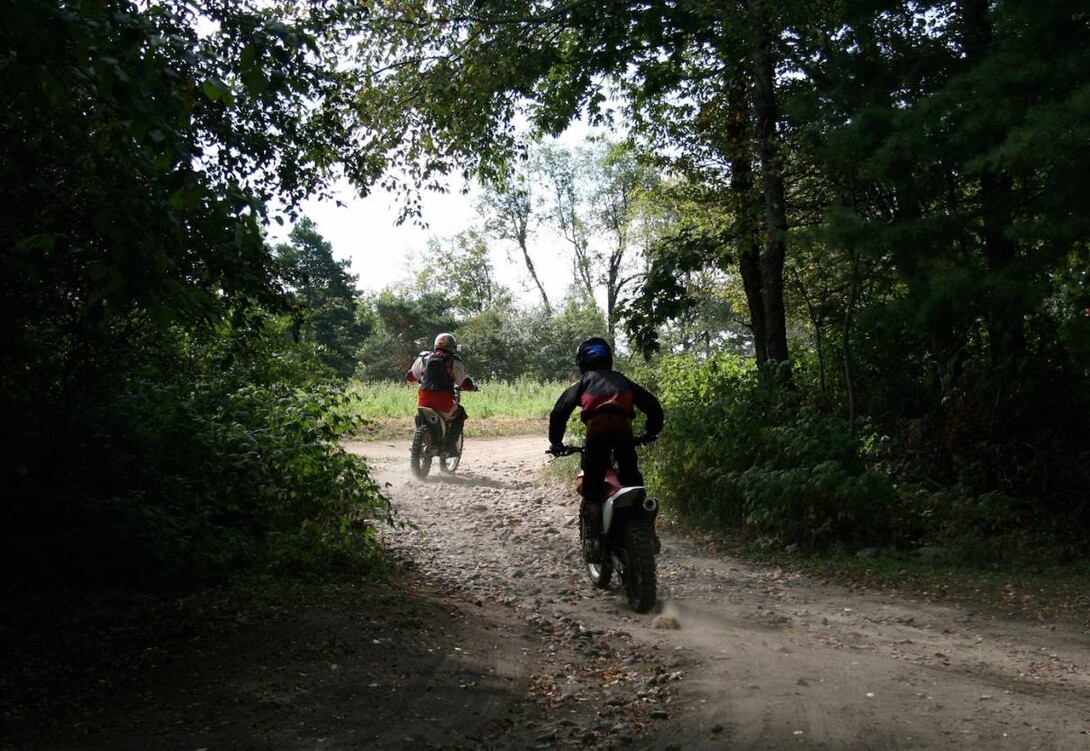 As a motorcyclist and street rider, it's something that you hear all the time, "You should try riding dirt." Or maybe: "The skills that you learn off-road will improve all of your overall riding abilities," or some variation thereof. I've been riding street bikes now for about five years, and for about as long, I've been planning to give dirtbiking a try… someday. Two of my riding buddies, a couple named Tim and Marissa, have been saying the same thing for as many years.
Well, this summer, someday finally arrived. Between us, as street riders we enjoy the thrills of a Yamaha FZ6, a Triumph Bonneville and a Ninja 650R, respectively. But as we soon learned, it doesn't really matter all that much what you ride on the street, because in the dirt, well, it's a whole 'nother world.
If you've never tried off-road or dirtbiking before, you probably don't know what you're missing. But from Ganaraska Forest to Northumberland, Mattawa to Simcoe County, Limerick or Madawaska, there's no shortage of places to ride dirt here in Ontario.
Getting Started at Ganaraska forest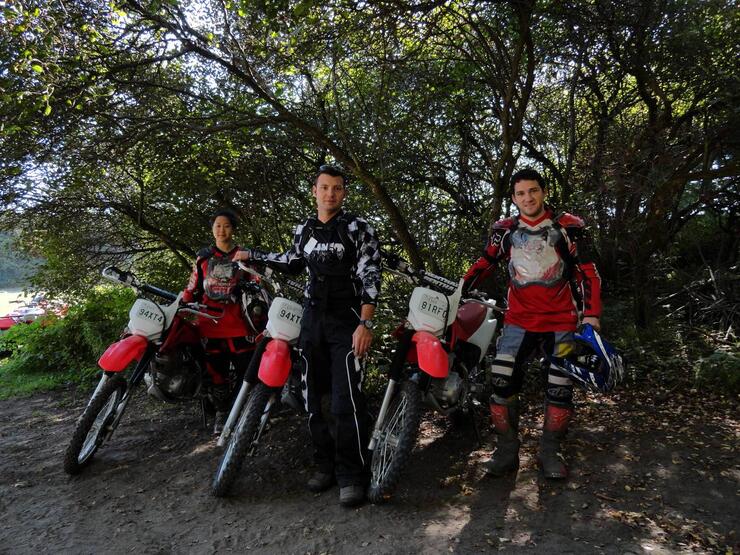 We arrive on a Saturday morning about an hour east of Toronto and twenty minutes south of Peterborough, having booked a day's session with Trail Tours, which offers instruction and guidance in both dirtbiking and ATVing. Their courses are offered from several different locations within the beautiful and expansive trails of Ganaraska Forest. As we sign in, a fellow student asks one of the instructors about the variety of trails in the area.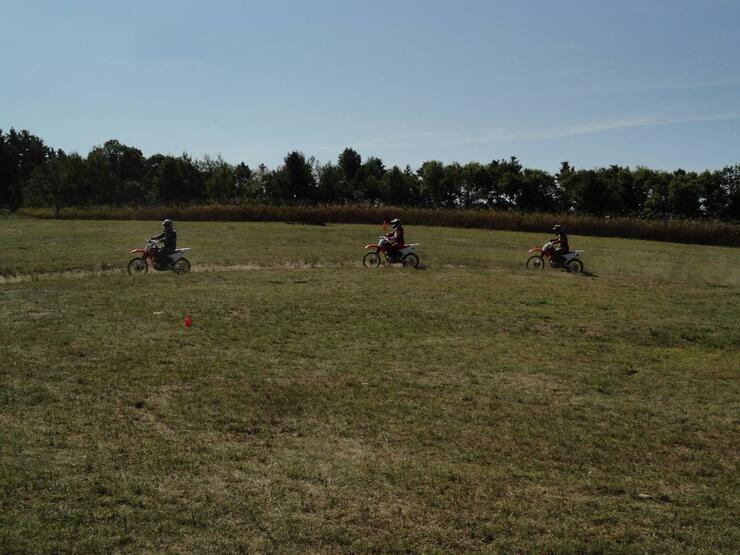 "Think there'll be enough so that we don't get bored?" he muses, looking about the immediate area. The young instructor to whom the question has been posed doesn't miss a beat.
"Well, there's only 11,000 acres," he says, a bit sardonically. Everyone laughs good-naturedly. "Seriously though," he continues, "I've been here three years and I've covered maybe 5 percent."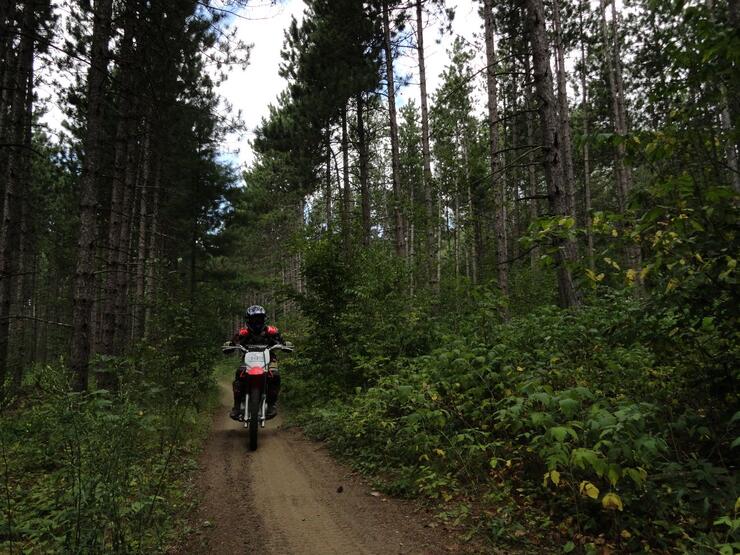 Ganaraska Forest is an incredible conservation area, filled with lush trees and pretty much every type of trail that you can think of… from sand to gravel, rocks, loam, hills, valleys, fields, forests and more. "The wealth of scenic routes and old growth trails is pretty spectacular," says Steve Weykamp, owner and manager of Trail Tours. Steve has been riding dirtbikes since he was about 6 years old. He calls Ganaraska a hotbed for dirt riding across the continent, pointing out that there are more trails here per square kilometer than anywhere else in North America.
"We have got it made in Ontario," he enthuses, and he speaks from experience. He's ridden all over the world, on every continent with the exception of Antarctica, during the course of some 16 years that he spent traveling. He's hit the dirt in Africa, spun his wheels in Europe and kicked up dust in Australia. "I've been there and done that, and that's how I know how lucky we are. I never have to travel to ride a dirt bike," he says, "we have everything here in this one province."
After we're all signed in, we put on our gear in big tents nearby. All equipment is provided, including heavy-duty dirt riding boots, elbow and knee pads, gloves, goggles, helmet and helmet liner. We all gather around and Steve preps us for the day. "This is a physically demanding activity," he reminds us, "so relax and steer with your legs. It hasn't rained out here in about three weeks so its very, very dusty out. The good thing is though, if you can ride in this, you can ride in anything." When riding in dust, the wheels are more likely to spin out and lose traction if you don't stay hard on the throttle, keep your weight balanced and of course, watch where you're going. As a final tip, Steve tells us to remember to keep our gloves on when we take off our boots at the end of the day. There's poison ivy in these parts.
What a Difference a Tree Makes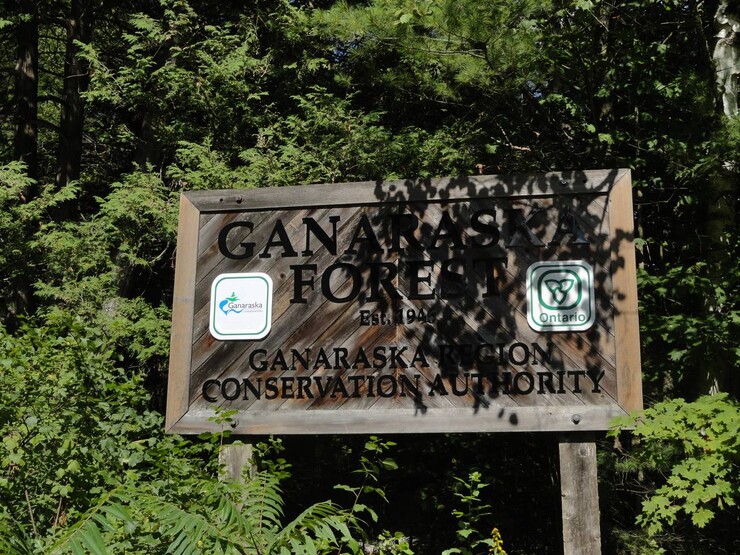 During the course of the day, between myself and my friends Tim and Marissa, all of us drop our bikes at some point. Another of our fellow students even goes over the handlebars at one point (slightly bruised but safe; bike undamaged). When you ride on the street, you're generally not in the habit of hitting things. Hitting things is bad, be it mailbox, lamp-post, stop sign or tractor trailer. Your contact patch tends to remain pretty stable and consistent. With dirt riding, on the other hand, you run into (and hopefully, over) things. You will hit rocks, you will hit sand and gravel and well, dirt. If you're not lucky, maybe you'll even hit a tree (as I almost did). At one point, I clipped my left handlebar on a tree and almost went down, stopping just in time.
The trails in Ganaraska Forest run the gamut from broad and wide, 12 feet across and full of soft sand and gravel, to narrow, one foot wide "single track" paths. In this instance, the word "path" is relative… fallen tree branches, rocks and tree stumps are littered along the way (this is a good thing if you're a dirt biker, all part of the adventure and challenge). A few times, I passed points where there was a tree on my left, a tree on my right, and maybe a few inches of give on either side as my bike sailed gently through.
Thankfully, we'd begun the day in a wide open area, where our instructor, Allan Lakas, ran us through a series of drills and skills practice courses. As someone new to dirtbiking, the experience can seem a little daunting, but Allan has a way of explaining things clearly and patiently, taking everything one step at a time, in a way that makes a newbie feel comfortable and at ease.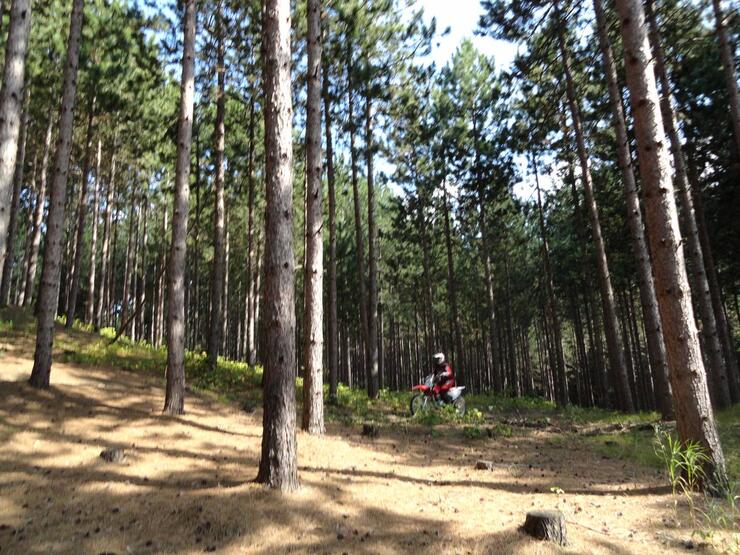 The Magnificent Now
I'm holding on. I'm holding on too tight. I'm hitting fallen tree branches, and not in a good way. Thing is, I'm holding on so tight that I'm not keeping my eyes up. On asphalt, your tires maintain regular contact with the road, for the most part smooth and consistent. On dirt, it's anything but. I hit a bump and my right hand accidentally gives way too much throttle and I come within inches of hitting a tree before braking. A few close calls later, I actually hit the ground and drop my bike. But here's the thing… it's not so bad.
On the street I might have an hour-long wait ahead of me, insurance reports to file and/or fairings to replace. In the dirt, it's fine. I just pick up the bike and keep riding. The bike looks no worse for wear, and within seconds I'm back up and moving again. And when I get back on, suddenly I'm not holding on so tight anymore. I've felt the chill and sense of foreboding that comes with potentially wiping out, lost control and fallen, and it was no big deal. Now I'm relaxed and looking ahead.
And the sense of freedom is incredible. I'm surrounded by beautiful trees as far as the eye can see, the sunlight filtering softly through the branches from far up above. Now, I'm finally riding the trails instead of letting them ride me, finally in the moment, relaxed and aware and having a blast doing it. It's magnificent and exhilarating.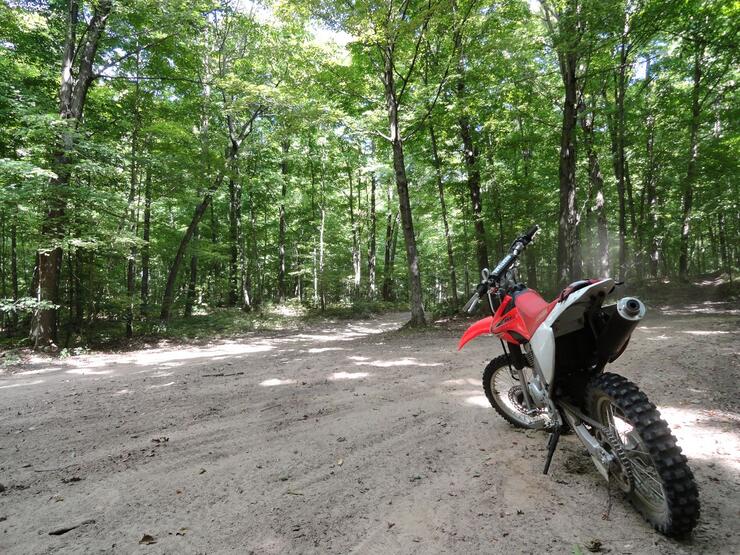 Winding Down at Ganaraska
After a thrilling afternoon riding all sorts of trails, from wide open and free-wheeling to narrow, one-track and technical, we ride our bikes back into basecamp.  It's been an incredible day and we've met some great people.
Chris, our tour leader for the afternoon, has led us through a fabulous maze of trails. Chris used to ride as a kid, but took a break before picking it up again a little later in life and becoming an instructor. It shows; he's got a natural ability on the trails, like it's second nature, combined with a good sense of what it's like for a beginner, or someone whose skills maybe need a refresher.
Blair, at 15, has been riding dirt for 9 years. Today he'd be competing at the nationals up in Madoc were it not for having thrown out his rear suspension the week before. "My brother's racing though," he says reflectively, perhaps by way of consolation.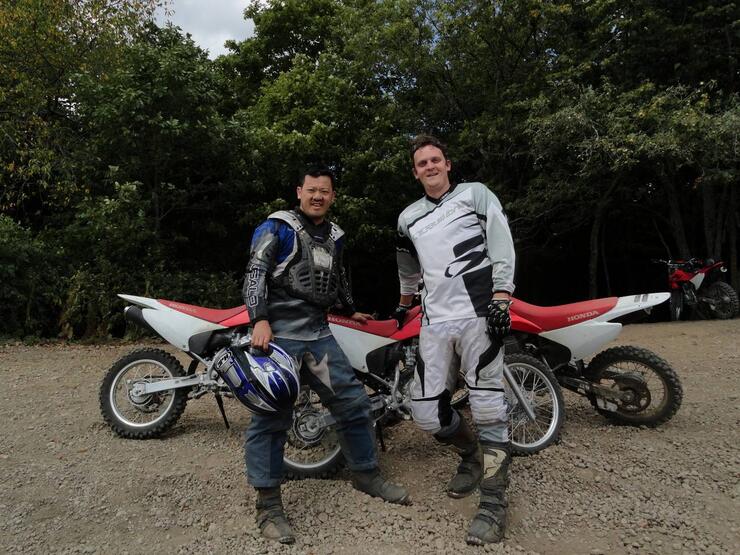 All in all, it's been a wonderful day, and more fun than I've had in a very long time.
Thanks again to Trail Tours for a fun-filled day. The skills that I've learned here will surely help me as I go forward, whether on the street or future dirt-riding excursions up north. And for those of you who have already done some dirt-riding, what are you waiting for? There's always more trails to discover.