The Scenic Route from Manitoba to Ontario
Adding 20 minutes on to your trip is a small cost to pay for a chance to experience this truly wild northern landscape.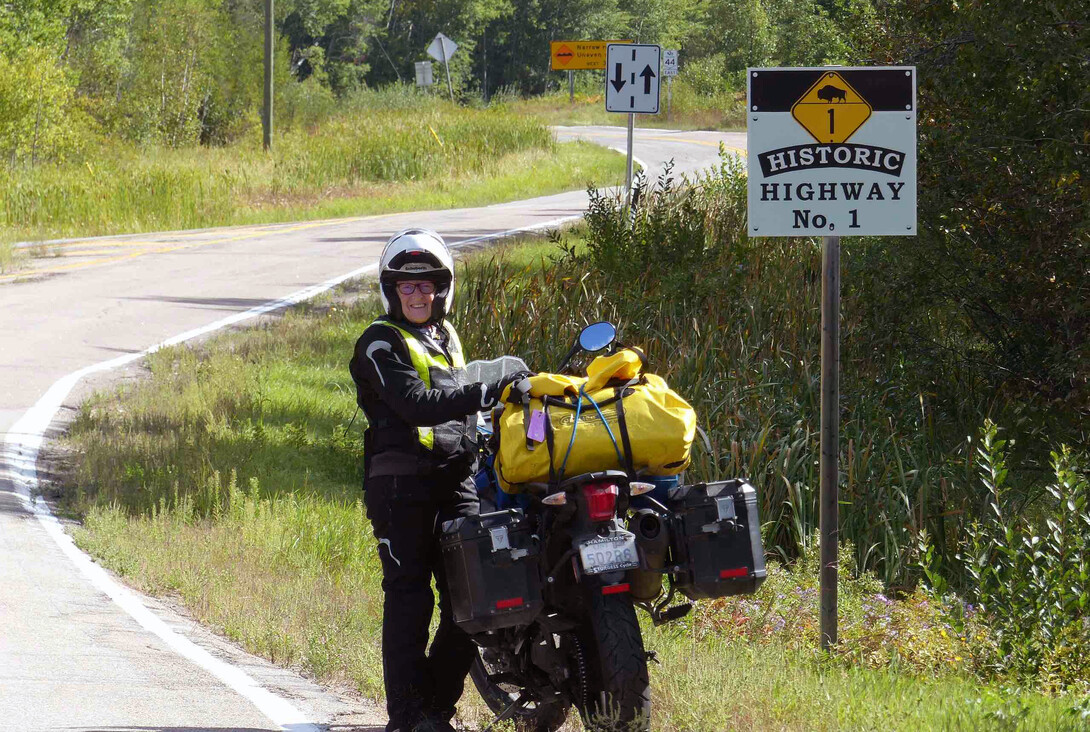 After several days under the endless skies of Alberta, Saskatchewan, and Manitoba, I was on the final leg of a six-week solo trip following my ancestors' migration in Western Canada. Although it was time to get home, I still preferred travelling on secondary backroads rather than sticking to the Trans-Canada Highway (TCH) whenever possible.
And so when friends Doug Houghton and Mary Johnson, who I was visiting in Beausejour, MB, suggested following the original Highway 1 route into Ontario, I didn't think twice. To add to the experience, they offered to join me for part of the day.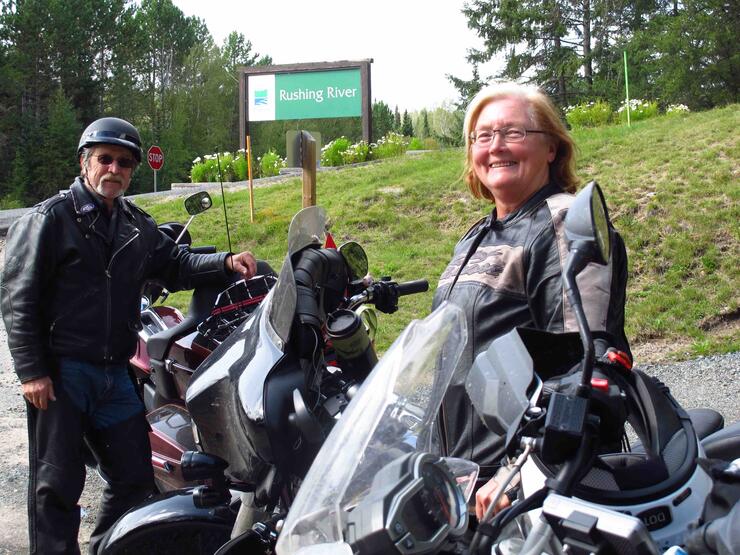 Historic Route 1/Highway 44
When the new TCH running south of Winnipeg was completed in 1958, the original northern route became Highway 44, also known as Historic Route 1. It begins just north of Winnipeg and is easily accessed from Highway 101, the ring road around the city. From here it passes through Beausejour and northern farmland before becoming very narrow, hilly, and winding.
As much as I loved the openness of the prairies, the sight of the rocks of the Canadian Shield emerging from the earth made me feel like I was almost home, even though home was still 2,000 km away. One gets the impression that nature has agreed to allow the road to pass through, but granted only the minimum space needed. It's an intimate and personal passage through a wilderness that is only a blink away.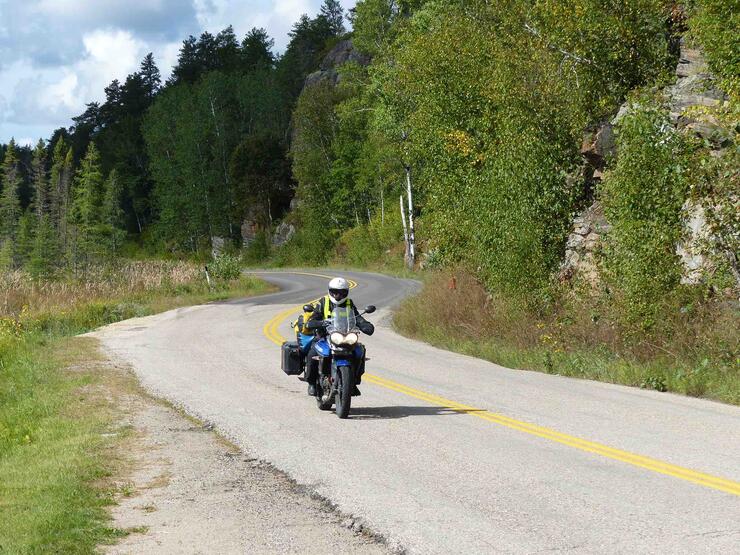 The road was just beginning to gyrate when we stopped at the Alfred Hole Goose Sanctuary in Whiteshell Provincial Park. From its beginnings in 1939, when four orphaned goslings were taken under Alfred Hole's wing, the site has grown to a sanctuary where flocks of geese pass through on their annual migrations.
Although always paved and mostly smooth, the road surface changes frequently and shoulders are often non-existent so it pays to be vigilant. Still in Whiteshell Provincial Park but further east, the magical Lily Pond opened up on our right. Formed 3.75 billion years ago when glaciers carved a small depression out of the soft bedrock, most of the summer the pond is covered in yellow and fragrant white water lilies, also know as Fallen Stars. Thankfully, there was enough room to pull over and time to reflect on this ancient paradise.

As we continued east, glaciers had carved the landscape into numerous lakes and rivers, now cloaked in forests. West Hawk Lake however, has a unique genesis, formed 100 million years ago by a meteor impact. The picturesque town of West Hawk houses restaurants and shops in log buildings. Nearby Falcon Lake campground is renowned for its beauty and for its history of UFO sightings.
Kenora and Lake of the Woods
Not much further, Highway 44 connects with the TCH and brings you into Ontario through the breathtaking Lake of the Woods region. I've ridden into the town of Kenora many times, but have never met Husky the Muskie, even though he's 40 feet tall and positioned right beside the highway. Had Doug not pointed him out, I'd have gone past again and missed meeting this handsome fellow erected in 1960, now guarded by the trees that have grown up around him. He's in the park at the north end of town, and well worth a stop.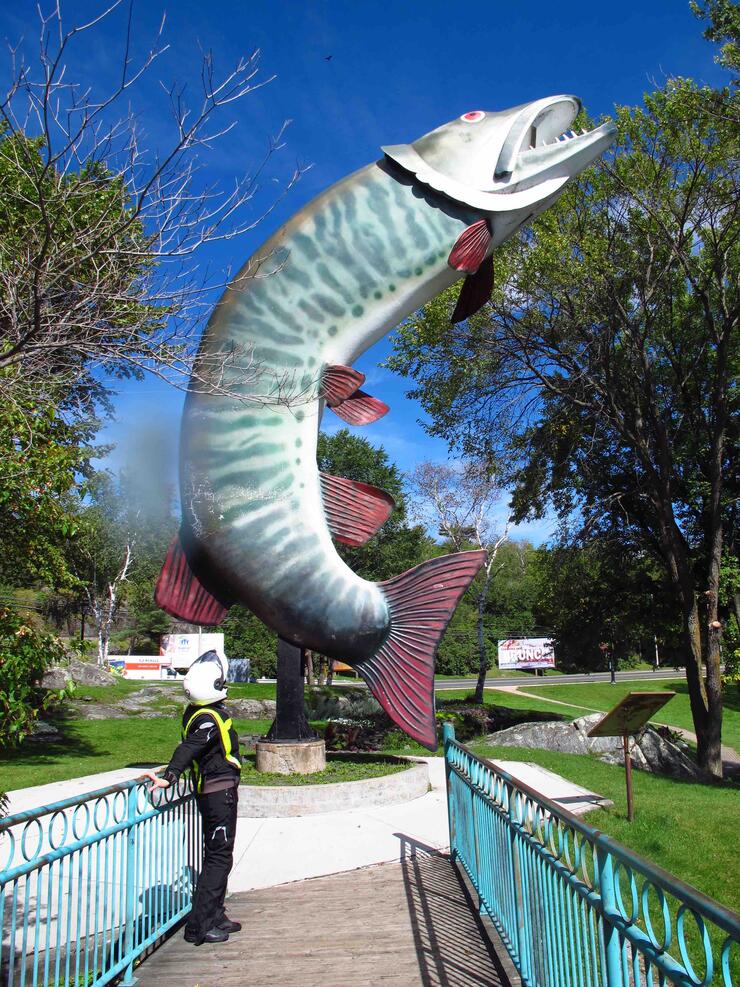 The picturesque waterfront led us around the lake to the bustling canopied Matiowski Farmers Market which hosts more than 100 farmers and artisans every Wednesday between mid-June and early October. The waterfront even has dedicated motorcycle parking in a preferred location.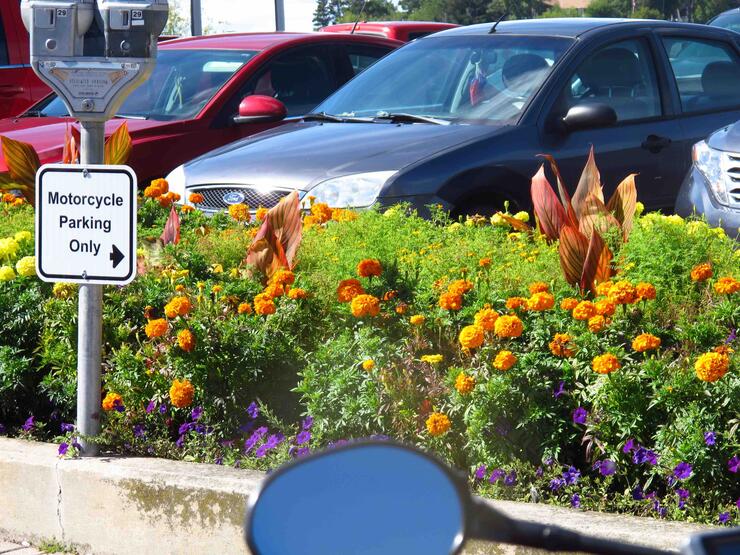 One of the rare disadvantages of motorcycling is that you can't stock up when tempted by local vendors like Ron Rhyner of Honey Mill Farm. A retired dairy farmer, he now grows herbicide- and pesticide- free vegetables and other produce, all tended by hand.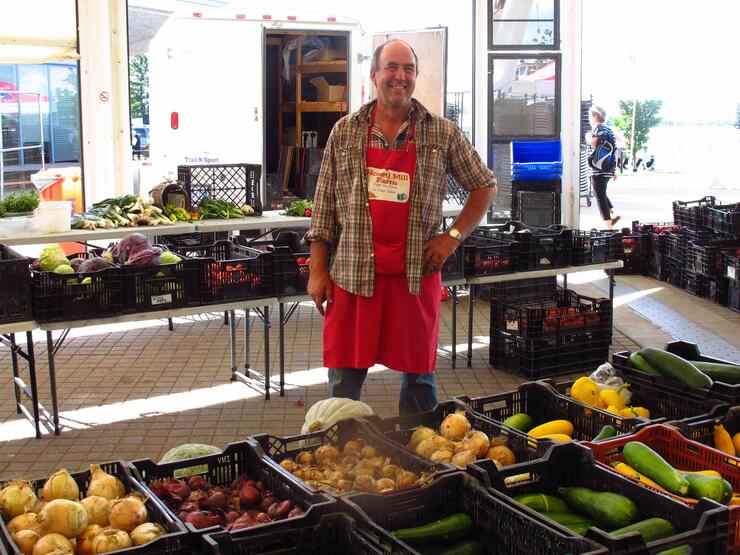 Kenora's strategic location for the fur trade and exploration to the west has created an eclectic heritage, even in its name. Originally called Rat Portage (Portage-aux-Rats), it was amalgamated with Keewatin and Norman in 1905, taking the first two letters of each name to create Kenora. Much of its history is showcased in town, whether it's touring the Mather Walls House, home to a prominent pioneer family, or strolling through town viewing the 21 murals. Hunting, fishing, and water sports are other key attractions.
Heading south through sioux narrows
After a delightful lunch on the picnic tables at water's edge, it was time to move on. The next couple of hours would be almost unbroken solitude through rugged and pristine wilderness landscape, through nature's sculpting of rock, forest, lakes, and rivers.
Sioux Narrows, approximately halfway between Kenora and Highway 11 leading to Fort Francis, is the channel on the eastern Lake of the Woods and the purported site of a battle between Ojibway and Sioux warriors. A cluster of shops, accommodations and other tourism operators sit around its banks. A lovely northern lake vista opens up as you ride over the bridge.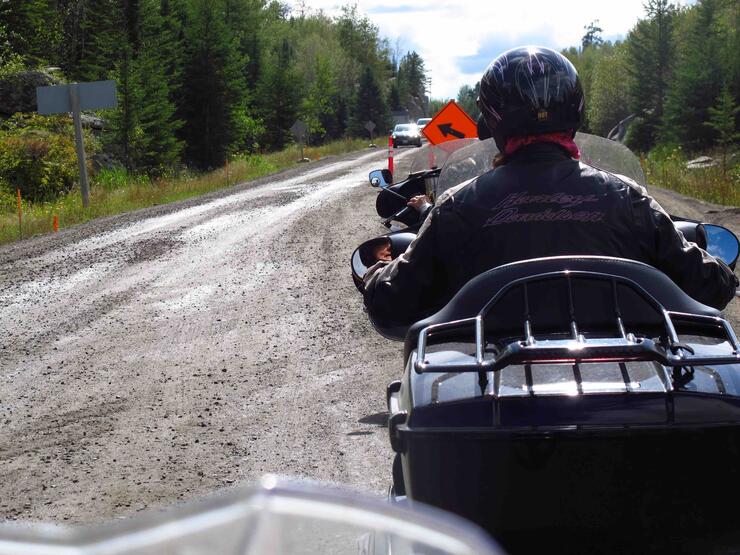 What would a trip be without some construction? But if you're going to be stopped, it might as well be in this paradise. The wait and detour weren't that long or arduous and finished right near the entrance to Rushing River Provincial Park. It's a favourite camping destination with a small walkway over the river right near the entrance, offering a view of the tumbling falls.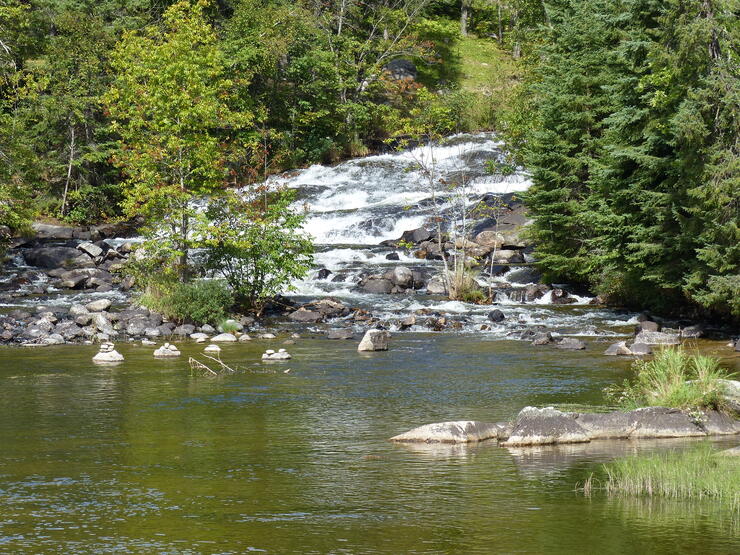 Fort Frances
Soon after, the road begins to straighten out as the landscape transitions back to prairie. Where the TCH joined Highway 11, we parted ways: Doug and Mary to continue their clockwise loop back to Beausejour, and me to visit with other friends in Fort Frances.
Almost immediately I was into the small township of Emo, which stands out for its patriotism. With a population of only 1,252, a prominent cenotaph stands guard right along the roadway, honouring those who have served. Opting for the road less travelled again, I headed slightly south on Hwy. 602 to follow it along the Rainy River (and the international border) into the town of Fort Frances.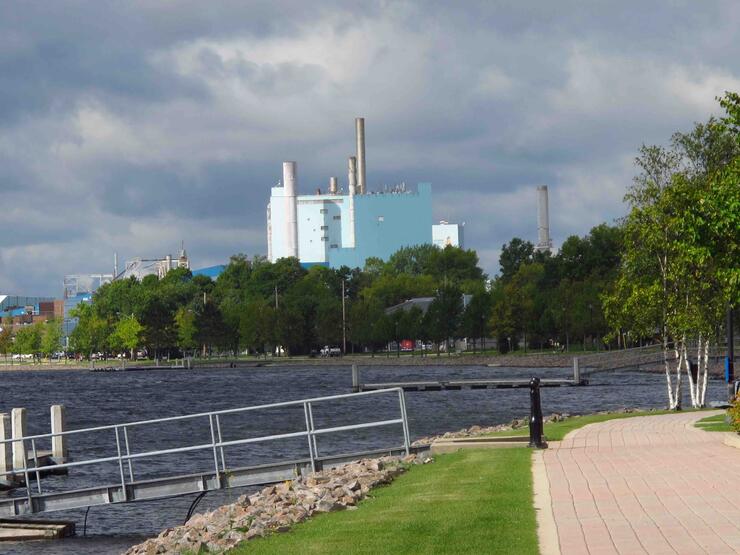 Built on the natural resources industry, the pulp mill now sits idle, but the town's spirit does not. The waterfront has a well-maintained, landscaped walkway from where you can not only look over at another country, but reflect on the beauty and bounty in this land. Not so long ago, it would have taken days to travel the distance I'd just passed in hours. That wild nature is still there, resonating with the heart of the rider that dares to answer the call to travel there.
Easing out of my reverie, it was time to get back on the bike and visit with friends, whom I see far too seldom.
Note: Travelling this route between Winnipeg and Kenora is only 20 km further than staying on the TCH and following it south under Winnipeg.
Photo credits: Liz Jansen with Doug Houghton, Director & Past President & Public Relations Chair, Coalition of Manitoba Motorcycle Groups (CMMG).