The Lake Temiskaming Loop Tour
Looking for something new? This 400-km tour through Ontario's Near North and Wilderness Region is sure to please...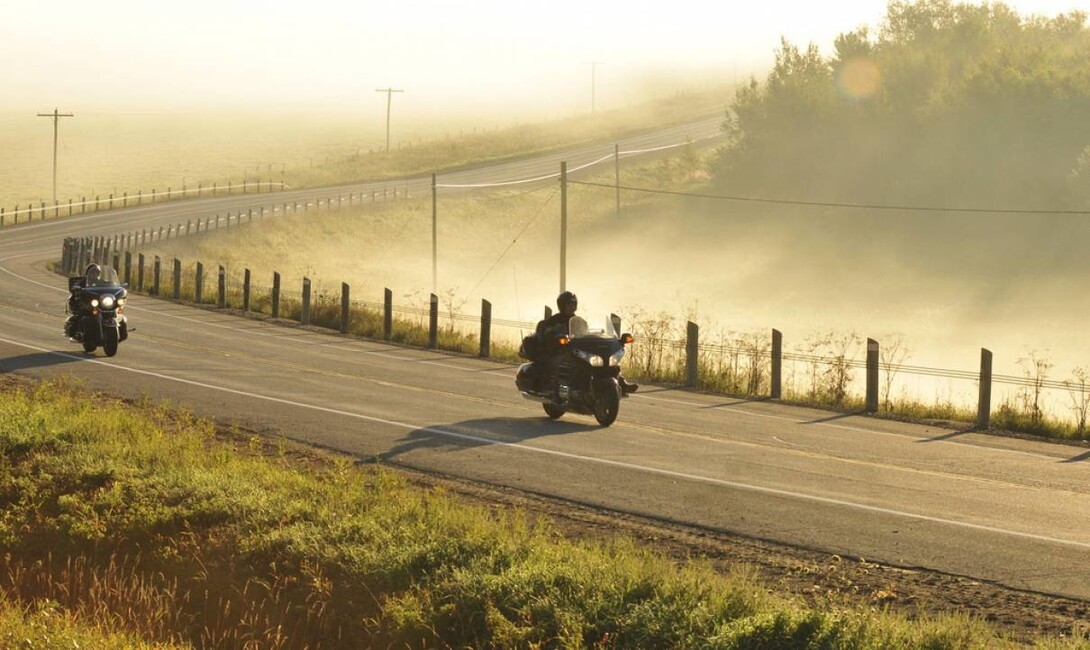 The tour follows the shores of Lake Temiskaming (Algonquin for "deep water"). One of the deepest lakes in Ontario, Lake Temiskaming is technically a widening of the Ottawa River that forms a boundary between Ontario and Quebec. The lake is said to be home to a sea-monster named Mugwamp that has a horse's head and serpent's body.
This tour can be one or two days, depending on how much you want to take in. The tour takes Highway 11 from North Bay to Temiskaming Shores and returns down Highway 101 in Quebec, giving riders a chance to sample the cultures and scenery of two provinces. Running along the banks of the Ottawa River to Mattawa, there is a short detour available allowing visitors to sample the north end of Algonquin Park.
Start Your Engines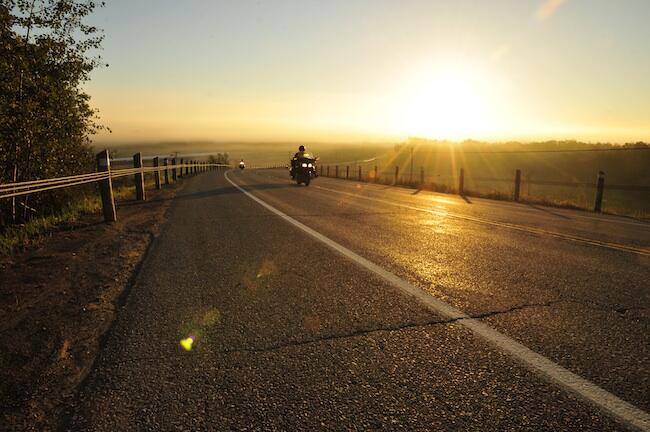 Along Highway 11 riders are treated to views of lakes, marshes, and old growth forests. Just south of Temagami is Marten River Provincial Park, which features a short trail through a forest that boasts some incredibly old white pines—some over 300 years. The park also has several camping areas, washrooms, and showers. In this region, the tallest trees sport a distinctive windswept top, where the branches tend to point away from the prevailing winds.
Next stop is Latchford, home to The Dam Depot and the Northland Motel, which sports a dizzying array of antiques in a barn beside the motel. Once you leave the town of Latchford you're officially in Ontario's Wilderness Region. Then take the turn off Highway 11 to Highway 11B through Haileybury and Cobalt—you'll thank us for it.
The Silver Rush
Highway 11B meets up with the shore of Lake Temiskaming after going through the town of Cobalt into Haileybury. Cobalt was home to over 10,000 people during a silver rush—mining headframes dot the landscape, and you can still get a sense of the hardships the miners endured. Haileybury was a bedroom community for the rich mine owners in Cobalt, and they left a row of stately old homes facing the lakeshore.
If you're not too hot in your leathers or are just feeling adventurous, a 2-km hike off the highway will bring you to Devil's Rock, rising 300 feet above the lake, offering an uninterrupted 180-degree view. Ontario Trails has some great pictures that fully convey the majesty of the vista.
Camp Out or Sleep In
In the town of Haileybury is a perfect little motel and campground called the Edgewater, right on the shore of Lake Temiskaming. With a view from just about every room, it's a relaxing place to spend the night. Or, if you're the camping type, they have a full-service campground, with the lake only meters away. If you were thinking of making your trip a two-day ride, this is a great place to stop for the night. And the owners are riders themselves!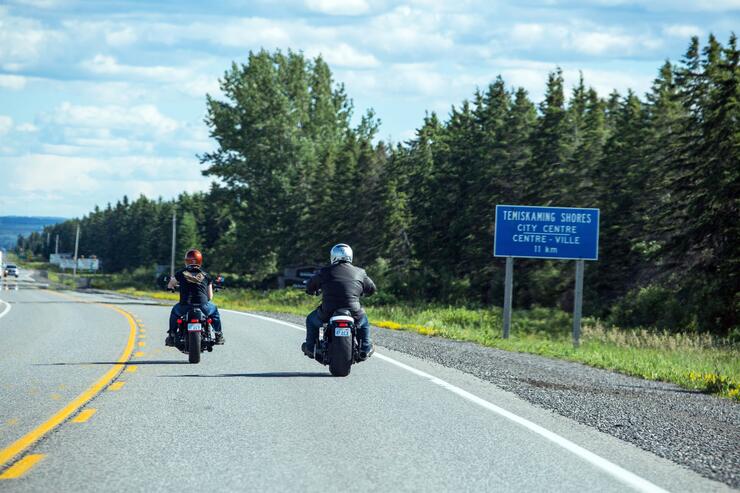 Northward Ho!
At the northernmost point of your tour is the former town of New Liskeard (now part of Temiskaming Shores along with Haileybury and Dymond), host to the now-defunct Bikers Reunion. For 16 years, this event attracted thousands of riders from near and far, and all the proceeds were donated to the local hospital.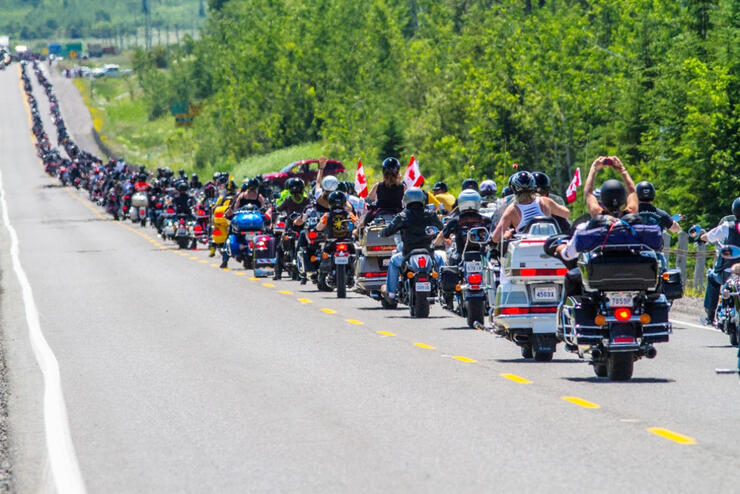 Gilli's Truck Stop on Highway 11 is a common meeting place for riders, where you'll find dedicated parking spots and storage for helmets and gear. Good food at great prices and a quick way to gas up the belly and the tank quickly. Rooster's Bar and Grill in downtown offers a comprehensive menu and a licensed patio right on the shore of the lake. The food and the view keep riders coming back for more.
A Quick Detour: Kap-Kig-Iwan
If you've spent the night in Haileybury or New Liskeard, consider a quick half-hour detour up to Englehart and Kap-Kig-Iwan Provincial Park. There's a great scenic lookout for riders right off Highway 11. But don't take our word for it:

Quebec, Non?
On your way south, you'll take highway 101 through Quebec. This area is well-known by riders as a choice route and local culture takes front and centre here. In the Town of Ville-Marie, there are two must-see attractions. The Maison du Frere Moffet is Ville-Marie's oldest house. Built in 1881, it brings the early days of Québec's Témiscamingue Region back to life and highlights the role the Oblates played in the region's colonization. Not far from there is the Salle Augustin-Chénier, an auditorium and exhibit hall under one roof. Well known as a showcase for visual and performing arts, the Salle is also home of International Biennial of Miniature Art.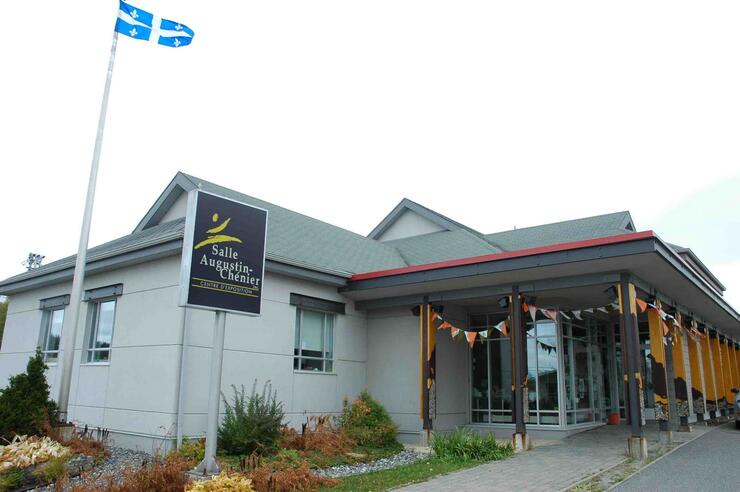 A Rich Cultural Heritage
The tour region is home to four First Nations groups. In Quebec, there is the Temiskaming First Nations near Notre-Dame-du-Nord, Kabaowek First Nation near Kipawa and Wolf Lake First Nations near Témiscaming and in Ontario, the Temagami First Nations is located on Bear Island.
As you pass back into Ontario you'll follow the Ottawa river to Mattawa, then head back into Quebec. On your way through Mattawa be sure to stop at Myrt's Restaurant, a known northern motorcyclist hang-out, for quick bite before finishing the last leg of your tour. If you're up for a short detour down some beautifully forested roads rarely seen by those drivers just trying to get from point a-to-b as quick as possible, touching the northern border is one of Canada's most spectacular provincial parks—Algonquin—this short byway is a true northern undiscovered gem.
Down this quiet road, you'll also find Maxwell Pottery Studio. Unique designs, bright colors and impeccable craftsmanship have made Maxwell Pottery one of the pre-eminent production studios in Canada.