The Couple that Plays Together, Stays Together
Relationship counselling? Couples retreat? We've got a better idea: a motorcycle journey for two. Whatever stage your relationship is at, we've got a trip idea for you.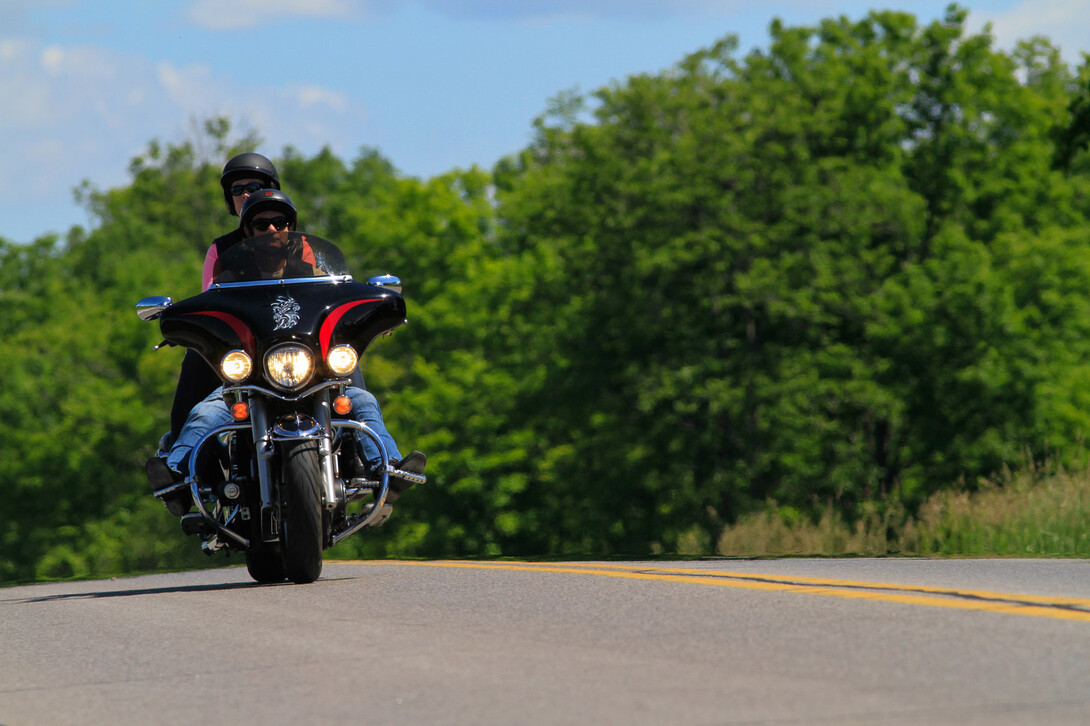 It's widely known that the divorce rate hovers around 50% in most western cultures.  Blame it on social media, the internet, or Donald Trump, but the reality is, most relationships grow stagnant over time from lack of variety and excitement. We settle into our routines, have kids, and stop "dating" our significant other.  
Sure, you could take an all-inclusive vacation to a beach resort, but that's not very original or stimulating. If you really want to add a spark back into your relationship, do yourself a favour and book your next vacation riding motorcycles in Northern Ontario!
Within this great province of ours exists an abundance of world-class touring routes. I'll be breaking down three classics that fit three different stages of relationships. All of the routes listed below (and many more) can be found at the Tour Planning resource here. 
Category 1: Easy riders
Ideal for new relationships less than a year old.
Ride: Lakeshore Wave Ride
Area: Bruce County
Distance: 152 km
Approximate Duration: 1 Day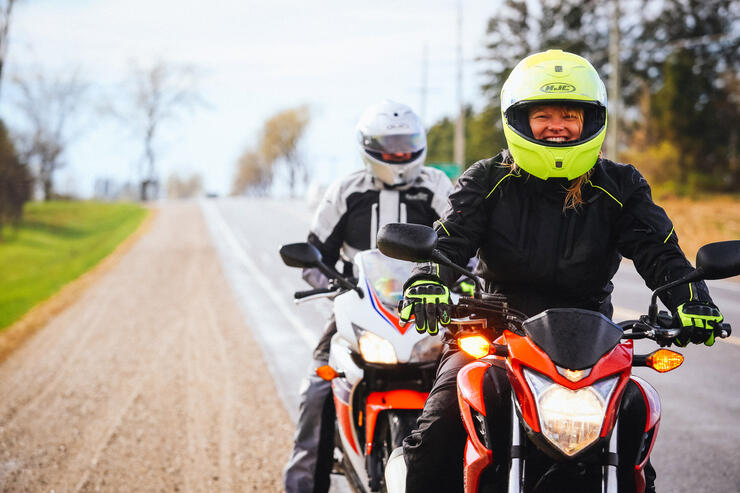 The Lakeshore Wave Ride is ideal for couples newly dating; a shorter ride by touring standards, it can be completed in a single day when leaving from Toronto, while packing in a few fun activities along the way. Watching the sunset over Lake Huron from North Shore Park is a favourite, or grabbing a bite to eat at Sola's Beachfront Grill. 
The tour also passes through Port Elgin, a popular waterfront town during the warmer months. Just meters from the shores of beautiful Lake Huron, this is the go-to trip for those who love to check out tranquil waterfront views while twisting a throttle. The Wave Ride will give you and your new partner some valuable bonding time while getting to know each other, with a lesser commitment to time and travel of the longer loops. If you decide to make it an overnight adventure, make sure to stay at the Taylor-Made B&B, a great option to spend a relaxing night at a local establishment run by a veteran motorcycle touring couple Dave and Barb Wynd.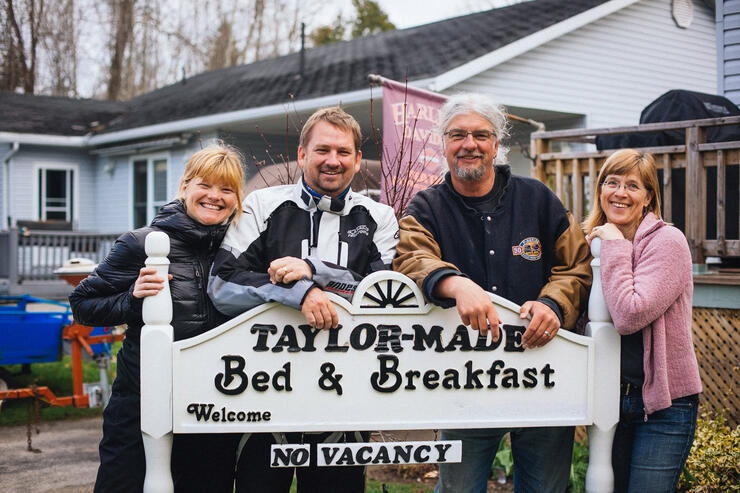 Category 2: going steady
Recommended for relationships going 10 years and over, this is for the couple that regularly hits the road for weekend road trips and is seeking a new challenge.
Ride: Ride the Highlands: The Highlands Loop
Area: Ontario's Highlands
Distance: 1,000 km
Approximate Duration: 3 Days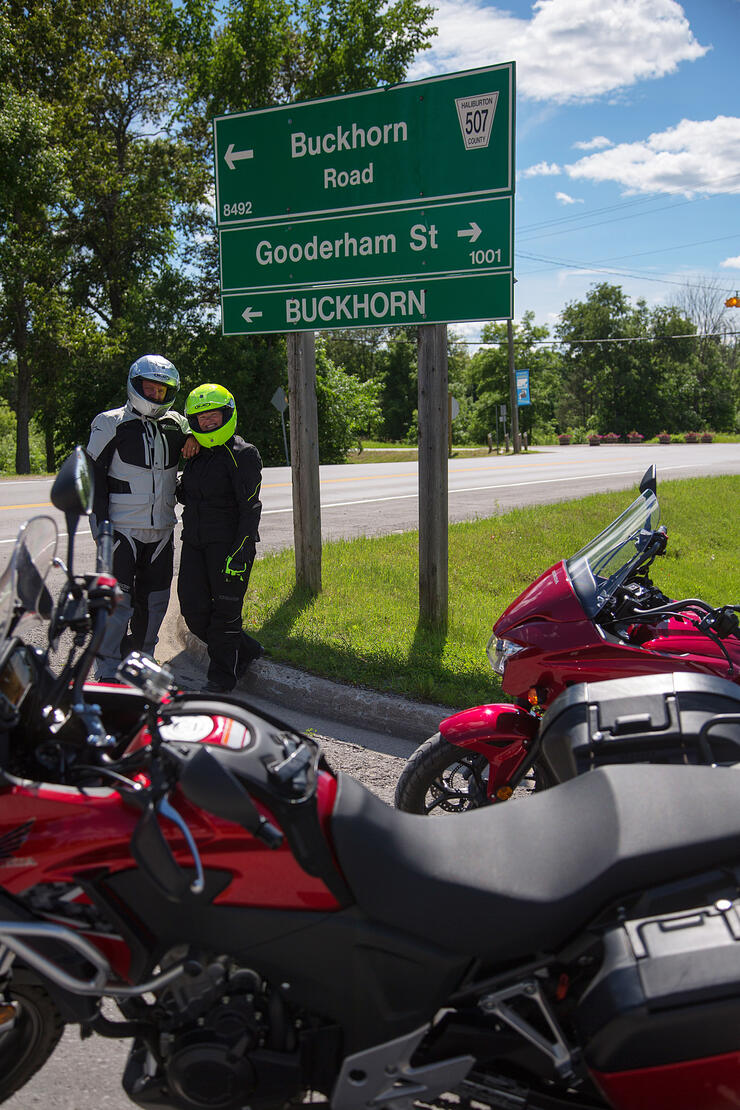 Ride the Highlands is the perfect route for couples who regularly take day trips together (be it on one large touring bike or separate machines) and are looking  to expand their adventures to a multi-day trip. The Highlands Loop is a good medium-length tour that can be tackled in a three-day weekend while providing some valuable bonding time with your partner. Spend a night or two at a bed and breakfast or cozy hotel, and then back home. 
Ride the Highlands is home to some of the most popular roads for motorcyclists in the province including Highway 35, Buckthorn Road (aka "The 507"), Elephant Lake Road, and a host of others, twisting and winding its way around Northeastern Ontario  including a portion through the famous Algonquin Park. A few days together on this route will save you thousands in relationship counselling!
Category 3: In for the long haul
This is the tour for those ride-or-die couples who count their anniversaries in decades, not years. 
Ride: Ride Lake Superior (Circle Tour)
Area: Algoma, Michigan, Wisconsin, Minnesota
Distance: 2,300 km
Approximate Duration: 8 Days+ (14 recommended)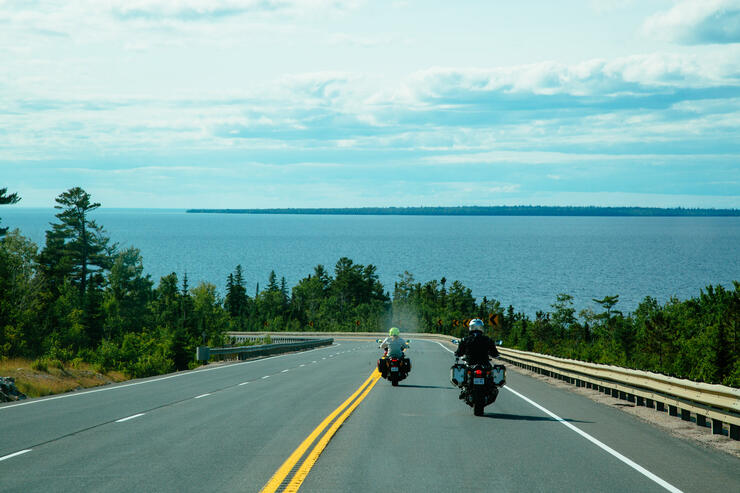 The couple who have seen it all, and are looking for that ultimate touring experience— this is the one for you. The Lake Superior Circle Tour is bucket list material going up against any continent or country. It's the only ride of its kind that takes you through multiple states and a province, while tracing the shores of the largest freshwater lake in the world. 
While smaller sections can be ridden piecemeal,  I can tell you from experience (I was lucky to do the complete tour in 2014) navigating your way around the entire loop is highly recommended. The official website has a ready-made eight-day itinerary, but with the amount of things to see and do along the way, I'd recommend two full weeks to complete this one. For more information on lodgings and great restaurants as well as a host of unique activities throughout the journey, see my article here.