Highway 118 Through Haliburton County
Ideal for fall touring, this beautiful and twisty stretch of road between Bracebridge and Bancroft is a favourite for riders throughout motorcycle season.
Everyone has their favourite motorcycle road in their backyard. Fortunately for me, I have many of the most epic roads in Ontario not far from my front door. Muskoka is a beautiful place to ride at anytime of the year, but cruising twisty roads during the fall season is top-notch! Today we explore Highway 118 from Bracebridge to Bancroft and the 128 km of its entirety.
If you're familiar with the Ride the Highlands Dynamite Alley route, you'll notice that the 118 connects the middle of the western side of that route to its eastern leg. A very handy (and fun) way to mix it up a bit next time you're on it.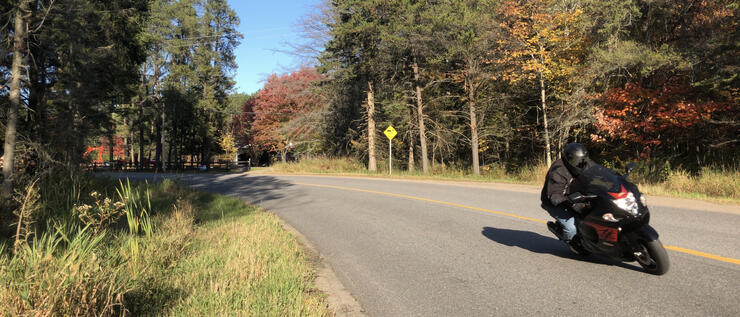 Leaving my house in Huntsville, I had my Royal Distributing Suzuki Hayabusa heading south on Highway 11 to pick up the 118 at its western starting point. Immediately, the bike was on autopilot as it carved through smooth sweeper turns.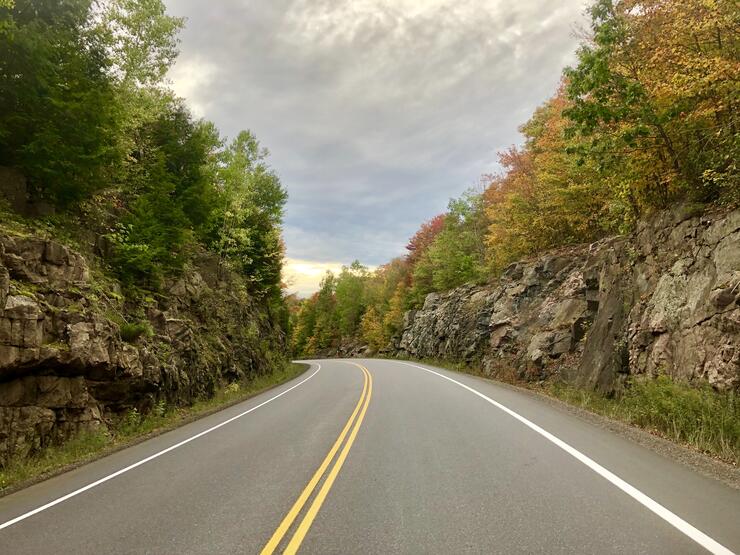 The first section of the 118 has an abundance of quality road that cuts through Canadian shield rock. This continues until you reach Carnarvon at the Highway 35 intersection. There are plenty of signs warning motorists of wildlife such as moose and deer. Seeing these beautiful creatures up close is great, but not while moving on a bike. Extra caution should be taken, especially during the dawn and dusk hours.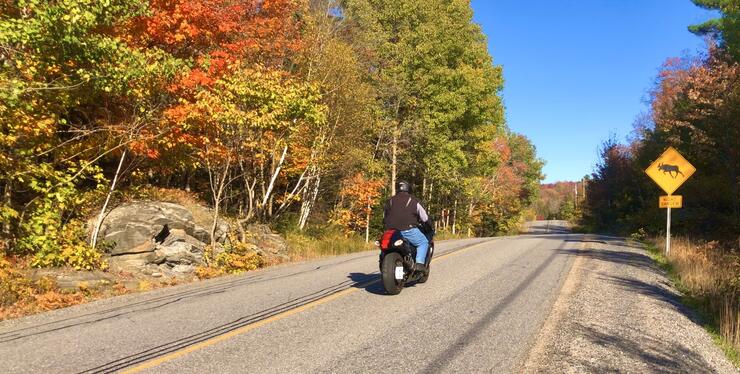 Twisting the throttle through the midsection of Highway 118 will bring you into the centre of Haliburton County. This is a great spot to stop for lunch, enjoy the Skyline Park lookout, or take a few pictures along Head Lake in the center of town. There are restaurants along the main street, and fuel stations can easily be found throughout the town. If exploring Muskoka on a multi-day trip, this would also be a great place to spend the night.
Continuing east you'll notice that the roads do not straighten out by any means. With more lakes and open spaces through the third section of 118, this is where the colours of the fall leaves really shine. One of my favourite sections of the highway is alongside Loon Lake, where the corners are a little more technical. Not only do you ride along the shores of the lake, but you get the chance to use the outermost side of those tires.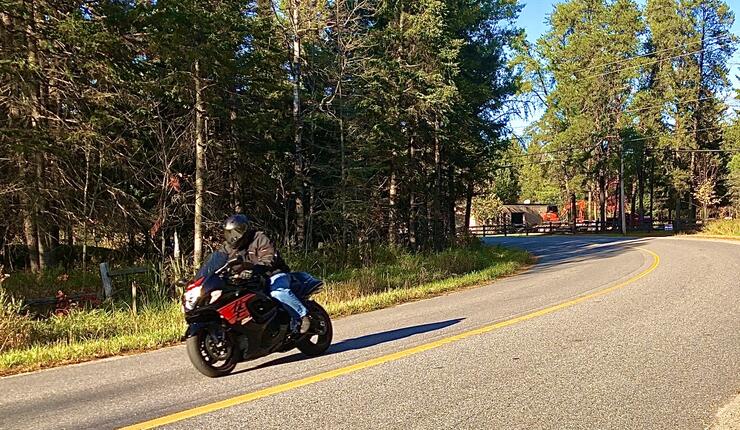 Cruising into Paudash finishes off the 128 km of Highway 118. Heading north on Highway 28 brings you into the picturesque town of Bancroft, which is also a great place to start or finish a motorcycle journey if you're planning on exploring Highway 118.
Where to Stay
Bracebridge has many hotel chains in the area, but if you're looking for something a little more unique, be sure to check out the Inn at the Falls. Its location on the shore of the Muskoka River, only a short walk to Bracebridge Falls, makes the Inn a perfect place to stay for the night. There is dining on location with a wide variety of choices and a patio to enjoy your meal outdoors. Finishing off the day with a swim in the pool is a great way to wind down after riding.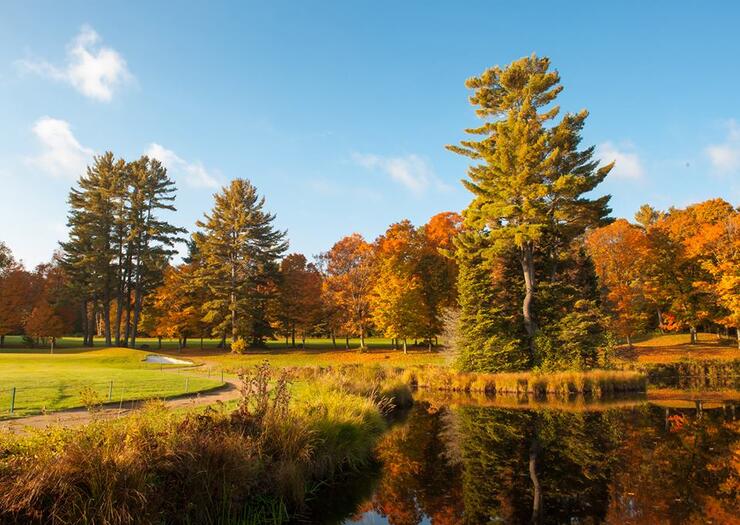 Pinestone Resort and Conference Centre in Haliburton has everything that you'd need on site. Dining in the Stone 21 restaurant, pool, spa, and clean rooms checks all the boxes for any motorcycle enthusiast. There are always packages available to suit anyone's needs. Snowmobile packages during the winter months are also popular.
Where to Eat
The Bancroft Brew Pub is a popular spot in the heart of town. It's rare that I haven't seen a few bikes parked outside. Reasonably priced and great food make it worth a stop when visiting Bancroft.
Mckecks Tap & Grill in Haliburton can be found on the main street of town. Our group makes a point of stopping here, whether it be on snowmobiles or motorcycles. Appetizers and a Reuben sandwich top my list of things to eat here, but don't miss out on a full dinner menu. I have yet to order anything that has left me hungry after a meal at Mckecks.
Bracebridge offers many different dining options, but the Main St. Delicatessen is a frequent stop when I am in town. Try a unique twist on some of your favourite sandwiches, and the poutine is killer! I support local restaurants whenever I get the chance, and you can appreciate the heart and soul that goes into a homecooked meal. Order the signature Main St. Deli sandwich if you get the chance. You'll understand why I continue coming back time after time.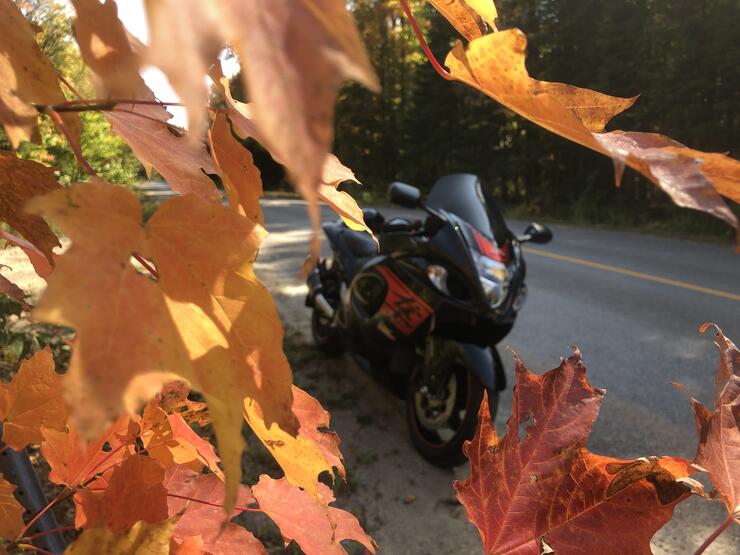 Highway 118 is a main corridor in Muskoka, with smooth pavement and picturesque backdrops. With so many motorcycle-friendly roads in the area, you've got to come up and witness it for yourself. Make it a multi-day trip and hit up other roads such as Highway 35, Highway 60 through Algonquin Park, and Highway 507/Buckhorn & Glamorgan Road, just to mention a few. Fall is the perfect time to venture north and take in the colours.
Check out our series on Ontario's Best Roads:
Be sure to follow Canuck Powersports on social media as Ryan Hawkins explores epic roads and snowmobile trails throughout the year.