Paradise Lagoon
Also known as Blue Lagoon, this secret watering hole outside of Sudbury is a magical way to spend an afternoon.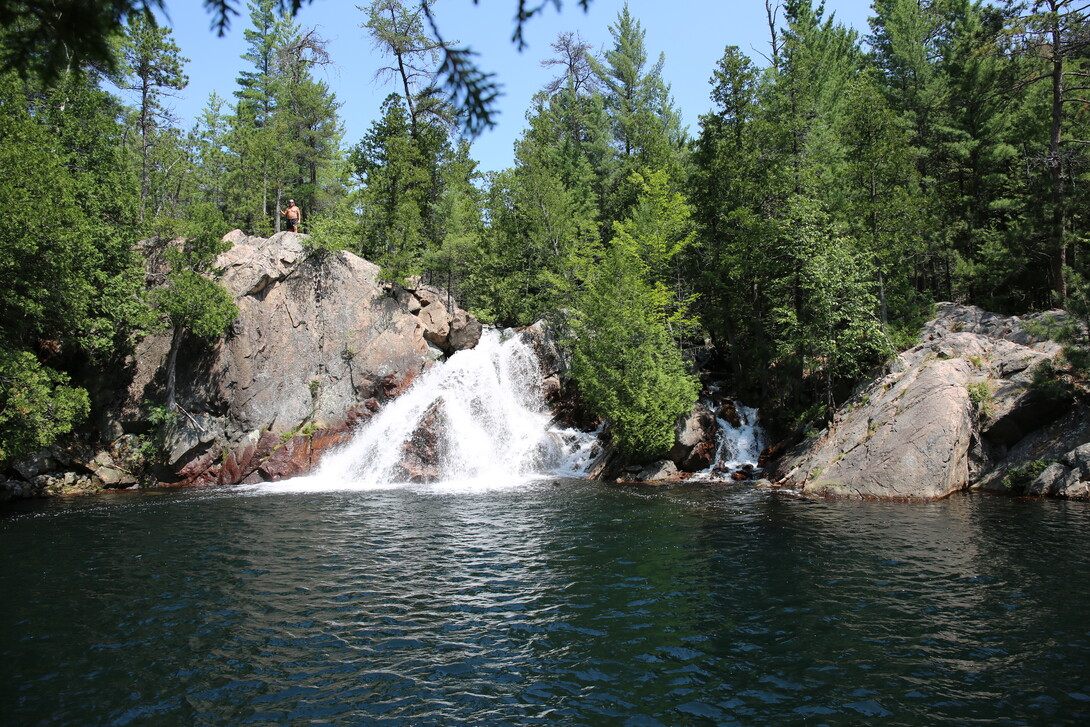 One of the finest vistas in Northeastern Ontario, in any season, is the view from the top of Wolf Mountain. This special back roads destination overlooks Wolf Lake and leads you to one of the best "good ol' swimming holes" around: Paradise Lagoon, also known as the Blue Lagoon.
Where is Paradise Lagoon? 
Most canoeists who pass along the Chiniguchi River don't even know the lagoon exists, as it lies off the portage and across from the main course of the river and associated waterfall. Passersby see the falls, but portage right past the lagoon.
The water of this circular and seemingly bottomless lagoon is often described for its "Windex"-like colour, and is surrounded by steep rock walls of granite and quartz. Its colour scheme is a hangover from the past acidification of area lakes by the original smelters in nearby Coniston and Copper Cliff.
It could be a scene from the 1957 movie, Paradise Lagoon, portraying the life of a butler for a wealthy English family who rises above his servant status after being shipwrecked, or somewhere in the Caribbean. It might be one of those places for solace, inspiration and rejuvenation, or just a great swimming hole on a hot summer's day.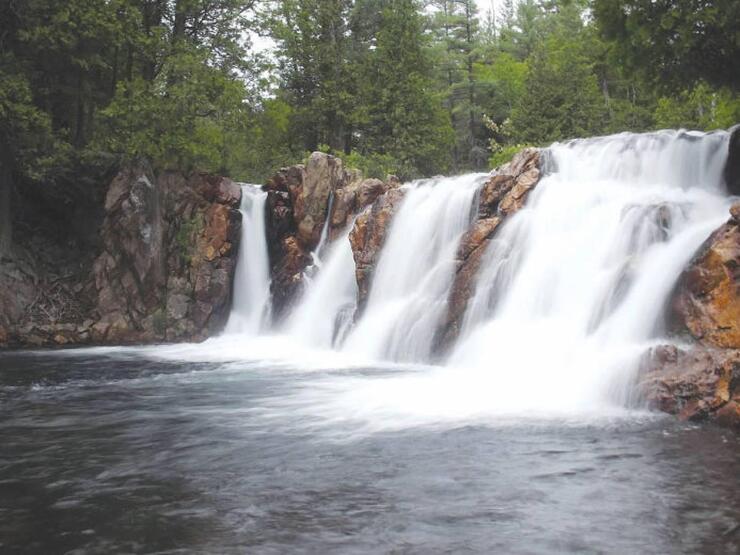 To locals, the surrounding area is known as "little Killarney" for its spectacular scenery of quartzite rock and majestic red pine trees. However, this seemingly hidden gem is, in fact, not all harmonious.
Mining in Paradise?
Paradise Lagoon is south of and physically connected by the Chiniguchi River to the controversial Wolf Lake Forest Reserve.
Within the municipal boundary is the Chiniguchi River Park, including Wolf Lake Forest Reserve. At present, logging has been prohibited, but mining exploration remains a permitted activity.
A media release from the University of Guelph, School of Environmental Sciences reported new research on how allowing mining in the Wolf Lake area "would significantly threaten the largest remaining red pine forest left in the world."
"Wolf Lake deserves intensive study, monitoring and full protection from future development," said Guelph professor Mahdur Anand.
Another interesting aspect, Paradise Lagoon and Wolf Lake are within the rural limits of the City of Greater Sudbury (Ward Seven). The city's own Green Space Advisory Committee has recommended Wolf Lake remain an ecological reserve within the official plan.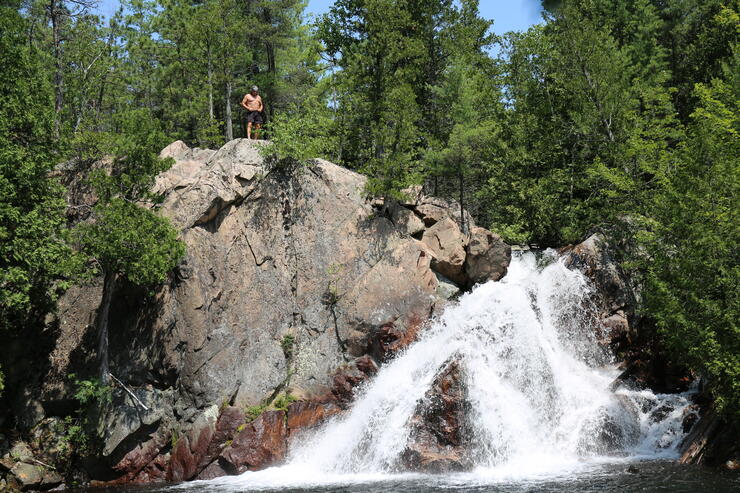 The Wolf Lake Coalition group, made up of more than 20 organizations, says "Ontario should respect the decision of Greater Sudbury to place Wolf Lake off-limits to industry and include a substantial buffer zone." In one of its reports, it states the Wolf Lake area "is the rare jewel in crown of Ontario's old growth red pine forests."
Franco Mariotti, a staff scientist at Science North in Sudbury, says, "It would be incredibly naive and ignorant of our past history as a lumbering community, before Sudbury became a mining community, and incredibly short sighted of our future if we don't protect Wolf Lake."
Mariotti says one tree taken for research purposes showed the tree had survived five ground fires in its 240-year history. He says the old growth red pine is truly a succession forest with many age classes, and research is indicating fire has something to do with the regeneration.
getting to paradise lagoon
Paradise Lagoon by Canoe 
A great two- or three-day canoe loop covers the area lakes starting with Matamagasi, Silvester, Wolf, Dewdney, Chiniguchi, Laura, Evelyn, Irish, Bonesteel and Wesell, and then to McCarthy Bay, the NE arm of Matagmasi Lake, on your way back to your starting access. 
For a day trip and direct access to the Paradise Lagoon, the best course is at the narrows between Matamagasi Lake and Lake Wanapitei (N46º 45' 16.7" W80º 37'17.4" or WGS 84 17 T E 528908 N 5177969). Paddle northwards and take the NW arm to the end of the bay. There is one portage and another short paddle going upstream on the Chiniguchi River. You will soon arrive at the Chiniguchi Falls, a worthwhile sight. Walk the portage upstream to the north end of Silvester Lake. Immediately ford the narrow passage (you may need your canoe). Once you have crossed to the east side, walk about 100 m to the Paradise Lagoon, hidden from the portage route.
This is the secret back roads access.
Paradise Lagoon by hike
You can mountain bike or get here by ATV. Paper or digital topographic maps will help. You can drive and take a very short hike into the Paradise Lagoon via Kukagami Lake Rd., north from Hwy. 17 and east of Sudbury (Wanapitei). Follow the signs to the Sportsman's Lodge. Drive north approximately 11 km and cross what was the railway line.
Continue to follow the signs to Sportsman's Lodge for another 11 km. You will come to a major intersection and turn left (do not follow the signs to the Sportsman's Lodge and Kukagami Lake). Turn on to Matamagasi Lake Rd. and then Bushy Bay Rd. You will be travelling approximately 10 km to the Lake Wanapitei/Matamagasi Lake Narrows, where you can launch your canoe.
Drive on—you will travel past the narrows between Lake Wanapitei and Matamagasi. You will drive past many entrances to camps and cottages. It remains a good gravel road. This is where your GPS comes in handy as you will drive approximately 12 km more on a primary forest access road to a road on the right (E) that turns SE; N46º 49' 59.2" W80º 39' 14.2" or 17 T E526390 N5186676. You will travel less than 1 km and look for the trail on the left or NE side. It is about a 300 m walk (NE) into the lower end of the Paradise Lagoon, N46º 49' 56.5" W80º 38' 38.8" or 17 T E527141 N5186597.
You can walk around on the east side. If you drive past this turn and continue on the main road, you will come to a snowmobile trail sign pointing NNW to a road that takes you to Wolf Lake Mountain; a great view of the area's dotted lakes. Drive further on and you can access Silvester Lake right off of the main road and paddle downstream to Paradise Lagoon or north into Wolf Lake.
'Paradise Regained' is the sequel to an epic poem, 'Paradise Lost' by John Milton. It is a shorter poem and focuses on the confrontation between Jesus and Satan in the wilderness centered on the theme of temptation, all within fundamental Christian theology of the 17th century. It may not be in context to compare what is happening within the Paradise Lagoon area to an epic poem, but the opportunity to create a greater good out of conflict within nature may exist in a similar way. 
plan your trip to Paradise lagoon in sudbury today
Whether enjoying the area by snowmobile or snowshoe in the winter, or ATV or hiking in the summer, your visit to Wolf Lake and the Paradise Lagoon will have you looking forward to your next adventure in Northeastern Ontario.