Manitoulin Island Camping and RVing Guide
Manitoulin is a fantastic place to explore in an RV or camper. Discover the famous sights of the world's largest freshwater island and the best spots to camp.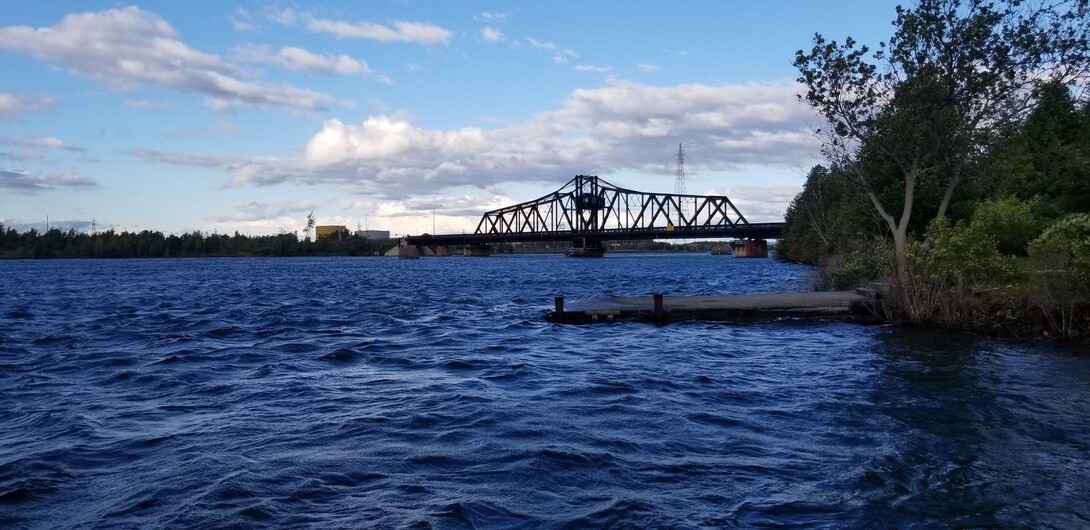 Beautiful Manitoulin Island, with an area of 2766 sq kms, is both awe-inspiring and full of adventure. Set in the turquoise waters of Ontario's Georgian Bay, just under a two-hour drive from Sudbury, Manitoulin is the perfect backdrop for one of our country's fastest growing activities: camping and RVing.
Camping and RVing has grown tremendously in Canada and Northeastern Ontario is no exception. This is especially true over the past six months as the pandemic has led Ontarians to search out fun and safe ways to travel around their own province. According to a  2019 North American Camping Report an independent study supported by Kampgrounds of America (KOA), an influx of younger enthusiasts is driving the increase. Canadians also tend to be more satisfied with camping and RVing than their American counterparts. Spending time under the stars truly is a Canadian tradition and what better place than the world's largest freshwater island: Manitoulin.  
Before you pack up the tent, hitch up the trailer or 5th wheel, or climb behind the wheel of your C-class or A-class recreational vehicle, there are a few things you should know about Manitoulin Island. As a seasoned camper and RVer, who has explored every province of Canada and owned nearly a dozen trailers, I'm here to share the inside track one of Ontario's off-the-beaten-path hotspots: Manitoulin Island. With its well-maintained roads, scenic vistas, and sparse traffic (there's just one traffic light on the whole island), exploring Manitoulin is a real treat for RVers. Camping and RVing is about all exploring and there are plenty of must dos to explore while visiting the world's largest freshwater island.
Manitoulin island attractions
Manitoulin Island is home to a number of Indigenous nations including Wiikwemkoong Unceded Territory, Canada's largest unceded reserve. One way for travellers to experience the island from an aboriginal perspective is to check-out the Great Spirit Circle Trail. Try your hand at fresh bannock over an open fire or partake in the medicine walk, canoe heritage tour, mother earth hiking trail experience, or the Voice of the Drum gathering, where participants are taught the heartbeat of Mother Earth. The Great Spirit Circle Trail is unique to Manitoulin island and definitely a must do during your camping and RV trip. Call ahead or email to book your experience. 
Perivale Gallery is owned and curated by former Ottawa school teacher Shannon McMullan, and was first opened by her parents nearly 40 years ago. Most of Perivale Gallery's artists hale from Ontario, and many are based right in Manitoulin. "We are known as one of the finest contemporary art galleries in Ontario," boasts McMullan. Her popular gallery is another must do, and represents more than 60 artists and artisans. Perivale is so popular, in fact, it was crowned the TripAdvisor Award of Excellence from 2014-19, and this year won the coveted Traveler's Choice Award, ranking in the top 10% of attractions worldwide. 
Manitoulin's beautiful Bridal Veil Falls is another must do while camping the island, found just off of Hwy 540 at the entrance to Kagawong, the picturesque waterfall is surrounded by lush foliage in a wonderful outdoor setting. There is a picnic area located at the top of the falls, with a path that leads to the base of the falls. There are also trails on either side of the river valley. Take a swim in the pool at the base of the falls and tour the village nearby that features art galleries and a museum. While the top parking lot has limited capacity, there is plenty of parking at the lower parking lot and more in the main village. 
Avid hikers will not want to miss the island's famous Cup & Saucer Trail–a 12 km hiking trail that is an extension of the Niagara escarpment and boasts 70-meter cliffs and breathtaking views. The trail runs at the junction of hwy 540 and Bidwell Road. Campers/RVers looking for a wonderful day of hiking should definitely check it out! Be sure to come early as the parking lot (and the overflow lot) can fill up quickly. 
Meldrum is another great spot worth checking out on the far west side of Manitoulin Island, in an area that reflects Manitoulin's early maritime history, including the Mississagi Lighthouse. Enjoy the walking trails along limestone ledges offering breathtaking views of Lake Huron. The lighthouse is another definite must do while touring the island.
There are two breweries on the island, and both are worth a visit. Manitoulin Brewing Company in Little Current offers its signature Swing Bridge brew along with its Cup and Saucer ale. Further afeild is Split Rail in Gore Bay which offers a selection of craft beers with fantastic views and a large patio. Parking at Split Rail is easy with multiple lots near the brewery. Sit and watch the boats come in or take some to go and enjoy them back at your campsite. 
Camping Options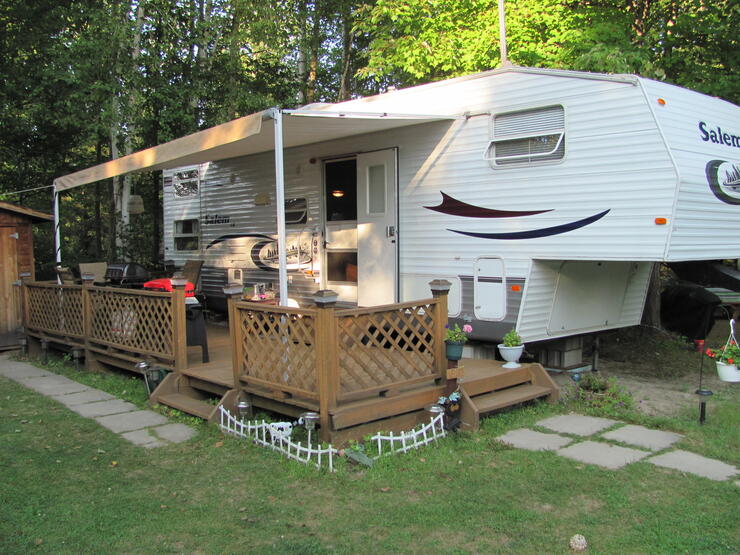 One camping/RV option on Manitoulin Island is the Providence Bay Tent & Trailer Park, a spacious campground located along Manitoulin's longest sand beach. With 250 campsites each offering electric and water hook-ups, along with pump-out service and a dumping station, Providence Bay is a great choice for RVers or tenters alike. The campground has fresh drinking water, a laundromat, and a convenience store. Irene Cornish has owned and operated the campground for over 50 years. 
Batmans
Another campground to consider, one of TripAdvisor's top rated camping/RV spots, is Batman's Cottages & Campground founded by Ralph Batman in 1969, as a family operated business. The current owners continue to offer great camping on Sunset Beach in glistening waters of Sheguiandah Bay. Batman's boasts breathtaking sunrise views of the La Cloche Mountains and offers 142 fully serviced 30/50 amp pull-through camping sites, in the splendor of magnificent Manitoulin Island.
Hideaway Lodge, in the village of Kagawong, is another must do nestled in a quiet bay on the North Chanel. This family-owned lodge is located about half an hour west of Little Current. Whether you stay at Hideaway lodge or not, it's a great place to stop by for a visit. From here it's an easy walk to Bridal Veil Falls and the attractions that Kagawong has to offer. 
Camping insiders
While camping and RVing on Manitoulin Island during the spring and summer, black flies and mosquitoes are inevitable. Check out these awesome tips on dealing with bugs. 
How to get to Manitoulin Island 
Driving your trailer or RV across to the island requires the lifeline known as the M.S Chi-Cheemaun–a ferry capable of transporting 600 passengers and 150 vehicles, between Tobermory on the Bruce Peninsula and Manitoulin Island. Check the website for as ticket fares vary by vehicle type (vehicles towing 5th wheel trailers are considered one unit and charged accordingly, for example). The ferry runs seasonally so campers will need to consult the ferry schedule to learn the best time to cross back and forth. The M.S. Chi-Cheemaun has been transporting visitors from Tobermory to the coveted island since 1974. When the ferry is not running, the island is accessed from the north via the famous swing bridge in Little Current. 
Enjoy your camping and RV adventure in beautiful Manitoulin Island, perhaps I will see you there!