Everyone Should Experience North Bay's Downtown Gallery Hop
February 28, 2020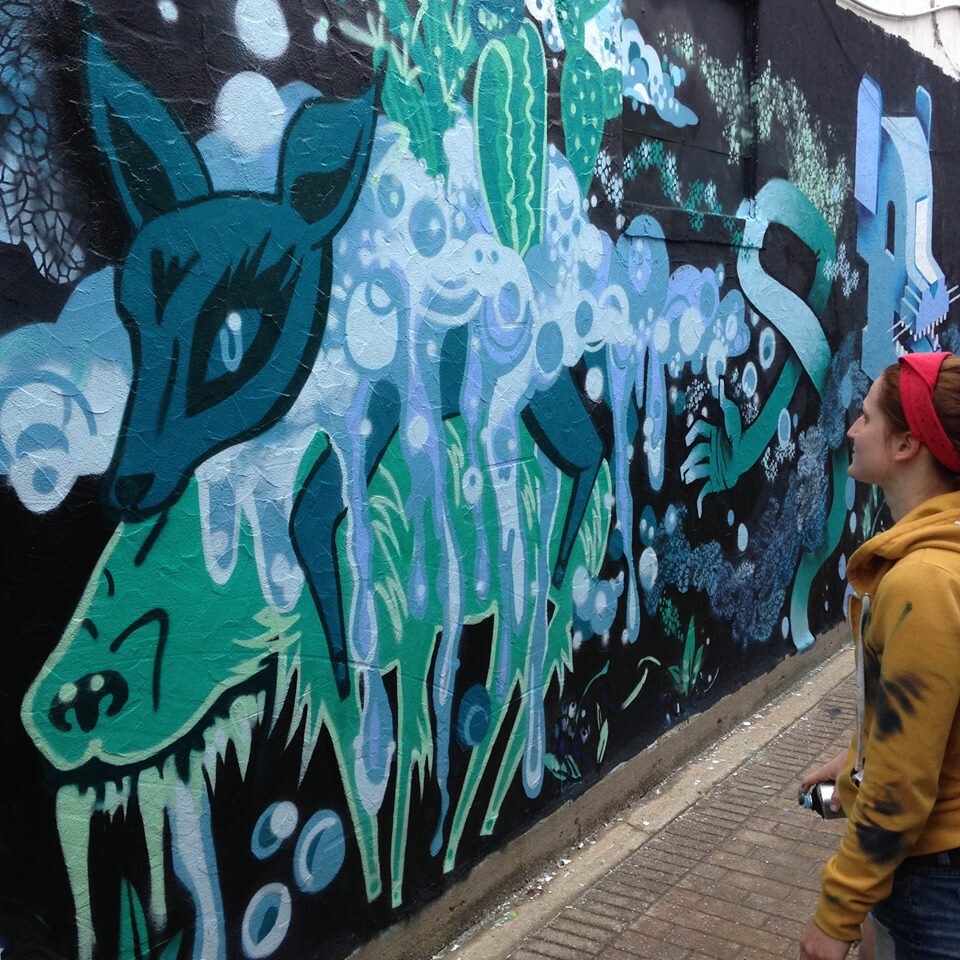 Lace up your shoes, grab some friends and head to North Bay, cause it's Downtown Gallery Hop time—and with four dates annually, it's literally Gallery Hop season all-year-round. Until you experience it yourself (which I highly recommend), let me be your eyes, ears, and very tasteful shoes, as we walk this one together. 
HOP STOP #1
Hitting the road, Gallery Hop map in hand (designed by 9lives Design and residing as fridge-art at my house all year round), we reach stop #1 - K Bros Maroosis Art Centre. Tucked in the corner of Algonquin Avenue and Main Street West, this cozy little art supply and framing store moonlights as a gallery space as well. Focusing on local and Indigenous painting, it's the perfect place to start our Hop adventure. Not to mention the amazing mural a couple doors down for a quick selfie. 
HOP STOP #2 -3- 4
Heading west to Main Street, we're in the heart of North Bay's downtown. With historical storefronts, charming century-old light posts lining the bricked roads, and mural-lined alleys, walking to each location is easily one of the best things about this Gallery Hop. A few more mural selfies later and I've hit stop #2 on the map— The Frame Maker & Gallery. This locally owned store checks so many boxes: custom framing, unique gifts with local photography, painting and pottery lining the walls. 
I make my way back outside as artists, art patrons, and just good ol' lovely people are starting to fill the sidewalks as everyone is getting in the Hop groove. Stop #3 is just a hop, skip, and a jump down the street. The FARM (Fashion, Art, Retail Market) is a collective of emerging and established designers, artisans, movers and shakers, and one my favourite downtown spaces. This hyper-Canadian shop is boutique-style retail in the front and makers-space studio in the back. With a love for all things local, sustainable, and handmade, the vibes are always good at The FARM (and it smells amazing in here!).
Crossing the street, I head over to stop #4 - Stix & Stones Yarn Boutique. Cozy and warm, this shop is North Bay's premiere source for knitting, crocheting, crafters, and makers. Specializing in quality natural yarns from primarily Canadian based sources, they work with both small, independent dyers to larger companies. This little but mighty store offers workshops as well as social knit nights! Stix & Stones offers walls of colour washes and textures acting as an art piece in itself. 
HOP STOP #5 - 6
Returning to the pavement, I head a little closer to our beautiful waterfront to Oak Street for location #5 - Dead City Studios, a tattoo shop that specializes in custom work and takes pride in its industry. Gallery Hop allows everyone to check out shop owner James Sroga's large acrylic paintings while sneaking an inside view of the tattoo world, with no pressures of getting inked. 
With new ideas, I jog across the street to stop #6, the North Bay Museum. The Museum is a downtown staple, located in a historic Canadian Pacific Railway Station built in 1903. I love getting a glimpse into our local and regional history while I walk through this amazing building. Museum programming is built on both permanent and rotating exhibitions, so there is always something new happening. With Lake Nipissing in the background, it's one of the best places to catch the city's glowing postcard perfect sunsets.
HOP STOP #7 - 8
My next stop brings me a bit east and back up Main Street to #7 - White Water Gallery, North Bay's artist-run-centre, and one of the first (and now oldest) running artist-run centres in Canada. Contemporary exhibitions and media-based works permeate throughout the space. With a mandate promoting work that prioritizes risk and innovation, White Water is a favourite among avid Hoppers. 
Back outside it's just a few store fronts down to our next location, #8 - WKP Kennedy Gallery. Located inside North Bay's performance hub the Capitol Centre, the WKP is a non-profit public art gallery, with two dedicated exhibition spaces jam-packed with local and Canadian history and art. It's a big gallery with a big heart, and a great place to chat with local creatives with a glass of "famous Shelia" punch.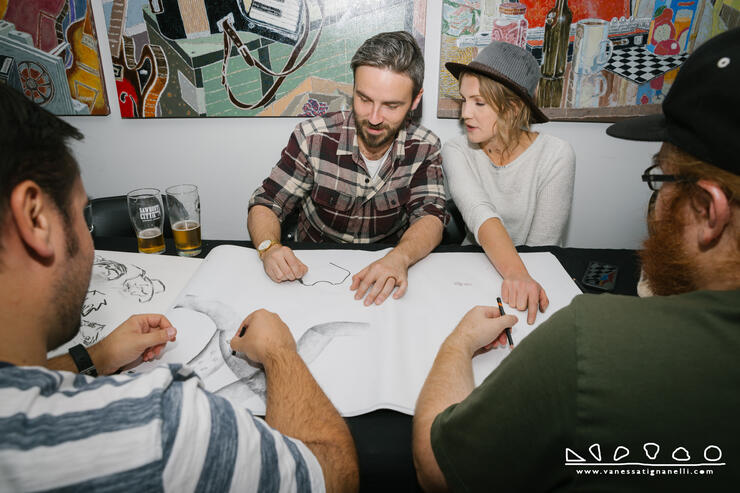 HOP STOP #9 (the afterparty)
That punch went down smooth. Fully inspired, I need food, drinks, and somewhere to work out my art brain and my dance moves. A few blocks of heel n' toes up to First Avenue West, and we've made it to our final resting spot for the night. A century old home converted into a locally owned and loved watering hole—it's stop #9, the Raven & Republic. Beause you guessed it! It's Drink & Draw time! The Gallery Hop DJ is fully invested in rotating good vibes as everyone cheers, drinks, and crowds around tables full of art supplies, paper, and laughs. With charcoal-stained fingers, the beer has never tasted so grand. 
With four Gallery Hops a year, there's always a reason to unplug the WiFi and head over to North Bays downtown. The next date is February 28. Bundle up and strap on those boots, 'cause it's Gallery Hop time!