Kid-Friendly Restaurants
Going out for dinner as a family will never be the same.
Going out for dinner as a family may sound like a perfect way to unwind after a long day, but for parents with young children, the idea may cause more of a headache than tackling a sink full of dishes.
Finding a restaurant that understands children's needs and tastes isn't always an easy task and fast food may be an option of convenience, but probably not the healthiest.
Fortunately, many local restaurants have found a solution for the family dinner dilemma — serving tasty kid-friendly dishes filled with quality, local ingredients and sharing some of their families most cherished recipes.
Here is a list of 10 kid-friendly restaurants (in no particular order) you'll want to eat in. So pack up your kids and enjoy a stress free lunch or dinner at one of these incredibly tasty retreats! Personally, I would start with the ice cream!
The Breakfast Pig welcomes everyone to come and enjoy their delicious meals that have been crafted to blow you away. The menu is filled with temptations and creations that you will want to try! The atmosphere is casual and the only problem you'll find here, is picking what to eat on the MENU! Kids, get ready for a real treat!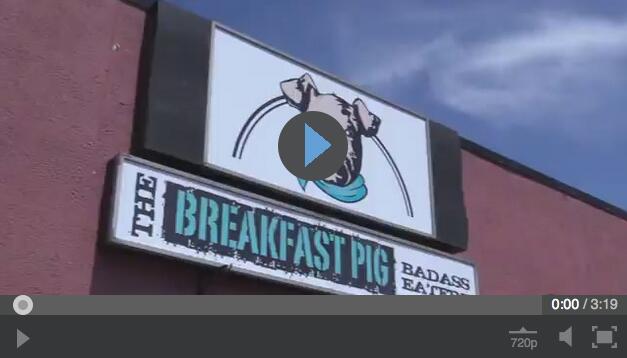 Who doesn't like a great burger? Stack Burger is "New In The Soo" and going strong.
Owner Kevin Syrette describes his market niche as "fast casual." It's somewhere in the middle between fast food and sit-down fine dining with counter service. The idea is to serve up fresh burgers with fresh toppings and fresh-cut fries. They grind their own meat and don't have any freezers so fresh is a guarantee!
Stack Burger is located in downtown Sault Ste. Marie, ON at 71 Spring Street and open for business from 11am to 8pm, 7 days a week!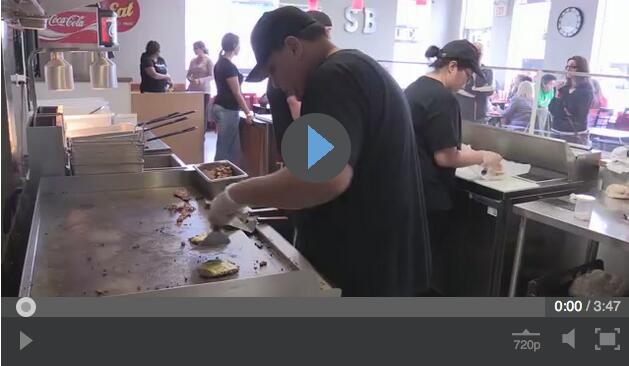 Barsanti's Restaurant carries on the tradition of good food and a full plate. This Barsanti family tradition was established early on with Barsanti's Steak House and The Barsanti's Small Frye (two restaurants that have left generations with the memories of their exquisite food). Having started his career at the tender age of 16, Alfred Caruso worked with the Barsanti family for 22 years before becoming the master of their kitchen in 2003.  The menu includes Alfred's Signature BBQ Baby Back Ribs or Prime Rib Dinner perfect for the adults and more pasta choices than the kids will be able to choose from that will guarantee to put a smile on their faces.

View the full Menu!
Located at 85 Old Highway 17 N in Sault Ste. Marie, ON.
Phone: 705-759-8776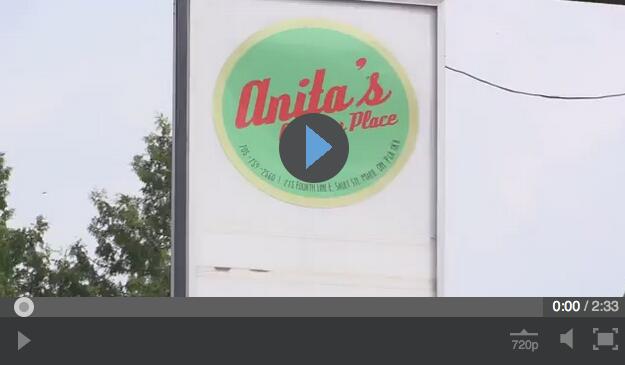 Anita's Country Place is all about home cooking with a country feel. Owners Andrew and Megan are offering home cooked goodness, including fresh sandwiches, and soups made in-house every morning. Their signature turkey club is a popular menu item (cooked and prepared by Andrew himself), the meatball sub and mac and cheese will be a guarantee favourite for the kids. Some soups you'll find throughout the week are; potato and bacon, split pea and ham, minestrone and Italian wedding (even the meatballs are homemade).
You can find them located at 215 Fourth Line E., Sault Ste. Marie, ON!
Wacky Wings was built with the intention of creating a perfect relaxed atmosphere where families could enjoy a meal in a fun environment, and they did just that. They pride themselves on having the friendliest staff who will go above and beyond to ensure your experience with the is second to now. They cater to families, large groups, sporting teams and sports enthusiasts alike. Go for the food and the fun!
There is no shortage of great entertainment here! From a variety of interactive entertainment games where the whole family can test their skills in a fun competitive nature, to rewarding yourself with great prizes, it's all part of the interactive family experience at Wacky Wings. The menu items are family favourites and they have ample options to choose from no matter what your appetite desires.     
A full menu consists of burgers, ribs, sandwiches, salads, appetizers, wraps, pizza and of course chicken wings! There are over 100 flavours of chicken wings on the menu. They are sticky, messy and delicious!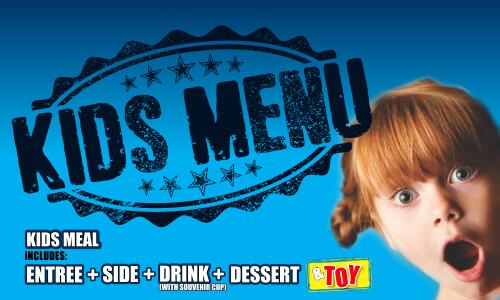 Ask your server about the Flavour of the Month wings to try something new and challenge your taste buds!
Find the full Menu here!
There are two locations in Sault Ste. Marie, ON.
350 Lake Street
Sault Ste. Marie, ON
Phone: 705-253-2000
688 Great Northern Rd
Sault Ste. Marie, ON
Phone: 705-575-2000
Since 1961, Muio's has been home to family dining in the Soo. Famous for its Chicken on a Bun, Muio's also offers many Soo favourites such as delicious pizza, flavourful burgers, and tasty fish & chips. Affordable prices, tradition, flavour, and a full-meal restaurant with huge portions means you need to get there early on most days and with a big appetite.
Located on the corner of Queen and East Street (685 Queen Street East) in Sault Ste. Marie, ON in the downtown hub, the friendly staff is always ready to satisfy your dining needs. Kids, you will love it here!
Brothers and owners of Giovanni's Restaurant John and Gino Cavaliere have been in business together in Sault Ste. Marie for over 35 years. In 2004, they were proud to pass on their secret pizza recipe to the next generation of Cavaliere's, Nick and Sergio when they opened an extension of their restaurant business, Fratelli's.
Fratelli's came to life in 2004 when John and Gino had a vacant building beside Giovanni's and they asked Gino's sons Nick and Sergio (nephews of John) if they wanted an opportunity to carry on the family recipes next door. Without hesitation they agreed and the rest is history!
The doors opened for the first time in April of 2004 and immediately became a local favourite for great pizza. Nick and Sergio have been in business together for over 10 years and have enjoyed a great working relationship with each other ever since. Although John and Gino remain the primary operators of the business, opening Fratelli's doors allowed Nick and Sergio an opportunity to offer an extension to their families business and proudly serve their customers with authentic Italian family recipes.
Over the years Giovanni's and Fratelli's have been fortunate and grateful for their hard working and loyal staff members; which is the reason their service is second to none.
Their pizza is made with the love and passion that the family has for making food great. The original family recipe for the pizza originated with Nick and Sergio's grandmother Ida and has been tweaked over the years by John and Gino to bring each generations personal touches to the recipes. Only the freshest ingredients are used and all the pizza sauce and dough are made fresh daily in house. It is said that the Calabrese pizza is a customer favourite and one you must try.
The staff of Fratelli's invite you to dine with them any day of the week (open 7 days for lunch and dinner - located next to Giovannis), and enjoy their full menu with pastas, pizzas, delicious desserts and more! Eat-In, Take-Out, and delivery service is available! The restaurant is fully licensed.
A home-style crust and pizza sauce topped with the best quality products awaits you at Fratelli's Kitchen & Pizzeria!
522 Great Northern Road (next door to Giovanni's)
Sault Ste. Marie, ON
705-256-1313
www.giovannisrestaurant.ca/fratellis
John and Gino Cavaliere, two young brothers, began their venture into the restaurant business in 1978. With lots of ambition, hard work and family support, Giovanni's is now one of the most famous restaurants in the city of Sault Ste. Marie. The Giovanni's menu is a reflection of southern Italy, with richly flavored sauces, homemade pastas, steaks, and BBQ back ribs that people rave about being the best in the city or country!
Giovanni's is open 7 days a week for lunch and dinner (ample parking available) with take-out and delivery service as well. Giovanni's is fully licensed, with an extensive wine list, featuring their own private label wine! Couple the menu with Giovanni's warm, relaxed atmosphere, friendly staff, and you'll have a true authentic Italian experience with your family and friends at Giovanni's!
Location
516 Gt. Northern Rd,
Sault Ste. Marie, ON
P6B 4Z9
p. 705.942.3050
BUSINESS HOURS
Monday - Saturday
11:30 AM - 11:00 PM
Sunday
11:30am - 10:00pm
 It All Started... in Sudbury, Ontario, in 1980 when they opened their first Casey's restaurant. Since then, they have grown to over 160 restaurants and Sault Ste. Marie was lucky enough to make the list!
Casey's provides a family friendly atmosphere and is located in Algoma's Water Tower Inn, so this is not only a convenient location if you're staying at the hotel, but a delicious one as well. The service is top notch and the food is guaranteed to be a big hit with the whole family.
Location
360 Great Northern Road, P.O. Box 787
Sault Ste. Marie, Ontario
Phone: (705) 945-7610
Holy Cow is now open for business! You can find this local favourtie ice cream parlour at 938 McNabb Street in Sault Sainte Marie, Ontario. With 64 flavours to choose from you are sure to find your favourite or maybe even something new! Holy Cow specializes in custom made REAL ice cream cakes. Pick your favourite ice cream flavours and filling and they will create an ice cream masterpiece that you will love. Holy Cow is the Sault's only cold stone!
Open Daily, seven days a week from 11am to 10pm!
938 McNabb Street
Sault Ste. Marie, ON
(705) 256-6455
Visit their facebook to find out more!

Photo Credits: https://www.facebook.com/pages/Holy-Cows-Ice-Cream-Parlour/114024648767…