3 Waterfalls You Can't Miss Near #theSoo
If you're a waterfall chaser or just looking for an epic waterfall road trip, this article is for you.
Northern Ontario is a nature lover's paradise. With so many great parks and trails, it can be hard to know what to tackle first! There's a reason why Sault Ste Marie's motto is naturally gifted, and these waterfalls are just a few of Mother Nature's gifts in the area!
Crystal Falls
A short 15-minute drive from Sault Ste Marie's waterfront, you'll find Crystal Falls in the heart of the Hiawatha Highlands Conservation Area. Also known as Kinsmen Park, this area is a hotspot for cross-country skiing, snowshoeing, and other winter sports. Don't be fooled, though: the park is open all year round, so whether you visit in the warm summer months or the chilly days of winter, Crystal Falls will be waiting for you.
This 18-metre waterfall winds around boulders and through crevices as it tumbles down the rock face from Crystal Creek. It's hard to see the entire waterfall all at once, so follow the boardwalk along the left side of the falls. There are a number of platforms to stop and enjoy her from different angles, though my favourite is towards the top. Make your way up to the bridge and enjoy the views from above. As it's part of the Voyageur Trail, you can either continue onwards if you're looking for a great hike or head back down if your wanderlust has been quenched.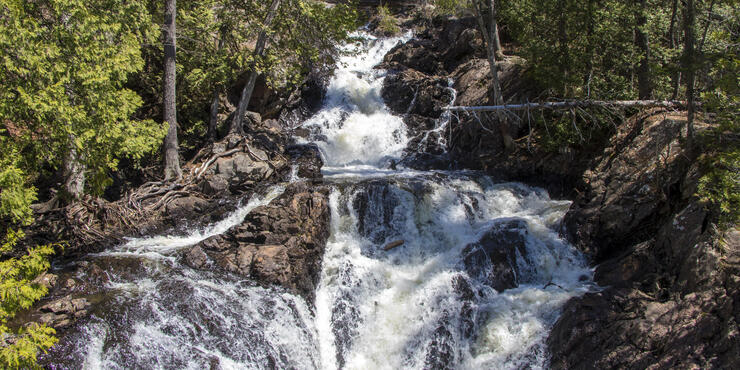 Chippewa Falls
Head north from Sault Ste Marie along the Trans-Canada Highway to find this next beauty. In less than an hour's drive, you'll come upon Chippewa Falls on your right side. Be sure to enjoy the views from the bridge, then head on over towards the waterfall itself where you'll find the trails. While you can climb on the rocks and get right up to the falls themselves, be very careful when doing so as the rocks can get very slippery (especially after some rain).
This area also has a second claim to fame as it marks the middle of the Trans-Canada highway! You can find a plaque commemorating it close to the parking lot, though I think the true star of the area is Chippewa Falls.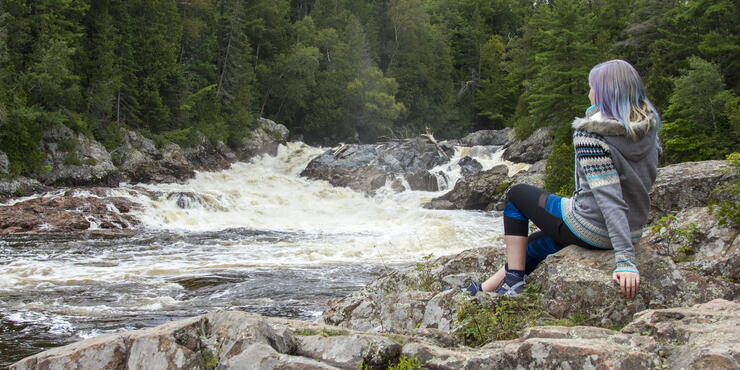 Magpie Falls
Also known as High Falls, Magpie Falls is about two hours' drive past Chippewa Falls and a good 2.5-hour drive from Sault Ste Marie. She sure is a beauty, standing at 22m tall and 38m wide! Enjoy the view from the main lookout, which is just a few metres from the parking lot. There's a bench here which is the perfect spot to have lunch, or a picnic shelter if that suits you better. Before you leave, be sure to take the trail to the right so you can enjoy Magpie Falls from a few different angles.
Depending on when you visit, you may see a roaring waterfall or a small trickle. This is because the flow is controlled by a dam upstream. While it may be tempting to get up close and personal with Magpie Falls, the strength of the flow can change any minute. All it takes is for the dam to open, and she'll be a roaring beast in a few minutes flat!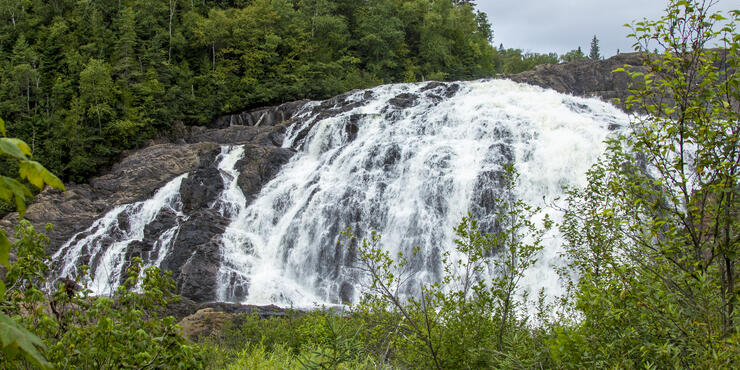 BONUS: Silver Falls
This lesser-known waterfall is just a 10-minute drive south of Magpie Falls. Head back towards Sault Ste. Marie along the Trans-Canada and take a right towards the town of Michipicoten. Drive as if you're heading to the harbour and you'll see signs for Silver Falls. Follow the road as the signs guide you until you see a bridge. Just before it, there's a spot to park on the right side of the road. From there you should be able to see Silver Falls in the distance! There isn't much of a trail, but you can get down to the riverbed and enjoy her from the shore. Bring a canoe or kayak so you can get on the water for a closer look!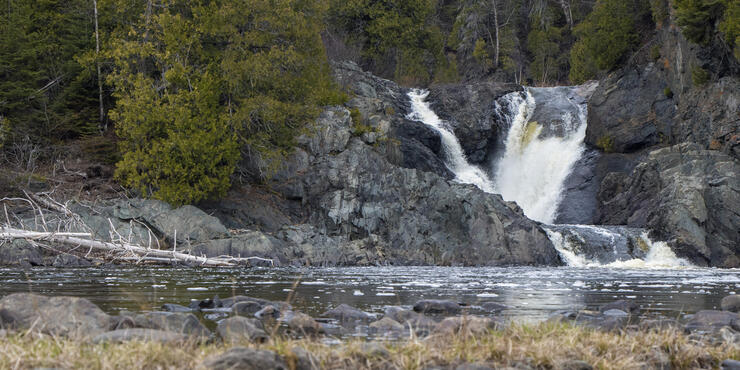 Whether you're an avid hiker or more of an occasional walker, these waterfalls cater to all fitness types. Each of the waterfalls is easily accessible, but those who want more of a workout will still be satisfied.
If you're looking for an epic waterfall road trip, it's possible to tackle all three in a day. Or, you can opt to separate visits and take your time enjoying each of them. Either way, you'll be in awe of their natural beauty. Now the big question... which one to visit first?