Just Add Kids
If you're travelling in Sault Ste. Marie with kids, here are a few great places to take them for fun and learning. Less screens = more fun!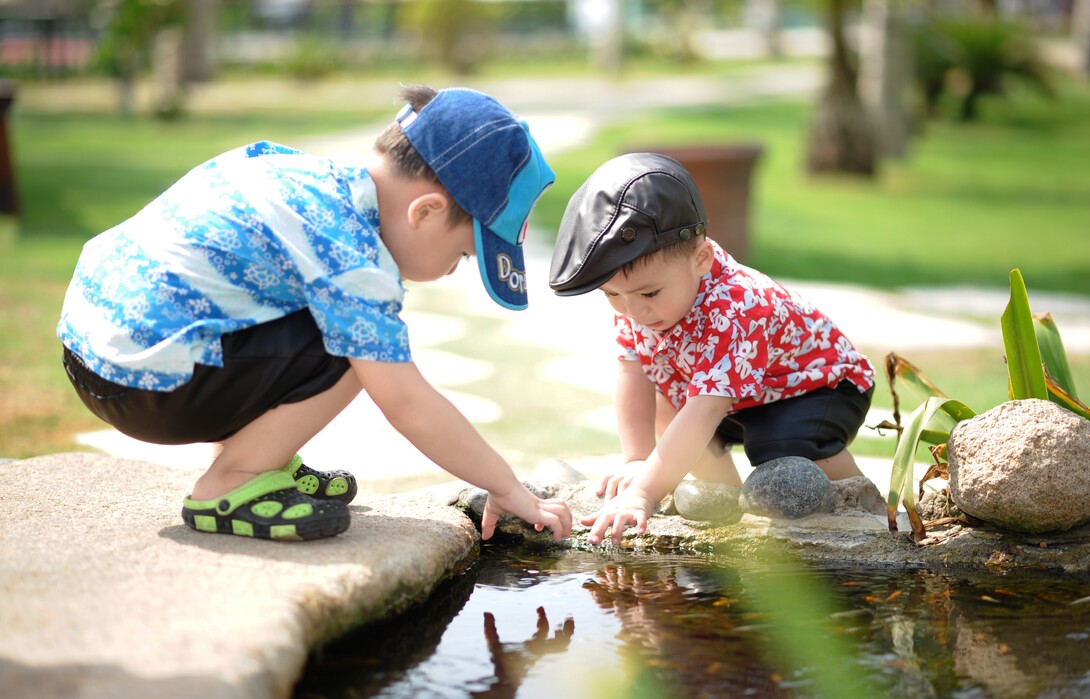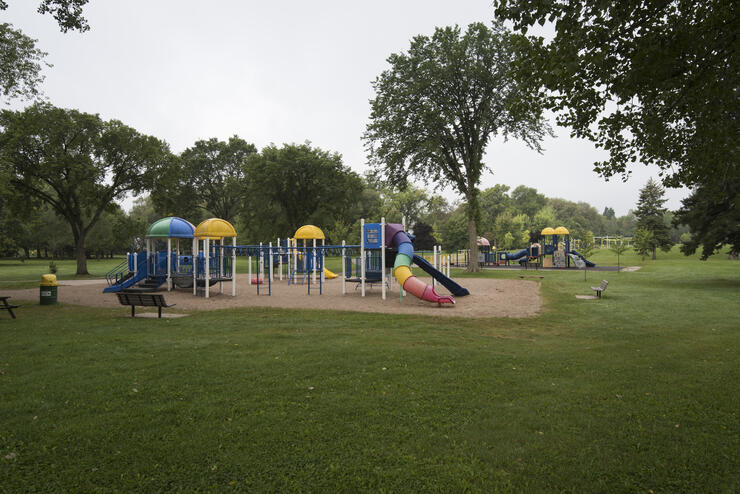 BELLEVUE PARK AND GREENHOUSE
Situated alongside the St. Mary's River, Bellevue Park is 17 stunning hectares of outdoor family fun for locals and tourists alike. On warm, sunny days, this public park is bustling with activity and laughter as children hop from one of several playgrounds to the next. Bellevue Park's newest structure, the Adventure & Sensory Playground, offers unique sensory experiences for children of all ages and abilities. The playgrounds are connected and surrounded with paved trails, perfect for family bike rides and walks under a canopy of large trees that takes you over a picturesque duck pond bridge among other features.
Bellevue Park is also home to a lovely greenhouse and fish pond. Open all year round and free to the public, Bellevue Greenhouse is full of exotic species of flora, from pineapple bushes to fancy orchids. As you walk along the path with your family, try to guess what plants are in front of you before reading the labels. Some might come as a surprise!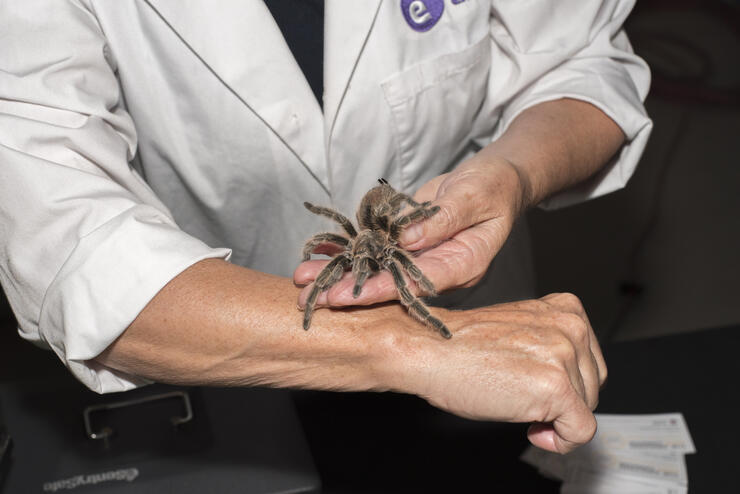 ENTOMICA
Recently featured on the popular television series Amazing Race Canada, Entomica is an insect museum that offers hands-on tours of their exotic residents. Kids of all ages will delight (or squeal!) from being able to hold and observe critters up close under the guidance of Entomica's expert Bug Wranglers. Located inside the Mill Market, Entomica delivers a unique experience that is both educational and entertaining for the entire family.
www.entomica.com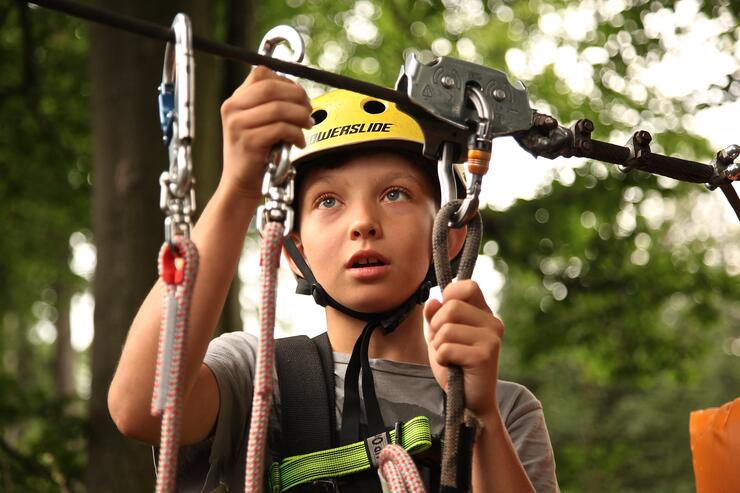 TREETOP ADVENTURES
Looking for something different to do with your teens? Located twenty minutes north of Sault Ste. Marie, Treetop Adventures offers an exhilarating bonding experience for older kids with their high rope course suspended 10 to 30 feet above ground. The course requires two hours to complete and includes wobbly bridges, Tarzan ropes, tire games, tight ropes, all while being securely attached to a safety harness and rope. Participants are required to wear running shoes, and they must be over 4'6" in height and under 275 lbs. A one acre paintball field is also open to anyone nine years of age and over, and mandatory gear is provided. Treetop is open from early spring until early winter.
www.treetopadventures.ca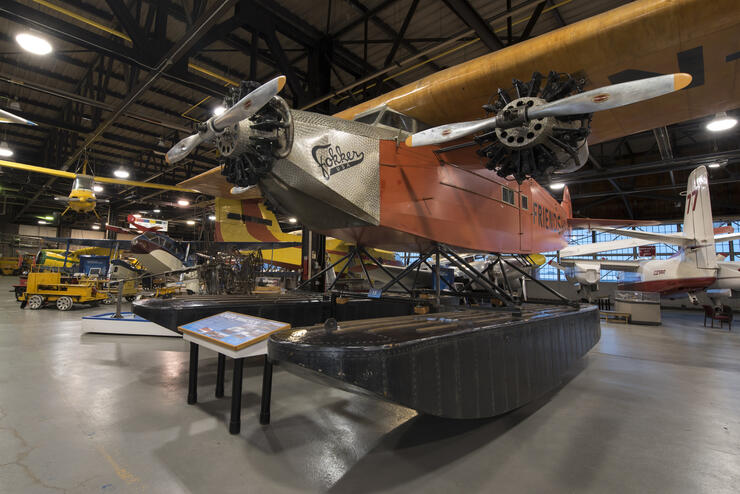 CANADIAN BUSHPLANE HERITAGE CENTRE
If your children are fascinated by airplanes and always wished they could sit in the pilot seat, they will love the Canadian Bushplane Heritage Centre. With their impressive collection of bush planes, water bombers, and commercial aircrafts on display in their large hangar exhibition space, there is no shortage of excitement and fun here. Explore the inside of airplanes, climb to the top of the forest ranger's tower and radio the locations of the play fires to your family down below, or enter one of the three flight simulator theatres for an immersive experience they won't forget. If you're lucky you might even catch a float plane landing or taking off from the St. Mary's River public dock situated right next to the Centre.
www.bushplane.com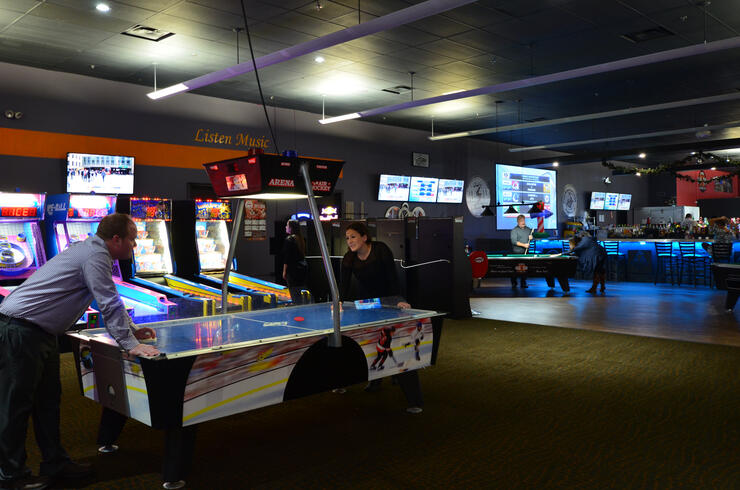 SOO BLASTER
After a full day of exploring the Sault, the fun continues at the new Soo Blaster Restaurant and Bar located downtown off Queen Street. The largest restaurant and entertainment space in the Sault offers a variety of games and entertainment for all ages and is divided into three sections. The front of the venue is an arcade-style space where kids and adults can purchase tokens to enjoy games such as retro Pac Man tables, pinball machines, and basketball hoops to try their luck at winning arcade prizes. As you pass the pool tables into the second section it's hard to ignore the impressive bar, the centerpiece of the dining space, a perfect place for parents to unwind after a busy day with a meal and cold drinks. And finally, the back section is a sports fan's dream, with its 100-square-foot giant TV among other screens where you can catch all the sports action. Also available is a virtual reality multi game simulator that offers hunting, hockey, golfing, and football simulations among others that the whole family can enjoy together. 
www.sooblaster.com