Superior Exploration Adventures' Guide To The Best Climbing In The Area: Beginner Through Advanced!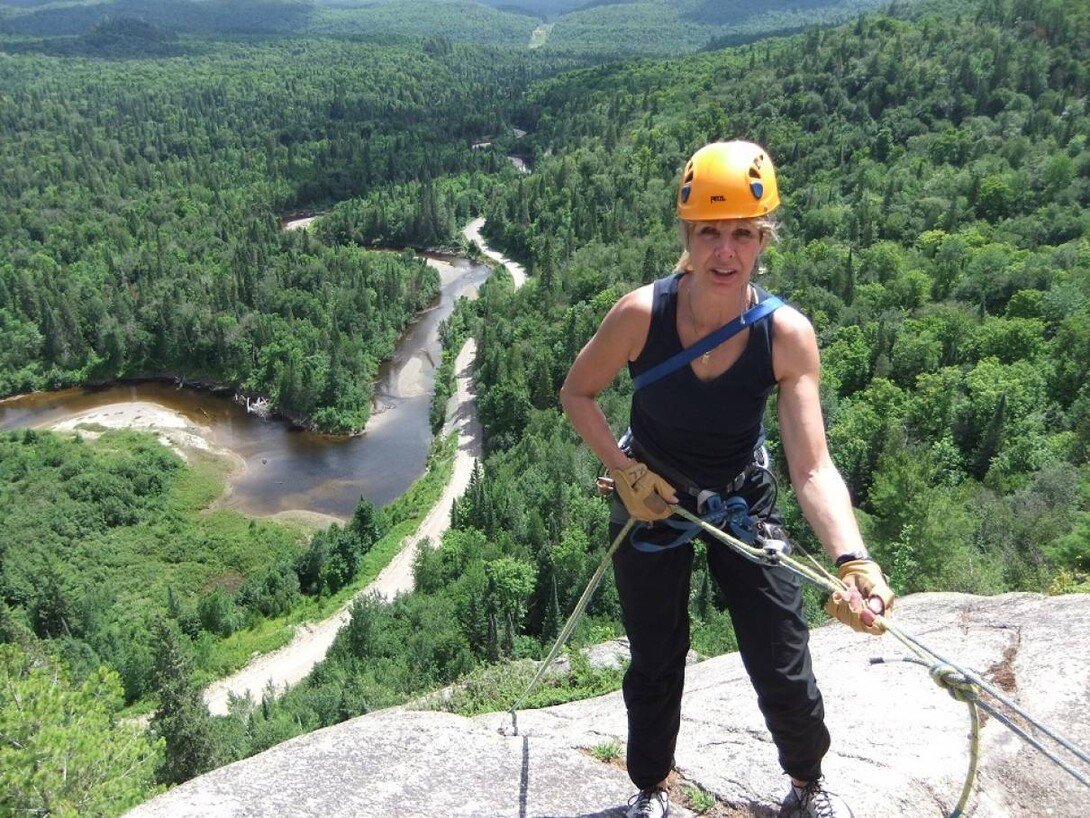 Rock climbing is a spring, summer and fall sport which has become popular with outdoor enthusiasts. It can be enjoyed by all ages - young and old.
It started in the Sault Ste. Marie area in the mid 80's. It has become a rock climbing destination for beginners and experienced climbers locally, as well as from Southern Ontario and the Midwest States.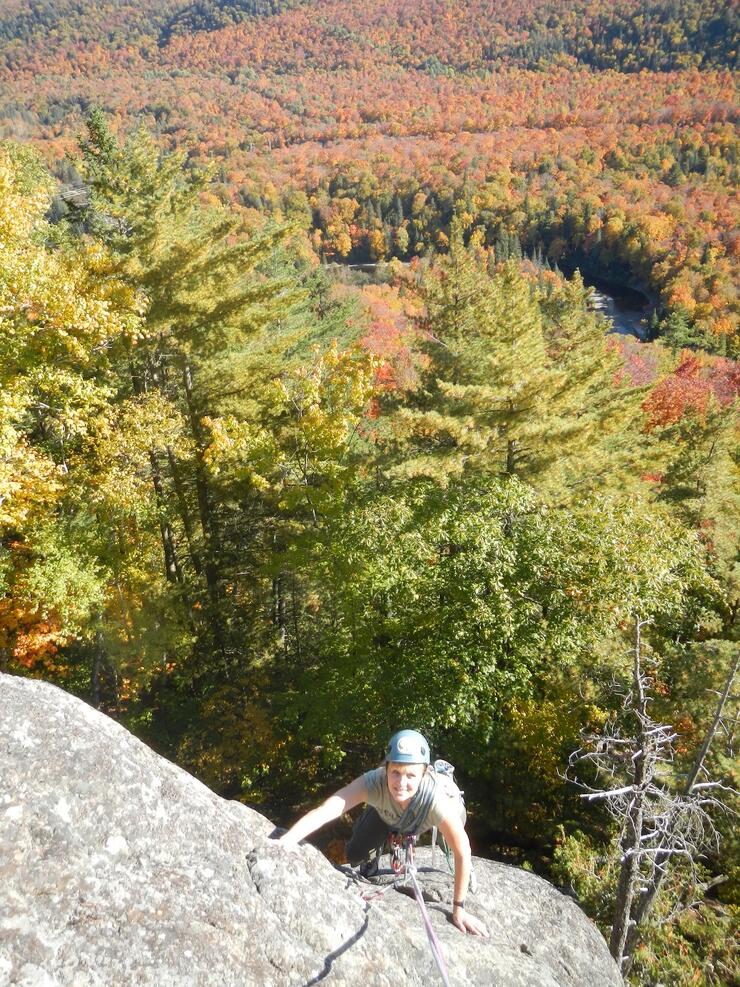 Rock climbing first began in this area at a place known as Robertson Lake cliffs. Since 1999, several other climbing areas were developed for rock climbing and more are still being developed.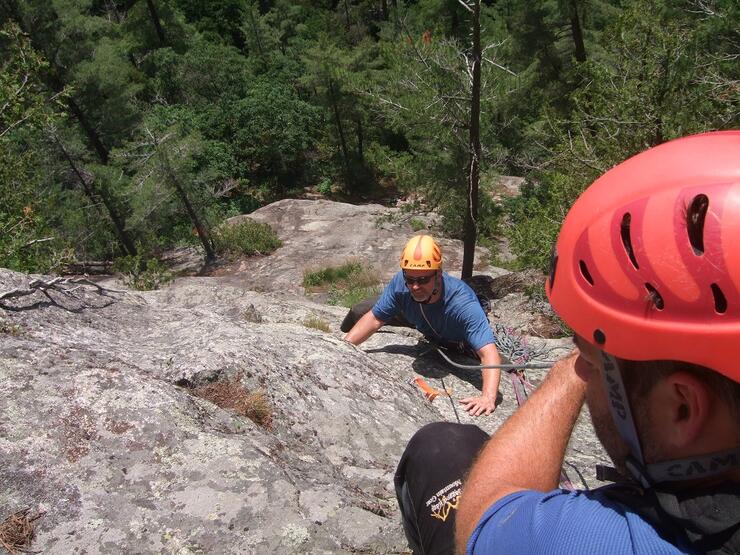 The main focus of rock climbing and site development is in the Batchawana Bay and Montreal River Harbor areas, including:
• River Bend Rock - this site was first discovered in June 2004. This is the most frequently visited site as it lies only 9 km down Mile 38 Road. It offers 30 climbs with varying degrees of difficulty and climbs up to 30 meters in height. There is a rock climbing guidebook published on the area.
• Summerian Slabs - discovered in 2003 while ice climbing. This cliff is still under development, but at present has 16 rock climbs with heights up to 450 feet. This is an intermediate climbing site for multi pitch climbing and lead climbing. A guidebook for this area is being researched.



• Alien Wall - located close to the Summerian Slabs, this climbing site is named after the famous sci-fi series ALIEN. Routes were named after the characters in the 4 Alien movies. Two classic rock climbs on this cliff are "NOSTROMO" which is140 meters in length and the more difficult climb "LV-426". A preliminary rock climbing guidebook for this site is now available.
• Ranwick Rock-Keetes Bluff- These two sites are found at Montreal River Harbour and offer steep rock climbing on very solid rock. A guidebook for this site was published in 2004, with a second edition published in 2012.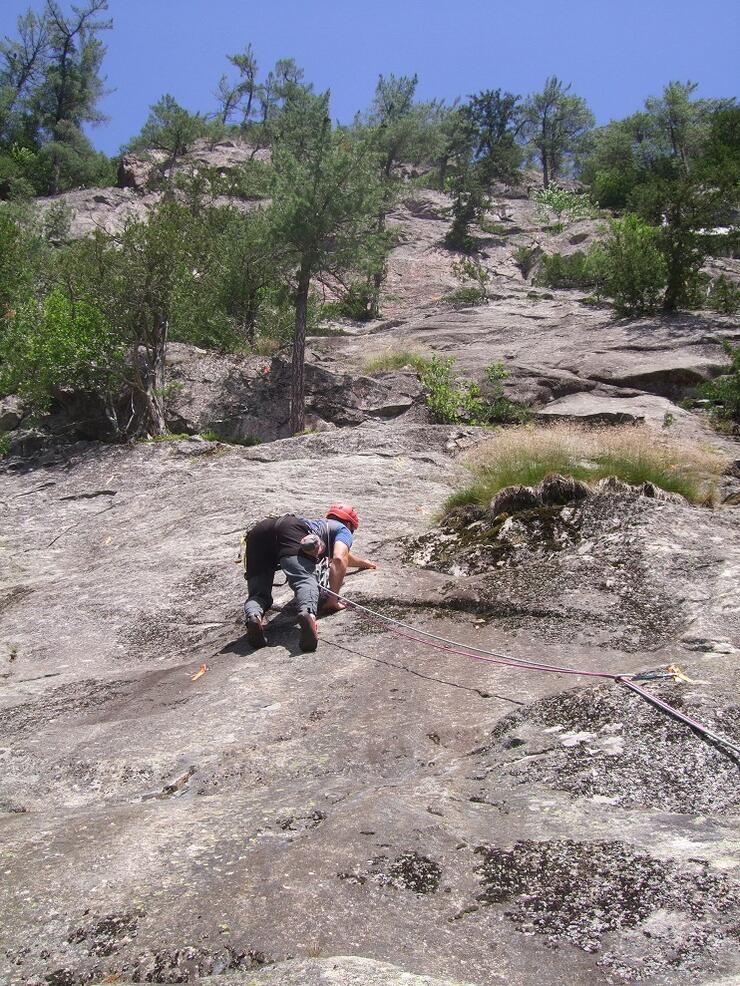 Shaun Parent, Owner/Operator of Superior Exploration, Adventure & Climbing Co. Ltd., is considered the Pioneer of Rock and Ice Climbing development in the Lake Superior Region of Ontario. He has been ice climbing since 1979 and instructing since 1983.
He developed the climbing areas and has authored and co-authored over 18 rock and ice guidebooks to rock and ice climbing sites in the Lake Superior Region.
He is located in Batchawana Bay & offers beginner through advanced rock climbing lessons and/or guiding.

For more information, contact (705) 946-6054 or check out the website:
FB Superior Exploration Adventure and Climbing Company Ltd.
FB North of Superior Climbing Company
FB Batchawana Bay Rock Climbing
YouTube: Batchawana Bay Ice Climbing, Agawa Canyon Ice Climbing, NOSCC