The Future of Snowmobiling is on a Snow Bike
More and more sledders are trying out the sport's scrappy younger sibling—and the Rally Connex Snow Down event in Wawa is the place to do it!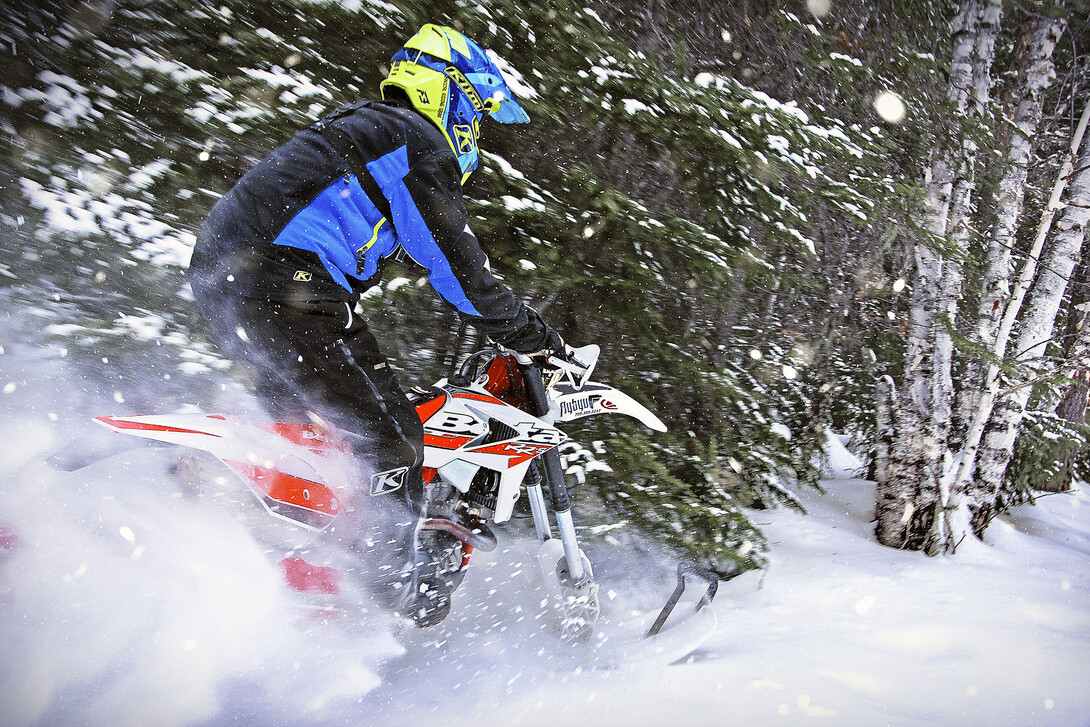 Once again, something crazy exciting is brewing in Algoma Country this winter. And it all happens in that most unlikely of places: Wawa, Ontario!
Some of our readers may already be familiar with Rally Connex, a GPS-guided events and training company. For the last few years, this mostly motorcycle-focused company has been dabbling in what to do during the winter months—when it's too cold to ride a motorcycle, but there's too much fun to be had to just sit around.
They started getting into sledding—especially the backcountry style they practice up in Wawa. But then they discovered snow biking. The majority of their team was already buying these dirt bikes and conversion kits and raving about them, so it was a logical next step—and now they're offering two- and three-day guided tours by snow bike in Wawa.
What Is a Snow Bike?
Snow bikes aren't new—they've been around since the sixties, but in the last 10 years they've exploded, especially in Canada. So Rally Connex has made the bold decision that all of its future winter events and tours will be snow bike only. 
The rationale is that sleds are awesome machines, but Rally Connex is a motorcycle company, and there is already a very successful snowmobile rental outfit in Wawa. This winter, the focus is on starting a new set of amazing snow bike tours and making their legendary Snow Down event a snow bike event.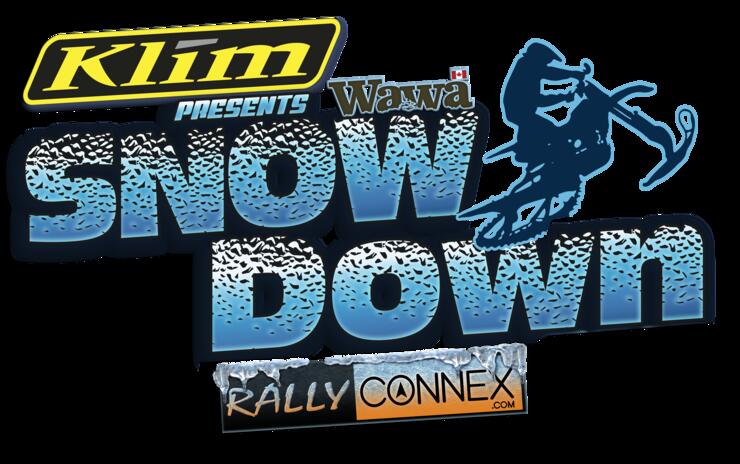 With the sponsorship of Beta Motorcycles, Rally Connex will have a series of snow bikes that riders can try throughout their tour. There will be a Beta 300 RR 2-stroke, a 350/390/430, and 500 RR 4-stroke, all available to try and swap throughout the tours.
All are fully outfitted and prepped for Wawa's winter conditions. Bikes with carbs have heated carbs. All grips and controls are heated, and all bikes have engine blankets. Currently, the bikes use the Camso DTS 129 ski and track system, but other manufacturers will be available at a later date. No doubt Wawa will become the proving ground in Ontario for Camso, Yeti, and Timbersled to prove who's got the best kit.
FOR THOSE NEW TO SNOW BIKING
If you're a motorhead but have never tried snow biking, Rally Connex's Lee Martin says "It's extremely easy—point and shoot and go, wherever you want to go, with very little limitations. Backcountry riding on snowmobiles is a fine art that is difficult to master. You need a complex understanding of balance, how snow machines handle in deep snow, and the mistakes aren't very forgiving. You have to keep digging yourself out. But with snow bikes, you don't get stuck in the same place nearly as often, and the manoeuvering is much easier than on a sled. You can lean over much easier. Side hills and steep valleys, getting stuck on hill climbs—they're all much less likely to get you stuck. Snow bikes can easily squeeze through narrow places and treelines. If and when you do get stuck, it's much easier to get out. The back track can be lifted above your head—and then ride away. No need to ride with a shovel."
If you've ever said to yourself "I want to explore the backcountry, but I don't like the hassle"—snow bikes are the solution.
WAWA HAS THE SNOW
We've been seeing less and less snow in the South, and even in the North sometimes. But the lake effect from Lake Superior ensures that Wawa always has snow. The area is well researched and laid out for snow biking so that you can always find somewhere good to ride. There are lots of public access areas, where you can park your truck and head straight into the wilderness. You don't have to cross or ride any OFSC-regulated trails.
While there is plenty of Crown Land that is suitable for snow bikes in Southern Ontario, it's landlocked by snowmobile trails. So getting access would be illegal, because snow bikes can't go on the sled trails. Wawa has only two or three main trails, and the backcountry riding areas don't really interfere with them.
And Wawa has great amenities. The accommodations and the community are both warm and helpful to snow bike visitors. The main partner in backcountry riding in Wawa is Jones Powersports—without them, these tours wouldn't happen. Click here for a list of snowmobile-friendly accommodations in Wawa.
Snow Bike tours
Rally Connex is offering two two-day tours and two three-day tours. The two-day tours are almost filled up, but there is still availability on the three-day tours. Sales are moving briskly, considering there's no snow on the ground. This year is a two-week program, but it will definitely expand for 2020.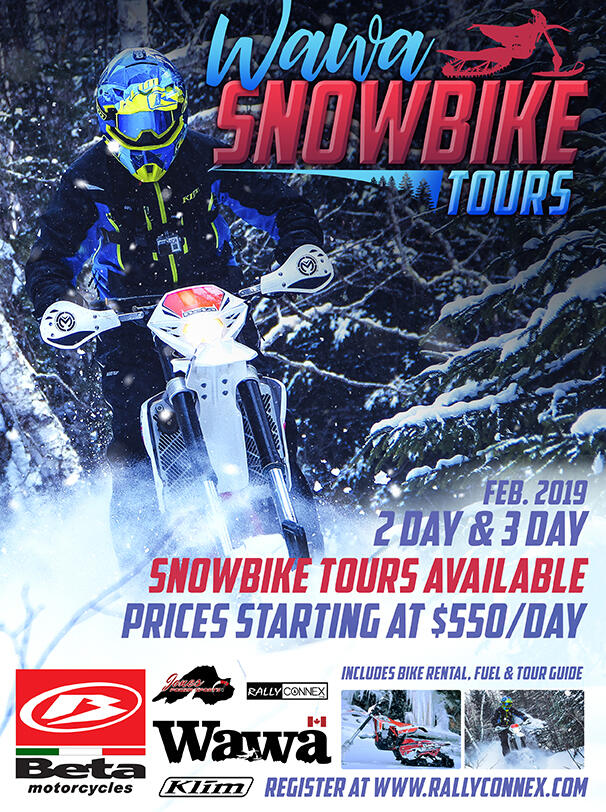 The benefits of doing the tour with Rally Connex are pretty self-evident. They prevent riders from aggravating the OFSC or private landowners by showing riders where the best stuff is. They've even brought drones out to scout areas before sending riders there, to ensure that the conditions are good and that they're on legal ground.
The equipment is nothing but the best—a new truck and trailer picks everyone up for the 10- to 40-minute drive from the accommodations to the prime snow bike locations. When riders arrive, the Rally Connex team unloads the bikes, drop a waypoint on the GPS (standard on every bike) and set riders off. They make sure everyone gets back and helps them find fresh snow.
After the ride its back to the hotel for dinner and drinks. Lunch is provided, but breakfast and dinner are up to you.
Wawa Snow Down 2019
Rally Connex also runs the annual Snow Down event—here participants bring their own stuff, play together in snow bike areas, with competitive events throughout the day, and, on the last day, a big fun after party dinner for everyone involved. Snow bike rentals are also available during the Snow Down event.
It's Snowbike Ontario's official get-together ride. Snowbike Ontario is a quickly growing Facebook community page that was started up by Jeff McGirr. So expect a big and enthusiastic group that weekend!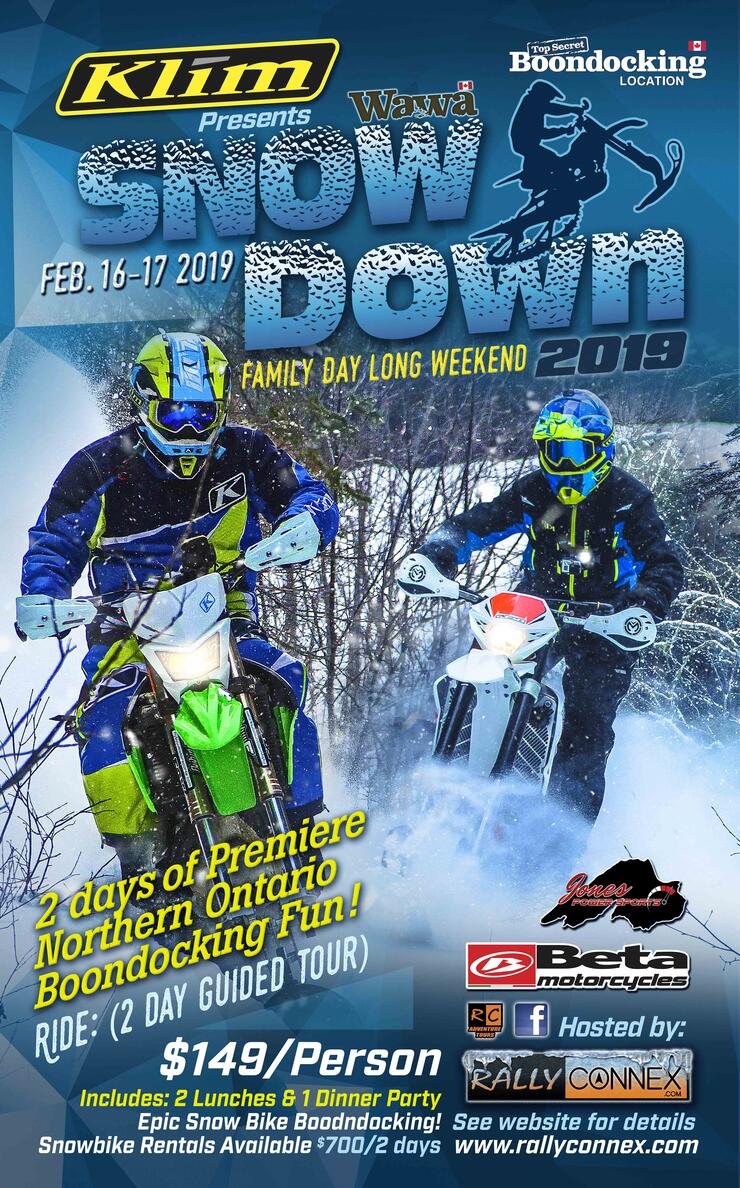 For more information, check out Rallyconnex.com.
These tours are graciously sponsored by Beta Motorcycles, Klim, Jones Powersports, and Wawa Tourism.