6 Amazing Places to Canoe, Kayak, SUP and More in Sudbury
Get out on the water this summer in Northern Ontario's City of Lakes.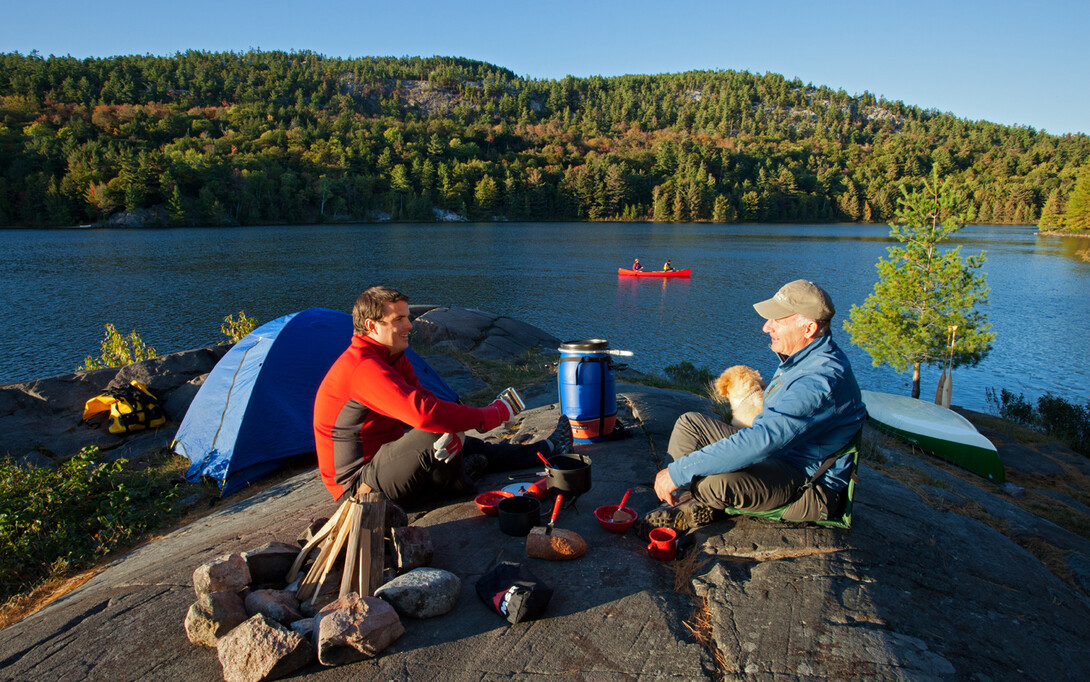 Sudbury is known as the City of Lakes and in fact is home to 330 lakes, more than any other municipality in Canada. It's the perfect place to explore, splash, play, and enjoy the outdoors. Getting out on the water in a canoe, kayak, or stand-up paddleboard (plus a few other options!) is the ideal way to explore with lots of fresh air and wide-open spaces.
Check out these seven spots in and around Sudbury to rent gear, make some memories, and have fun on the water!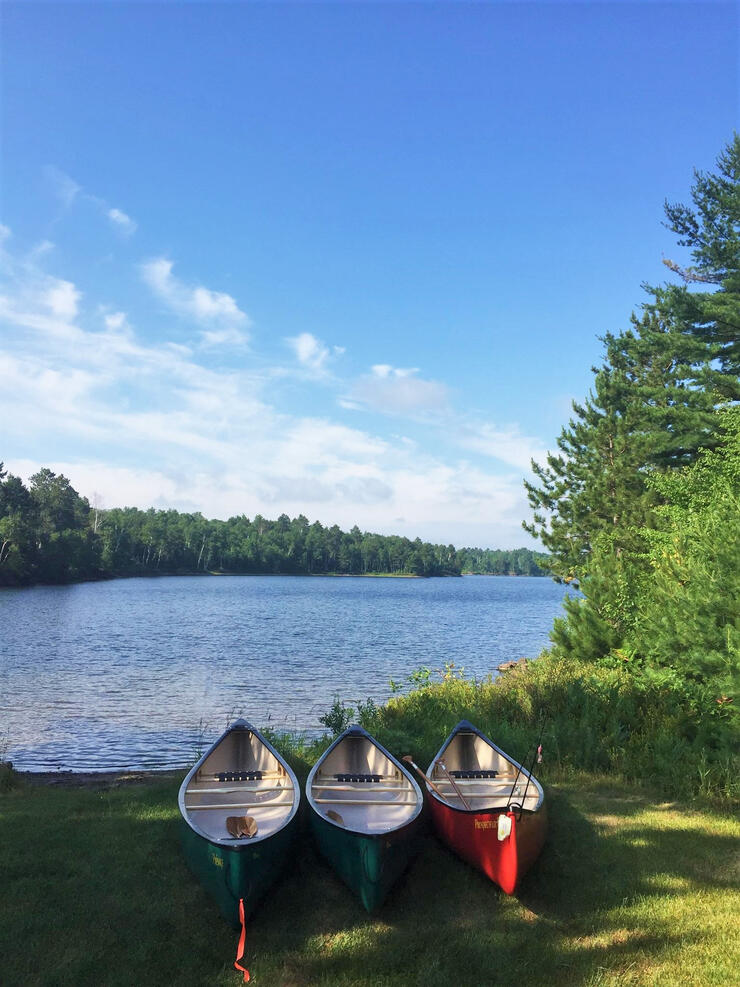 The city's largest park, Kivi Park is a fantastic 450-acre playground for those that love the outdoors. For non-motorized water sports, head to the southern side of the park to check out Crowley Lake. The quiet 43-hectare lake offers uninterrupted shoreline—there are no permanent residences or cottages—and at the launch there's a flat grassy shoreline spot with a shallow sandy base that's ideal for a pre- or post-paddle picnic and swim. You may even see a bald eagle. A day pass is required for park entry, and you can rent a canoe, kayak or SUP by the day. Feeling ambitious? You can portage from Crowley into Camp Lake or Linton Lake to explore even more.
Tel: 705-626-2531
Website: Crowley Lake at Kivi Park
Well, this one doesn't exactly fit in the self-propelled category…but how fun would it be to try flyboarding? Using high-pressure jets of water combined with a hoverboard, flyboard or Jetovator (a jet pack!), you can soar above the surface of the lake for a unique view and thrilling ride.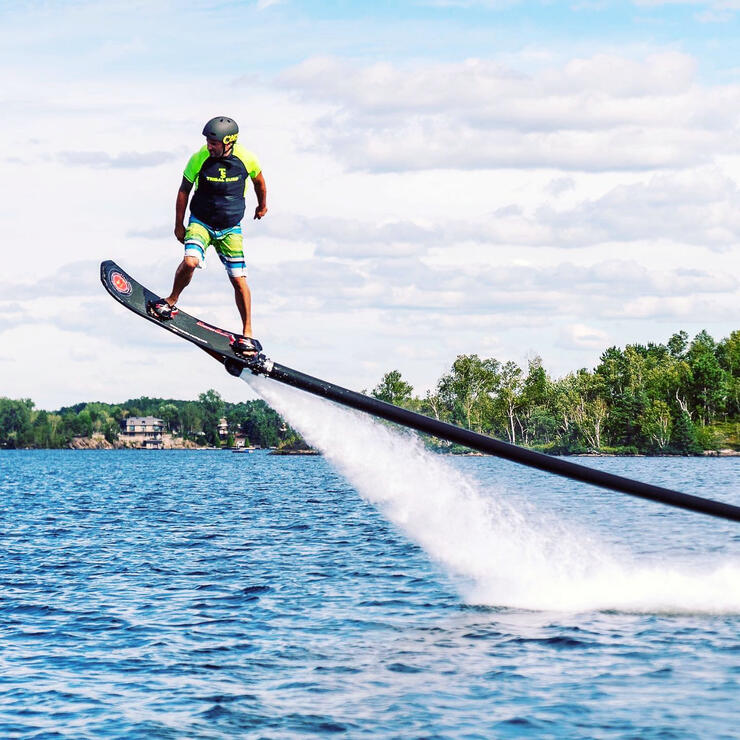 How about throwing in a few mid-air spins for an unforgettable day out on the water? The local company supplies all the gear, including helmets. They are mainly based on Ramsey Lake but do travel to other area lakes for private bookings.
Tel: 705-920-8484
Website: Fly Board Sudbury
Agnew Lake, northwest of Sudbury, is a large and interesting lake that's part of the Spanish River system. A little over 35 km long, it offers plenty of opportunities for boating and fun: incredible colourful sunsets, berry picking, quiet bays, and wide-open water. Lucky wildlife viewers may spot loons and other water birds, and anglers will enjoy its famous pickerel (walleye), perch, pike and trophy smallmouth bass.
Daily rentals are available for canoes, boats and motors, and a pontoon boat for leisurely cruising. You can also rent canoes for longer tripping on the Spanish River.
Tel: 705-869-2239
Website: Agnew Lake
If you have your own non-motorized watercraft (kayak, canoe or SUP), Lake Laurentian Conservation Area offers easy access to a peaceful nature setting within city limits, just 10 minutes from downtown Sudbury. The man-made lake, situated in 950 hectares of protected green space, has fishing for perch and pike and lots of chances to observe wildflowers, dragonflies, butterflies and other natural beauties.
Birdwatchers can often spot loons, great blue herons, bald eagles and sandhill cranes. Off the water, there are hiking trails and a self-guided nature trail. You can also launch your own watercraft at the Ramsey Lake launch, right in the heart of the city. Cruise along the shore to catch some cool breezes and take in a different view of the city.
Tel: 705-674-5249
Website: Conservation Sudbury or Sudbury Boat Launches
If you like the paddling but not the portaging, consider a fly-in trip. Take a scenic, jaw-droppingly beautiful flight by bush plane into one of Sudbury Aviation's fly-in fishing camps on Biscotasi Lake, northwest of Sudbury, which offers visitors a two-bedroom cabin, sauna, two kayaks, two canoes, and boats and motors.
Fish for walleye and pike (and savour some delicious shore lunches), explore the numerous islands and coves tucked into the wilderness lake, relax by a campfire, and experience the total tranquillity of a secluded getaway. You can also use Biscotasi as your starting point for a Spanish River trip.
Tel: 705-983-4255
Website: Sudbury Aviation
It isn't summer without a day (or three) spent swimming at the beach! Pick up a delicious picnic lunch from one of the city's local eateries and relax on one of Sudbury's amazing sandy beaches. The city is home to a whopping two of Canada's 27 blue flag beaches–an environmental designation awarded by the Foundation for Environmental Education. The blue flag ensures visitors can expect clear waters, safe swimming, and pristine views. Spend the day at Lake Ramsey's Bell Park Beach where you'll find picnic gazebos, washrooms, a snack bar, and a playground. Or opt for the romantically-named Moonlight Beach on the eastern shores of Ramsey Lake where you'll be sure to find a relaxing spot for a refreshing dip along its extensive shoreline.
Whatever on-the-water experience you choose in and around our great city of lakes, we know you'll have a wonderful summer adventure!