Anishinabi Lake Lodge
Do you want a chance to see the Northern Lights and explore eight lakes and their multiple species during the spring, summer, fall and winter? Then Anishinabi Lake Lodge has the adventure you've been craving.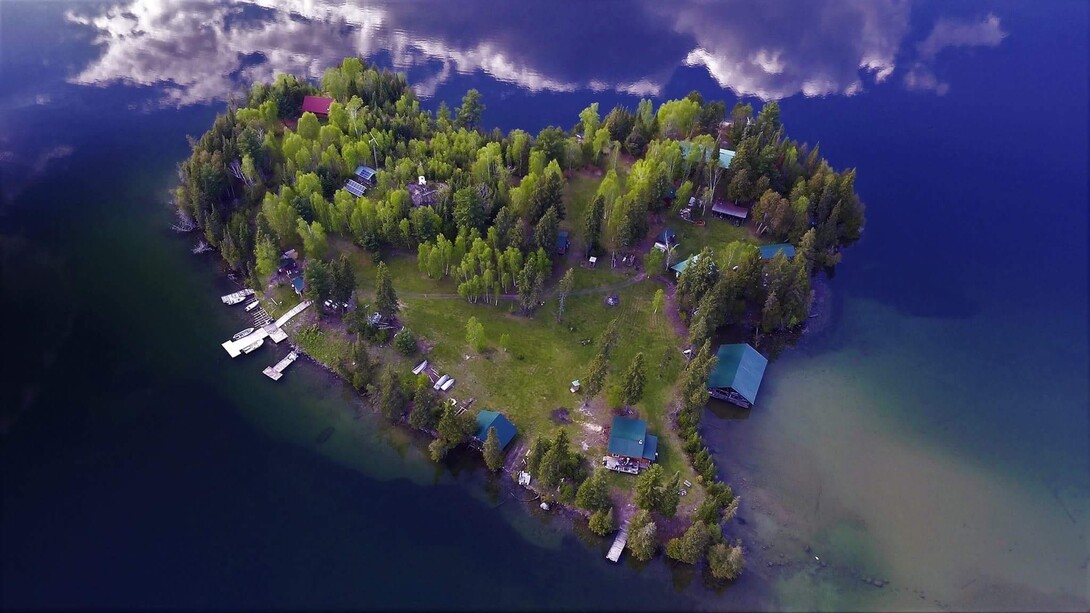 If you've been looking for a different experience in the untamed wilderness of northwestern Ontario, this fly-in eco-lodge may be just what you're after. 
Anishinabi Lake Lodge is a four-season lodge that caters to unique experiences in the outdoors and has a lot more than (incredible) fishing to offer. If you're visiting in the spring, summer, or fall, your adventure begins at Northern Lights Resort, Clark's Resorts airbase, where you board a floatplane and enjoy a short and sweet scenic 15-minute flight to Anishinabi Lake. If you're interested in a winter trip, be sure to watch the awesome video near the end! 
A HEARTWARMING WELCOME 
Once you arrive, the first thing you'll see is a private island, five acres in size, which just so happens to be shaped like a heart. Surrounded by some of the clearest water Northwestern Ontario has to offer, you'll be able to see up to 35 feet deep, along with high rock cliffs and ledges reaching out over the water. This lake is full of character that has to be seen to be believed. 
Needless to say, your camera is a must-bring to this four-season destination. But the lake isn't the only aspect that holds beauty—just wait until you see the accommodations.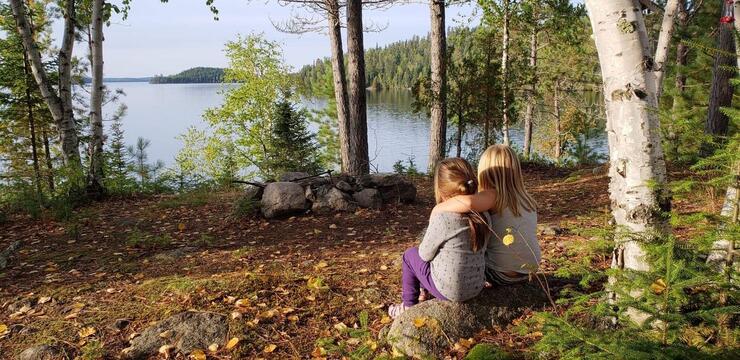 This well-groomed island is rich with green grass and beautiful birch, spruce, balsam, and pine trees. On the island, there are four guest cabins and a lodge. Out on the lake, there are also two outpost cabins, one four miles and one seven miles from the island, offering a more private vacation. Staying on the island, you'll enjoy a cozy cabin overlooking the lake, fully equipped with everything you will need to do your own cooking. 
THE EXPERIENCE
Once you're settled, you'll be left to your own devices to explore as you see fit, but when you arrive, you'll be greeted by one of Anishinabi Lake Lodge's employees to show you the ropes. They'll explain boat operations, show you to your cabin, and give you the lo-down on what the lake has to offer such as sight-seeing where you will marvel at the rock cliffs and overhanging rock ledges, along with a huge cave, a large sandy beach, and hiking trails. 
On Anishinabi Lake Lodge's main island, volleyball, horseshoe pit, basketball hoop, paddle boat, kayaks, and stand-up paddleboards are offered for the enjoyment of guests. After a long day of adventure seeking and fishing, you can also enjoy a hot sauna and have an evening bonfire in one of our several fire pits. 
There are a lot of options to maximize your relaxation or stimulate your adventurous side and at Anishinabi Lake Lodge, you don't have to compromise—you can enjoy both!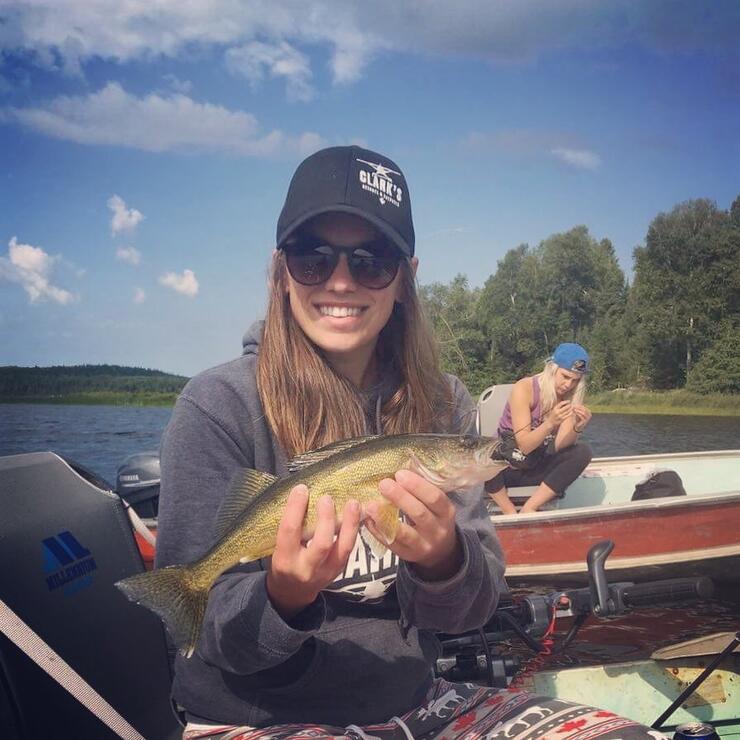 FISHING 
If you're interested in Anishinabi Lake Lodge for fishing, you won't be disappointed.  Some of the best and most diverse fishing is offered to guests. What is unique about Anishinabi Lake Lodge is that there is somewhere different to go each day if you choose. Along with some of the finest lake trout fishing, there is also trophy northern pike and great smallmouth fishing on Anishinabi Lake.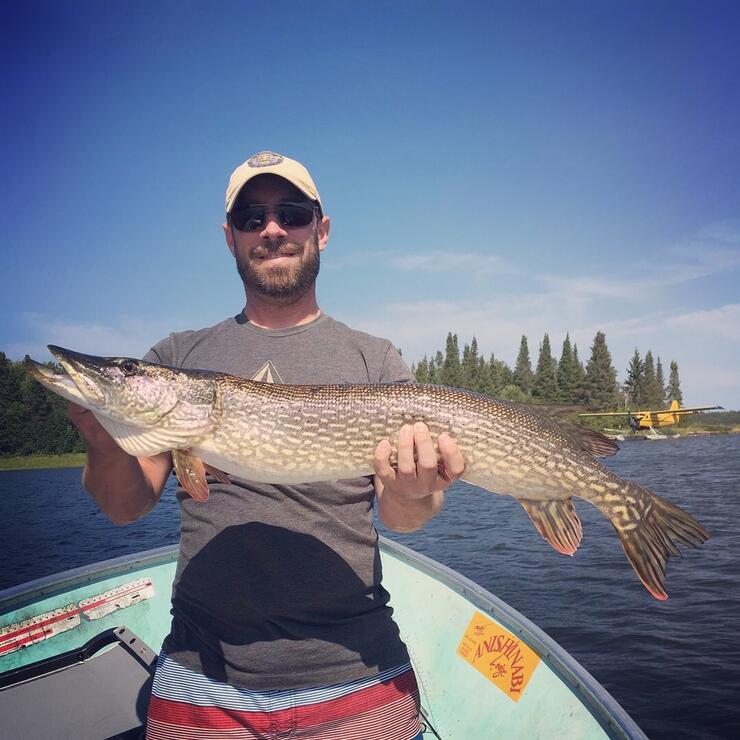 For the more adventurous anglers, they offer seven additional lakes, accessible by a portage approximately 100-200 yards through the woods, with boats/motors waiting for you! All you need to bring is your fishing gear. 
FOUR SEASONS OF FUN
Don't forget, these lakes and outdoor opportunities are also offered year-round. Take advantage of the shoulder season this winter by booking a trip to Anishinabi Lake Lodge. You can bring your own snowmobile (and the entire snowmobiling crew) or they will arrange transportation for you.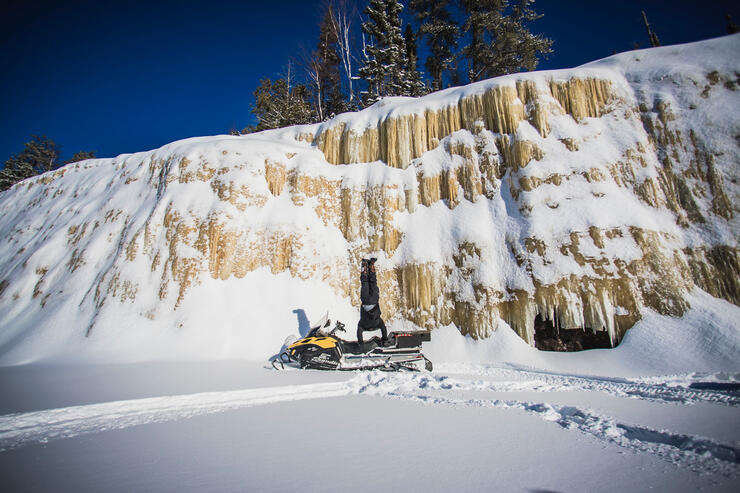 Choose your own adventure. Whether it be snowshoeing across the frozen terrain or opting for incredible ice fishing opportunities for lake trout, northern pike, walleye, and jumbo perch. One thing's for certain: no matter what your reason for visiting Anishinabi Lake in the winter, you'll enjoy peaceful evenings with a chance of Northern Lights.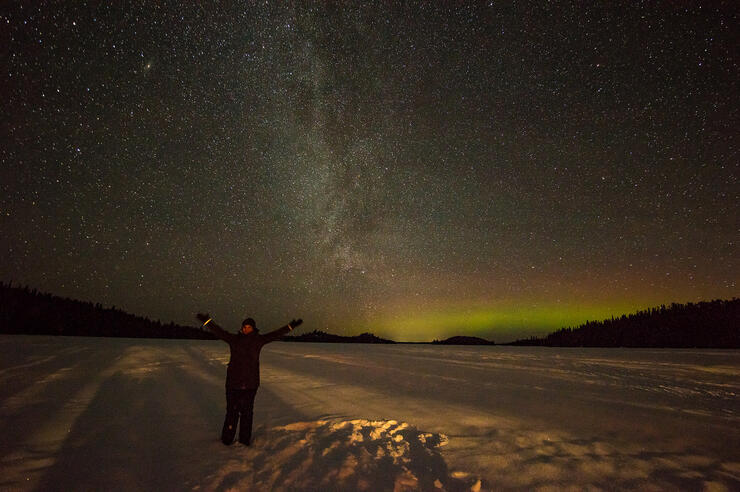 BOOK YOUR TRIP 
Fly-in packages include round-trip airfare from the Northern Lights Resort floatplane base, fully equipped boats with motors, gas, and additional equipment, your lodging for your stay, whether it be three or seven days long, and all the creature comforts of home with off-grid technology.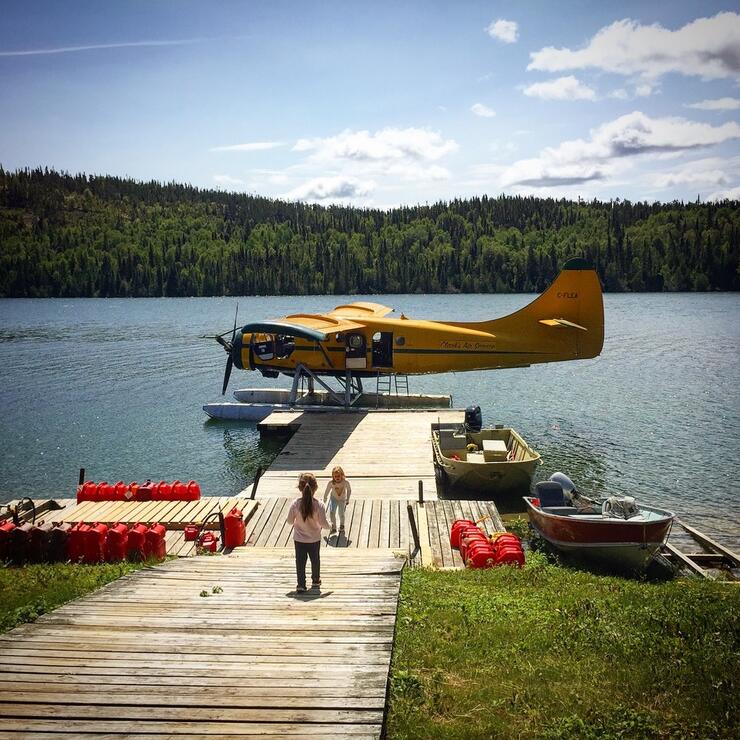 Anishinabi Lake Lodge is the ultimate destination for beginners and avid outdoors enthusiasts alike, for shoulder season lovers, or just groups of friends looking for something different! This isn't your average fishing vacation, and they offer everything you could wish to make this trip your most memorable one ever!