Fall for Sunset Country
Sunny days + cool nights + zero bugs = heaven on Earth. Find out why autumn in Sunset Country is the best time to visit.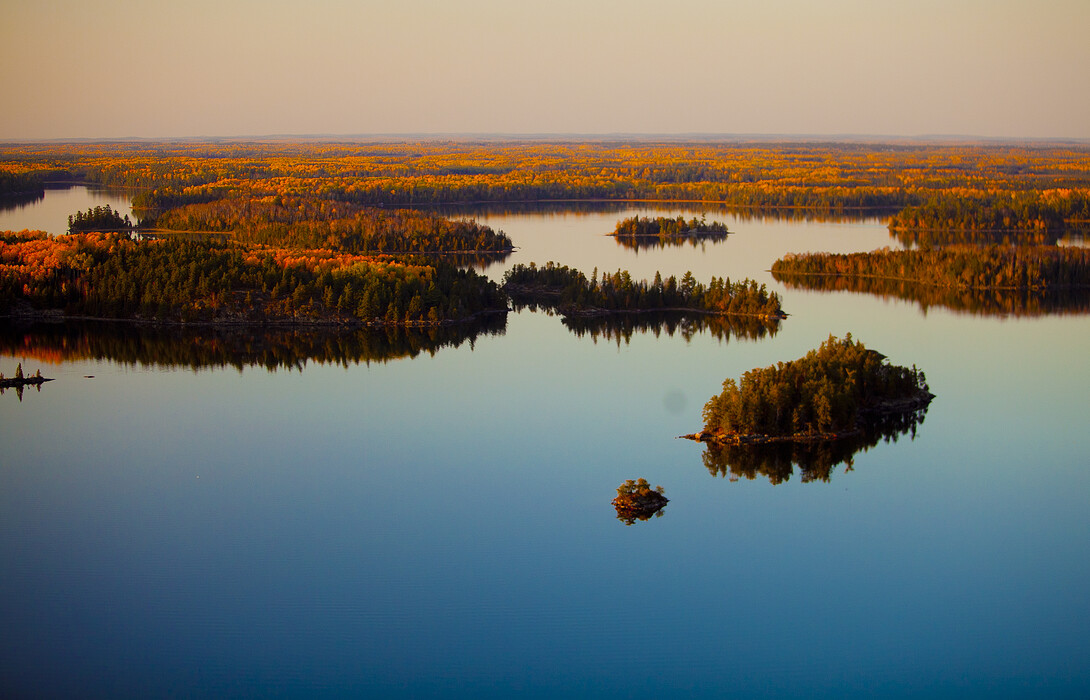 Fall in Sunset Country is one of the best times to visit this magical region. Just a few hours east of Winnipeg, this vast Northern Ontario landscape incorporates bustling urban destinations like Thunder Bay as well as friendly waterfront towns like Sioux Narrows - Nestor Falls and Kenora on scenic Lake of the Woods. Here you'll find all your favourite autumn experiences–cool evenings by the fire with wood smoke in the air, fish fries with friends, and bright fall foliage wherever you turn. We're rounded up some of the best (and most surprising) reasons you'll want to plan to visit Sunset Country this fall. 
Walleyes get big and fat in the fall. Smallies aren't as active in the winter and will go after whatever you throw at them before ice-up. Northern pike have moved to rocky shorelines, and muskie anglers can enjoy fishing right up until December 15—however, the launches are typically frozen by then!
Lake trout season closes September 30 as they spawn in the fall, but before that, you can bet they are on a feeding frenzy. Crappies are also really biting in the fall!
2. Fewer crowds
School has started, and the cottagers have gone home - this means there are fewer people around this time of year. So if you'd like to have a lake all to yourself or a quieter camp, now is the time to head out! 
Only the diehards come out to play, and it's a great time to hire a guide to take you into some true trophy fish territory! 
3. No bugs
Bugs don't dictate when I'm going fishing, but I know some people really get bothered by them. Luckily, those pesky black flies, deer flies, and mosquitoes are nowhere to be found during our cooler autumn months. So if you don't like bugs, September and October trips are for you!
It's a great time to explore portage lakes if the lodge you visit has them: bug-free means care-free! Enjoy the scenery, abundant active wildlife and so much more that fall has to offer when you don't have to worry about bugs! 
4. Fall colours
Fall is undeniably the most beautiful season up here. Take a hike through the woods, and enjoy the colours along the shoreline as you go boating. To track the progress of the leaves changing colours, follow the social media channels of a few fly-in fishing companies. They post wonderful photos of the fall colours from above! Better yet, book a last-minute fly-in trip and see them for yourself! 
5. Northern Lights
When the days are getting shorter and the nights longer, the aurora borealis start to really shine. There's nothing quite like looking up at the stars and having the sky start to dance around you. Plus, since the sun sets earlier, you can potentially see them much earlier and not have to stay up so late. 
6. Discounted Trips
This is often the primary reason people love to travel to Sunset Country during the fall months! Lodges and outfitters often offer fall specials and discounts so this is a great reason to plan your travel after the summer months have passed. And seriously, who doesn't like a good deal, especially when it comes to a trip of a lifetime? 
PLAN YOUR FALL TRIP NOW 
There's still plenty of time to plan a fall trip, so don't miss out on your chance to have a spectacular fishing or touring adventure this year! Lodges and outposts are open and are happy to accommodate a last-minute booking. 
Beat the crowds, enjoy some relaxing downtime on quiet waters, and soak up Mother Nature's colourful splendour. 
If you're too tied up to book for this season, but it sounds like a good idea for next, check out our free travel guide and map. This handy publication will help you plan an amazing fall, or perhaps winter, trip to Sunset Country.